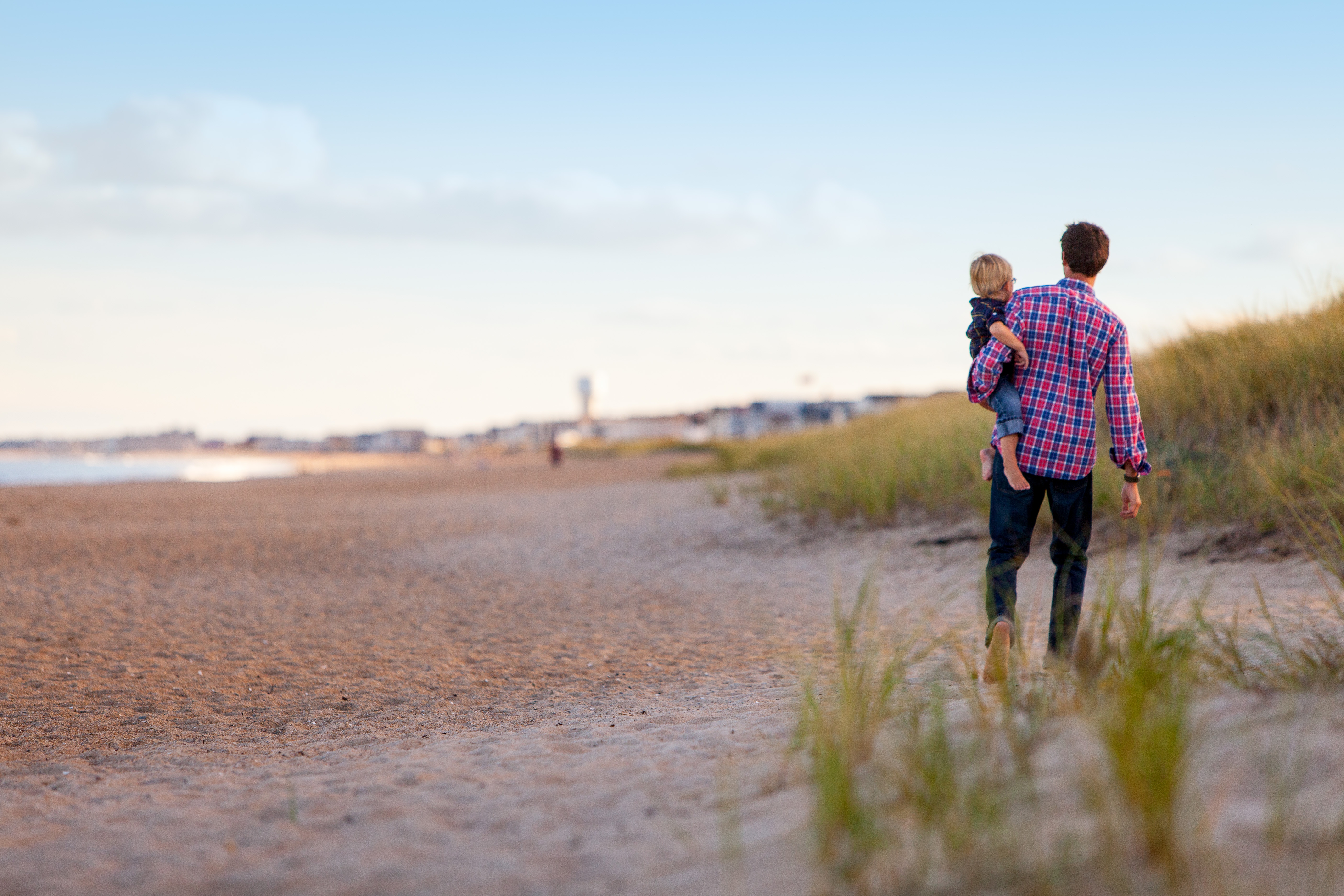 While it might seem as if moms get much of the glory — we do spend nine months growing tiny humans, only to have them painfully pushed or pulled out of some body part, mind you — a dad's job is equally important when it comes to the game of parenting. We wanted to give local dads the chance to be heard, because their voices matter just as much as ours do. Read on for some varying perspectives on fatherhood from the hardworking husbands of a few Jax Mom contributors:
The Brand-New Dad
"Before my son was born, I knew my life was going to change, but I had no idea how much until I heard that first scream. Well, perhaps not then, my wife had an emergency C-section and the meds were making her shake like a leaf, so that was really freaking me out; he was actually pretty quiet when they pulled him out. But then they assured me she was doing okay and took her off to recovery, while Archer and I went to the nursery for his weight and measurements. Then I got to hold him. Thinking of that moment brings a swell of joy to my heart and nearly a tear to my eye. I had always assumed I'd be a father, even during my 20s when I denied it vehemently, but the first time I held him skin-to-skin (which I also ridiculed) and felt his small heartbeat on my chest, I was hooked. So what does fatherhood mean to me? Right now, it means a lot of stress and lost sleep, but I still have the big picture. The big picture is hard to describe. It's more than making sure he does the right things and more than teaching him about science and football. It means that he's my boy, now and always." –Zachary Peckham, father of Archer (age 4 months)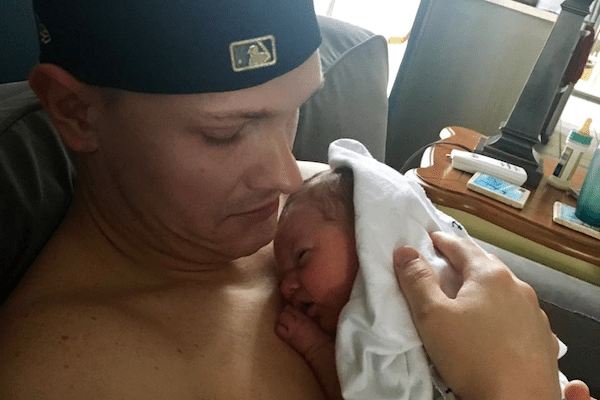 The Military Dad
"Luckily, I have no clue what it is like to be a dad and not be in the military. I joined the Navy in 2010, and my wife and I had our daughter in July 2014. There is one thing I can tell you though, from the moment I first met our beautiful daughter, Charlotte, my life and outlook on everything completely changed. Up until then, life in the Navy had been exactly what I envisioned; I had completed two deployments, visited 10 countries and made countless memories at sea. We were only six months into my tour in Hawaii when Charlotte first made her appearance. I immediately fell in love and knew I would do anything required to protect my little girl. Now, I'm known from time to time to joke about being the super protective dad who will be cleaning my guns whenever her dates come to pick her up, and maybe that is a little over the top, but if you ask Charlotte right now, 'What will Daddy always do for you and Mommy?' Without hesitation, she will say, 'Protect us!' Honestly, I think it was the birth of my little girl that gave my Naval career true purpose and meaning. It is one thing to protect the people of our great country, but I've got so much more to 'protect' now. My world sits in our house, singing and dancing with Mommy, belly laughing while getting kisses from our dog, and running around in princess dresses. So, what is it like to be a dad in the Navy? I don't know if it is any different than any other dad with any other job. But what I can say is time away from home is that much tougher when I know my job is to protect my little girl, at any cost, luckily for me though, no one gets the hugs and kisses I do when I get home!" –Lieutenant Kyle Chance, U.S. Navy, father of Charlotte (age 2)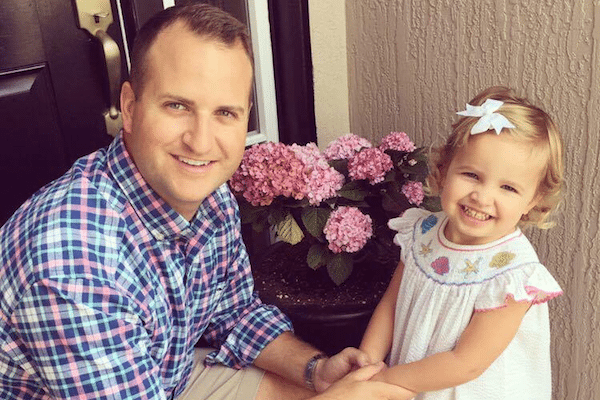 The Expectant Dad of All Girls
"We're just a few days away from our third child… our third daughter. The news of our third girl has been met with laughter, disappointment, and pity. 'Haha! Good luck with that.' 'Are you going to have a fourth?' It's gone as far as people hoping for a boy at delivery, even though we've seen little Naomi in the ultrasound. Candidly, we were expecting a boy. A boy would put a nice, blue bow on our family. After meeting Naomi, admittedly, we had a brief moment of confusion. But we chose to revel in the great news instead of stumbling on our changed plans. And come on. Our appointment was on Groundhog Day, so what else did we expect? Kidding aside, we recognize how incredibly blessed we are to have three children. They're our greatest gifts, and pity does not belong here. 'But there's nothing like having a boy.' You're right, there isn't. But there's nothing like having three girls either. If our second daughter Hannah is any indication, another girl does not mean more of the same. We will only celebrate what our family has become… without a boy. So, you may think poor guy. But I say lucky daddy!" –Paul Pugh, father of Isla (age 6), Hannah (age 3) and Naomi (coming soon)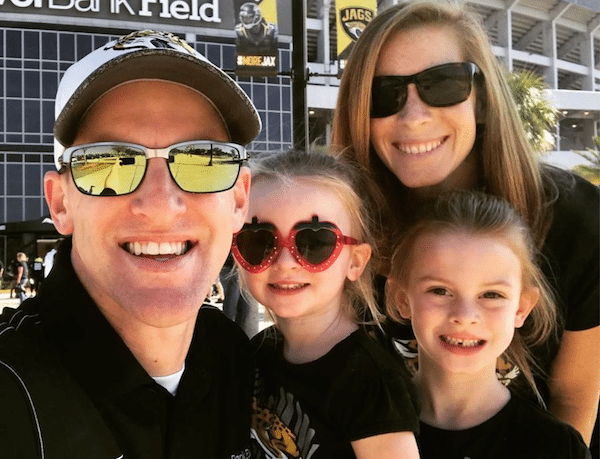 The Dad Who Travels for Work
"Parenting is one of the hardest yet, most rewarding jobs one could have. To watch an infant who totally relies on you for everything turn into a 7-year-old who thinks that he can do everything is pretty amazing. Even better is learning how to put your 5-year-old's hair into a high braid because she is not going to school without a high braid, and Mommy is at a doctor's appointment. The joys of fatherhood are priceless. Being offered a promotion that involved a good amount of travel hasn't stolen any of those joys; it has just made us find new ways to create great moments. The best part about traveling for work is that I get to work from my home office when I am home. This had led to many great perks that my office job never offered. Taking the kids to school, going to doughnuts with Dad, and other fun activities have become much easier when you don't have to leave an office and rush back so people don't think you are slacking off. Working from home or on the road is all about time management; I have learned to eat, handle a conference call, file an expense report, all from a parking lot just so I can be at my daughter's school on time to pick her up as a surprise. While I am on the road, I have learned that just like Daddy, my kids like to have their rituals, too. These include having morning and bedtime FaceTime sessions with Daddy, my son has to look at his map of the USA above his bed and plot my next trip, and it is a must if I fly Delta I bring home some 'Delta Cookies.' Sure, they kids get sad when I have to go away on a trip that requires more than two sleeps (yes, that is how we gauge the awfulness of the trips), but we have made it fun. My son has picked up a few NFL shirts from other cities, while my daughter has been the benefactor of a few TY pets that she loves. Everyone has even grown to love certain hotel shampoos and soaps when I bring home extras (Peppermint Shampoo is a hit). While traveling away from your family is tough on everyone, pulling in the driveway after a long week and having your kids and wife run out to hug you makes it all worth it!" –Matt Kwartler, father of Hudson (age 7) and Callie (age 5)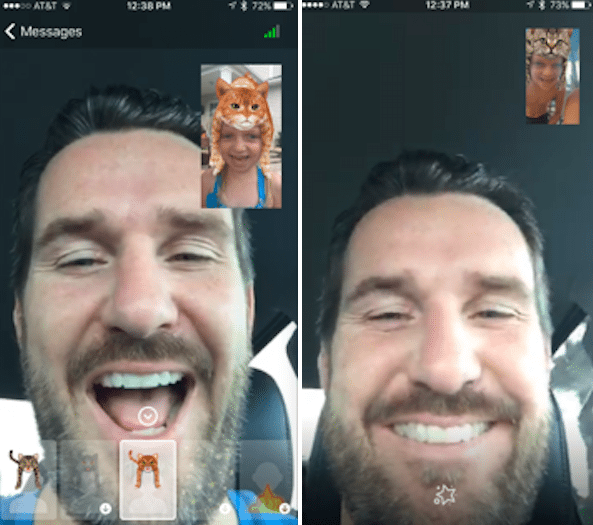 The Dad of Four (Soon-to-Be Five) Kids
"Having four kids feels like what I need to do. For me, having all of these kids is like walking, or eating dinner, or breathing. The first time I knew I was going to be a father, I wondered if I was going to be good at it. Now, four kids later and with a fifth on the way, I see it almost like training for a marathon. You know it's going to be hard, and there will be a lot of tough obstacles to overcome, but it is so worth it in the end, and there is also a lot of fun along the way. Having a big family has been very rewarding. The mistakes that I've made with my first child, I've been able to learn from. And now that we are about to have our fifth baby, I know we'll be even busier than before, and we'll have to make sure that we find ways to handle our stress and be prepared. With a third girl, I'm nervous about having another girl, and having to protect her… and being completely outnumbered by women! But I'm happy to have five kids, because I know they're all going to look after each other. It's been wonderful watching our four kids grow up, and the bond they have. It's exciting watching them grow. It's hard work, but you enjoy it, and the end result is something really beautiful." –Matt Chesser, father of Benjamin (age 6), Wyatt (age 5), Ivy (age 3), Clara (age 2) and Felicity (coming soon)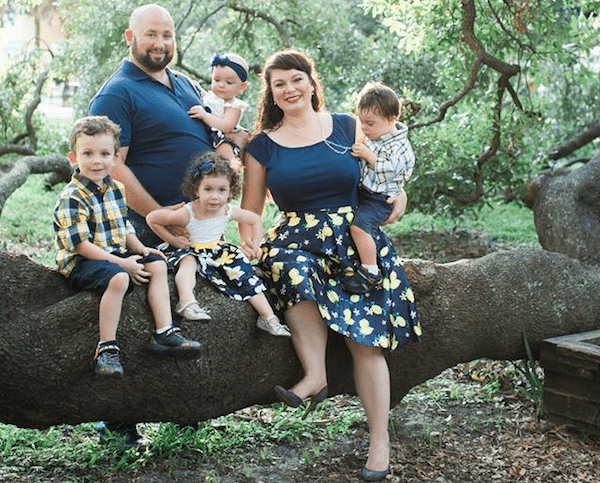 The Dad of All Boys Who Keeps Grounded in Faith
"I've been blessed with two fun-loving and courageous sons who believe that every lizard is a pet begging for an immediate doctor's checkup and every arm of a sofa is a cliff that must be scaled. There is never a dull moment in the Ferguson home! I never imagined that the joy (and responsibility) of fatherhood would be so intense. With each day, I am working to put fatherhood into context and embrace the challenge. There are so many adventures I want us to experience, so many stories I want to share about the importance of family, understanding the impact of history and critical steps to keeping oneself safe in today's world. There are so many lessons I want to teach them about life, love and manhood. But it seems there's so little time. I blinked, and they're 8 and 5! I take solace in my faith, and work assiduously to impart it to my sons daily. For, of all of my childhood experiences, I most appreciate that my parents ensured I was grounded in my faith, which has been the lens through which I have since interacted with the world. So, while I can't attend every sports practice or school field trip, I am always working to inspire them, encourage them and to be the best model that I can be. For me, bookending the day with family prayer is one way to instill what I consider to be an essential practice of faith that I hope they will pass on to their children when they become fathers." –Cleveland Ferguson III, father of Cleveland IV (age 8) and Jackson (age 5)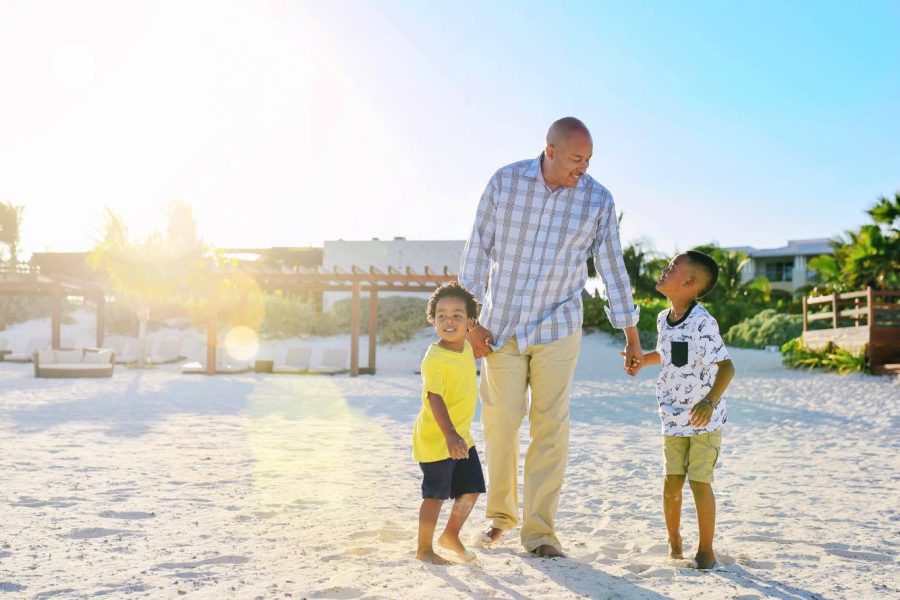 The Long-Distance Dad
"Before we started a family, my wife and I knew our life would be different from the 'normal family.' My work as an athletic trainer for MiLB baseball keeps me away from the everyday family life for over seven months every year. When we started a family, we made a conscious effort to be together as often as possible. When our first child was born, he lived in the team hotel until about six months old, constantly traveling from city to city with me. By the time he was a year old, he had traveled the country many times. After a while, this lifestyle gets to be too much for a child. As our family grew, we decided summers would be the best time to spend together as a family. Unfortunately, as an athletic trainer, I do not get any days off from work. Vacation time is off-season only. Being away from my family is hard because you don't get to see your kids every day and tuck them in at night. Technology has certainly made things easier… phone calls and FaceTime have become an essential part of our family. The distance and time apart definitely makes you cherish the times you do have to spend with your family. I look forward to the time we have during the summer and the off season. My favorite time of the year is the off season. I'm able to parent like a normal dad. I get to take the kids to school, partake in activities and have dinners at home. My wife and I have made it a point to take time for ourselves when I am home on the weekends to keep our marriage funky fresh… because we all know… when mama isn't happy… nobody's happy." –Mickey, father of Sebastian (age 8) and Olivia (age 4)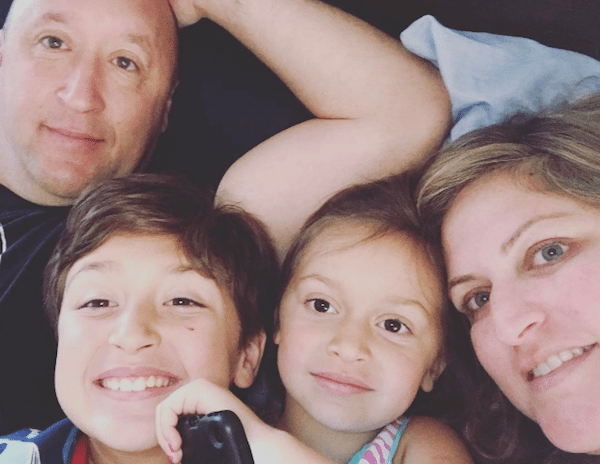 The Dad of Multiples
"We were so surprised when we found out we were having twins! It's been really hard, this first year, with two infants. But it also has been a lot of fun. Their little personalities are so different, and it has been great seeing them grow into little people. They are sweet, happy babies and have really added so much love to our family. I never thought I'd be the father of four, but we have such great kids! At the end of a tough day, their smiles at the door are all that matters." –Jon Sacks, father of Mattie (age 8), Spencer (age 4), Flora Grace (age 1) and Beck (age 1)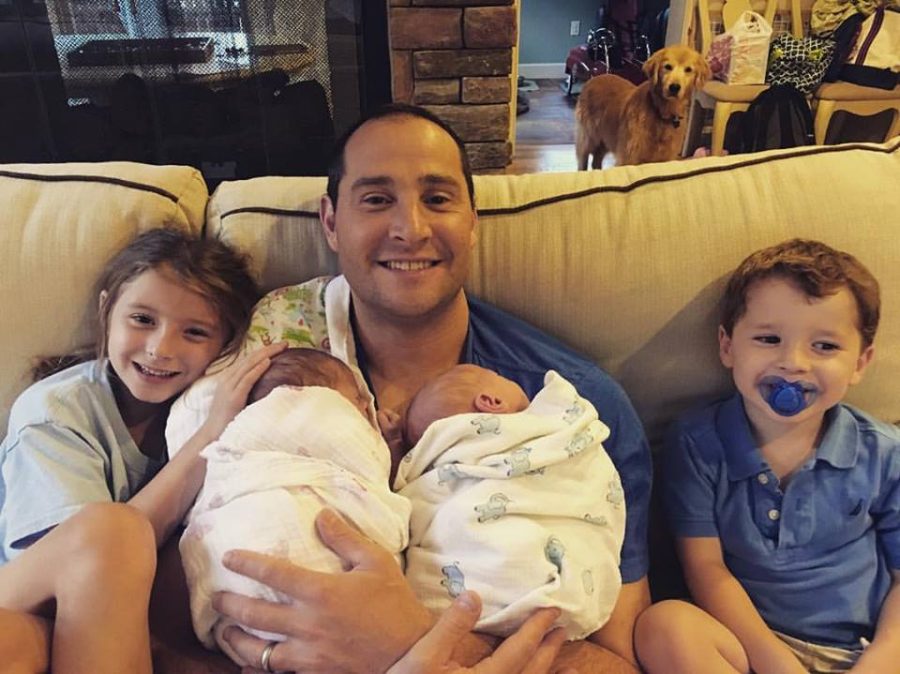 The Dad Raising a Daughter
"From the day my daughter was born, I remember looking at her swaddled up and knowing that I will always be there to protect her. It's an amazing feeling that all fathers know, but especially those who have girls. It's also a very humbling realization that God has chosen you to be the no. 1 man in her life, and it instantly inspires you to be an even better version of yourself. Perception is reality, and I want my daughter to see me as a strong father, her mom's best friend and someone who equally shares in housework. But what do each of these really mean and why? For being a 'strong father,' it means I want her to look at me like a leader. As the no. 1 man in her life that she can trust with her feelings and security. For being her 'Mom's best friend,' I understand that she is always watching how we interact. The verbal and subtle non-verbal cues of how we communicate and the level of respect that we share for each other. Additionally, I want her to see that her mom and dad share housework. From dishes to yard work and car washing to vacuuming, these are chores that my wife and I interchange, and I want my daughter to see we are both equals in all aspects of our relationship. As my little girl one day becomes a young lady and eventually a woman, I want these key experiences in our home to equip her with the knowledge of how a healthy relationship should be. So, one day, her future husband will treat her (and her future children) with the same love and respect she observed through her life." –Mark Owens, father of Jojo (age 6) and Broderick (age 4)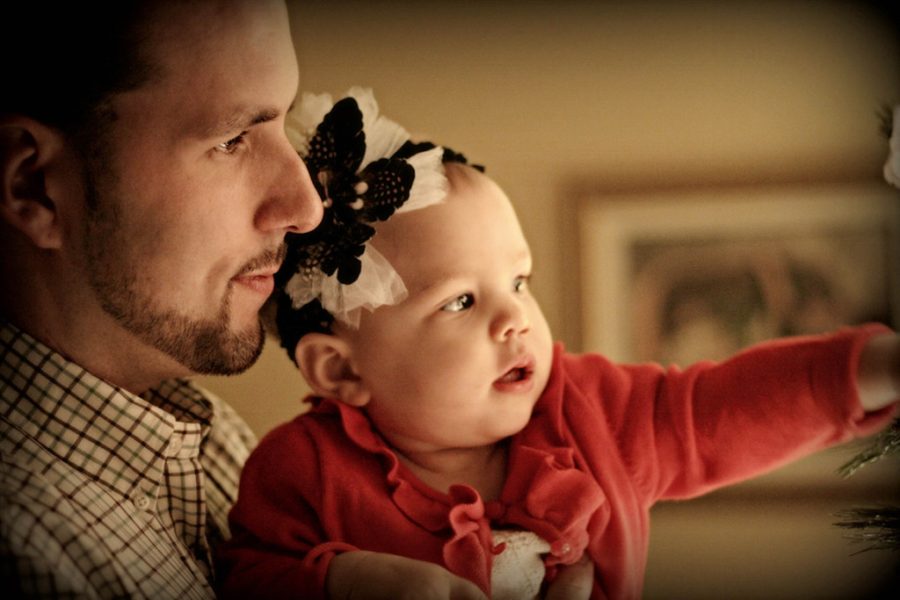 From all of us at Jacksonville Mom, thank you for all you do each and every day of the year. Happy Father's Day!