Happy Thanksmabirthdaychristmakah! This year, my daughter will be celebrating her sixth.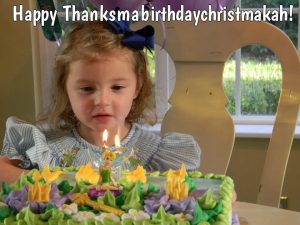 At my first OB appointment when I got pregnant with my daughter I was told her due date was November 15. Perfect, I thought, too late for Halloween and too early for the holidays. Except she was almost two weeks late and she arrived the day before Thanksgiving. My mom cooked a turkey and delivered it to us in the hospital the next day. My postpartum Percocet went nicely with my mashed potatoes and gravy.
Since then her birthday has been the week of Thanksgiving. One year I am sure her birthday will fall on Thanksgiving. This makes things tricky for us because immediately after her birthday comes Hanukkah, which we celebrate, and Christmas, which we also celebrate, all within five weeks of each other.
There are three kinds of problems all this Happy Thanksmabirthdaychristmakah causes:
The managing of gifts
The party dilemma
Balancing the holiday obligations with her birthday
First, gifts. You can see that within five weeks she has three opportunities for gifts. With an aunt, two uncles, four grandparents, Santa and birthday presents, things can get a bit out of control. We have handled this differently depending on the year. One year we had a birthday party for her and said no gifts. One year she received a larger gift for her birthday from my parents and a smaller one (related to the first gift) for Christmas. I try to find gifts that "go together" (for example, a doll and then a doll dress, or a shirt and then the matching skirt) and separate them out between holidays.  I also, honestly, try to give her less for her birthday and Christmas knowing Hanukkah is always right in between the two.
Next is the birthday party dilemma. As I said, we've done one party without gifts that was just a playdate after school during the week. The year her brother was born we did one with gifts. One year we traveled to see all four grandparents and she had no party with her friends but two separate little parties with family. The hard part is always finding a weekend to have a party with friends. Too soon and we're backing up into Halloween. Too late and the holiday madness has started. Over Thanksgiving vacation no one is home to attend or has holiday plans. I've found feeling out others about their plans and having smaller get togethers usually works best due to the timing of her birthday.
The last thing that gets tricky is balancing celebrating her birthday with all of the other holiday events going on over Thanksgiving. This year there is a tree lighting and dinner with Santa I thought would be fun. But it fell on her birthday. So I asked her – do you want to celebrate your birthday with Santa or do you want to stay home with mom and dad and your brother and have cupcakes? And she chose cupcakes.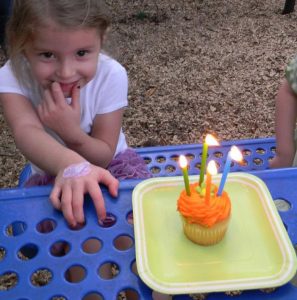 I've found the easiest way to manage a birthday and holidays so close together is to remain flexible and open to ideas that don't necessarily scream "Happy Birthday!" Maybe one year she'll choose a tree lighting and that's fine, it's her birthday. Maybe one year we'll be eating Tinker Bell birthday cake instead of pumpkin pie on Thanksgiving.  Maybe one year we'll have a birthday party with Santa. The most important thing on her birthday is that she's shown how much she's loved. That will never be difficult to do.
How do you celebrate your child's holiday birthday?