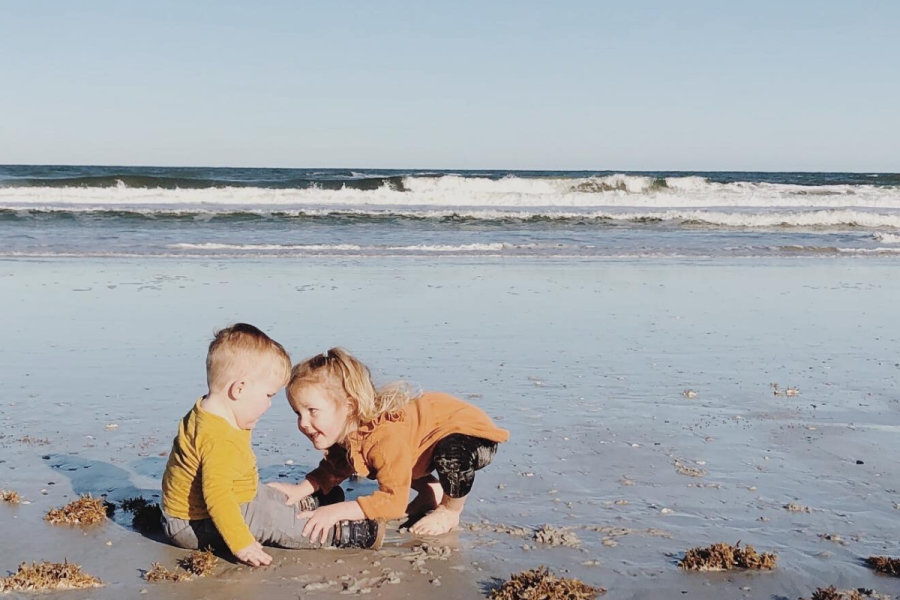 You're tired and you feel like you're going to cry if anyone makes eye contact with you. Which will be super awkward since you're sitting at the desk of a new job, surrounded by new people who are probably still sizing up the new girl. As the new girl, you're desperately trying to prove that you're a valuable addition and know it won't look good when you have to send the "Working Remotely" email (f*cking again).
Of course, your kids can't get sick at the same time as each other, or over the weekend, or before you started the new job. And, of course, you have to figure it out without much help since you chose to raise a family without your family nearby.
I see that, even though you have incredible friends on whom you can rely in an emergency, it doesn't take an emergency for you to need help and support. I see that sometimes it just takes a head cold, or a disorganized pantry, an evening without dinner plans and an empty fridge, or 13 loads of laundry.
To the mom without someone to help out at home, I see everything you (and your husband) are doing alone. I see the more than 2,000 times you've carried your kids up the stairs, hoping that they would fall asleep peacefully and without many tears (for either of you). And I especially see the more than 2,000 mornings it's been you getting out of bed, generally before 7 a.m., to attend to the never-ending needs of your children. I see every meal that you've made, every dish that you've washed and every poopy diaper you've changed. I see that you feel alone and yearning for someone who cares for your family in the way that, well, only your family can.
To the wife and husband who never get a break that doesn't have a price tag, I see you struggling to find time for each other — let alone yourselves. I know that you'd love a chance to sit alone in your home, binge-watching Succession, knowing that your kids are happily playing at their grandparents' house. I see the photos from the vacations you don't take and the events you don't celebrate.
And mostly, to the children who don't receive as much attention and affection as so many of your peers: I am so very sorry. I know that you don't know what it feels like to be excited about Grammy picking you up from school each Wednesday or Papa going with you to ballet class. I am sorry that you don't get to consume donuts for every meal and stay up too late with your aunts and uncles and cousins. I know you don't know, yet, that all of the fun things our family does could be even more special with family to share… but I know that eventually, you will.
To the mama without a village, I understand how you're hurting knowing that your children don't feel as much love each and every day as they could.
So, how can I help you, mama without your village, and what can you do? Well, there likely isn't much you can do short of moving across the country — to the detriment of your careers and future. But you can start accepting help when it's offered or even (*gasp*) ask for help! You can invest in positive relationships with fellow parents who cherish your children in a special way. You can seek out relationships with others who lack a support system. Others like me.
I see you, mama without "a village," because I am you. And, I'll admit, I very often overanalyze how life and its many situations will affect my toddlers' future. The reality is that they are incredibly loved, both IRL and courtesy of the glorious technology that allows us all to remain in close contact. The reality is that much of these overwhelming feelings are more likely a by-product of exhaustion and trying to do it all alone. The reality is that it's really hard to raise your children without your family around — but you'll be okay, and so will I.