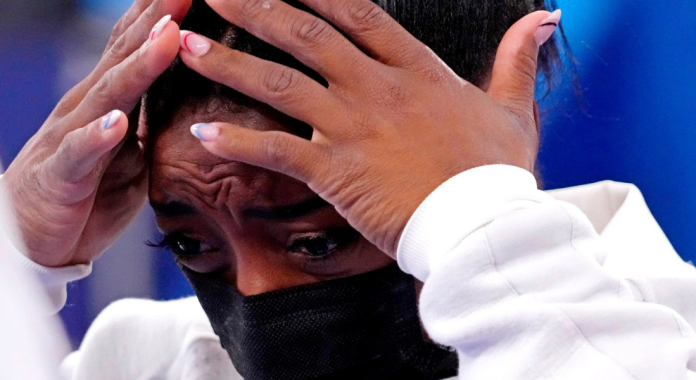 Simone Biles, the greatest gymnast of all time — some say the greatest athlete — had all the pressure in the world on her shoulders this week. And that's practically a literal statement; leading up to the Tokyo Olympics, it seems the entire world was watching, expecting her to dominate, and blow the competition away. Instead, she shocked everyone when she suddenly dropped out of the team competition, citing mental health concerns.
Earlier this year, Biles seemed to be flying high. She made history when she became the only woman ever to land a Yurchenko double pike vault at the US Classic, a skill that only a handful of men have ever performed. It will likely become one of the many fantastic skills named after Biles. She's so talented that the International Olympic Committee (IOC) actually downgraded the value of her skills, saying they didn't want other gymnasts to attempt them, a decision that was extremely controversial.
Cue the Tokyo Olympics. Team USA, which has dominated in gymnastics for years, didn't perform as well as expected, and that included Biles. Her performances were off, although she was still exceptional. Yet popular commentary was still slamming her for not getting the insanely high scores that everyone has come to expect. It doesn't matter that the IOC is downgrading her skill values. Biles can't win no matter what she does — literally. The effect was obvious on her, as she was, at times, noticeably distraught during the competition. The day before the finals, she even wrote on Instagram that she felt like she "the weight of the world on my shoulders at times."
After her vault performance today, she announced that she was stepping away from the competition, for her own mental health. "I was just, like, shaking, could barely nap. I just never felt like this going into a competition before, and I tried to go out here and have fun," she said in a statement. "Warm up in the back went a little bit better, but then once I came out here I was, like, No, mental is not there so I just need to let the girls do it and focus on myself."
Part of the decision to step away seems to be due to her fear that she will negatively impact the rest of Team USA, which finished with a silver medal. "I knew that the girls would do an absolutely great job, and I didn't want to risk the team a medal for my screwups because they've worked way too hard for that so I just decided that those girls need to go and do the rest of the competition," she said. She ended up cheering the rest of her team on from the sidelines, and on Instagram, congratulated them for their performance. "I'm SO proud of these girls right here," she wrote. "You girls are incredibly brave & talented! I'll forever be inspired by your determination to not give up and to fight through adversity! They stepped up when I couldn't. thanks for being there for me and having my back! forever love y'all."
Biles can still participate in the individual events if she so chooses, but there's no word yet on what she'll do. But already, people are already slamming her for stepping away in the middle of the competition, even blaming her for Team USA's silver medal, instead of the expected gold. Laurie Hernandez, a gymnast who competed alongside Biles in the 2016 Olympics in Rio de Janerio, quickly hit back at the haters. "Having to put that much pressure on her to carry the team to gold, it's not fair," she said. "This is a team of four, not a team of one… I know she's the best, but that is horrifying."
What people need to remember is the amount of bravery it took for Biles to make this incredibly difficult decision to step away. Mental health, despite what some people may think, is real health, and Biles herself has so much on her plate in addition to the pressure on her to win as the greatest of all time. This is a woman who grew up being moved from foster home to foster home, and often worried about having enough to eat. A woman who was sexually assaulted by Larry Nassar, along with hundreds of other female gymnasts. A woman who has repeatedly faced racism as a dark-skinned Black woman in the public eye, with comments frequently criticizing her appearance and her so-called "attitude."
Add all of that together, and what do you have? A very young woman dealing with a lot of trauma and stress, coming off of a yearlong pandemic, competing in one of the most high-pressure events in the world. That's exactly why it's so brave for her to value her own health, and step away, especially considering the danger of what she does. Have people forgotten that? Gymnastics may look graceful and easy, but what they're all doing, and especially with Biles' extremely difficult skills, is dangerous. An inch too far on the beam, too much power or speed on the vault, and it can be catastrophic. Not being in the right headspace isn't an issue of just feeling sad; without the proper focus, Biles could be risking serious injury, if not her actual life.
Simone Biles doesn't owe any of us anything. And she doesn't need a gold medal to prove to anyone that she's the greatest of all time. That's a simple fact — and it will remain true whether she continues to compete or not.