Some women love driving around town with a car full of kids running from soccer to ballet in their exteriorly shiny yet interiorly stained-with-food minivan, but I'm just not one of them.
In fact, I strategically plan out my weeks as a stay-at-home mom to ensure that I only lug my kids into my SUV  two, sometimes max three, times per week. My kids and I are just not car riders, so running around stopping from errand to errand is a surefire recipe for tears from any one of us.
Even before our move to the suburbs of a small town like Nocatee, I knew a minivan wasn't in our near future. I had really considered swapping in the old car we've had for years to get a new one with great features. Sure, it's nice to have automatic doors, a third row of seating and cool extras like a TV, but we decided to keep our old yet perfectly functioning SUV to get my real desired mom car: a golf cart.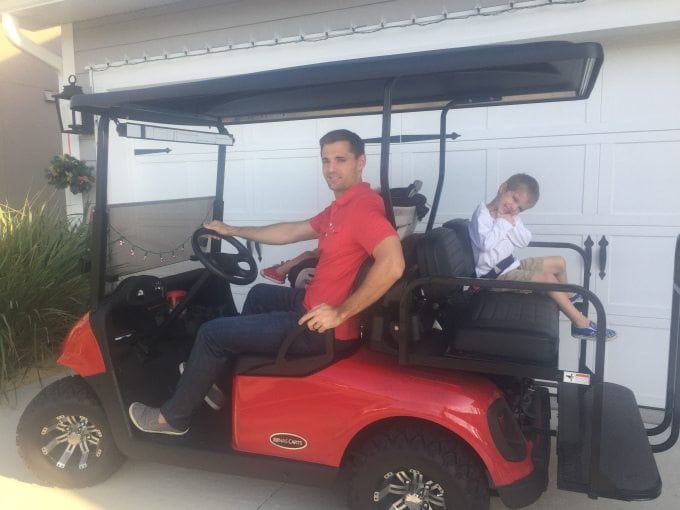 I sometimes pinch myself feeling like we moved to Pleasantville because of the amount of places that my family and I can drive to on our golf cart. School, church, the pool,  restaurants, our gym and the grocery store are our normal cart routes. But when illness throws a wrench in our plans, we can still get to our medical providers like our dentists, our eye doctors, the pediatrician and our family care doctor within a 10-minute golf cart ride.
And the best part of golf-carting around town with two boys, aged four and two? They love it — they actually want to ride in the golf cart. No more screaming to hurry up and get in the car. No more complaining that their five-point harnesses are too tight or that they can't reach a snack that they dropped in the backseat (purposely).
I fully understand how blessed we are to have this mode of transportation available to us. Moms who have secured a job across town must make the daily trek in the car with their young kiddos, and I'm sure it can be draining for all. And if I didn't have the opportunity to stay in town through the week, you would likely see me across town car shopping for a new ride.
But for us, our golf cart-filled days are simplified and feel more enjoyable as we take in the fresh air. Will I ever cave and buy a minivan? This mom says no, but I guess you should never say never. For now, I will enjoy the views as I cart around instead of focusing on rushing to the destination.