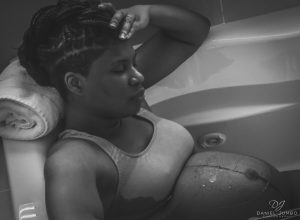 "Tieska, I want you to go with the flow.  If you feel the need to push, then push. Okay?" Ashleigh, the midwife on duty, moved back from the tub and into one of the comfortable chairs.
I nodded in agreement as I sank deeper into the water as the next contraction came. By vigorously wiggling my toes and making motorboat sounds with my lips, I powered through each one. As my motorboat sounds morphed into the guttural growl signaling the imminent protrusion of a human from my hooha, Ashleigh reappeared and said that she'd like to check me on the bed.
"I can't get out of the tub," I told my husband and another guttural moan escaped my throat. Shortly thereafter, I felt an object on my belly and through narrowly opened eyes, I saw the waterproof heart-rate monitor and a flashlight beaming into the water. I began to push. After less than an hour of my pushing and growling and everyone else's encouraging words and the sounds of Hillsong's "Oceans," our second son was born in the water.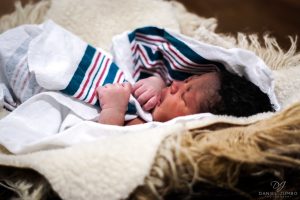 I've heard women say that giving birth is an amazingly beautiful experience and that they continue having babies because they forget the toil that is pregnancy and labor.  After being traumatized by the hospital birth of our first son and going back to work after six weeks, those sentiments did not compute for me. So, when we found out we were pregnant again, I was determined not to give birth in another hospital, nor to return to work so soon. After thoroughly researching my options, I settled on a local birthing center. Without an epidural or any kind of medical intervention, my water birth was by far easier and less painful than my hospital birth with an epidural. Instead of being discharged feeling traumatized, I left feeling empowered, healthy and strong and like we'd made the best decision for our family.
One of the appeals of the birthing center was the small number of midwives on staff. There are five total and up until the day my water broke, I'd only met three of them. During my first pregnancy, I must've seen about 10 different doctors and nurses and constantly had to re-explain things. At the birthing center, in addition to being on the same page about how our bodies were created to function, I never once felt like I was just a patient number. Each appointment started with questions about how I was feeling outside of the pregnancy. They were genuinely concerned about me as a person and helping me achieve my goal of a natural childbirth. Any symptoms I mentioned were met with a list of alternative remedies before a prescription, so I was given options.
Unlike the hospital staff, the midwives were flexible and accommodating. Though my water broke on Sunday at 2:30 p.m., I didn't go into active labor until almost 24 hours later and that was only after irksome nipple stimulation, an ungodly dose of castor oil and a very long, brisk walk. What I appreciated though, was that the center gave me as much time as was safe to let my body do its thing. At the hospital, I would've been admitted after 12 hours and induced regardless of my wishes. I was admitted into the birthing center around 1:30 p.m., our son was born at 4:59 p.m., and we were at home by 8:30 p.m.
Mostly, I enjoyed the privacy of the setting and the ability to create the atmosphere we desired. Our room was big and naturally lit with a with a full-sized bed, artwork on the walls, a chest of drawers, two chairs, a garden tub, and a thermostat. With my music on, I sat on my birthing ball and made figure eights while praying aloud. Before getting us lunch, my husband joined in and we created our peace. Although Ashleigh entered periodically to check my vitals, she was very quiet, polite, and sensitive to the mood we'd created. In the hospital, it was virtually impossible to find peace with the noisy machines, different strangers constantly coming in and out, the awful lighting, being limited to eating ice chips and being held hostage by the bed.
I recognize that not everyone is able to use a birthing center, as you must meet specific health requirements, nor is everyone interested in an epidural-free birth. I also recognize that many women have wonderful hospital birth experiences. However, if you're able and willing to think outside of the box, I highly recommend it. If we weren't dropping out of the baby-making game, I'd definitely do it again.