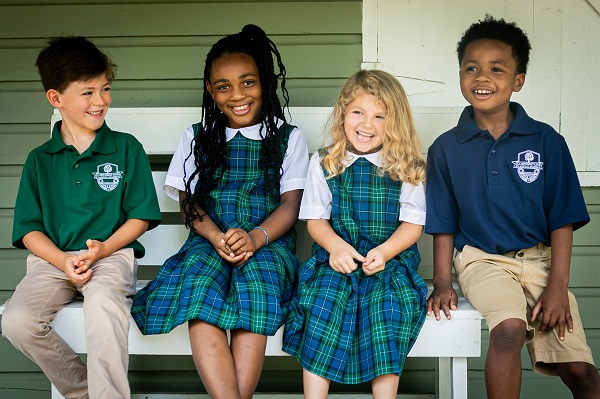 "Hi, I'm Lindsay, and I'm starting a school."
It's become a running joke between me and my husband: How many seconds after meeting a complete stranger until I drop "the bombshell"? He puts the over/under at 45 seconds, but I usually beat that. I can't help myself! Funny thing is, I never intended on starting a school, and frankly, I never even knew that was an option. Let's be honest, who starts an entire school, right? I know.
But it's even worse than that. I've never worked at a school, never been a teacher or administrator, and I never plan to. Yet I find myself in the trenches, founding a school alongside the most incredible group of committed volunteers and educators I've ever witnessed. So how did I get here, and why would it matter to you as a fellow mom, just trying to do the best for your kids in our fair city?
Let me rewind.
When I first discovered classical education over a decade ago, I was taken aback by the academic excellence and inclusivity of this time-tested model. In our current public school, I see my daughter simply regurgitating information and a lot of "teaching to the test." Then she promptly forgets everything she learned!
Classically trained students become scholars, retaining true knowledge by learning how every major subject area contextualizes the others: math, science, history, literature, language, art, and music. When I saw how it works, I knew I wanted it for my children.
Seeing no public or private schools in Jacksonville that were purely classical, and realizing what my daughters would be missing, I decided to start one.
Classical education is traditional American education. Its purpose is to study the very best that has been thought and said throughout history and provide students the intellectual skills that equip them to think critically. Classically educated students thirst for knowledge inside and outside the classroom and become well-rounded, deep thinkers who are virtuous individuals.
We teach students not what to think but how to think for themselves.
This is how everyone, including our Founding Fathers, used to be taught. It has a 2,000-year history, as it was started by the Greeks and the Romans, and it is the same type of education you will find in the top-performing private prep schools, but ours is a public charter school with Duval County, so it doesn't cost you or me a dime!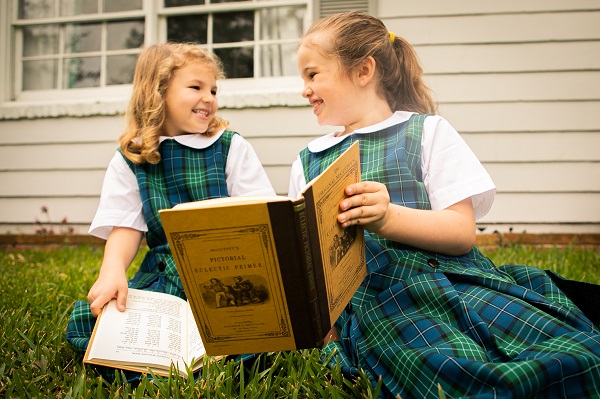 Imagine a school where Kindergarteners memorize more than 40 poems, 2nd graders memorize the Declaration of Independence, 5th graders read Shakespeare, 9th graders read The Iliad, and 12th graders write a senior thesis and defend it before a panel of judges. Imagine a school where virtue, decorum, intellectualism, and truth-seeking is a daily exercise. In summary, an egalitarian meritocracy where every student excels.
The most incredible thing is that it's absolutely free and open to everyone.
I now unexpectedly find myself the founder and board president of Cornerstone Classical Academy, an approved K–12 classical charter school through Duval County Public Schools. We open our doors this August with K–6th grade (552 students) and add a grade each year until 12th, with more than 1,100 students. CCA recently purchased a 16-acre property at 2360 St. Johns Bluff Road South, where our school building is currently under construction.
For almost three (exhausting) years, I've poured my heart, soul, time, and what little remains of my energy into starting CCA–all without a paycheck. My payday will be our first day of school when these eager, excited scholars will begin obtaining what their minds and hearts crave.
Our motto is informed by the Platonic ideals that undergird Western Civilization: "Learn the truth. Do the good. Love the beautiful."
We're not testing focused. In fact, we believe that if you teach children to think for themselves, they can pass any test.
Education is beautiful. Every subject is beautiful. Our students will learn about that beauty each and every day.
If this sounds like a dream come true for you and your children, I encourage you to learn more at JaxSchool.org where you can enroll your student today! We do have spots available right now, but there will be a waitlist in the near future.
If you have questions (and we all do!), please contact me by using the webform here. And I hope to hear from you!
CCA founding families like you are the real cornerstones of Cornerstone. We are a community of families that desire something different for our children.
About the Author
Lindsay Hoyt, Founder and Board President, Cornerstone Classical Academy: I'm just a mom who saw a Jacksonville educational marketplace that needed a new, yet traditional, flavor. That's why I'm starting a school, and, in essence, that's why I can't stop talking about it.