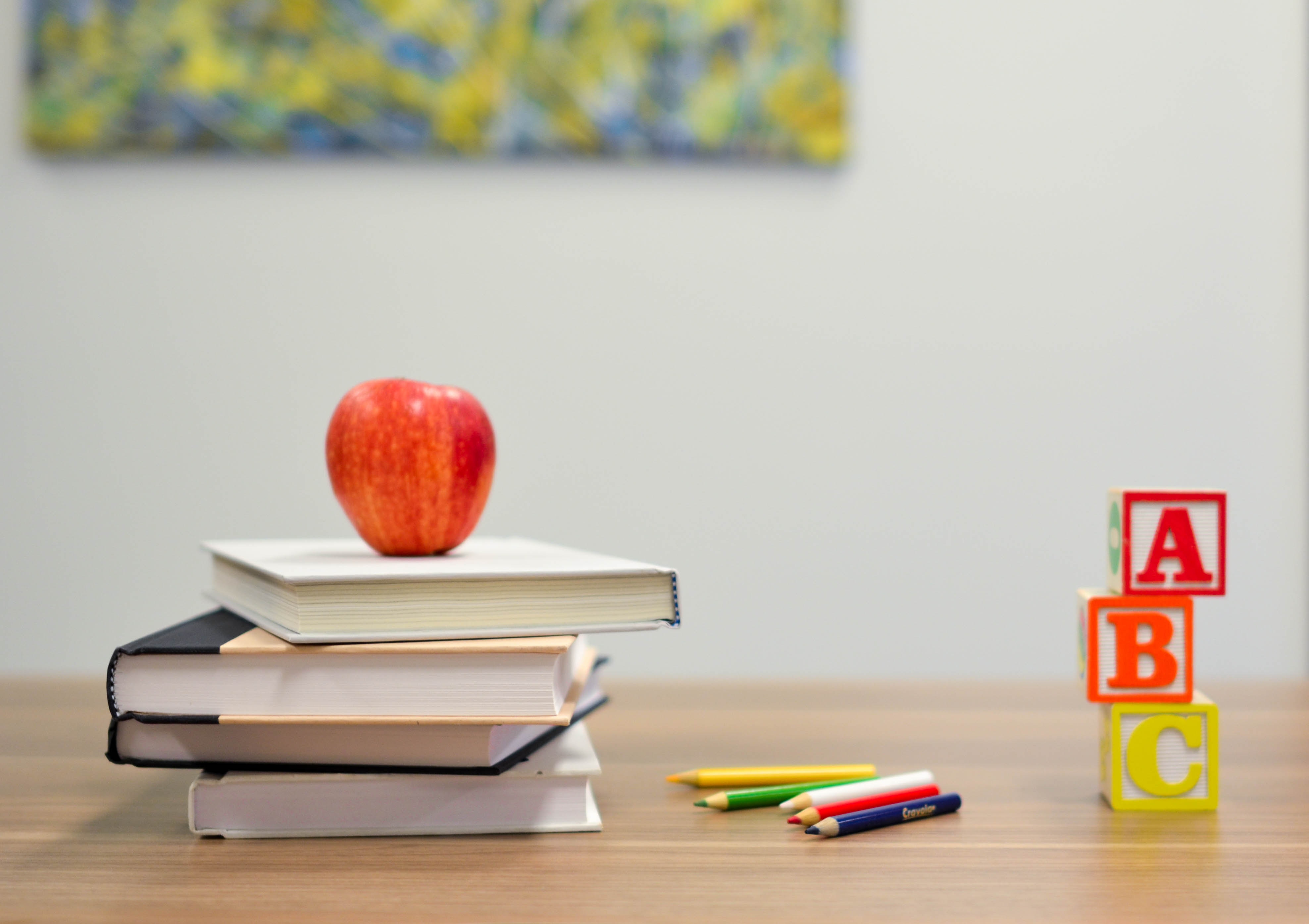 Whether you are dancing a jig because the kids are heading back to school or a little teary-eyed at the thought of summer coming to end, no one can deny the excitement and nervousness that surrounds the start of a new school year. To make this time of year even more special, I have put together a list of back to school traditions that you can start with your kids to get them excited about the coming year and some ideas to help you remember these momentous occasions!
1. Document the First Day of School with a Picture and Interview
This is a picture of my daughter on her first and last day of kindergarten. I LOVE that I did this. What fun it was to see how she changed over the year! Many people have a special spot they like to take a picture in front of,  like their front door or a tree in the yard that grows each year as the child grows! You can find a ton of great ideas on Pinterest or check out JMB's Back to School Pinterest Board for links to a few. You can also use the free printables created just for JMB here.
Another idea I love is a yearly interview that you can document on camera. Sit your kid down and ask them a few questions about themselves, their likes and dislikes, etc. Here is a link to petite lemon that has a free downloadable interview you can use as a guide! I am definitely doing this. How awesome to have a video each year to see and hear how your kids change!
2. Celebratory Dinner or Breakfast
Pull out the crystal and fine china and have yourself a celebratory dinner the night before your first day of school. The kids can request their favorite meal, and everyone can toast to a new year over sparkling grape juice. If that's not really your style, let the kids pick out paper plates with their favorite characters and grab some balloons or ask the kids where they would like to eat the night before school starts. The point is to make it a celebration! It's also great family time to talk about what everyone is excited about for the year!
Breakfast can also be celebratory. Get up a little earlier and make pancakes or decorate the breakfast table with some balloons and surprise the kids with donuts. Make it memorable and start the day out in a fun exciting way your kids will remember and appreciate!
3. Make a Schultuete
This is my friend's son holding his Schultuete on his first day of school! When children in Germany and Austria set off for their first day in school upon entering first grade, their parents and grandparents present them with a Schultuete: a big cardboard cone, prettily decorated and filled with toys, chocolate, candies, school supplies, and various other goodies. It is given to children to make this anxiously awaited first day of school a little bit sweeter. What a great tradition to start and teach kids about other traditions around the world! Here is the link to Skip to my Lou where she has a tutorial on how to make a Schultuete.
4. Take Your Kids on a Shopping Date
This is what I remember most about going back to school! Buying all the fun school supplies and picking out neat pencils and folders really got me excited about the new school year. Take your kids out on a shopping day! If you can take each kid individually and have a date of sorts with one child, that is even better! Pick up school supplies, let your child pick out their lunchbox, etc. This would be a great time to look for the first day of school outfit and then maybe grab lunch or get frozen yogurt. In my daughter's case this year, she wanted to get pedicures! (Great with me!!)
5. Host a Back to School Bash
You can do as much or as little with this one as you want. You can find some OVER THE TOP back to school parties on Pinterest, but that takes a lot of planning and stress, and really, a simple get together is just as memorable and fun for the kids! Have their friends over for an ice cream social and let them decorate sundaes and run in the sprinklers. Invite children the kids might not have seen all summer so kids can reconnect and get excited about the school year!
What are some of your families back to school traditions?