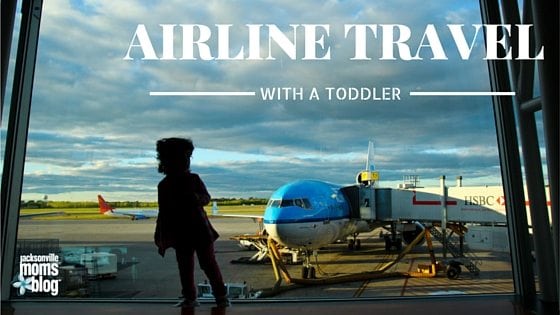 Growing up, my family traveled ALL THE TIME! At just 3 weeks old, my parents schlepped me to Italy and I saw (or cried through) my first opera. Instead of Christmas presents, my family went on trips and explored the world. Looking back, it was the greatest and best gift they could have ever given my siblings and me! I feel so blessed to have had the opportunity to travel most of the world at a young age. As a result, we want to give the same to our daughter, Charlotte! I must say my mom made the traveling look so easy, especially with THREE kids. We just did our first international trip with Charlotte last month as we ventured to Canada. Here are some tips and tricks that helped us on our journey!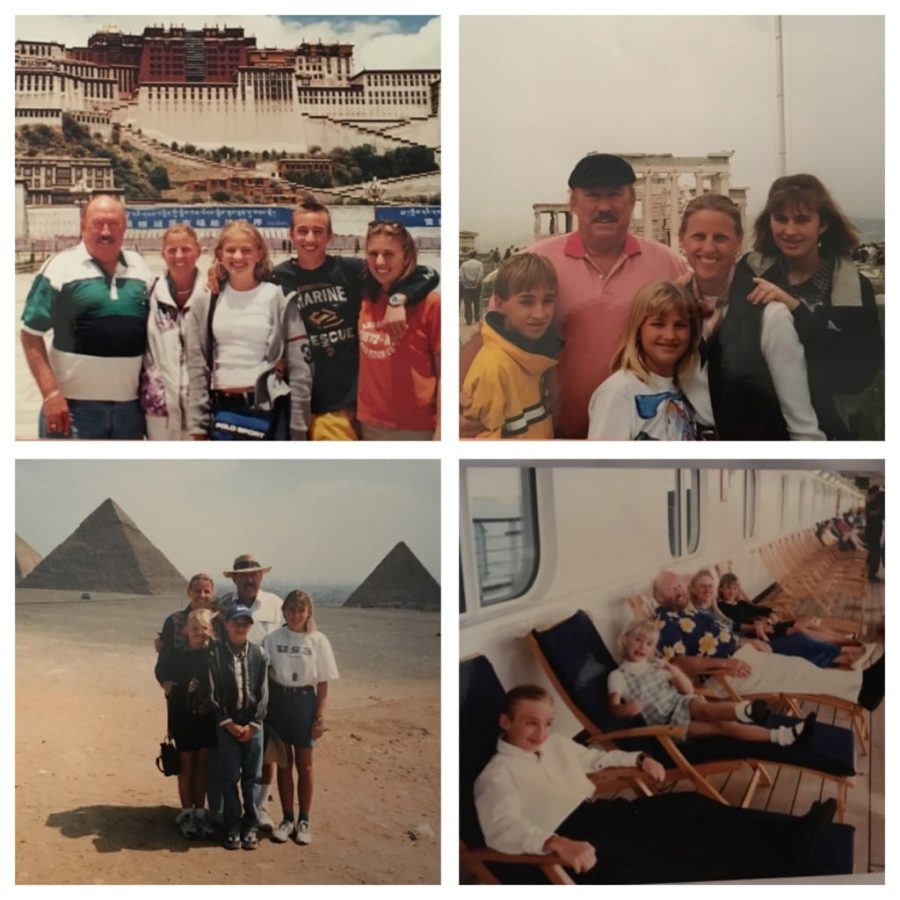 Good news, children under 2 fly for free! You can definitely save some cash by having a "lap infant," but you may consider booking a ticket for your toddler and bringing along their car seat to keep them strapped in and contained. Be sure the car seat is "aviation approved" as some airlines are sticklers on this. Also, you will need to call the airline and register any child under 2 as they need a boarding pass to get through security!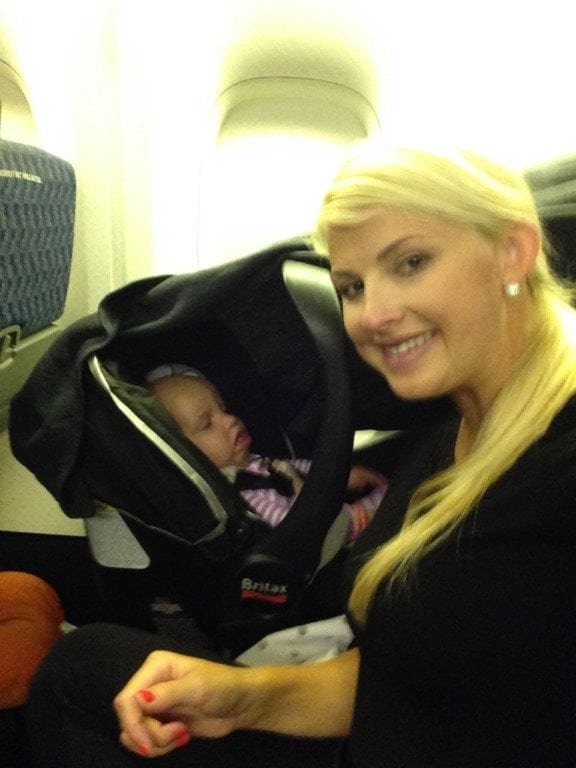 Plan for your Passport months ahead. If you are traveling internationally, your child will need a Passport no matter how little they are. For children under the age of 16, BOTH parents have to be present and the application has to be made in person. So, take the day off work and get that passport! My favorite part of the experience was taking the pictures. Oh, be sure your child isn't wearing a white t-shirt or their photo won't be accepted!
Protect your car seat and stroller. Purchase a durable car seat bag or ask for the disposable bag at the counter. Be sure to label your car seat and stroller in multiple areas, remove any accessories that may be damaged in travel and clip your harnesses so there are no loose straps. The airline crews are not very delicate when loading luggage and we all know how expensive our car seats and strollers are!
Separate baby food, formula and bottles in a Ziploc bag. Security has always been amazing when they see you traveling with a little one. They will have to wipe down your bottles and any other liquids to test for explosives, but it usually is a quick and easy process, especially if you have everything separated before going through security. However, my daughter was not so fond of someone else holding her bottle!
Do some research on your departure and arrival airports. Scope out areas for your children to play and get their wiggles out! Some airports have children's play areas, but my toddler loves just walking the terminal, getting on the moving sidewalks and looking for airplanes. The Jacksonville Airport has an amazing USO that is open for military families and offers free food and drink. On my journey from Hawaii to Florida with a baby and dog (without my husband), I discovered the Dallas airport had a nursing room, complete with a toddler play area, diapers, baby food and a rocking chair. How amazing is that? You'll be amazed at what options are out there!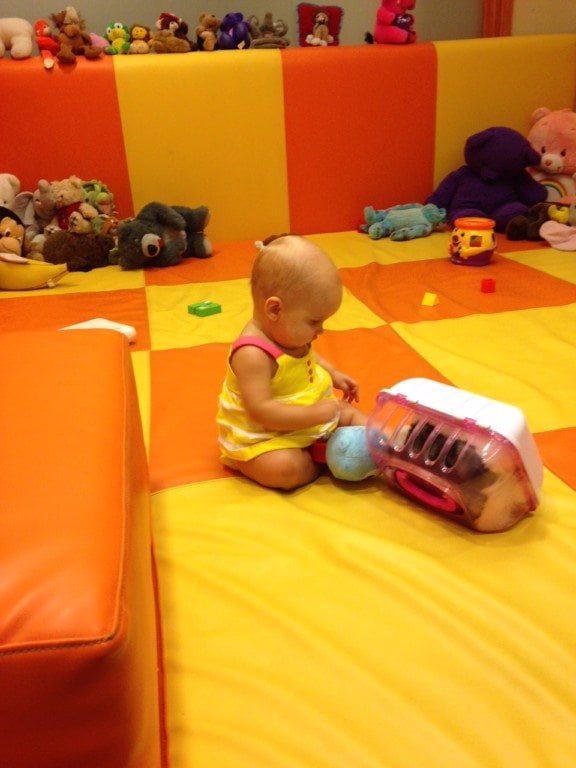 Make best friends with the flight attendants and gate agents! When you get to the gate, check with the gate agent to see if there are any open seats or open rows that they can move you to. Usually they are understanding and try their best. When traveling, I usually send my husband to do the sweet-talking–he's good at that. My worst nightmare is always hearing, "Attention, we have an extremely full flight"
Wait until the last possible moment to board. Once they start boarding, the airline usually asks for families traveling with children to board first. I have to say, this is the worst idea ever!! Yes, you may lose your overhead bin spot, but getting on first adds at least 30 minutes to the amount of time that you are asking your toddler to sit still! I would rather be the last one on the plane any day.
Savor the take-off. Ok, so now you are on the plane and if you were lucky enough to score a window seat, your toddler is probably pretty enamored with what is going on outside of the plane and he or she is pre-occupied. In my experience, they enjoy take-off and seeing all that's going on. It's the 10 minutes they may be calm and quiet!
Have your bag of tricks ready! So now the time clock begins! How do I entertain this little human for the next 3, 5 or even 8 hours? This is where the bag of tricks comes in. On our last trip, I ditched the diaper bag and used a smaller tote bag with a few different pockets. In the zipper area, I had raisins, lollipops, fruit snacks, pacis and other goodies. The first trick I pulled out was the iPad. My husband didn't realize we didn't have headphones until we got to the airport, so we had to make do, but Amazon has some great options for little ears. After about 15 minutes of watching Frozen, Charlotte was ready for the next fun thing to do. My next trick was a book. I brought two of her favorite books and we read through those quite a few times. Then, it was time for the aisle walk. This is my least favorite "trick" and always awkward, especially for the people who get irritated with kids. My toddler loves to engage people and sometimes they aren't into it!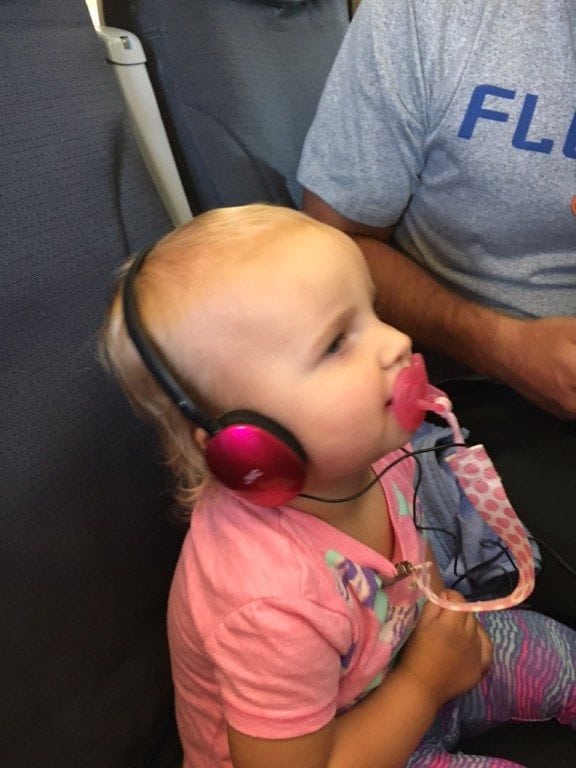 Plan to baby/toddler wear. My Ergo Baby saved my life on one of my solo trips from Hawaii to Florida. I had to go to the bathroom and I didn't see a flight attendant anywhere in sight. I just strapped Charlotte in the Ergo, shimmied my pants down and it was as easy as that!
Reward your toddler with a trip to see the captain. So you survived the flight and have safely landed! Usually, you can snap a quick pic with the captain in the cockpit and your little one may just get their first set of "wings" as they exit the plane!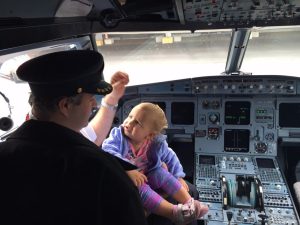 What are your go-to tips and tricks for airline travel? Stay tuned for round two of this post as we travel over the pond with our 2-year-old later this year!