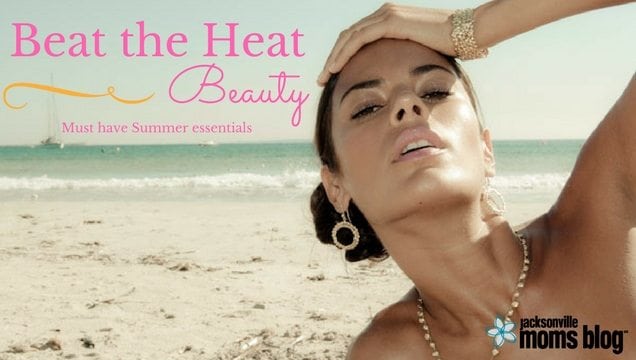 Nothing like those first few days of the Florida heat and humidity when summer hits to make you rethink what you are currently wearing. Most of us are dying to take off those jeans and any shirt that isn't breathable — am I right?! Stripping away the layers, piece by piece… well, same goes for  your makeup.
Less is more when it comes to summer skin. I like to pare down my look by adding bright colors and lasting essentials that will beat the heat and keep my face looking fabulous and fresh throughout the summer season. Such as:
Pigment Drops: Coverfx Custom Cover drops are pure pigment drops that are meant to be worn in conjunction with anything from tinted moisturizer to foundation. You can transform your own sunscreen or moisturizer into a tinted version. Love your lightweight foundation, but feel like you need a bit more coverage? Add a few drops and voilà — you have a full-coverage foundation.
Sunscreen: We live in Florida, so this is a must-have throughout the year, but especially during the summer months.  I love my Images Sunscreen that has an SPF 50. I can work out or be at the beach/pool for hours, and this stays put. Another favorite is the Neutrogena Ultra Sheer SPF 45. Always apply this a few minutes before you apply your makeup or go out in the sun to make sure it's set.
Bronzer: Get that sunkissed look without spending time in the sun! A favorite of mine is the Chanel Bronzer — it's on the pricier side, BUT it lasts FOREVER. I've had mine for over two years, and no, it doesn't go bad; just make sure you keep it covered after every application. Another favorite is the Physicians Formula Butter Bronzer.
Waterproof Mascara: L'Oreal Million Dollar Lashes (waterproof) is my go-to in my kit during the summer. You can splash around in water all day long, and your lashes will still look gorgeous and voluminous!
Liquid Lip Color: I've tried many liquid lipsticks, and I LOVE the way MAC's Retro Matte Liquid Lipcolor lasts without making your lips feel dry and flaky. A pop of color is essential for any pool or beach party. My two favorite colors are "Tailored to Tease" and "Feels so Grand."
Under-Eye Concealer: Not only does the Bye Bye Under Eye Concealer highlight and cover essentially anything, it's also waterproof and does not budge! I've worn this during an Orange Theory Fitness workout and after a television appearance, and it was still in place. You know that's some good stuff right there!
Eyebrow Pencil: Anastasia Beverly Hills Brow Whiz or MAC's Brow Pencil are two formulas that work wonderfully and are around the same price point. They won't budge in the heat at all! Another favorite is the NYX Micro Brow Pencil.
The best part? Any of these products will take you from the beach to lunch out with family and friends, still looking like you just walked out of your house with freshly applied makeup.