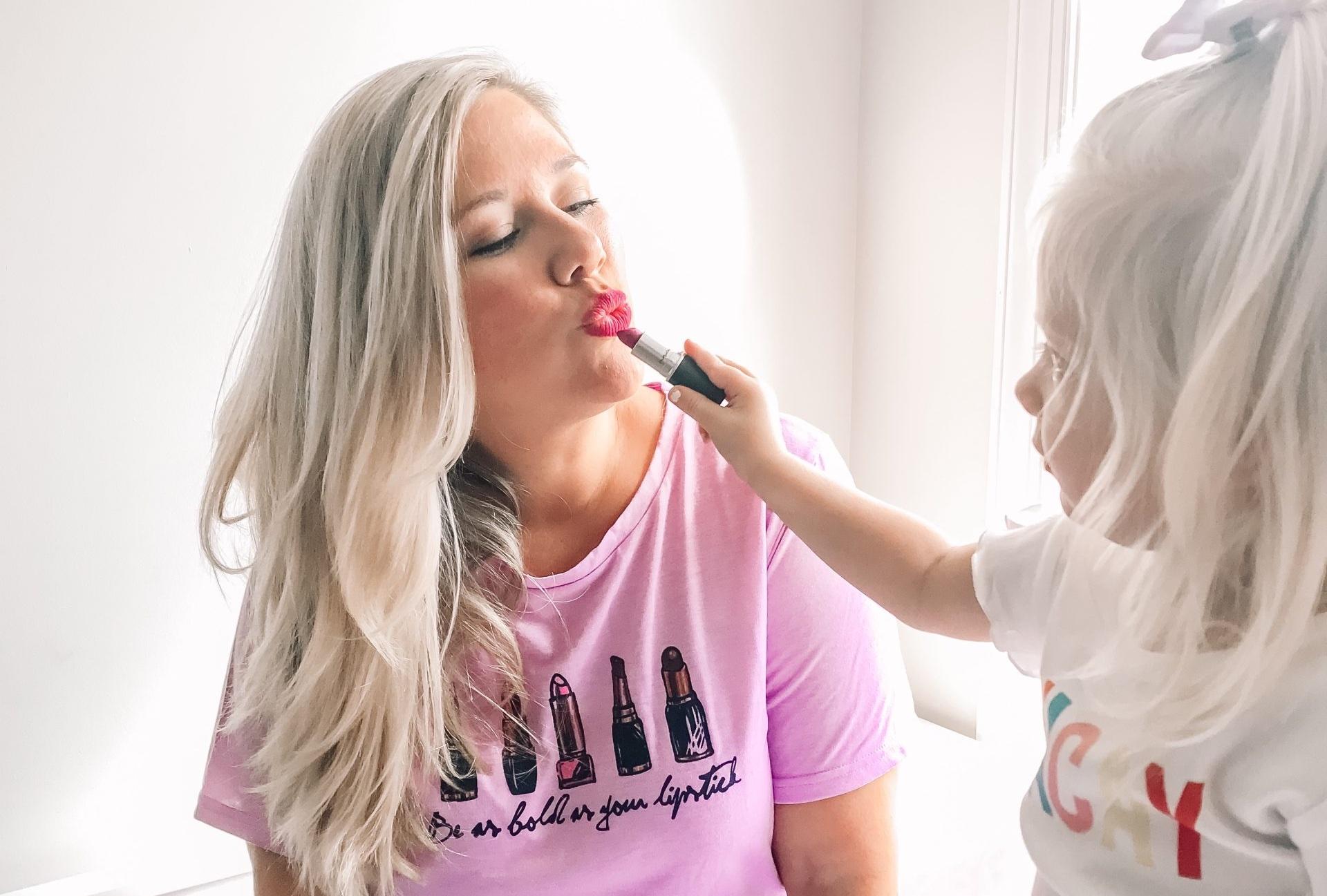 Hi, it's me. The girl who's likely always wearing a bold lipstick! Typically a bright pink or red, but corals, fuchsias, and even shades of orange are in my regular rotation. I've been a lipstick lover for as long as I can remember, and I've converted non-wearers into lipstick junkies, too! I guess that's part of my job as a part-time [beauty] influencer, freelance makeup artist, and full-time lipstick hoarder. (Seriously, my collection is insane.)
I often get compliments on my lipstick, in person and through my Instagram stories, and the fact that I can pull it off. It's truly one of my favorite compliments (otherwise I'm so awkward and don't know how to handle them, but fun lipstick is my biggest flex).
It always boggles my mind when I hear someone say, "I wish I could wear lipstick like that," or, "I wish red lipstick looked good on me!" Girl, you CAN! Anyone can. Lipstick is one of the fastest and easiest ways to get a little extra boost of confidence and feel super pulled together with minimal effort.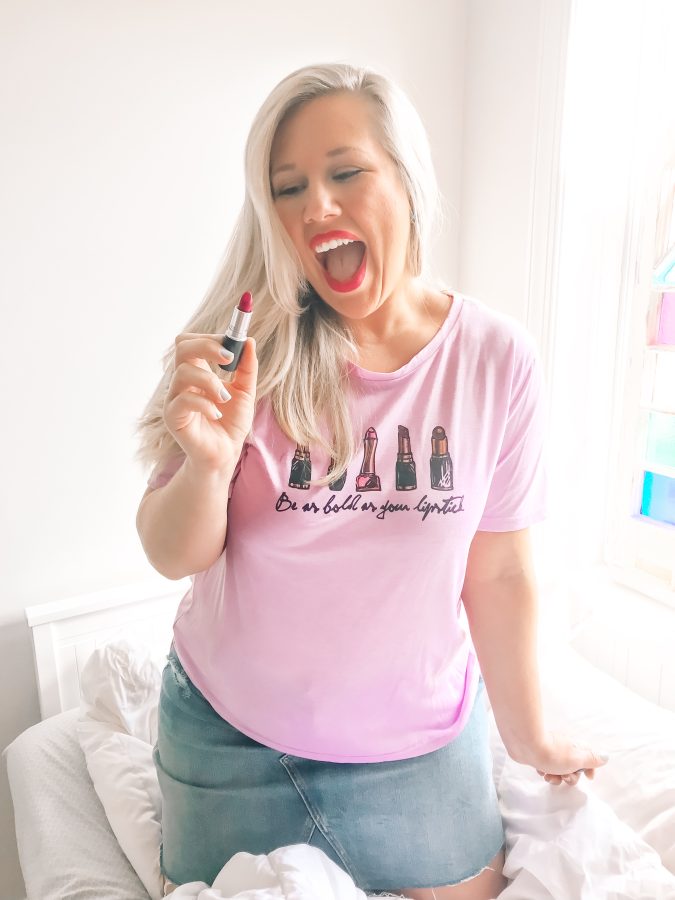 Here are my top 10 tips for rocking the bold lip unapologetically and confidently!
1. Own it. Think you can't pull off lipstick, especially a bright or bold color? You certainly can, Mama! If you like it, rock it like you've been wearing it for years, and it will look like it was made for you. You'll have heads turning and people asking what shade you're wearing in no time.
2. Coordinate your pout and your outfit. Your lipstick and clothes don't have to match completely, but complementary colors can tie the look together and make less of a statement while still being bold and fun. This way your lips won't scream, "HEY, LOOK AT ME!" Instead, they'll loudly whisper, "Hey, I'm a chic and stylish woman whose confidence is unmatched." Try a neutral outfit with a bold lip and matching purse or shoe, or match your lipstick to a bold detail or pattern on your clothes.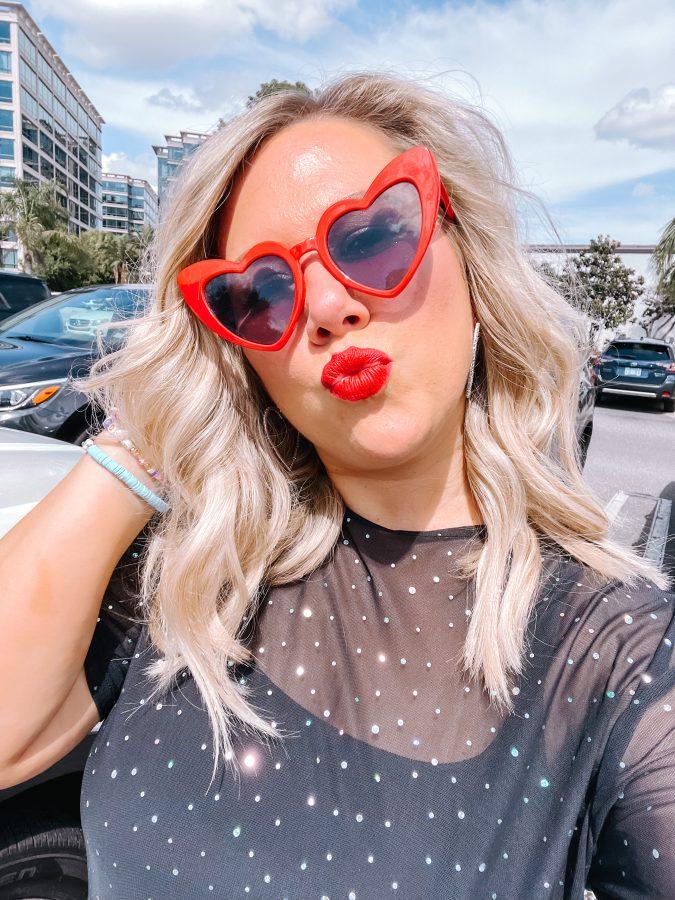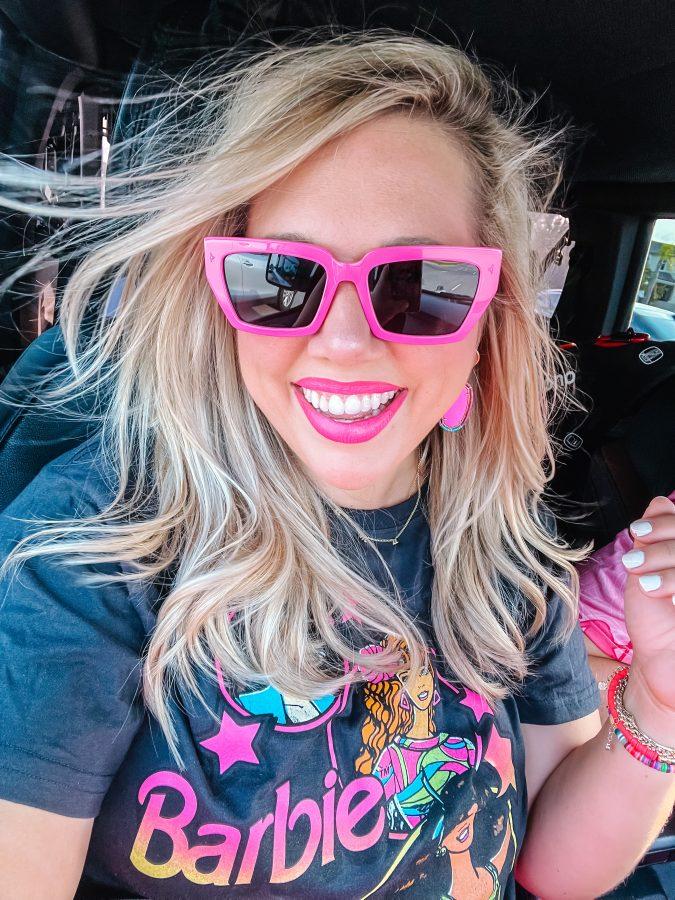 3. Wear it frequently. Not saying you have to wear intense lipstick colors every day of the week, but I highly recommend wearing some sort of color on your lips at least a few days a week (to work, school, run errands, etc.) to help build up your comfort level. Once you're used to seeing yourself in lipstick, it won't feel so weird when you make your grand debut at the next social gathering.
4. Grow bolder. Start off with lighter shades and gradually progress to darker, bolder, and brighter shades. Baby steps, ladies. Baby steps. It'll help with your own initial shock factor.
5. Stick to seasonal colors. This will help with the shock effect, too. In the spring, feel out the pinks and pastels. In the summer, go for bright pinks, corals, and orange tones. In the fall and winter, experiment with more deep berry, mauve, purple and brown shades. But red? Red is ALWAYS in season.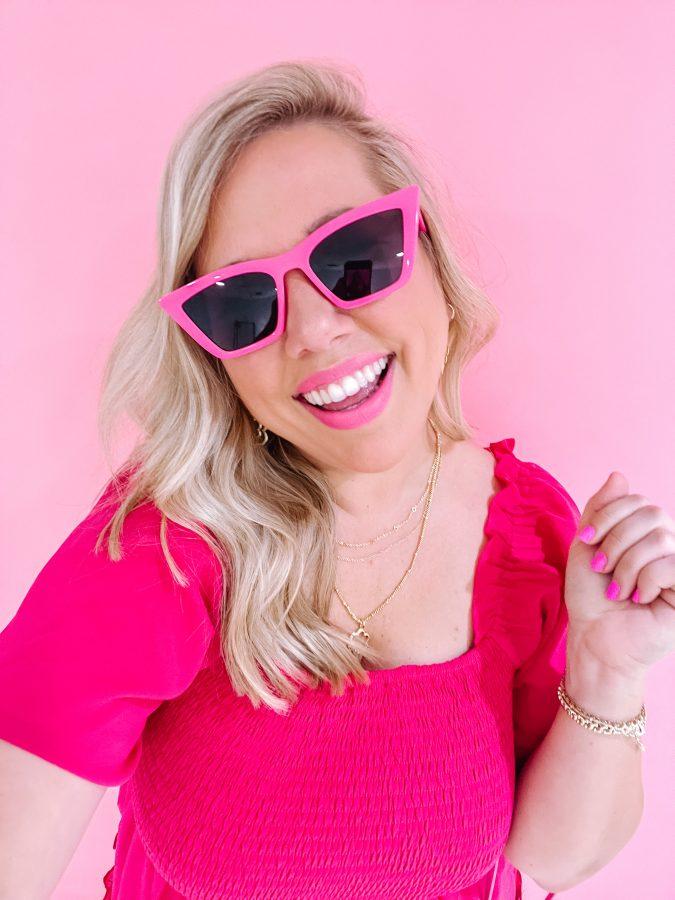 6. Pick one or the other. Bold eyes or bold lips — not both. I mean, you totally can do both (because there are no rules in makeup!), but if you're trying to get used to yourself in a bold lip I'd suggest sticking with one or the other.
7. Play with formulas. There are TONS of different types of lipsticks — satin, gloss, shine, matte, semi-matte, lip crayons, lip pencils, liquid lipsticks, lip creams, oils, etc. You might like one or two better than the rest, so I would definitely suggest playing around until you find a few that are in your comfort zone. If you want a bright pink, try picking up a satin, matte, and liquid lipstick in similar shades to see which you're the most comfortable in.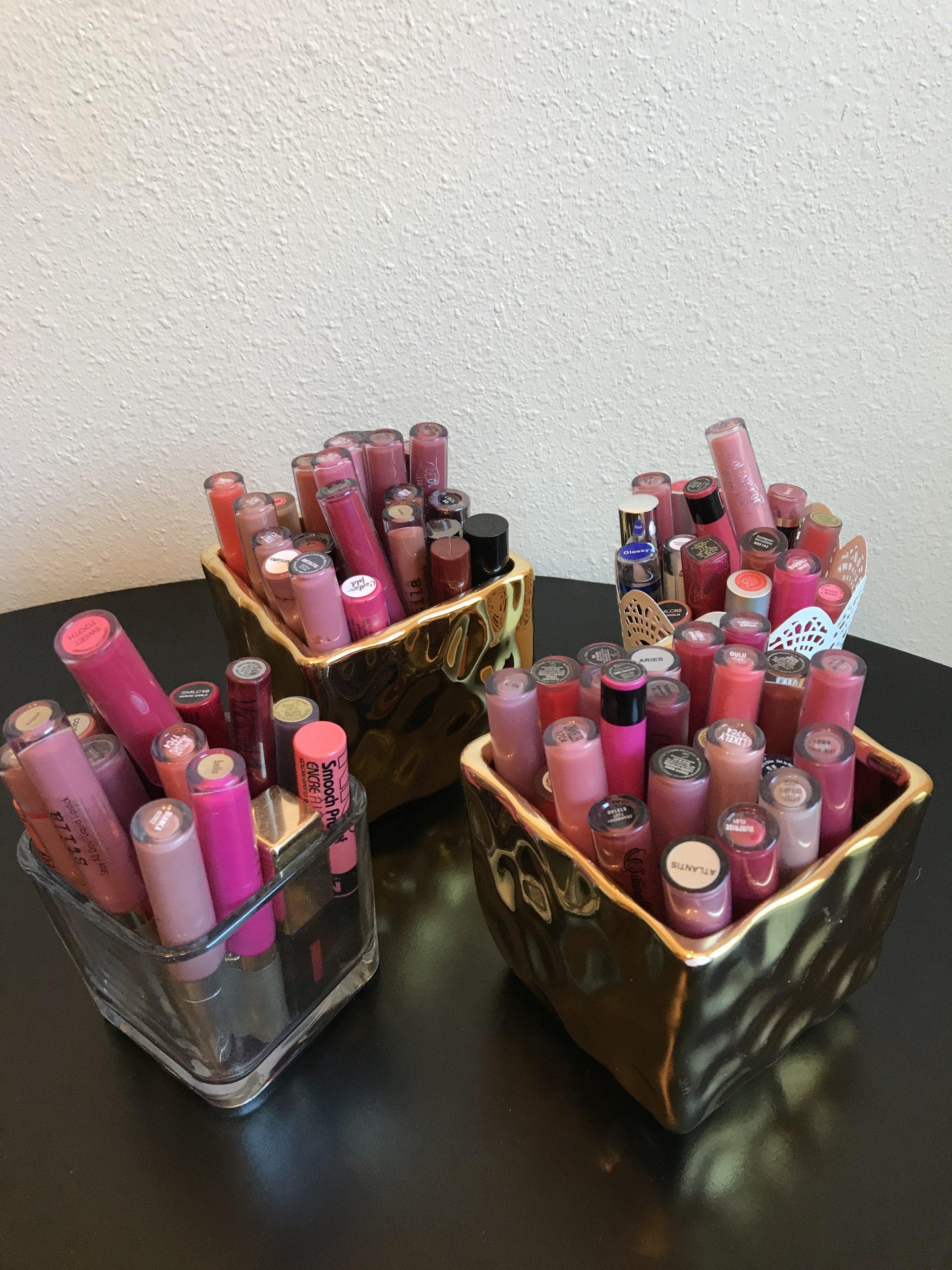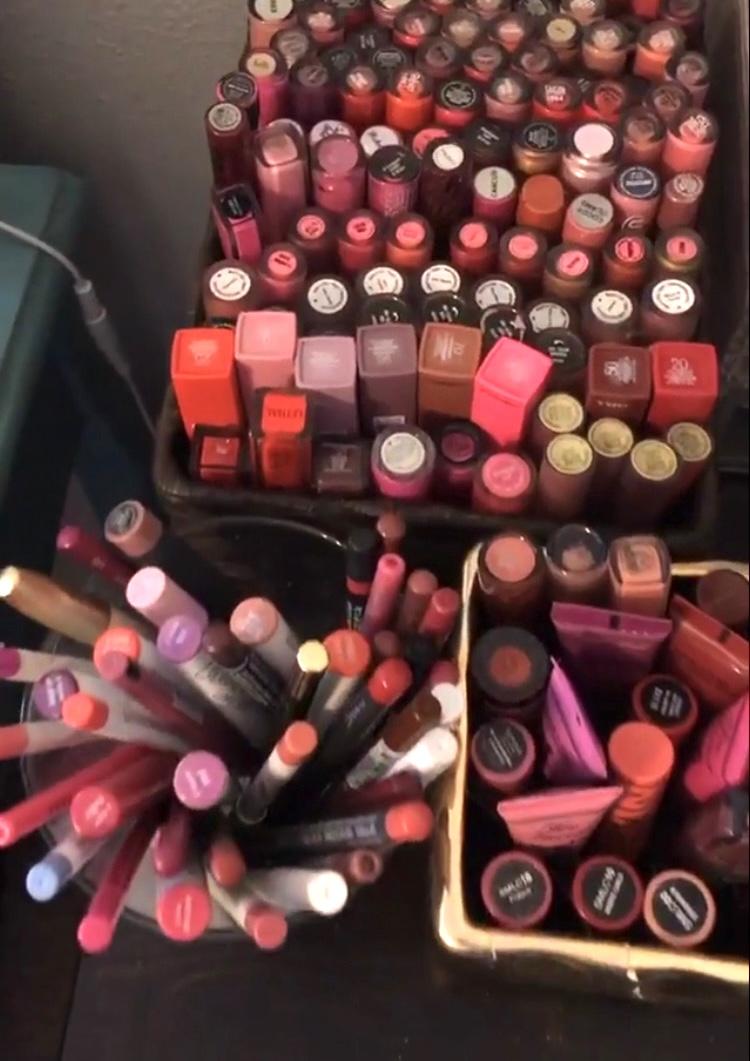 8. Find the right shade. Just because you tried one red and didn't love it doesn't mean there's not another shade out there for you. There are thousands of shades of the same color, so experiment with different formulas and brands until you find the perfect one for you.
9. Blot or go for long-wear. If you're worried about being that girl whose lipstick is all over her straw or coffee cup or you don't want your partner's face turning red from smooches, try using a long-lasting or smudge-proof product. Matte and liquid lipsticks are great options that won't budge easily. (Speaking from experience for both of these, BTW.) Blotting is also a crucial step after application, especially with a matte or liquid lipstick.
10. Seek advice from a professional! Take some time to walk into a cosmetics store (like Ulta, Sephora, Blue Mercury, MAC), visit the beauty department inside a department store, or schedule a lesson or consultation with a local makeup artist. The pros can definitely help you find the right colors for your skin tone or a specific event and even recommend colors to get you on your way to being a lipstick queen.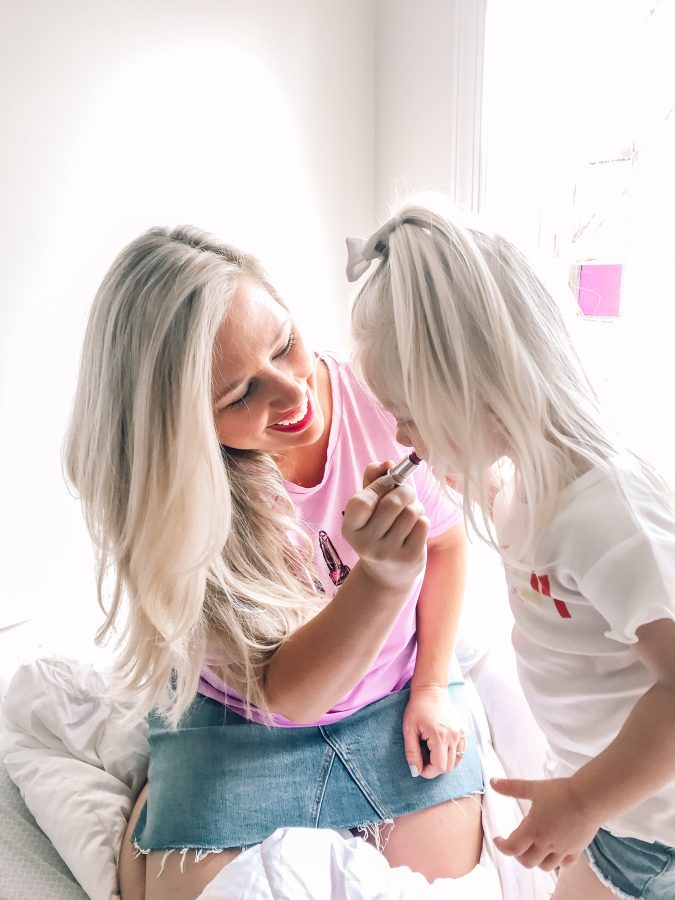 And there you have it! Ten simple steps you can take to bring out the lipstick diva you've always dreamed of being but never thought you could be. Just remember — makeup is FUN! There are no rights and wrongs, no reasons to be ashamed to wear it, and no one should tell you otherwise. It's a way to express yourself and switch up your look any time you want to, and you should never apologize for it. Do what makes you happy and OWN IT! And tag me on Insta @blakeleysblondelife if you do so I can see (and likely ask what you're wearing so I can add it to my collection).
If you need a few shades to get you started, here are some of my favorites for pretty much anyone: