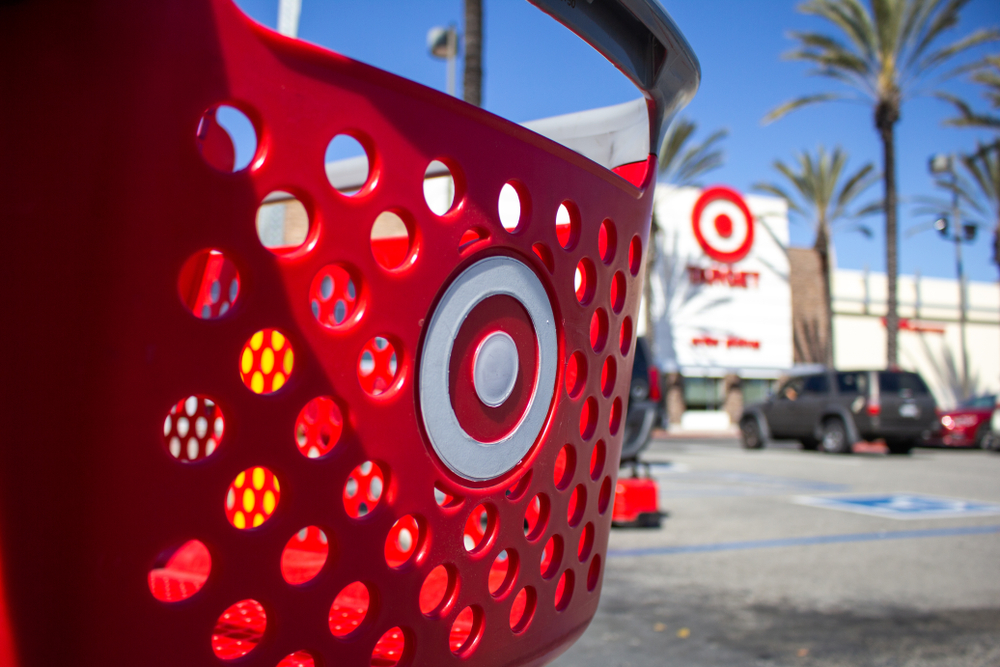 Saving money at Target. Sounds impossible, right? I thought so, too, but when I realized that my RedCard bill was creeping up on roughly half of our mortgage every month (I blame formula and diapers), I knew I had to change something about my Target addiction shopping habits. So here are a few tips I have found that really do help me actually save money at Target.
Skip the dollar spot. Actually, if you haven't noticed, it's not even called the Dollar Spot anymore. Remember back in the day when it was, and everything was legitimately ONE little dollar? Target programmed us to think that everything in this section is a harmless little $1 impulse purchase, but now that it's called "Bullseye's Playground" — everything starts at $3, but all the cute things are $5. Just skip it altogether.  It's knick-knack stuff that you know you don't need.
Get the app! The Target app features percentage-off "Target Circle" offers on products throughout the store. You can sort by category, type in a keyword, or use your smartphone to scan the item and see if it's discounted. Add the offer to your "wallet" and show the barcode at checkout. Easy.
Pay attention to the store signage. Sometimes there are percentage-off offers on various products if you text a number code to the number on the sign. Other times there is in-store signage to alert you to a Target Circle offer. Additionally, Target offers "buy two get a $5, $10, etc. gift card" on various items throughout the store. Those offers are given to you in the form of a gift card that can't be used on that same purchase, but let's face it, you'll be back. Pro Tip: Put the gift card next to your RedCard in your wallet so you won't forget it the next time you shop! Which brings me to my next tip…
Get a RedCard. If you're one of the people that they're still harassing at the register about signing up for a RedCard, just do it, man. It's 5 percent off everything every day, free shipping on online orders, and the more you shop with it the more customized your Cartwheel offers become to the things you actually purchase.
Utilize the greatest invention of our time — the Target drive-up. I used this service for the first time very recently, and it was miraculous. The app is super slick and so easy to use. Just enter your store and shop away. Add items to your cart, apply your Cartwheel offers and use your RedCard. As soon as you submit your order you receive a timeline for when your order will be ready — mine was two hours — and then another alert when it's ready. You click a button on the app again to tell the Target peeps that you're on the way, and then again when you're there, and like magic a Target team member appears with the bags of the things you need — and nothing more! The impulse item spend is completely removed when you use the drive-up. Super convenient, and super thrifty.
Self-evaluate before checkout. Say I'm having a retail therapy kind of day, and I break Rule no. 1 and hit the Dollar Spot… err, Bullseye's Playground pretty hard. And then as I'm perusing the aisles, I decide it's time to buy seven new shirts and three pairs of shoes because I can't go a moment longer on Earth without them. Before I know it I've got an overflowing cart full of nothing that I actually came into the store to buy. When this is the case, I pause before the checkout line — you know the spot, there are always bananas there for some reason — and I do a little cart evaluation. "Do I really need this?" I would say at least a good 50 percent of the time the answer is no. Of course, I believe in the #treatyoself philosophy, but I try to keep it within reason.
There you have it! Six easy tips to help you save money at the undisputed go-to of retail! One last bit of advice — avoid the self-checkout. Have you SEEN yourself in one of those cameras?! Yikes.