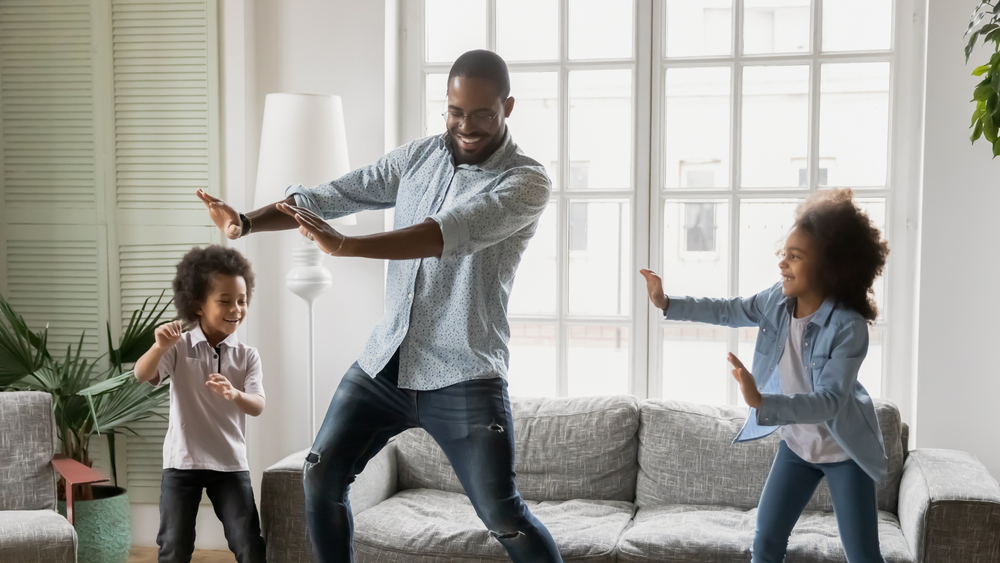 Let's face it, mornings with kids are HARD. It's a mad rush to get all the things done before you are late… yet again.
The kids want to play instead of doing the task they are supposed to be doing and then guess what? They start fighting and whining yet again, and it is enough for you to re-warm your coffee and wonder if it ever gets any easier. Well, after many mornings of the cray-cray-craziness, I finally figured out what works for us: It's music. It totally makes sense seeing as my kids have been musically inclined from in utero. I played music or sang to them in the womb, and we've spent our fair share of mornings at music class during those early days and love any excuse for a dance party, dancing in the rain, or anything surrounding music.
Where you decide to incorporate music into your morning routine doesn't matter. The best thing to do is to add it into your routine and do it daily. Making it a daily habit is great as you and your littles will begin to look forward to it each morning. If you decide to add music to your daily routine, keep it consistent and predictable. Here are five simple methods that work:
Start the day with music
This could be starting with a particular song each day, or it could be any music that is energizing and helps start the day the right way. You can choose a song that you or your kids enjoy listening to, or you could create your own "Good Morning" playlist by adding their favorite songs to play during their morning routine. The song itself can be played to signal wake-up time. Choose music to suit your child's needs. The music should help calm or motivate your child and not overstimulate them. This may take some trial and error as each child responds differently to music.
Listen to music while brushing teeth
Incorporate music into the teeth-brushing routine, especially since it helps them focus on brushing them longer instead of rushing the process. Some find it helpful to sing a song about brushing teeth (or hands). Your child's dentist may even thank you!
Listen to music during or after breakfast
Listening to music while eating breakfast may have a positive effect on your children actually eating more. Eating a filling yet nutritious breakfast will likely help them make it to lunch without getting too hangry. Music is also great to incorporate during transitions of clearing the table of their breakfast dishes.
Freeze dance or have a dance party before leaving
Stopping to get the sillies out by using large muscles to move and balance their own bodies while learning to understand, express, and regulate emotions can be fun right before heading out the door.
Of course, listen to music in the car
Listening to music or a kids' podcast in the car can be fun. Let your kids help play DJ on Pandora or Spotify by rating songs up or down. You may find that whether you're on the road or not, having something to keep everyone calm while enjoying the ride is priceless.
BONUS TIP: Use music as a timer. Music can help cue both the start and the finish of a morning routine. When selecting music for your routine, it is helpful to choose the length of the music or the number of songs to fit the length of the routine. This will help keep your child moving along as he works to complete his task before the song ends (this is a MOM win!!).
No matter how old your child is, it is never too late to create a morning routine for him or her. Adding music to our morning routines has helped provide structure that has helped our children feel ready to take on the challenges of the day. Music has helped our daily routines become less boring and more enjoyable.
Overall, music has been a life-changing tool when trying to get our children to transition activities or listen and follow directions. We have taken a melody of our child's favorite songs and made up a new silly song about an activity or task that we needed to accomplish, and these songs have left many smiles on our children's faces and many fond memories. Adding music to your child's routine easily transforms mundane daily tasks and can turn them into playful or relaxing transitions into the next activity.
What are some ways you like to incorporate music into your family's routines?