Kids and adults alike get excited about Halloween candy and sweets, but that doesn't mean that your kids can't enjoy Halloween without them. I feel that my kids already eat enough sugar throughout the year and I know they'll still indulge on sugary sweets this month (and in the coming holiday season), from all the activities we'll be participating in. Therefore, I am all for non-candy treats when I can help it! For those kids who may be allergic to certain food and for parents who would rather not give out candy, there are plenty of non-food options to get excited about.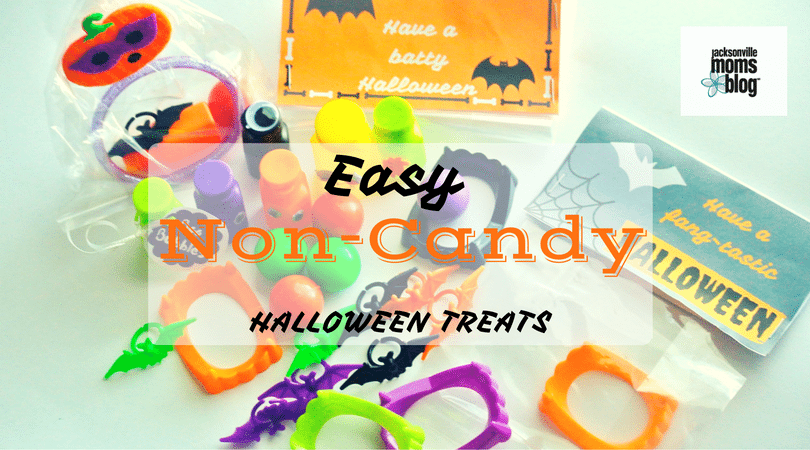 You can find non-food treats almost anywhere, including Target, Wal-Mart, Party City, crafts stores, and dollar stores. We recently went to Wal-Mart to see what types of non-candy Halloween treats they offered and they did not disappoint.
Here are some non-candy options for all ages from spooky to not-so-spooky treats:
Light up Halloween with glow-in-the-dark items like glow sticks, glow bracelets, and glow necklaces They're fun to wear and practical to use while trick-or-treating, adding that extra safety precaution while walking around in the dark.
Another easy alternative to candy are bracelets, rings, and necklaces. You can buy them in bulk and even pick up packs of them in the party section if you don't necessarily want the Halloween-themed ones. I know my daughter and younger kids appreciate these items any time of the year.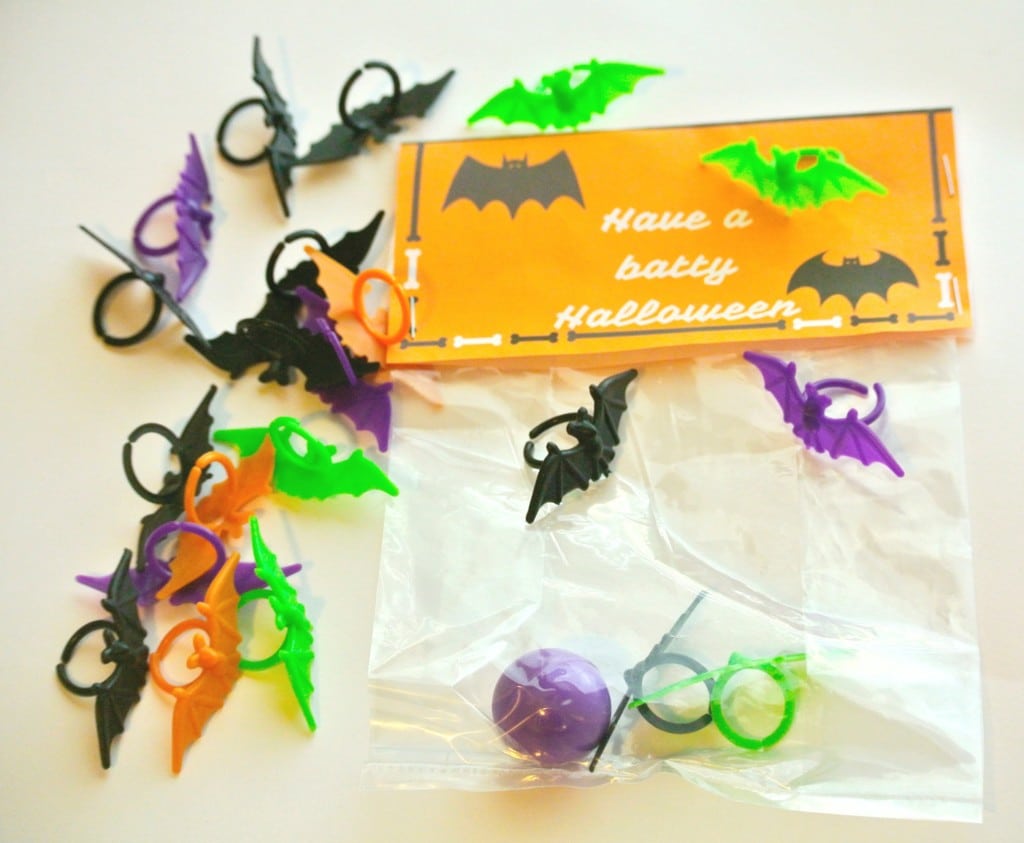 To keep it gender-neutral, consider giving out Halloween-colored beads and string to make necklaces and bracelets. It will give the kids a chance to get creative by making their own craft jewelry like the ones Seeking Shade made with her little one.
Let's not forget about bubbles! "Boo-bubbles" will be a hit to give out in class or to trick-or-treaters at your door. A pack of a dozen small bubbles can be found at most retail stores, dollar stores, and craft stores for affordable prices.
Add a cute printable tag and you're set to go or you can do what my daughter did and stick on some craft eyeballs and Halloween stickers to the bottles.
Nothing says Halloween like squishy play dough or gooey slime! You can find packs of mini Play-doh at Target and Wal-Mart and currently, Wal-Mart has a pack of different colored slime in their Halloween section.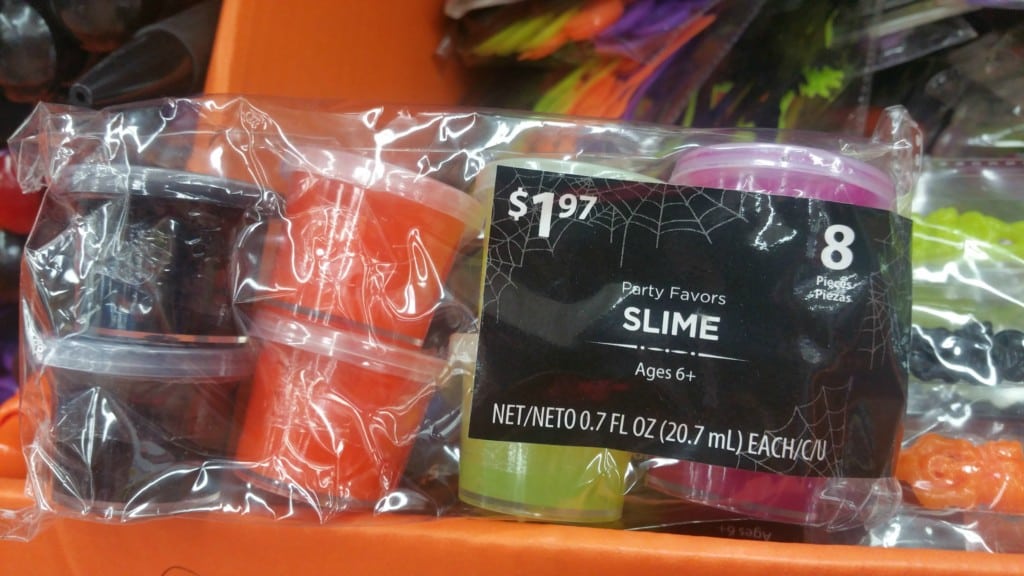 Make each play dough Halloween-themed by sticking on a festive label like "Spooky Scare-doh" or adding craft eyeballs on top of the lids or "insect legs" on the sides by using pipe cleaners.
A popular and easy non-food treat that are typically sold in bulk are vampire fangs. Kids have fun using these and they are perfect to give out for a large group of kids without breaking the bank.
Fake tattoos are another hit for kids! It's a no-brainer for boys and girls alike and many stores are selling these right now in large quantities.
School supplies like pencils are a great idea to give out to school-aged kids. These supplies come in large quantities, too. There's no scarcity on Halloween-themed pencils in most any store you visit this month. You can dress these up with tags, cards, or pencil toppers to make it more appealing for kids.
Additionally, don't forget to browse around for traditional birthday party favors. These types of goodies are simple ideas for anyone, especially younger kids who might get spooked easily with scary Halloween themes.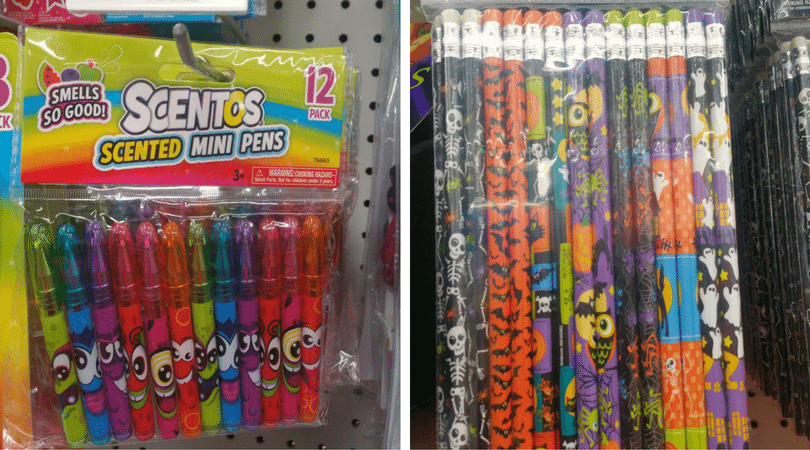 A bonus for me on deciding to give out non-candy treats is that it gave my daughter a chance to get creative and enjoy a craft activitiy by decorating the treat bags with Halloween stickers, especially if the goodies inside weren't Halloween items.
Here are other easy non-candy treat alternatives to pass out this Halloween:
Kaleidoscopes
Small gel pens
Small packs of crayons
Toothbrushes
Halloween stickers
Small notebooks or coloring books
Stencils
Erasers
Pencil toppers
I'm sure there are plenty more non-candy treat ideas out there. Share with us any non-food treats your child has received or that you've handed out!