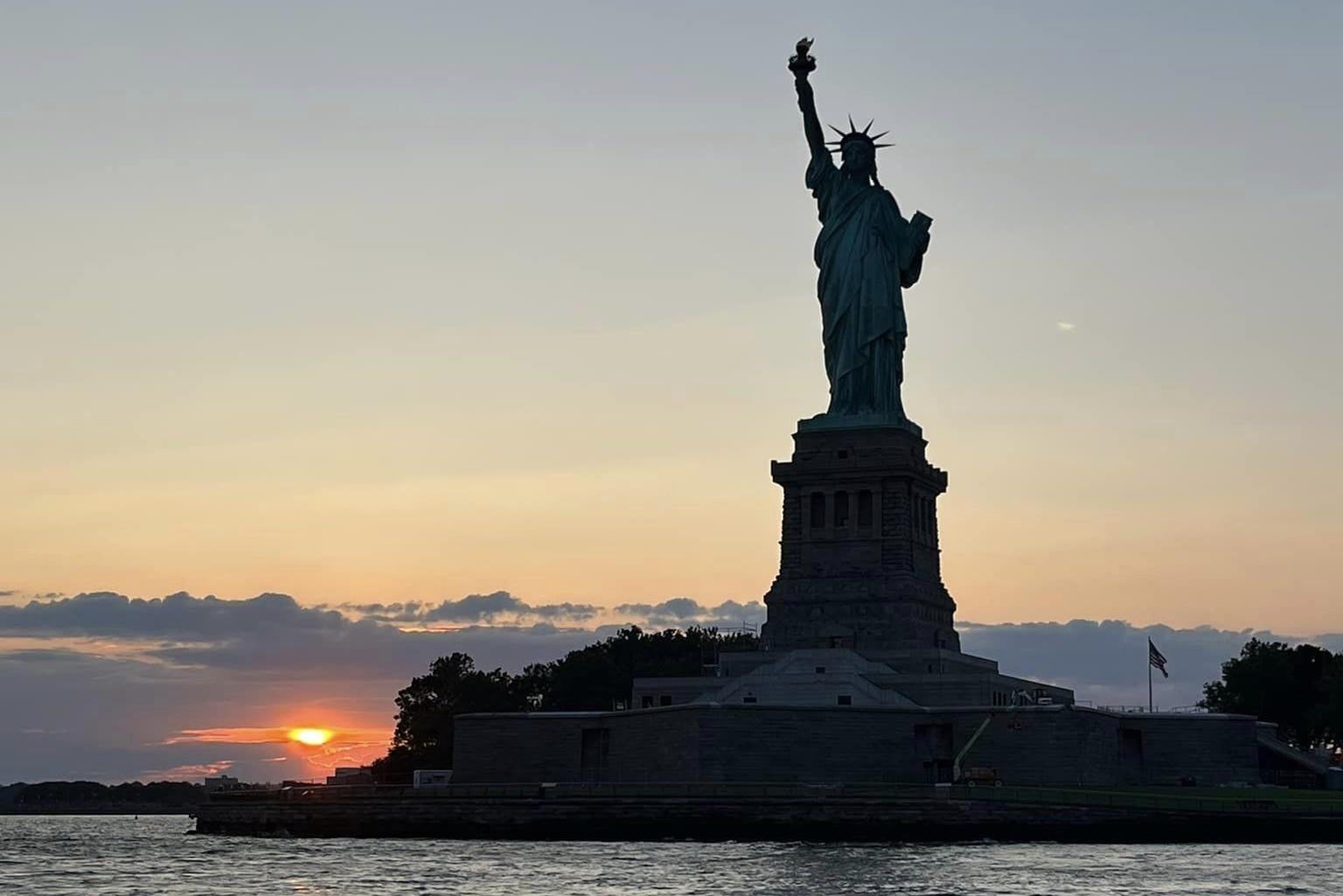 New York City is a must for every family. In addition to being one of the biggest cities in America with literally endless things to do, it's also pretty eye-opening for kids to experience the city that never sleeps.
This summer, we took our littles to the Big Apple. Our family of four, two boys ages 5 and 12, spent four nights in New York City and packed in as much as we could during our visit. Because our kids are seven years apart, we did divide and conquer different activities and still made time to make memories as a family.
READ: Yes, You CAN Travel to New York City With Kids!
Getting to NYC by Air
We flew direct from Jacksonville to JFK which is the furthest of the two NYC-area airports, but now offers more cost-friendly transportation into the city. LaGuardia is closer to the city, but there is no other option than to take a car service or taxi.
From JFK, you can now take the air train to Jamaica Station and then for $10 a person, you can take the Long Island Railroad to Penn Station (central Manhattan). We also looked into an Uber which was running around $100 and 90 minutes but chose the faster, better view (from the train) with no traffic jams. Once you get to Penn Station, it's all subways from there depending if you're going downtown or uptown.
Navigating the Subways
Riding the subway is one of the easiest and most convenient ways to get around the city. For most riders, the subway fare is $2.90. Up to three children under 44 inches tall ride for free when they are with a fare-paying adult. Savings tip: For $33, adults can ride unlimited for seven days. Get a Metro Card (and download the app) and easily swipe your way through any of the 472 stations. Strollers are allowed but not every station has an elevator, and you have to carry it up and down the stairs, and then either hand it over the turnstile or find an emergency door to push it through. I'll admit it was a hassle, and my husband did most of the heavy lifting, but we had no choice with all the walking we planned to do.
Where to Stay
We are fortunate to have good friends who live in the West Village and offered up their two-bedroom apartment while they were out of the country. It's like being a true NYC resident — walking up to your brownstone and hauling up luggage and groceries several flights of stairs. It was the perfect place to rest our heads at night and such a great location for all the things we wanted to do.
Pre-COVID, NYC hosted more than 66 million visitors a year. There are hundreds if not thousands of hotels and rentals to accommodate the tourism the city experiences. A few of my favorite family-friendly accommodations where kids are the VIPs include the Marriott Marquis, Hilton Times Square, The Ritz-Carlton Central Park, Tryp by Wyndham Times Square South, and the Omni Berkshire Place. You can plan for gaming consoles, bunk beds, games and book rentals, scavenger hunts, sweet treats, and more! Call ahead to see if they offer pack 'n' plays, cribs, booster seats, etc., so you can pack a little lighter.
What to Do
The list is literally endless of things to do and see in NYC. The most popular tourist attractions are Central Park and the Central Park Zoo, the Empire State Building, Rockefeller Center, Times Square, the Statue of Liberty, the Museum of Modern Art, and the New York Public Library, to name a few.
My older son had been to NYC two times before and on those non-summer trips, we did a New York Yankees game, went to the top of the Empire State Building, and visited Madame Tussauds, the Harry Potter Store, and Radio City Music Hall to see the Rockettes perform their Holiday Spectacular. This time, we set out to try completely new things for all of us.
The Intrepid Sea, Air & Space Museum
History buffs won't want to miss this! The Intrepid Sea, Air & Space Museum is situated on the USS Intrepid, which launched in 1943 and fought in World War II and later served in the Cold War and the Vietnam War. This thing is massive and berthed on the Hudson River since being decommissioned in 1974. There are a few different levels to explore including the flight deck where you can get up close and personal with more than two dozen restored aircraft from all five branches of the U.S. armed forces, "vulture's row" where the crew would watch flight operations, the gallery deck and its combat information center, the squadron ready room and marine berthing, the third deck with restored galleys, and the hangar deck. Adults $36; kids 5–12 $26
Add-ons and exhibitions on the carrier include:
The Space Shuttle Enterprise, the prototype NASA orbiter that paved the way for America's successful space shuttle program and is on display for an out-of-this-world photo backdrop. Absolutely fascinating to see this first-hand and think about the impact it had on our space missions.
The record-breaking British Airways Concorde (temporarily closed for maintenance) is the fastest plane to ever cross the Atlantic in just two hours and 52 minutes and 59 seconds.

 

The former USS Submarine Growler is the only American guided missile submarine open to the public. Visitors can experience what life was like aboard a submarine, including the torpedo rooms! This was one of the coolest things I've ever done but not for anyone who might be claustrophobic — it's very tight quarters and you have to be able to walk through the passageways.

 

 

 

 
This is a must-visit for all ages. It really set the bar high for the rest of our trip and we still talk about how cool it was — how many people can say they've been on an aircraft carrier?!
We walked about a mile back to our apartment and strolled along the Hudson until we hit the High Line, a 1.45-mile-long greenway trail atop an old railroad line on Manhattan's westside. It starts in the Meatpacking District and runs through Chelsea and ends at the Javits Center. It's perfect for a family stroll.
Manhattan by Sail
By far, one of the most scenic and memorable things I've ever done during my many trips to NYC was a sunset sailboat ride to the Statue of Liberty with my 5-year-old aboard the Shearwater, an 82-foot Gatsby-era classic schooner. There are no words to describe the city's skyline from the harbor, especially at dusk. We were on board with about 15 others and still felt like we had the sailboat to ourselves. We brought on a pizza to nibble on, and I enjoyed a few beverages from the boat tender (for purchase). My son had just learned about Lady Liberty in school and spotted her from afar, not knowing we were about to sail right past her torch — he was elated! We went out to the bow of the boat which hovered over the water for a few snapshots. I probably took 150 photos during our 2.5-hour smooth sail throughout the harbor, Ellis Island, Governors Island, and near the NJ shoreline with Manhattan by Sail. There were picturesque views in every direction (even of the New Jersey skyline) — truly a chance to see New York City as I've never seen it before with an awesome crew.
The American Museum of Natural History
If your family has watched the movie Night at the Museum as many times as we have, then you already know about the American Museum of Natural History. You could spend all day here  — it takes up a few NYC blocks and is huge! We arrived 30 minutes early to opening and there was already a line to get in. Download their Explorer App to help you navigate the museum because it's easy to get turned around in their many exhibits. Depending on what the kids were interested in, we skipped some parts of the museum that my 5-year-old wouldn't understand. He absolutely loved seeing "Rexy" and "Dumb Dumb" from the movie, and the massive 94-foot blue whale model. My favorite part was seeing and touching artifacts that are 65+ million years old! This is a must-visit for the family — you will not be disappointed. Reservations and timed entry is required.
There are additional ticketed exhibits that were worth it: the Butterly Vivarium where you can see more than a thousand butterflies and 80 species and if you're real still — one may land on you; and Invisible Worlds which is a 360-degree immersive experience. Worlds Beyond Earth is a space show that explores the dynamic worlds that share our solar system and the conditions that make life on Earth possible — screening on the world's most advanced planetarium projection system.
After your visit, take the kids over to Central Park (just outside the museum's entrance) to burn off some energy.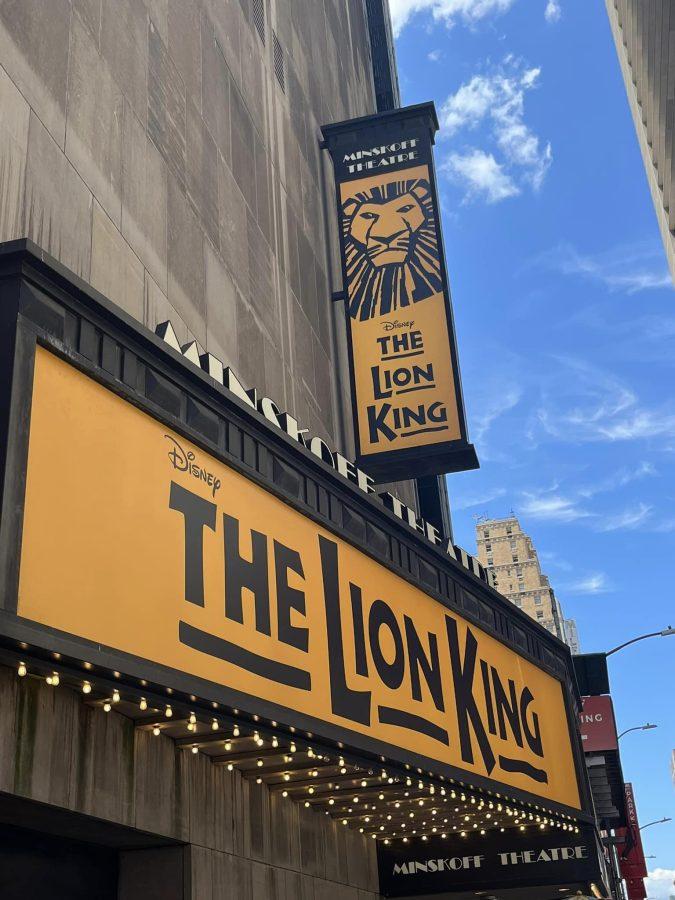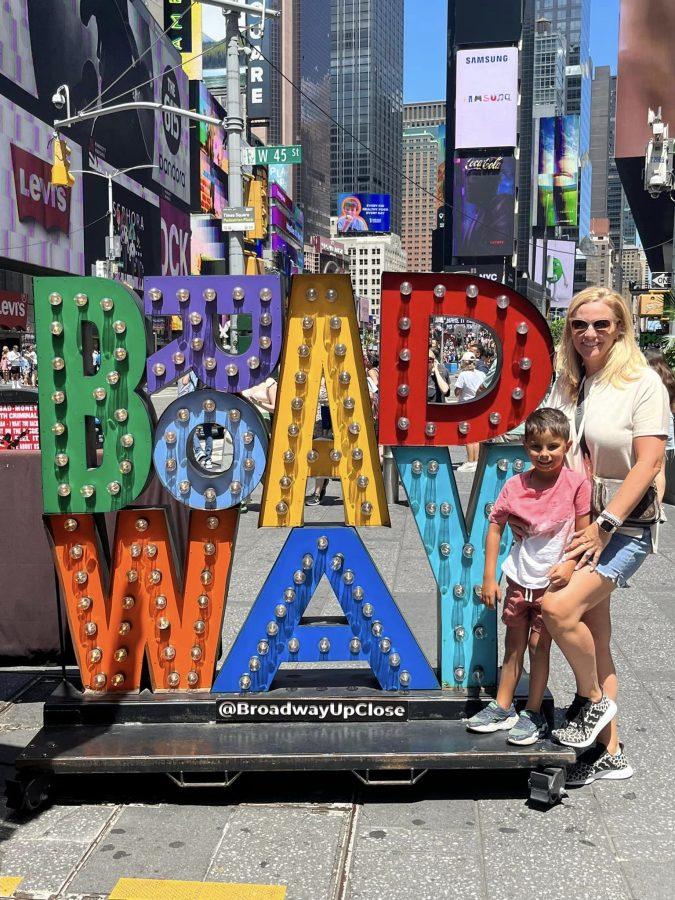 Broadway Shows
You can't go to NYC and not take in a show on or off Broadway. I let my little one pick which musical he wanted to see, and he chose The Lion King. This was my second time seeing it, and it was just as awe-inspiring as the first. The costumes, the choreography, the cast — all spectacular. My son never took his eyes off the stage and lit up inside when the animals came parading down the aisles to open the show. If your kids get antsy, this may be a little long at 2.5 hours plus one intermission. Tickets can be purchased on Broadway.com or through the TKTS booth in Times Square for a discounted price — they do run around $225+ depending on where you sit in the theatre.
More Can't-Miss Things to Do
Other places we visited that are worth mentioning: FAO Schwartz (the country's oldest toy store) and home to a pretty cool Build-A-Bear area (our first time!), the Brooklyn Bridge (which is free to walk over and offers awesome views for pedestrians and bicyclists from lower Manhattan to Brooklyn), Pop in the City (an inflatable bounce experience that spans an entire NYC block), and the 9/11 Memorial & Museum which is bit harder to explain to the littles but definitely worth visiting.
Check out the CityPass (adults $138; kids 6–17 $118) which will save you money and includes admission to many of NYC's top attractions including the Empire State Building, the American Museum of Natural History, and your choice of three others.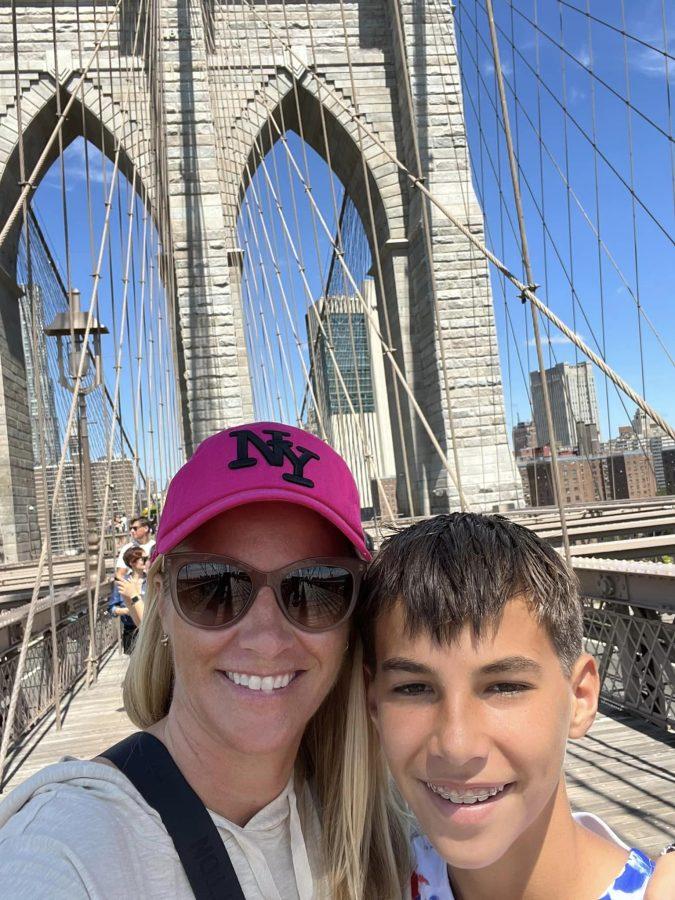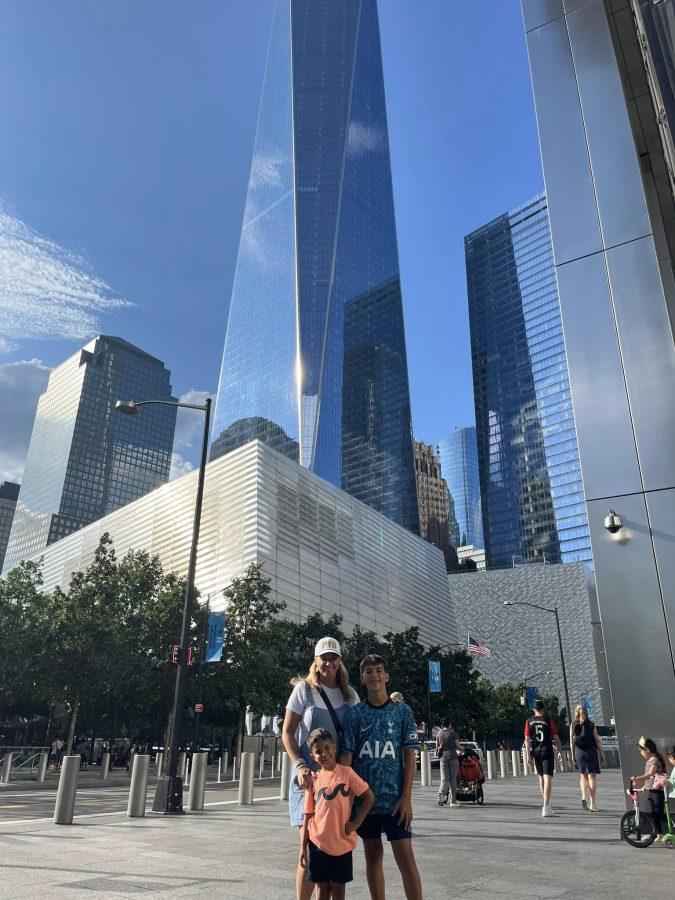 Where to Eat
There is no shortage of restaurants in NYC so I won't spend a lot of time listing off places to eat as it depends on your appetite and what you're in the mood for which you can basically find literally every type of food on the planet within a 22-square mile radius. Or you can keep it simple and grab a hot dog or pretzel, or slice of pizza on just about every corner.
I will pass along one must-eat establishment that a friend recommended for my little one who absolutely loves music. All she told me was the servers sing and dance. We showed up at Ellen's Stardust Diner just after 10 a.m. and there was already a line to get a table. The inside is a multi-level '50s-themed diner with singing waitstaff called the Stardusters. They take turns belting out old classics for the adults and kid favorites like "Let it Go" from the movie Frozen. The menu is pretty eclectic — favorites are the Joseph and the Technicolor rainbow bagels, fruity pebble pancakes, holy moly French toast, and Barbarino's banana split — plus plenty of non-breakfast and less sweet options. Don't forget to tip the singers who are hoping to be discovered and invited to perform on Broadway!
Another sweet spot is the Museum of Ice Cream… yes, you read that right. Admission (ranges on time of day and week between $26-$44) includes a dip in the sprinkle pool and unlimited ice cream treats.
If you're downtown near the 9/11 Memorial, I highly suggest popping into O'Hara's Restaurant & Pub — aka the Ground Zero Pub. Originally a happy hour destination for professionals who worked nearby, O'Hara's was badly damaged when the Twin Towers collapsed. After it reopened several months later, it became a regular spot for the workers at Ground Zero including emergency personnel from all over the world. Today, the pub's walls are completely covered by more than 6,000 embroidered patches representing all the heroes who came to help. The kids searched for patches from Florida and the patches from the furthest away like Spain, Belgium, and Germany.
Black Tap Burgers & Craft Beer is a family-friendly establishment with two locations in NYC (SoHo and 35th St). With an old-school vibe, rocking music, and plenty of kid-worthy meals, this place was a great option to take the load off and chill after a long day. Bring your appetite for the delicious burgers and the CrazyShake®.
Now that we're all craving pizza and ice cream…
New York City is bigger, brighter, louder and unlike anything most kids (and adults) have ever seen before. There is no wrong way to do the city but planning ahead is important because some things sell out or require advance purchases or timed entry post-COVID.