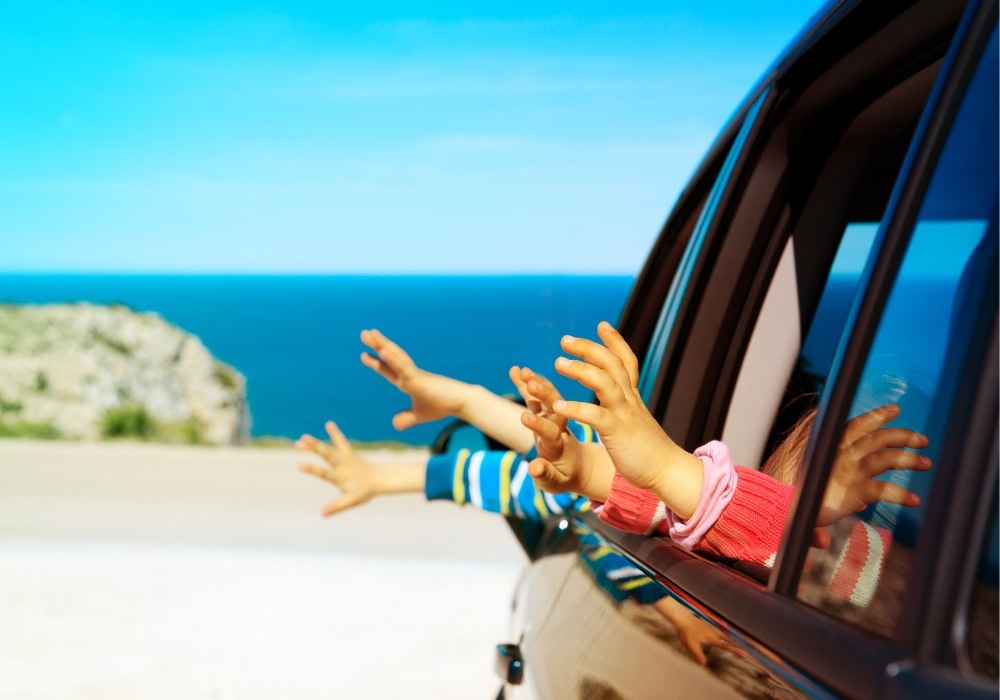 Summer is officially upon us, and if you're like me, you are scrambling to find memorable events to experience with your kids. When I became a stay-at-home mom three years ago, I had no idea what on earth I was going to do with my kids for three long months. As my husband didn't gain enough paid time off from work to travel, I opted to get adventurous and plan a few road trips to visit family and some nearby theme parks — just me and the kids. I thought to myself as I planned, "This will be the most memorable summer ever." Needless to say, our first solo summer trip was a BUST and my only memories were screaming, wanting to pull my hair out, and drinking lots of wine at each destination. I had to make some changes before the next trip, or my kids would dread these road trips and I would ruin their summer. Here's what has since worked for us:
Stop For a Picnic
The first task I always need to tackle is handling meals while on the road. Let me say I am that person who does not want to stop while traveling unless it is a 911. Unfortunately, when there are three screaming, famished children in your car and no husband to help, stopping at gas stations or drive-thru's are a MUST. I decided instead of stopping for lunch or dinner, I would pack a picnic basket. When the time approaches, I find a nice rest area to stop and eat. This allows the kiddos to stretch, run around, and use the restroom. If we stop during lunch, we may lie down and gaze up at the clouds and guess what objects, animals, or people they look like.
Give Them Goodies
Before we leave I allow the kids to pack their own goodie bag full of snacks, drinks, and sweets to bring with them. I explain that the bag MUST last the whole trip (one way), so eat the items sparingly or pack extra if you think you may feel famished. I give the children the responsibility of packing my goodie bag with my favorite treats and adding some of their own favorites. While we are on the road, I guess which child placed which treat in my bag. They also want me to tell them if I liked it or hated it, and if I hated it, they will not pack it on our next trip.
Provide Some Entertainment
The next issue at hand is the constant arguing. If your kids are like mine, they are always at each other's throats, and I do not want to spend six to eight hours yelling, because this has happened before, and it always ends with a migraine. I pack the kids an entertainment bag, which is comprised of a tablet and headphones. The headphones are more for me so I can rock out to my Spotify without interfering with their videos and music. I also include some crossword puzzles, card games, Uno, coloring books, and a LEGO man (I will explain). I use these other items in case the mobile hotspot cuts out for a few minutes. Confession, I usually cut out the hotspot on purpose, which allows them to do a more stimulating activity.
Play Simple Games
What is the purpose of the LEGO man? Well, he is another distraction for arguing and boredom. Each child takes a turn hiding the LEGO man somewhere in the vehicle. They give me clues where he is, and I must find him. At first, I thought this would never work, but it did, and my pre-teen even enjoyed the game. Another game you can play to pass the time is "Where To."  As cars pass us on the highway, I ask the kids to guess where they think the cars are traveling to. We spend hours discussing places people are traveling to and places we want to go on future trips. These discussions are the best part of the trip for me. My children open and share their opinions on different places and why they want to visit them.
Assign Trip Directors
Traveling without my husband was more of a struggle than I thought it would be. I kept telling myself I GOT THIS when I really did not. Before we depart, I delegate different responsibilities to each child. For example, one child oversees keeping the phone charged and following the navigation system. Another child watches the gas gauge and tells me when I need to stop for gas. (I watch the gas gauge, but they feel important when they can tell me what to do for a change.) Other ideas include assigning one child to pack and unpack the vehicle, telling you when to stop for lunch or dinner, and having an older child in charge of the younger child for potty breaks and snacks. My kiddos spend so much time focusing on their task that they (usually) forget to argue!
Traveling by myself with a car full of kids is difficult, but I try to make the most of every moment. I want my kids to look back on these trips when they are adults and remember all the fun we had. There will always be a hiccup around the corner, and how you handle it will either make a fond memory or a bad memory. Road trips need to be fun, and you need to laugh, let loose, and enjoy the moments with your kiddos because you may never get that time back later down the road.