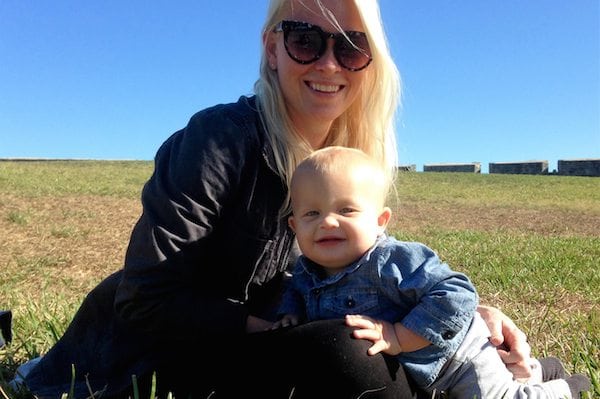 When I was pregnant with my son, Max, I had a picture in my head of what kind of parent I would be. Now a mom to a wild 18-month-old and another on the way, I've learned that some things just aren't worth stressing over. While I think I'm hitting the mark on most of the big-picture parenting philosophies I envisioned back then, there are several "I'LL NEVERs" I probably need to take back. At the end of the day, my son is happy, healthy and loved, so I must be doing something right.
Rule No. 1: I'll never give my kid sugary juice. Why give your child sugary juice when they should be getting all the nutrients of the whole fruit? If he's thirsty, I'll just give him water, right? WRONG. My son's obsession with juice started out innocent enough. We were eating out as a family and his meal came with a juice box. My husband and I were shocked when he sat quietly sipping from the straw the entire time — no screaming, no tantrums. Fast forward a few months, and juice is a part of our regular routine."GEESE!" was even one of my son's first words.
Rule No. 2: I'll never ignore my kid while I stare at my phone. I used to think of distracted parenting in the same realm as distracted driving — a.k.a. don't text while momming. The reality check came when I quit my job to stay home with my son, and my iPhone became a gateway to adult conversation and the outside world. So, if Mommy wants to zone out for awhile to scroll through Instagram and dream of someday going on vacation again, that's what's going to happen.
Rule No. 3: I'll never make special "kid foods" for my son. When I was pregnant, I remember reading somewhere that French kids eat all the same foods as their parents, and that the country is essentially devoid of picky eaters. I vowed to take the same approach to food with my son, but I promptly realized that we are not French. After watching the dog lap up his meals off the floor day after day, I was desperate for him to eat ANYTHING other than puffs and Goldfish crackers, so I started incorporating a few kid specialties in the mix. Last night, I fed him a frozen chicken patty and applesauce for dinner, but guess what? He ate it all.
Rule No. 4: I'll never let my baby watch TV. The American Academy of Pediatrics recommends ZERO screen time for children under age 2, so naturally I started my parenting journey committed to screen-free entertainment for my precious little one. Then we discovered Baby Einstein. It started out as an innocent way to entertain my son on his first flight, but quickly spiraled into an easy way to make him sit still for a few minutes when I need to get things done… like take a shower.
Rule No. 5: I'll never let my kid sleep in our bed regularly. If co-sleeping works for your family, that's awesome, but it wasn't something I ever intended to make a habit. I soon learned that when you become an overtired, zombie parent you will do just about anything to get your child to sleep. For us, that means making room in our bed for a kicking, squirming toddler most nights. Between my husband, my 6-months-pregnant self, our 80-pound black lab and our son, I'm just grateful we opted for a king -size bed.
Rule No. 6: I'll never feed my kid processed foods. Before I became a parent, I always prided myself on being a pretty healthy eater — shopping primarily on the outskirts of the grocery store and avoiding overly processed foods. Naturally, I thought my approach to feeding my child would be the same. While we try to eat mostly whole foods and make healthy choices, there are also so many awesome kid snacks out there that my boy absolutely loves. Also, see rules no. one and three.
Rule No. 7: I'll never use treats to bribe my child. Seriously, what was I thinking?
What "parenting rules" have you broken?
About the Author
Born and raised in St. Augustine, Valerie Garman is a stay-at-home mom now living in Jacksonville with her husband, Aaron, and 1-year-old son, Max, with another baby boy on the way this fall. Valerie holds a journalism degree from the University of Florida (Go Gators!) and worked as a reporter for a daily newspaper in Panama City, Fla. covering government, business and economics before moving back to the east coast in 2016. Some of Valerie's hobbies include spending time at the beach, attending outdoor festivals, working out, exploring parks and trails, and enjoying drinks with friends.