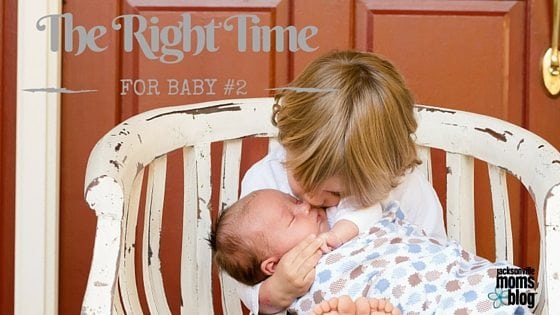 Today I was that person. Yes, that person who stealthily walked into the store to purchase a pregnancy test. I was so uncomfortable and felt like all eyes were on me. I even had the cashier tell me, "I hope you get the result you are looking for?!" Well, part of me wanted the test to be positive, and the other part of me was freaking out that I could even possibly be pregnant. I've been back on birth control since I stopped breastfeeding my daughter, but this month, I was late. So, commence the freak-out and testing. I AM NOT pregnant, as I initially thought, but it brings up a great topic that I have been struggling with, and I am sure many of you struggle with as well. When is it the right time to try for baby #2, 3 or 4?! I know, there is never a "right time," but us type-A mommas definitely try to figure it out!
Here are some of the things I think about regarding baby #2 when I lay my head down at night:
Timing. My husband is in the Navy, and I know we only have a certain amount of time left in Jacksonville. I can't even imagine having another baby in a foreign place. I've already done that once when I had our first child in Hawaii! I want to be able to feel comfortable, settle and be able to nest, not moving into a house while pregnant!
Work. How will I maintain my job with a second baby? When will I pump? I'm a real estate agent, so literally there are some days I don't even have time to eat! I really enjoy being a working mom and I know that I will need to take time off to readjust and bond with the baby, but know Baby #2 will be a major hiccup for my work schedule.
Sleep. Sleep, oh glorious sleep. Right now our 2-year-old sleeps from about 7pm-7am and takes a two hour plus nap every day. It is wonderful. She also didn't sleep through the night (NOT even once) until she was 7 months old. So, needless to say, I am pretty scared that will happen again, and I can't even imagine the fog I will be in with caring for a toddler and newborn and working too!
Childcare. We love our daughter's daycare, but two kids equate to another payment to daycare. A nanny would be an easy solution and wouldn't require any drop-offs, but Charlotte loves going to "school" and would terribly miss it if we kept her home. I know that she can start VPK once she turns 4, but that is still two years away!
Two Carseats. I always get hung up on this one and my friends always assure me that isn't that hard. I park my van in our garage, and I still break out in a full-on sweat just getting our daughter into her car seat. I can't imagine buckling in two! I guess the infant car seat isn't as hard, but still, I dwell on the logistics!
Wine. Need I say more? I can't imagine having to abstain from mommy juice for 9-10 months!
Restaurants. We go out to eat about 2-3 times a week. How will we ever be able to take two kids out and actually eat a dinner? This may be put on hold for a while! Oh, and if you are by yourself, do you schlep them both to the bathroom? Yes, dumb question and I know the answer, but seriously?! So challenging!
Traveling. My husband and I love to travel. I can't imagine airline travel with two. One benefit is that we wouldn't have to pay for a seat for the newborn, so that is a plus!
The Last Time. I am one of three children, and my husband is an only child. We both agree that two is the right number for us. So, this baby would likely be my last. I can't imagine it being the last time I find out I'm pregnant or the last time I experience birthing a baby or breastfeeding. It makes me sad to know that after Baby #2 I may never experience those things ever again. So part of me is holding out because I don't want this season to end.
But then I snuggle a friend's newborn and the baby smell overcomes me, or I look back at photos of my daughter as a baby, and I remember the sweet moments when she crawled, walked and said "mama" and it reminds me how special those times were, and I yearn to experience them again.
What was your deciding factor to have baby #2?