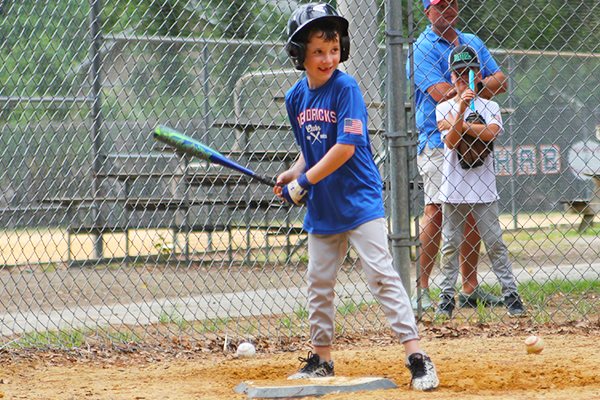 Hang on, you boy mamas of wild toddlers and sleepless nights, there is a magical time coming in your near future, I promise. It's the golden age of boyhood, and it appears somewhere around age 7. And as far as I can tell, it lasts a few precious years before teenagerhood sets in. Right now, my oldest son is 8, and there are two things he loves more than anything in the world: baseball and his mama.
My boy is sandwiched between an older tween sister and younger boy-girl twins. Maybe it's the sharp contrast between the chaotic twin toddlers and a moody pre-adolescent, but the age he is now is just so wonderful. My husband and I soak it up and mention it almost daily. He's old enough to be (fairly) reasonable. He is helpful to his younger siblings (when he wants to be). He plays baseball with his little brother but isn't too old to offer to paint flower pots with his little sister. He worships his big sister, and they play dumb games on her phone together. He loves board games, outer space, baseball, and he still wants to snuggle with me when we watch The Sandlot. He understands he needs to clean up after himself and put his dishes away, even though he doesn't always remember. His endless curiosity about the world is something we are thoroughly enjoying and exploring with Who Was and What Was books.
He loves to share an endless stream of information with us on the super sweet walks to school, even though his facts are sometimes wrong ("Did you know leprechauns were invented for Halloween, Mommy?") He still gives me fierce hugs in the morning when I come downstairs even though he won't let me kiss his head anymore. He'll slip his hand into mine on walks to school or in the grocery store and then quickly let go again, and I savor every second. I know one day he will do it for the last time, that each time may be the last time, but that I'll never know when it is the last time.
Sure, he still has meltdowns and hard days. He also loves his friends, loves his dog, and loves his class and school. He earned the "Most Helpful" award for second grade. He has yet to figure out how cruel the world can be, and I still take his strikeouts at the plate harder than he does. He approaches everything with an enthusiasm that is refreshing, and reminds me daily there is good in the world, the world is a fascinating and exciting place, and most of all, that it can be full of love.
I know he'll soon be taller than me, that the fierce hugs may stop and the snuggles certainly will. I know school will get harder, the baseball losses tougher, the friendships more complicated. I know his two front teeth will finally grow in and fill his gapped-tooth smile. One day he'll say "Mommy" for the last time. I know it's coming, and that's as it should be. But right now I am drinking in every second of this precious golden time, and holding on tightly to his hand as long as I can, while he's still my little boy.