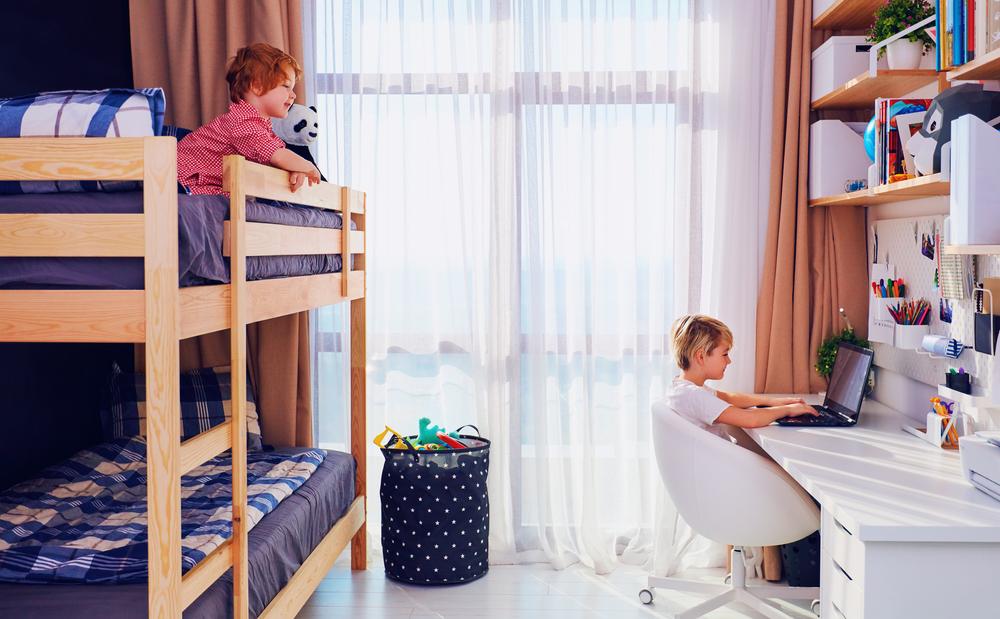 When we moved to Jacksonville, our boys were 2.5 and 5 years old and had never previously shared a room. We gave them their own spaces initially, but after struggling to find space for our home office in the new digs, we decided to have them share a bedroom. Once our oldest turned 6, the bunk beds went up and the sibling room-sharing commenced!
Aside from the space-saving bonus, we've definitely seen additional benefits as well. Bedtime is a much easier process with them in the same room, and our youngest was able to form good habits because of the example of his big brother. They keep each other entertained and have even developed a "secret code" to ask the other if they want to go play in their shared space. And, because they have similar interests, the boys can more easily share books, toys, and stories while being in the same room. 
So, why then, four years later (and in the same house), are we deciding to go back to having them in separate bedrooms?
While there are lots of great things that have come from sibling room-sharing, we've realized a few things about our kids (and our family) that brought us to the decision:
Personality Differences
We've always known our boys' personalities were very different, and it's become even more apparent as they've gotten older. Most of the time they get along great, but arguments and fights do happen, and having a shared room makes it hard for them to get space away from each other when they need to. Sure, we have other rooms in the house, but we've seen first-hand how our kids use their books, music, or physical space to calm themselves down. It's important to us that both boys have this option.
Clearer Responsibilities
As parents, we all know it's hard enough to have kids keep their rooms clean. I'd love to tell you that having two sets of hands instead of one makes room clean-up go more smoothly, but that isn't the case — at least, not in our house. The personality differences between our boys affects how they stay organized (or don't) and clean up (or don't), and there's inevitably an argument about who put what where and why they shouldn't have to clean up their brother's mess. We think having their own rooms will help them take ownership of their spaces and be more responsible overall. And, it will certainly cut down on the finger-pointing when we ask who left a wet towel on the bedroom floor.
Making Use of Space
One of our initial reasons for having our kids share a room was to convert one of the bedrooms to an office/playroom. This was a MAJOR benefit to us during the pandemic, and we used it daily for nearly two years between working from home and a year of virtual school. But, with my husband and I returning to the office, we use the space infrequently. Now, it's essentially become a dumping ground for toys, games, and art supplies that the kids don't know what to do with. If we're being honest, the room gives me anxiety and I avoid it at all costs. We know that if we move a kid back into that room (after we clear it out, of course), the space will actually be utilized and (hopefully) kept in order.
Self Expression
It's been really cool to see what our kids are interested in and how they express themselves, especially as they've grown up. Our oldest son, who just turned 10, has really gotten into music and will play the same song every day (multiple times a day) to learn all the words. This is a bit of an annoyance, to put it lightly, to our youngest who can be stimulation-sensitive. Our youngest loves art projects and likes to sprawl with his markers allll over the floor; which can be difficult when his big bro wants some room to play. 
The boys have already started talking about how they'll use their separate spaces, and what activities they can invite their sibling over to participate in. So, although we're deciding to say goodbye to room-sharing for our kids, we don't at all regret having them share a room for almost four years and would do it all again. We're excited to see how separate spaces help our kids grow even closer!