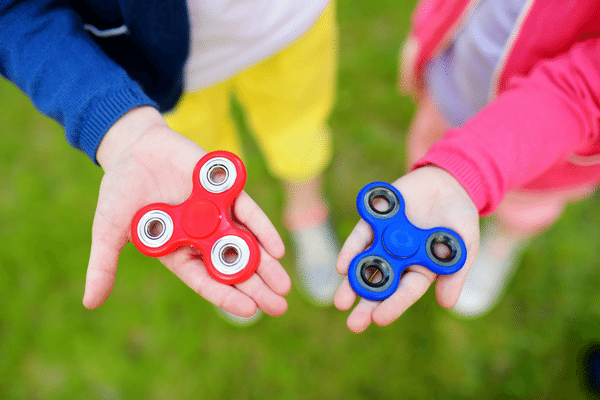 I can't even count the number of Monster Jam trucks my son has. He was obsessed with them for years. We even got pit passes when Monster Jam came to town so he could meet all the drivers. I somehow knew every single truck's name. He did, too; even before he could read, he memorized the trucks' logos. We took them everywhere — to the beach (lost a few in the ocean), the car, school, the park, etc. I never thought he would grow out of them. Until he did.
After monster trucks, we moved into Pokémon. A classmate introduced him to the little yellow fictional character and his hundreds of fictional friends. Maybe I was wearing blinders, but I never noticed how much Pokémon stuff is out there until he started looking for it everywhere we went. The grocery store, the book store, the library… you name it, there is likely to be Pokémon paraphernalia.
We ended up having a Pokémon-themed birthday party this year, so my son's stash increased exponentially. He got trading cards, a trainer belt, puzzles, Poké Balls, action figures, movies and even a beach towel… these people must be making a fortune. He would battle his friends and speak a language I've never heard using words like, "damage, energy, ultra-rare, mega, trainer." Each card had some sort of magic power, and I still to this day cannot tell you what the heck they mean. We even got a three-ring binder with those plastic inserts to keep his cards neatly organized — until it was time to battle and each one had to be pulled out.
I didn't mind it all too much, as the cards would keep him busy for hours. He had a reference book and would find them all and check their damage (or something like that), and then try and subtract the difference — he's even doing math at his young age! There was also the time he took an entire Ziploc bag to camp filled with his ultra-rare Pokémon cards, and lo' and behold, they went missing. He was devastated and so upset when I picked him up — even though I tried to talk him out of taking them in the first place because of this very reason. I was upset, too. He loved those cards, not to mention they cost a pretty penny when you add it all up.
The good news is the missing cards magically appeared a day or two later. The bad news is, one of his camp pals brought in a fidget spinner. He came home talking about this gadget that you spin on your fingers, and I thought to myself, Oh, crap. And I was just finally getting the hang of Pokémon. Suddenly, everywhere you looked, there were kids fidgeting with these spinners. I read online that this $500 million toy trend took off after debuting at the North American International Toy Fair in February. They come in different shapes and colors, some even light up. They are next to about every cash register you see, which always prompts the, "Mom, can I get another fidget spinner" conversation. We didn't go overboard on buying these thankfully — I think the most my son had was five, and three were purchased by someone other than my husband or me. There's YouTube channels and even books dedicated to this craze. I recently browsed a book on the topic which was written by a self-proclaimed "Pro Fidgeter" and included a list of health benefits. Wait, what? Yes, health benefits like better concentration, less anxiety, etc. Hey, at least my son is reading this summer.
Then, before summer break ended, my son discovered the BEYBLADE. No, I'm not yelling, that's how it's spelled. I said to my son, "A bay what? You burst what?" Think of a top spinning on the ground after being launched from a strip-like device. There's even a plastic stadium to conduct said battling, which is so loud I can't hear myself thinking about how much I want this toy to be a thing of the past. I'm sure it won't be long — there's probably a new toy emerging as I write this blog.
I can't help but think back to my childhood and the toys that were all the rage in the '80s: Garbage Pail Kids, Teddy Ruxpin, Lite Brite, Care Bears and Cabbage Patch Kids, to name a few — some of which are making a comeback today. My personal favorite was the Makit & Bakit Oven.
So, what's your child(ren)'s latest toy obsession?