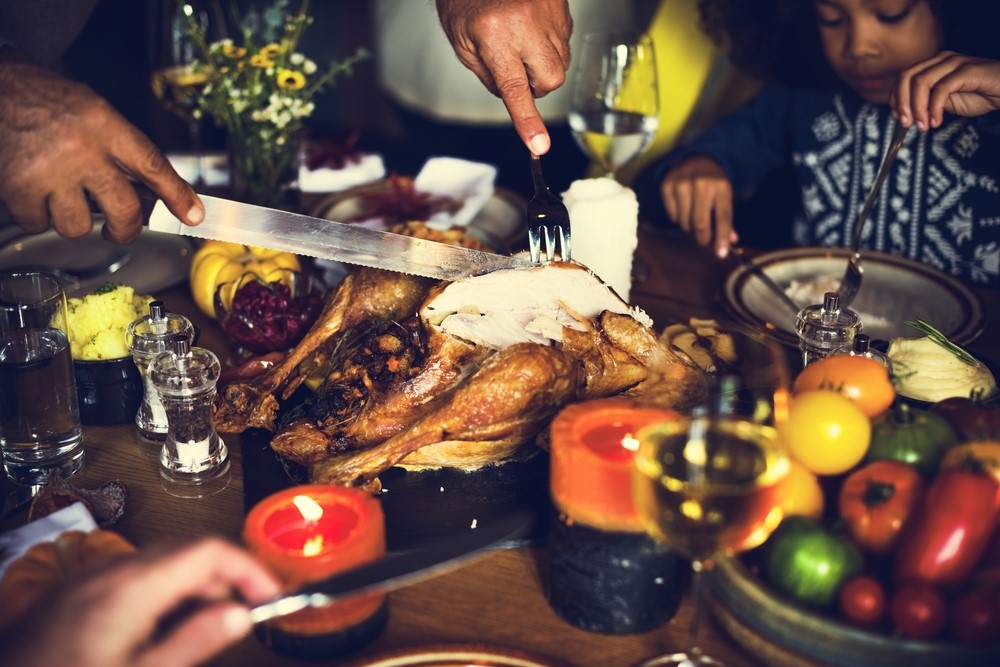 When Thanksgiving rolls around, I find myself reflecting more intensely on my blessings, critically assessing my level of service to others, and evaluating how I can do a better job of instilling a spirit of gratitude in my children. My family has a daily ritual of praying together and giving thanks. However, when I think of all the excess (food, décor, gifts) that the holidays often bring, it provokes me to revisit whether we're doing enough to reinforce the behaviors that will allow our boys to grow into children who are grateful for everything, taking nothing (not even a moment in time) for granted.
In a day when bigger is better, instant gratification is an expectation, and an entire generation is being defined by the word "entitlement," I'm determined to combat this mindset in our children.
I always enjoy seeing the fall-inspired gratitude tree projects on Pinterest this time of year, when each family member writes something on a leaf that they're grateful for and collectively fill the branches (which can also be translated as feathers on a turkey). Here, I've gathered strategies to be used daily throughout the year to reinforce the value of a grateful spirit.
1. Start with the basics. Teaching our children, early on, the critical importance of saying a simple "please" and sincere "thank you" will take them a long way in displaying true gratitude. Help them to realize that even the smallest acts of service and consideration are to be appreciated.
2. Model grateful behavior. There's nothing better than setting an example for our children. It's amazing how even the enthusiasm we show to them (e.g. when they present that colorful homemade macaroni necklace they made in school) can be a model for how they learn to show gratitude to others.
3. Show them the silver lining. Help them to see the positive in every situation, even during disappointing times. I admit it can be challenging and often takes a little creativity.  After noticing that my two boys were getting into a habit of complaining about the weather (which they may or may not have picked up from me), on unseasonably, uncomfortable cold days (equating to about 45 degrees here in Jacksonville), I created a practice of smiling and saying out loud, "Thank you God for this beautiful, wonderful, cold, dark, gray, BLESSED day!" Yes, they thought I was a little crazy at first, but they quickly gained perspective and got on board.
4. Minimize excess. Remember that "less is sometimes more," especially when it comes to toys and material possessions. There's value in having "a few cherished things." Have you ever seen a child walk around in a room full of toys as if they have nothing to play with?
5. Give. Make a tradition of donating to charity and serving others as a family. Use it as an opportunity to remind your children of the fact that many people (even children) are in less fortunate situations and don't enjoy the comforts we often take for granted.  Seeing a homeless person, or someone holding a sign on the side of the road (whether you roll down your window to help them or not) is the perfect opening to discuss not only gratitude, but also responsibility, life choices and consequences.
6. Remember that many gifts and blessings can't be purchased. I saw a quote recently, "If you want to feel rich, count all your blessings that money can't buy." As my children show gratitude for Ninja Turtle action figures or a new bike, I remind them that some gifts and blessings, often the most valuable ones (like a loving family, good health and quiet, peaceful moments spent together), can't be bought.
7. Count blessings of the past. Our boys likely don't realize it when we're doing it, but we often reminisce about blessings of the past. Whether it was a family trip to the islands or silly dances experienced with their maternal grandparents (now deceased), in some ways it helps remind them that material blessings don't last forever, and that we must cherish and be grateful for every magical moment with our loved ones.
8. Write thank-you notes. Encourage your children to take the time to write "thank you" cards for gifts and thoughtful expressions they receive from others. This practice can also help set the stage for them to appropriately show appreciation later in life.
9. Help them resist comparisons. When our son once brought up an irrelevant comparison of the number of toys (or lack of) that a friend had and the enormous size of a friend's home we visited, we used it as an opportunity to talk about gratitude for all the things we have and helped him to recognize how little we actually need. It's okay to want new and nice things, but remind them that what they have is usually already enough.
10. Make them put skin in the game. Implement weekly chores for your children to allow them to earn money to put toward things on their wish list throughout the year.  There's something about working hard for things (versus getting them for free), that makes us appreciate them a little bit more.
What are some of the things you do to instill a spirit of gratitude in your children?