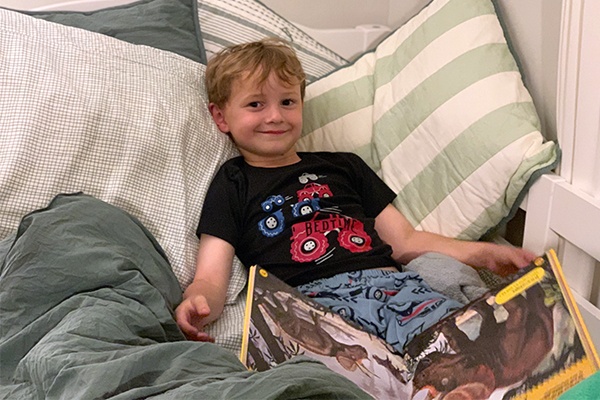 Bedtime at our house takes around two hours. I know, that sounds ridiculous. And some nights it really is. But most nights it's the norm, and I don't want to change it. While I'm often tired, behind on laundry and dishes, usually hungry and needing to eat dinner, and always still worrying about work, bedtime can be a sweet spot in the day.
The reason for that is that we still read to our kids. Obviously the 5-year-olds, who, having just started kindergarten aren't quite able to read on their own yet. But we still read to our almost 9-year-old, who can read on his own just fine, and our almost teenage daughter. That's right, we still read to her. Reading to four kids takes a.lot.of.time.
This is not what I envisioned when I first became a mom. But we had almost five years with just our daughter before our son arrived so bedtime was never an inconvenience or something that took over the whole evening. Then even with our son, there were two of us, so we could still read to them every night and still have time for Netflix. Then came the twins, who have to have both of us read with them at the same time, or they collectively devolve the evening into a let's-get-naked-and-trash-our-room-and-jump-off-the-bunk-bed-like-we're-drunk-frat-boys party.
Inevitably they're exhausted and fall asleep while we're reading. This is not a good habit, I get that. But here's the thing: This is the only, and I mean, only quality one-on-one time I get with my individual children for 30 minutes a day. The rest of the evenings are usually a chaotic mess of dinner and lunch-making, school-folder signing, dog chasing, tantrums, meltdowns, ballet, gymnastics, baseball practice, squabbling, and mopping up bathwater.
It is the 30 minutes a day they can have a one-on-one conversation with me, and when they open up to me most about their sadness or struggles or what they're upset about or facing at school. Sometimes they read to us, the kindergartners do, to show off their new skills. Sometimes it becomes a snuggle session to soothe the exhausted tears. A few nights a week it's the only way I can get my son alone for him to tell me how he spent his day. He talks more before bed than he does all evening because he no longer has to compete with his rambunctious siblings. I love how his face lights up when we read books about space, and the math he does in his head when we talk about how long it takes to fly to the moon.
It is also the time I have the most serious conversations with my daughter — about texting, or internet safety, about growing up and all that entails. About girl drama or challenges with homework and time management skills. I get to really get a glimpse into her world, without the phone distracting her or the other children distracting me. I hear bits of her day that make me so proud to be her mama. Then we top it off with Diary of a Wimpy Kid silliness or some other goofy book that helps her relax after a stressful day.
No, I don't love that bedtime takes so long. And some nights I'm really tired and wish they would put themselves to sleep, or Mary Poppins would show up to help me. But most of the time, reading to them provides the only sweet one-on-one time we get, and that makes it all worth it.