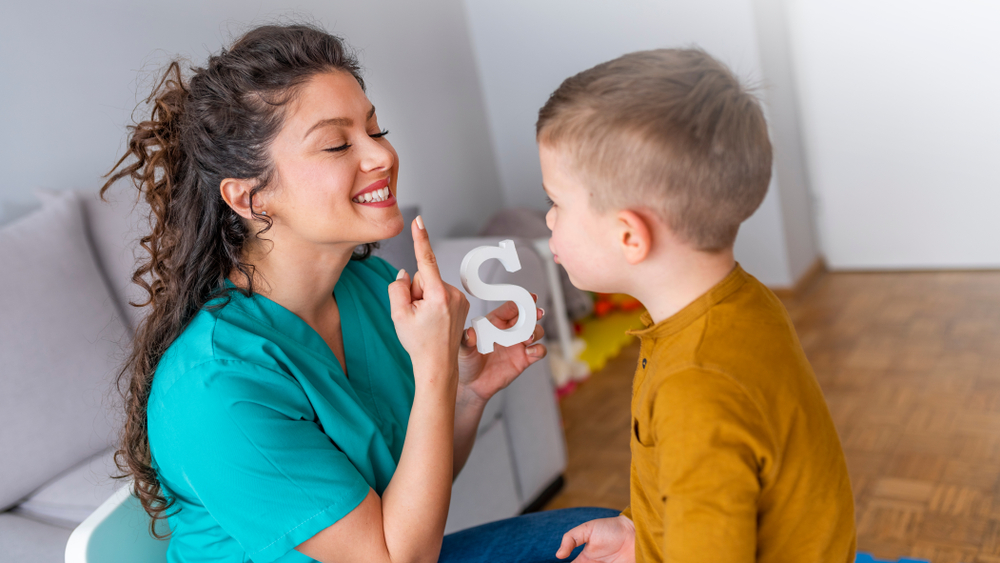 Your baby's first word is often one of the most anticipated milestones for a parent. What on earth will they say… and when will they say it? And then to witness their vocabulary grow and develop over time, to hear their precious baby talk morph into full-blown sentences — it can be so exciting! But what if they aren't using as many words as you think they should for their age, are incorrectly pronouncing certain syllables, or have issues communicating their needs? That's when a speech evaluation or speech therapy from a licensed speech-language pathologist could be in order.
"Pediatric speech-language pathologists treat delays and disorders in speech and language domains," shares Sara Wener, M.A. CCC-SLP, a speech therapist with Wolfson Children's Rehabilitation. "These include speech sound disorders, apraxia, fluency, voice, oral and written language disorders, and more. They also treat feeding and swallowing disorders."
If unsure as to whether or not your child needs to be evaluated for speech-related issues, here are a few common signs to watch out for:
A lack of non-verbal communication by your child's first birthday.
While most people consider communication to be speaking, Werner says it actually starts well before a child turns one.
"Parents are often looking for first words and word combinations, but there are many precursors to a child's speech development that are important to note as well," she says. "These include eye gaze, joint attention in play, using gestures, identifying familiar words, and social interaction, many of which emerge within the first year."
Werner suggests that parents become familiar with varying age-based developmental milestones: Resources such as pathways.org and asha.org can help. If your child is not making progress in any of these areas, it may be worth seeking a speech-language evaluation.
Not aware of or imitating the actions, sounds, and words of others.
Imitation and repetition are important to building communication skills at an early age: "Imitating your actions, sounds, and words are important building blocks to understanding and using language," Werner says.
One way parents can assist their child is by building speech and language skills through everyday activities at home, which will help them understand new vocabulary.
"Language is all around us and kids learn language through their everyday experiences," she adds. "As a parent, we encourage you to be aware of the language you are using while getting your child dressed, asking them to clean up, or while pushing them on the swing. Children benefit from repetition, so it helps when we describe our own actions during these daily activities and narrate what they are doing."
Making little to no progress with social interaction and using new words.
If your child's communication has stalled or regressed, he or she may benefit from an evaluation or speech therapy. Also, be on the lookout for your child to be imitating your sounds and words.
"Parents should notice progress with a child's social interaction, understanding concepts and directions, and using new words as they enter toddlerhood," Werner explains.
Trouble making certain sounds.
Does "grandma" sound like "gwamma" or "sister" come across as "thithta"? If your child can only be understood by certain family members or has a stutter (getting stuck on a word or sound and repeating it), it may signal that an evaluation is needed.
"Every child is unique. During an evaluation, we work with parents to identify areas of difficulty," Werner says. "We tailor treatment to the individual child, building skills through play, and provide easy strategies for families to implement at home in everyday activities."
Excessive drooling or trouble eating or swallowing.
Speech-language pathologists can also help with more than just verbal communication, including drooling and feeding and swallowing disorders. Feeding disorders can include problems with sucking, eating from a spoon, chewing, or drinking from a cup, and can often be related to other medical conditions.
More than anything, getting help early is key.
"Early identification and treatment increase the chances for improvement and potentially prevent developmental concerns as a child gets older," she says. "Advancing a child's communication skills can improve relationships, behaviors, academic success, and interest in learning."
Speech-language pathologists at Wolfson Children's Hospital specialize in caring for infants and children who need help effectively communicating, eating, or swallowing. These activities are vital for your child's health and happiness. Visit any one of the Wolfson Children's Rehabilitation locations in Jacksonville Beach, Downtown Jacksonville, Fleming Island, Nocatee, Lake City, or St. Johns. To learn more, call 904.202.4200.