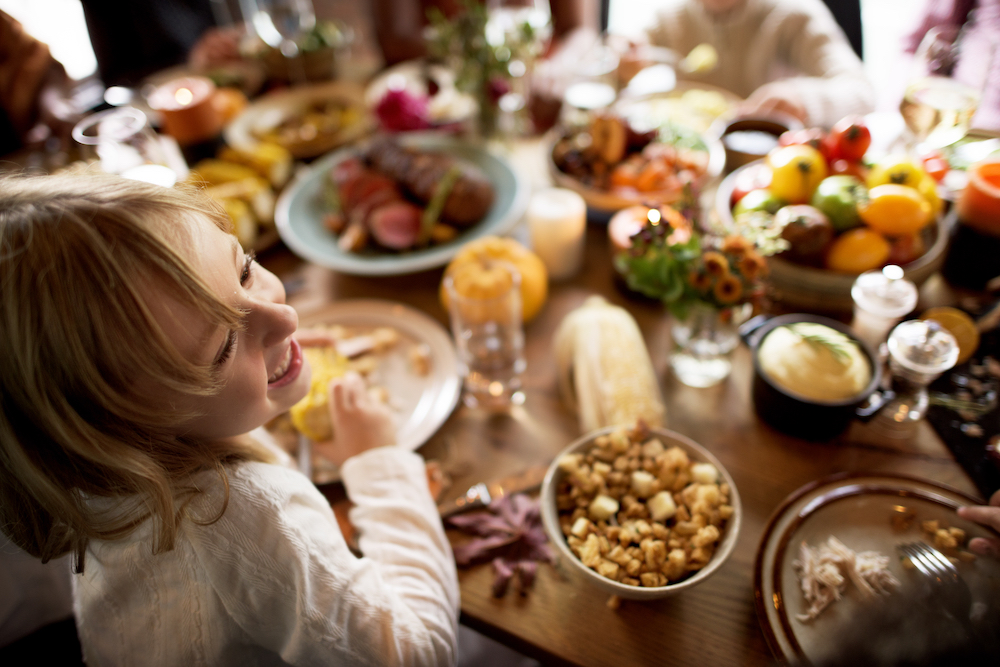 Ah, Thanksgiving. It's a holiday designed for showing gratitude — in theory, anyway. In reality, it's a stressful occasion for us moms, who slave over food for hours and hours every year, while trying to juggle our kids as they scream and whine, and also struggle to figure out family traditions for everyone to cherish year after year. Being a mom during the holidays — it's tough! But there are ways to make things a little bit easier.
You might remember, but I have a lot of kids. So over the years, I've had to find ways to make the holidays as painless as possible, while trying to maintain our own holiday traditions. It's not even all that different, really, from regular meals anyway. We're always having to feed a crowd here! And I'm more than happy to share my (possibly scant) wisdom.
Prep, Prep, Prep
For me, Thanksgiving begins several days early — or at least, the prepping part does. Any vegetables that need to be chopped or diced gets done in advance and is then refrigerated to use on the actual day of. Casseroles are made in advance and refrigerated, so all I have to do is pop them in the oven when the time comes. Spices and herbs are portioned out and labeled so I know exactly what to use with which recipe. Is it a lot of work? Absolutely, especially when you're working from home and have five kids running around. But give yourself a few days to do all of it, and then you can do it a little bit at a time instead of slaving away all at once.
Pro tip: Even potatoes can be peeled in advance for your mashed potatoes! Peel them the day before, put them in a bowl of water, and then cover them before popping them in the fridge. They'll be good for 24 hours.
Brine the Turkey!
Roasting a turkey can be hard work, but brining can make a world of difference. And it can also cut down on some of your prep time by imbuing the turkey with flavor ahead of time. Brining will make your turkey more moist and juicy, and you can do it one of two ways. You can use a wet brine, which is where you make a saline solution and soak the turkey for several days, or you can use a dry brine. Personally, I prefer a dry brine; I think it's easier, and it cuts down on much-needed space in your fridge. With a dry brine, you rub salt all over the outside of the turkey, underneath the skin, and inside the cavity. Just make sure to rinse it before you roast it!
Use Your Cabinets
So you're trying to cook, you have a million recipes to follow, and you want to make your life a little easier? Take advantage of all that space you have, right at eye level: your cabinets! Print your recipes out, or write them down, and then grab some tape to hang them up on your cabinets. Then as you're moving around the kitchen, you won't need to constantly be searching for ingredients or running back to your laptop. Everything will be right there!
Make Your House Smell Amazing
If you're hosting Thanksgiving and you're anything like me, then you want your guests to walk into a house that smells absolutely incredible. There are some easy ways to do that, too! Throw some apple cider into your slow cooker, and then mix in some cinnamon sticks, whole cloves, orange peels, ginger, whatever you like. (Just make sure you have the spices wrapped in a cheesecloth.) Then you'll not only have a house that smells like fall, but you'll also have a warm and yummy drink to give people as they arrive.
Give the Kids Something to Do
We all want our kids to have something fun to do while we're cooking, and we also don't want our tables to get destroyed with food splattered everywhere. Kill two birds with one stone with a plain white tablecloth thrown over the table. Give the kids some markers and have them go to town; then, you'll not only have a fun activity to keep your kids occupied, but you might also get a fun keepsake you can use over and over again each year to remember.
Bonus: Recipes Galore
And, just for extra fun, here are a few of my favorite Thanksgiving recipes!
Stuffing with Sausage, Onions and Pears
2 tbsp olive oil
1/4 cup minced garlic
1/4 cup diced yellow onion
1/4 cup chopped celery
1/4 cup chopped green onion
2 pears, cored and diced
1-2 loaves of day-old bread, cubed
1/4 cup chopped fresh parsley
2 tbsp rosemary leaves
2 tbsp sage
32 oz chicken broth
2 eggs, lightly beaten
1 package sausage of your choosing
Preheat oven to 350. Bake the bread cubes for about 10 minutes, or until they're crispy but not golden. Butter a baking dish. Heat olive oil in a skillet over medium heat. Brown sausage. In a separate skillet, sautee garlic, yellow onion, celery, green onion, pears, and herbs in butter over medium-low heat. Cook and stir until tender, about 10 minutes. When the sausage is done, drain the fat, and then stir the sausage and the vegetables together; then mix in bread cubes. Drizzle eggs, broth, and parsley into the mix, and then toss until it's well-combined. Spoon into prepared pan and bake until golden brown on the top.
Vidalia Onion Casserole
4-5 Vidalia onions, sliced 1/4 inch thick
1/4 cup butter
1/4 cup sour cream
3/4 cup grated parmesan cheese
10 Ritz crackers, crushed
salt and pepper to taste
Preheat oven to 350. In a skillet over medium heat, saute onions in butter until tender. Remove from heat. Stir in sour cream, salt and pepper. Spoon half of the onion mixture into a greased 1 quart baking dish. Sprinkle with cheese. Top with remaining onion mixture. Sprinkle crushed crackers on top and bake at 350 for 20-25 minutes or until bubbly.
Pumpkin Toffee Cheesecake
1 3/4 cups shortbread cookies, crushed
1 tbsp butter, melted
3 packages of cream cheese, softened
1 1/4 cups brown sugar
1 can of pumpkin
2/3 cup evaporated milk
2 large eggs
2 tbsp cornstarch
1/2 tsp cinnamon
1 cup crushed toffee candies
8 oz sour cream
2 tbsp granulated sugar
1/2 tsp vanilla
Caramel ice cream topping (optional)
Preheat oven to 350. Combine cookie crumbs and butter in a small bowl. Press into bottom and 1 inch up the side of a 9 inch springform pan. Bake for 6-8 minutes.
Beat cream cheese and brown sugar in a large bowl until creamy. Add pumpkin, evaporated milk, eggs, cornstarch, and cinnamon. Beat well; pour into crust. Bake for 60-65 minutes or until edge is set, but center still moves slightly. Remove from oven and top with toffee. Combine sour cream, granulated sugar, and vanilla. Spread over warm cheesecake and bake for 6-8 minutes. Cool completely in pan and refrigerate overnight. Drizzle with caramel topping before serving.
What are a few of your tried-and-true Thanksgiving tips?