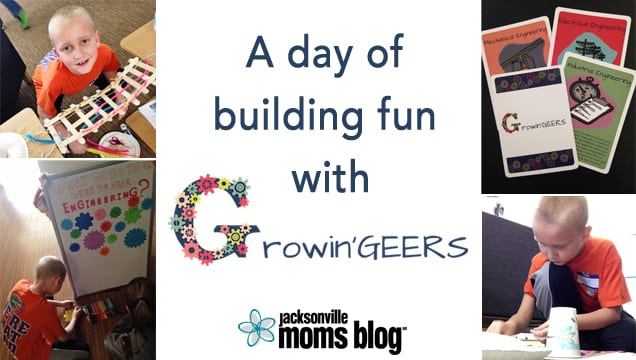 When my 8-year-old son, Cole, and I were invited to attend a Growin'GEERS event, I'll be honest, I didn't know what to expect. Well, I can tell you as a mom and as a former teacher, I was blown away by both the activities, as well as the level of preparation the Growin'GEERS team put forth for their hands-on event.
We arrived at the event and were immediately greeted by a member of the Growin'GEERS team. The day was very well organized and we had even received an email the day before informing parents where to park and what to expect. Once we were signed in the kids were immediately engaged in activities while we waited for our main quest to begin. There was an engineering memory game, paper airplane flying, and helicopter creating for the students to try out. All of these activities were facilitated by a friendly and knowledgeable Growin'GEERS team member.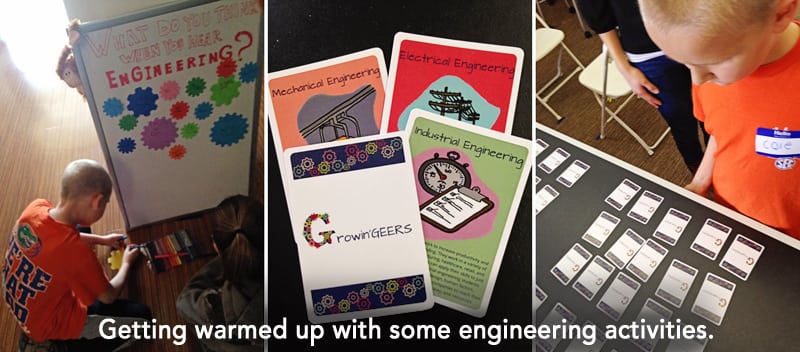 Once everyone had arrived it was time for our quest. The students gathered around and were shown an introductory video of Flynn, the main character in the quest. For this quest, Flynn was in Brazil and had become separated from her family. The students were asked to build bridges that would help Flynn cross a ravine so she could get fruit to eat.
With a variety of household materials at his disposal, Cole got to work constructing his bridge. During this time members of the Growin'GEERS team circulated through the groups of kids and talked with them about what they were creating and why they thought their solution would work.
After working on their bridges and checking in with an additional video from Flynn, as well as some informative engineering information on bridge construction, it was time for the students to share and test out their bridges. This was my favorite part of the event. The kids moved from bridge to bridge and they took turns describing their construction technique.
The final step was to test the bridge to see how much weight it would hold. Watching the kids cheer and clap for their fellow Junior Engineers was great. Cole's bridge was able to hold all of the bundles of pencils and he was so proud. On the way home, Cole told me about how much he enjoyed all the activities, but his favorite was testing out his bridge, and that he can't wait to attend another Growin'GEERS event.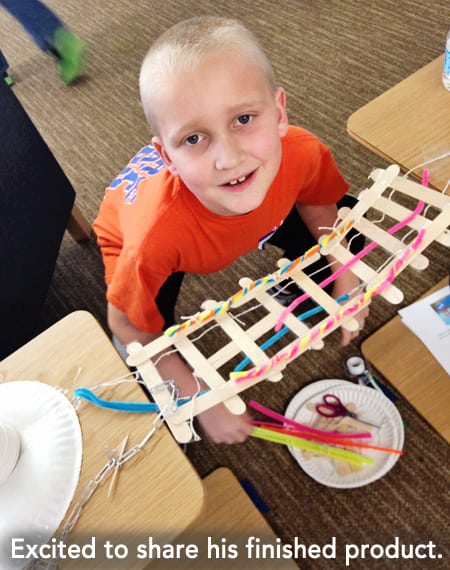 The mission of One Spark winners Growin'GEERS is to show elementary children how being an engineer can make a positive impact on the world through the use of STEM concepts and problem-solving skills. Growin'GEERS offers different adventures that each contain three unique and challenging quests. Each adventure will focus on a certain region of the world and include cultural and environmental information to enhance the storyline supporting each adventure. Quests are currently being sold individually, or you can attend a live event and complete your adventure in a group setting with Growin'GEER facilitators.  Quest kits are also available to schools to purchase as classroom enrichment or for use as an after school program.
Growin'GEERS will be hosting live events throughout the summer to introduce your elementary-aged child (grades 2-5) to engineering through fun, hands-on activities that introduce specific engineering concepts within a variety of engineering disciplines. Within each quest, your child will be encouraged to exercise three important skills: creativity, problem-solving, and teamwork.
REGISTER HERE for one of the summer events and get ready for fun!
Thank you to Growin'GEERS for sponsoring this post. All opinions are my own!