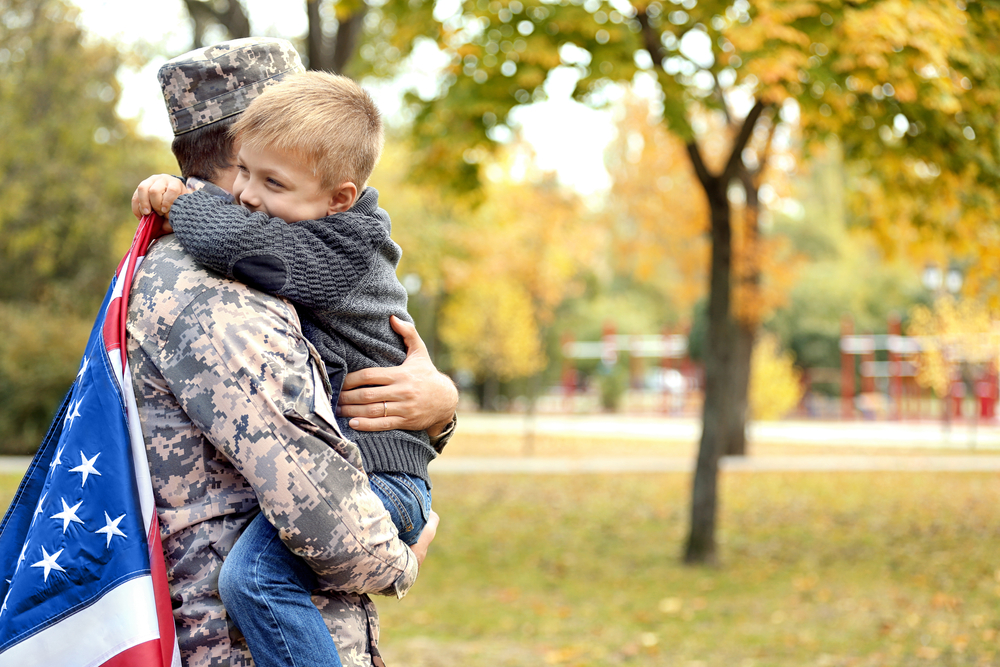 Even if you have only lived in Jacksonville for a couple of months, you will likely notice a strong military presence here in North Florida. The Jacksonville area is home to three Naval bases, including Naval Air Station Jacksonville, Naval Station Mayport and Naval Submarine Base Kings Bay. The military bases bring over 50,000 active duty, reserve and civilian men and women to the Jacksonville area. Of course, along with those members come spouses and family members, too. Long story short, the military is a big part of Jacksonville!
The men and women who serve in our armed forces work long hours, spend countless days away from family and often find themselves in harm's way. The Navy-Marine Corps Relief Society is an amazing organization that helps to support our Sailors and Marines in times of need.
The Navy-Marine Corps Relief Society has been around for over 112 years and came about because the United States couldn't originally afford to provide medical or retirement benefits for the armed forces, so instead, Sailors and Marines would "pass the hat" to raise funds to cover healthcare costs and funerals for widows and orphans. In 1904, the society became official, and in its first year, gave $9,500 to widows and families. They also helped to cover the gap of military paydays during World War I when they were often delayed. The society expanded in the later years including education assistance, financial assistance, and counseling. They also began a Visiting Nurse Program to provide resources and support for those returning from overseas with physical injuries and traumatic stress disorders.
In addition to providing loans for those in times of need, NMCRS operate several classes including Budgeting for Baby, Health Education, and Post-Combat Support. The society also operates thrift stores in over 25 locations worldwide, which allow for service members to get outfitted for uniforms on a budget with gently used items. They also help to fund emergency travel for Sailors and Marines who have severely ill family members or to attend funerals of family and grandparents.
In 2015, the society gave over $45 million in interest-free loans and grants to over 57,000 Sailors and Marines.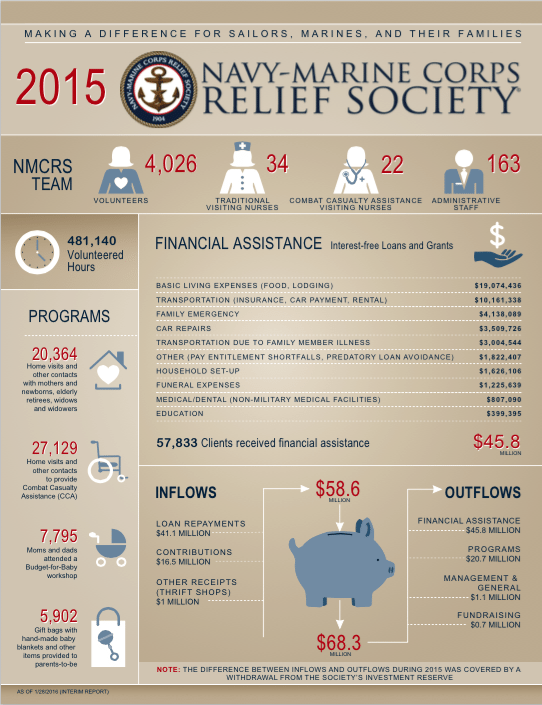 How can you help?
Volunteer: As a volunteer, you will work one on one with Marines and Sailors after receiving specialized training. You will feel appreciated and add to your resume. Volunteers make up over 90 percent of the NMCRS workforce.
Donate: You can donate online by clicking here. Some employers match your charitable contribution, so before you donate, see if your employer participates.
Host or Attend a Fundraising Event: Plan an event that benefits and supports the Navy-Marine Corps Relief Society mission. These events include Golf Tournaments, Silent Auctions, and Galas. Contact your local chapter for more information on events you can attend.
Teach a Workshop: If you enjoy interacting with others and are great at communicating, then teaching a workshop would be a perfect fit for you.
As a military spouse myself, I have seen first-hand the amazing work that the Navy-Marine Corps Relief Society does. Without this organization, some of our military families would truly be suffering. Please consider donating or becoming a volunteer for this amazing cause. You can fill out a volunteer application by clicking here.