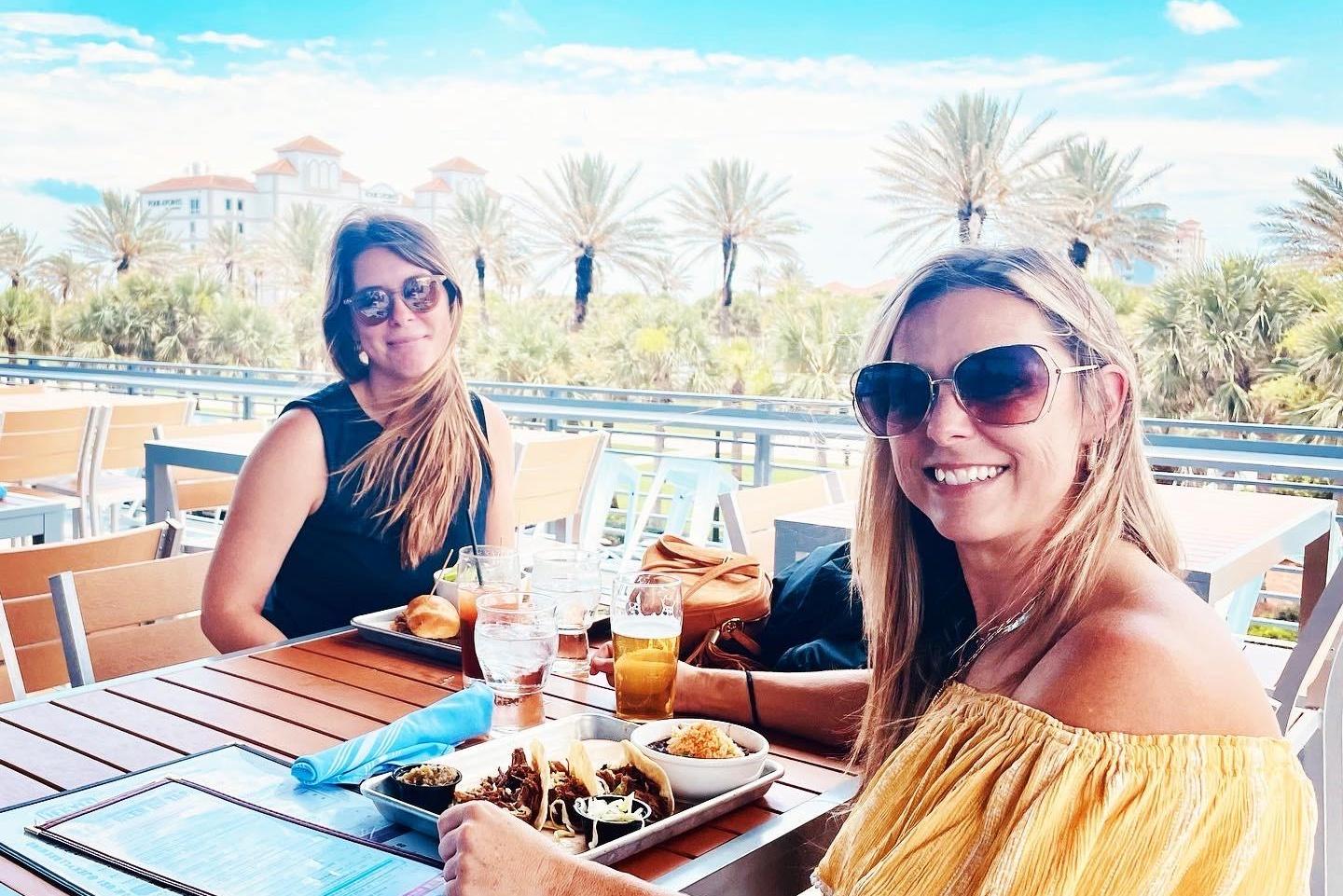 Mom friends, looking to do something fun with the mom squad? What better way to do that than with some good old-fashioned brunch or lunch when the sun is shining and the weather is warm! Okay, so it's actually really hot right now, so depending on whatever your threshold of heat is, or maybe just waiting until fall, check out these spots!
If you are in the Beaches area, one of my favorite things to do when I get together with my girls is pick a spot with a great view and a fun vibe.
READ: I Planned Moms' Nights Out for a Year — These Are My Favorite Spots in Jax
Coop 303
What better place to start than in Atlantic Beach at Coop 303? The view of the Beaches Town Center will instantly put you in a good mood, seeing the hustle and bustle of beach life from above — and their drinks and food are great, too.
Lemon Bar
After that, if you are still in the mood to socialize, head over to Lemon Bar. The vibe is easy and laid-back, and the outdoor setting right on the ocean is something you can't beat. With music playing and a nice breeze blowing… order a burger or some nachos, and you can't go wrong. To me, this spot is a favorite for the young and old(er) alike!  The best part is that you can roll in with flip-flops and a tank top and blend right in.
Jekyll Brewing
The latest spot I love at the beach these days is Jekyll Brewing. Grab a flight of beers, grab some lunch, and enjoy the view outside facing Latham Plaza (think that great Deck the Chairs locale) and the ocean — it is truly amazing. I seriously forgot I was in Jax Beach! Bonus: It's pretty kid-friendly when you aren't with the girlfriends!
READ: Our Favorite Kid-Friendly Restaurants in Jacksonville
Sandbar Jax Beach
After you are done eating at Jekyll Brewing, you can take a quick walk over to my next new favorite spot — Sandbar Jax Beach, which is located inside the new hotel on First Street, SpringHill Suites. Take the elevator to the second floor and head to the bar which faces the pier and ocean. You will pass the pool on your way, and again you will not feel like you are even in Jax Beach! Sandbar has appetizers and burgers, and the view is awesome. It's also the best for people-watching!
So, when you can finally coordinate an afternoon with the girls (adulting is so overrated, but here we are) and are looking for a laid-back, fun afternoon where you can still get dressed up and feel fabulous with the besties, try these spots. Either way, you can't go wrong with food, drinks, and a great view with the girl squad!
What are some of your favorite spots for lunch with your mom friends?