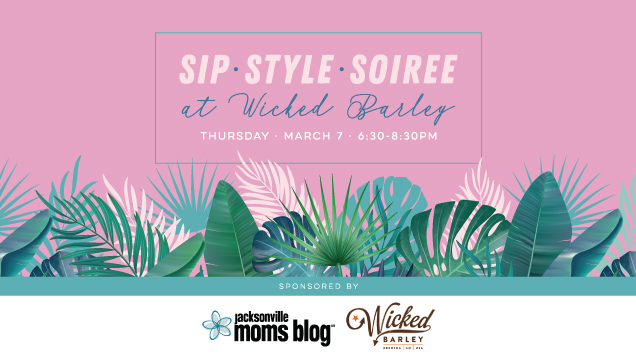 Jacksonville Moms Blog is thrilled to host Sip, Style & Soiree, a Moms' Night Out at Wicked Barley Brewing on Thursday, March 7th!
Get ready to mix, mingle and enjoy a fun night out in the Beer Garden and under the tent at Wicked Barley Brewing, on the banks of Goodby's Creek. Sip, Style & Soiree Moms' Night Out event features a cocktail hour, fashion walk and pop-up with local boutiques Jaffi's, Momni Boutique, Lulamae, Fig & Willow and AnderNicolle Boutique. Eden Kendall (Morning Co-Host 99.9 Gator Country and WJXT River City Live) and JMB's very own Jessica Morgan will be the emcees for the event. It's sure to be a fun night out!
Tickets: **Go On Sale Tuesday, February 12th at 8 PM!!**
Purchase at 904tix.com HERE!
VIP Ticket $35 includes: Early VIP check-in starting at at 6 PM and includes complimentary valet, cocktail hour with 2 drink tickets for select Wicked Barley beers and house wine ($10 value), light appetizers, a VIP swag bag including gifts from each of our participating boutiques and first opportunities for Carrie Wilson Makeup touchups, visits with our boutique pops and table sponsors. VIP ticket holders will have first come, first serve opportunity for VIP seating during fashion show (approx. 7:30 PM) to check out the latest spring styles from local boutiques. Limited VIP tickets are available.
General Admission Ticket $20 includes: Check-in starting at 6:30 PM includes a cocktail hour with 2 drink tickets for select Wicked Barley beers and house wine ($10 value), light appetizers, a swag bag and visits with our boutique pops and table sponsors.
Advance ticket purchases only. Additional beverages and specialty beverages may be purchased from Wicked Barley Brewing during the event. Food menu for purchase will also be offered. While complimentary valet will be available first come, first serve. Parking is limited. We recommend carpooling with a friend or rideshare (pick your fave Uber, Lyft) if possible.
No tickets will be sold at the door, and you must be registered to attend so that we can plan accordingly. When the tickets are sold out, we will be unable to release more (no exceptions). 
Disclaimers: ALL TICKET SALES ARE FINAL. NO REFUNDS. In the event that you cannot attend the event, we will do our best to assist you in finding another mom to exchange/give/or sell your ticket if the need arises and/or if time allows. Additionally, everyone that purchases a ticket will be subscribed to our email list (if they have not been already) in order to provide the most timely and up to date event info. Event will be held outdoors and Wicked Barley events are rain or shine events. Photos will be taken at the event and of attendees for use on the blog and on social media by Jacksonville Moms Blog and sponsors. All attendees must be 21+ years of age. 
Table Sponsors
Carrie Wilson Makeup will join us with makeup touchups and tips, along with her Carrie Wilson Makeup Collection for purchase from her makeup studio in Riverside.
Pure Hydration, Jacksonville's premier IV hydration spa will offer B12 (energy+mood) and Glutathione (skin health+detox) booster shots for purchase and showcase their Skinceuticals and CBD lines. Perfect opportunity to boost your mood and send you home feeling ready to tackle the weekend!
Couture Jems owned by local Jax mama Julianne will have her unique handmade jewelry collection at the event for purchase!
Hello Fresh, America's most popular meal kit will offer delicious meal ideas and a giveaway valued at over $100!
Swag Sponsors
What's a Moms' Night Out without swag? Our amazing sponsors will send you home with fun swag and the chance to win giveaways! Thanks to Hello Fresh, Couture Jems, BODYARMOUR, Root Realty and more! VIP swag is limited and available only with VIP ticket purchase.
Charity Spotlight
We will also be accepting donations for Sulzbacher, Northeast Florida's largest provider of comprehensive services for homeless men, women, and children. Sulzbacher is one of only a few centers in the nation to offer a full range of services for the homeless 24 hours a day, 7 days a week, 365 days a year, with a mission to empower homeless and at-risk women, children and men through health, housing and income services thereby restoring hope and self-sufficiency. Donations will get you an extra raffle ticket for our amazing giveaways!
During their stay at Sulzbacher, residents are provided with toiletries, bed linens and towels. These items are supplied entirely through donations received from individuals and groups in our community. Your in-kind donation is greatly appreciated by Sulzbacher and by those they serve. Items needed:
Unopened hygiene products (except mouthwash)
Twin sheets (new)
Supplies for our youngest residents: new diapers (newborns on the way!), bottles, sippy cups, potty seats, and baby wipes (NEW ONLY PLEASE)
Feminine hygiene products
Towels
New Socks