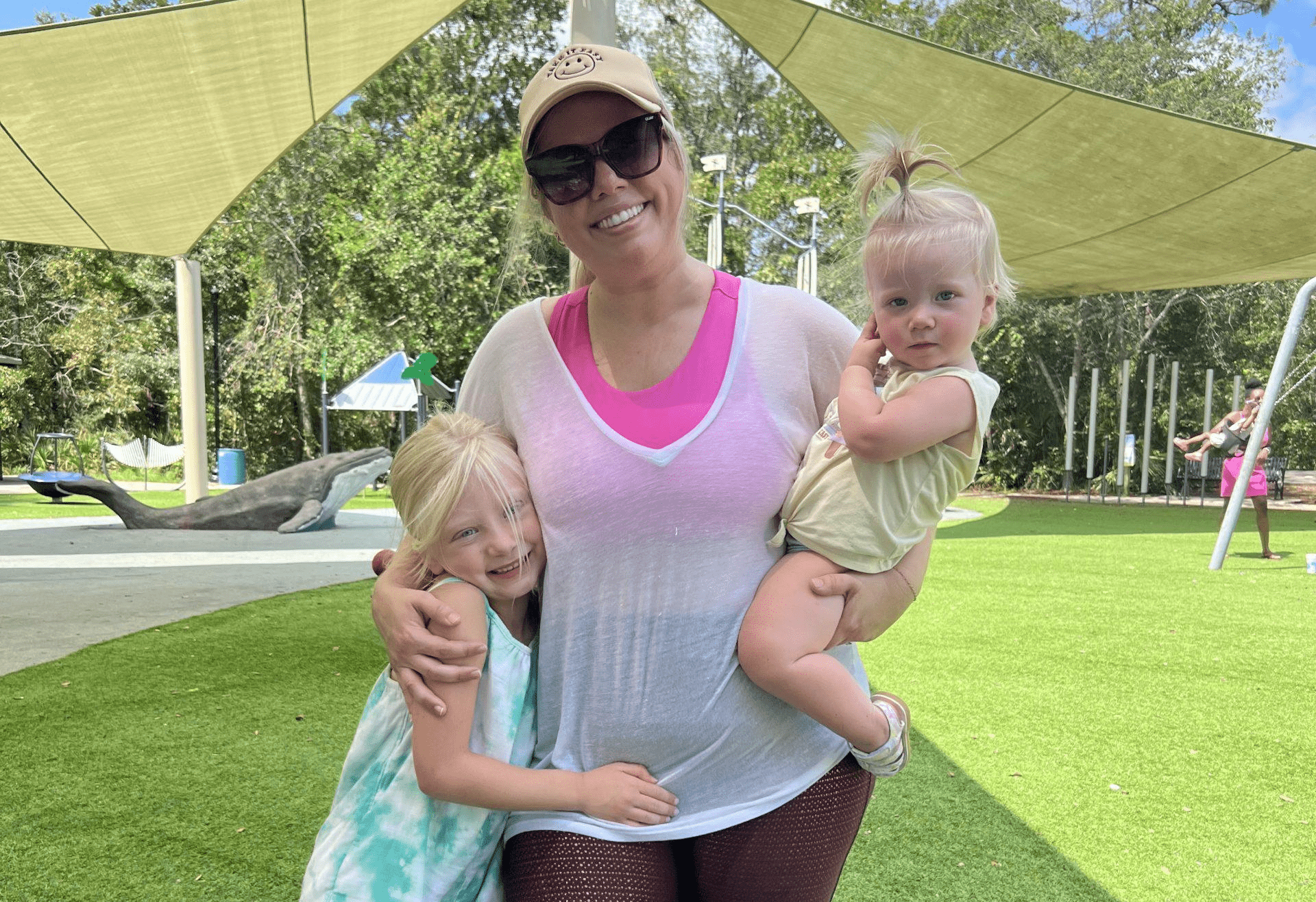 Operation Visit Every Park in Jacksonville is underway, but, plot twist, my 6-year-old is rating them. And on a scale of one to five smiles, at that! (You'll see that she's a very tough critic… LOL, not.) Nevertheless, it's always fun to hear a kid's perspective, especially when it's something pertaining to them. After all, they're the ones who really need to enjoy these things.
READ: Hidden Gems: 21 Best Parks & Playgrounds in Jacksonville 
Here are some of our favorite parks and playgrounds, as reviewed and rated by my 6-year-old daughter, Daisy! (Note that Part II — and likely even III — are already in the works!)
West End Park (Nocatee)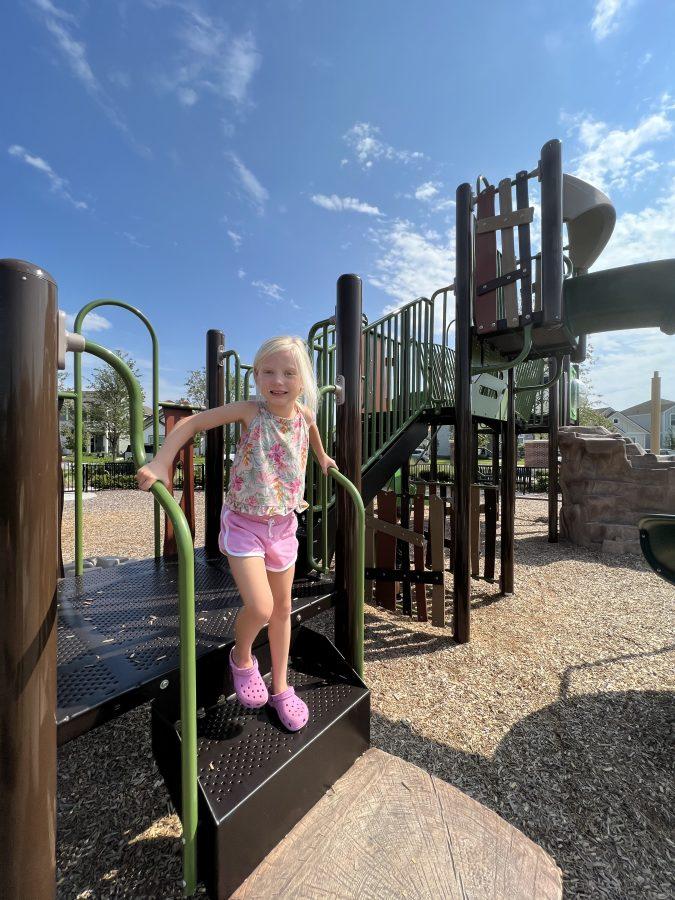 Daisy's Rating: 😊😊😊😊 (4/5)
Daisy's Review: "My favorite part is that it has spinny things, and they're so much fun! The little kid part is fun, too. It was fun, but there are better parks, but I would still come back and play here."
Pros: Has the main playground area plus a separate area for 2- to 5-year-olds, along with a small dog park.
Cons: When we visited, the shade was not up on the bigger kid area which was pretty brutal. More seating would be nice, but it's not a deal-breaker. No public restrooms. Looks like it's part of a neighborhood or private community, but it's a public park open to all.
Mom's Notes: Swing by The Kookaburra right around the corner beforehand for a cup of coffee (I recommend the Honey Badger)!
Location: West End Park in Nocatee is nestled between the West End at Town Center neighborhood and the new Baptist Health Place in Ponte Vedra Beach.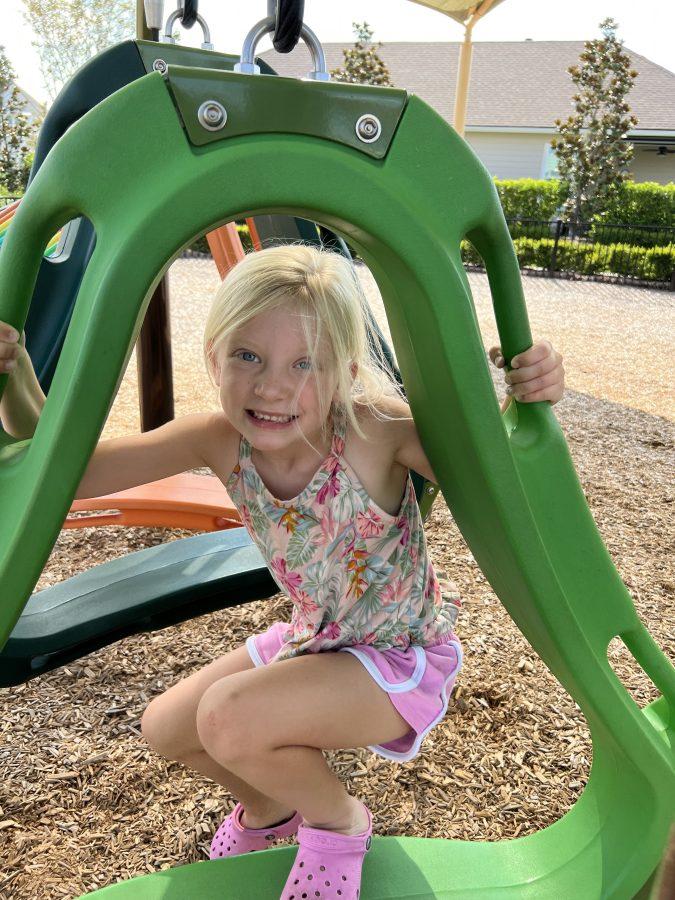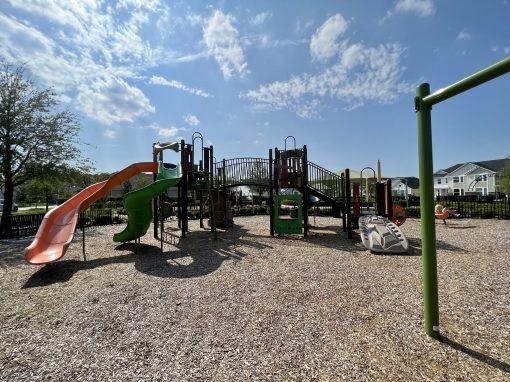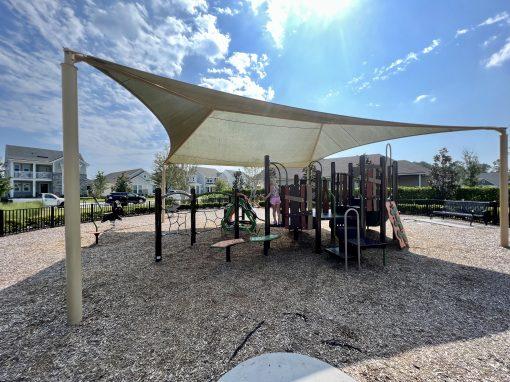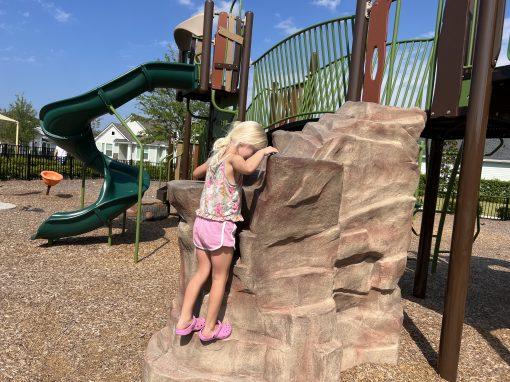 ---
Huffman Boulevard Park (Arlington)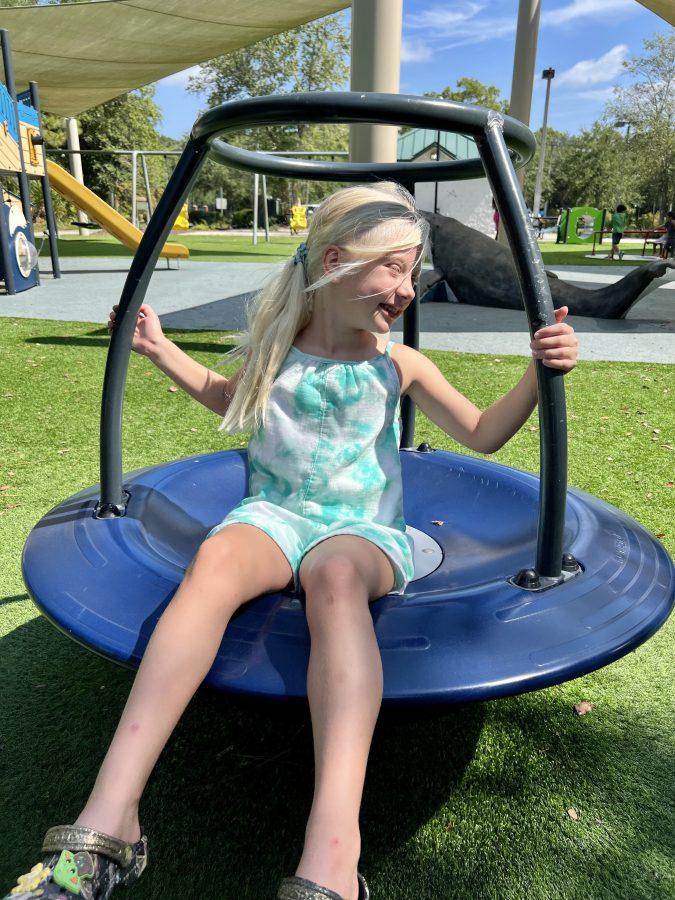 Daisy's Rating: 😊😊😊😊😊 (5/5)
Daisy's Review: "It's kind of small but also fun. It has a lot of fun things that the other parks don't, even a hammock for relaxing. I've been before but would come back again. Me and my little sister enjoyed it and all of the fun things are fun! I like to sit on the whale, and the seesaw is probably my favorite."
Pros: Shades cover most of the playground, and there are lots of tables with seating, benches, and covered tables with grills for cooking out or small gatherings. The playground has several musical and interactive puzzles and activities, and it's a unique park overall. There are also public restrooms, a tennis court, and a multi-purpose field for sports and activities. Always clean, and it has a squishy padded ground.
Cons: I honestly can't think of any! This is one of my favorite parks that we've been to.
Mom's Notes: It can get a little crowded, but it's never been too overwhelming for us.
Location: Huffman Boulevard Park is at 2775 Huffman Blvd. in Jacksonville (off Beach Blvd. between Kernan Blvd. and St. Johns Bluff Road).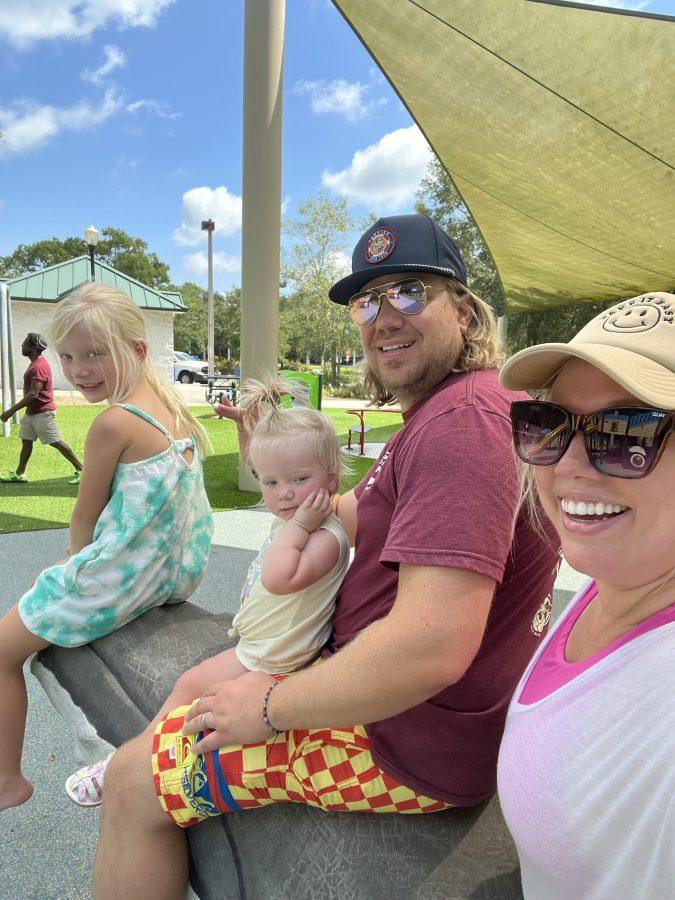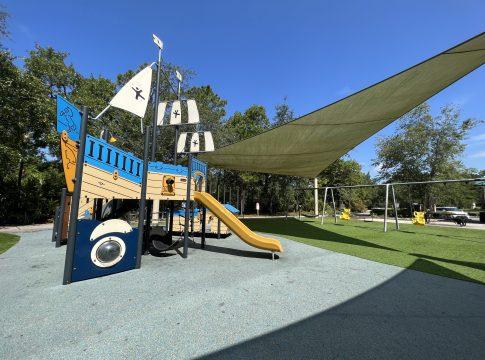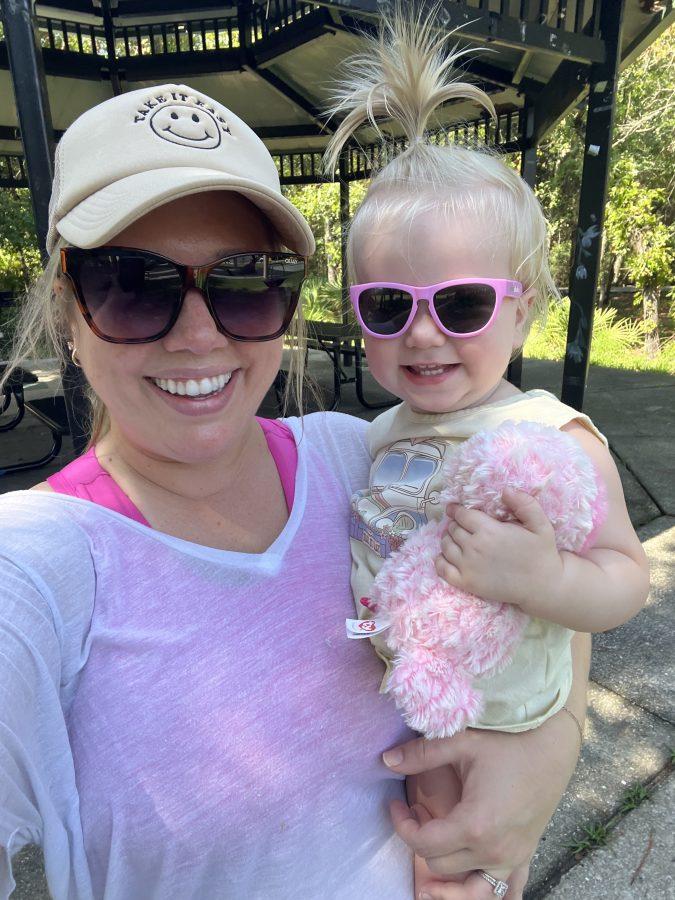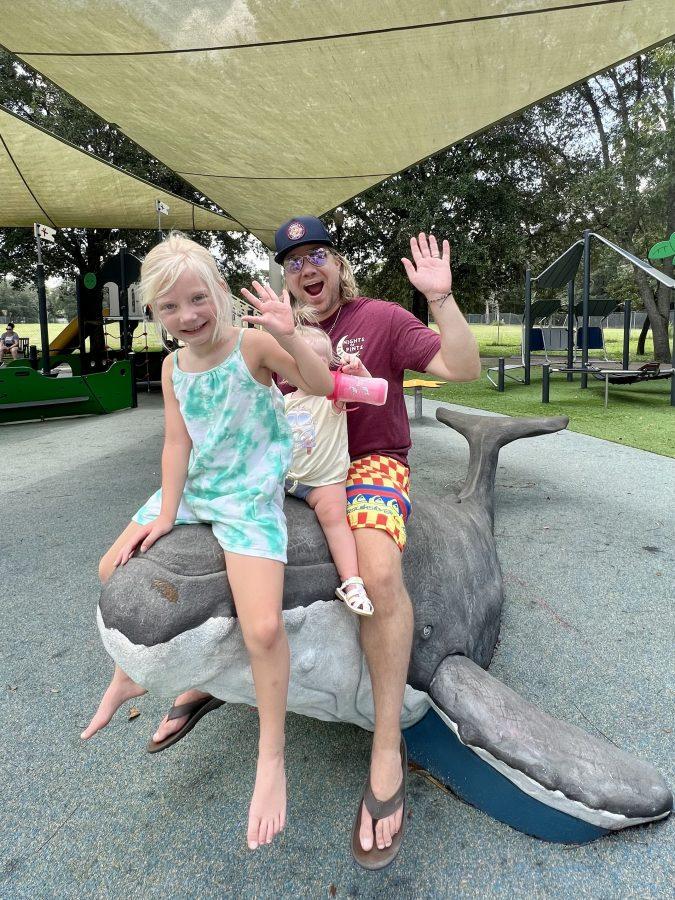 ---
Jack Russell Park (Atlantic Beach)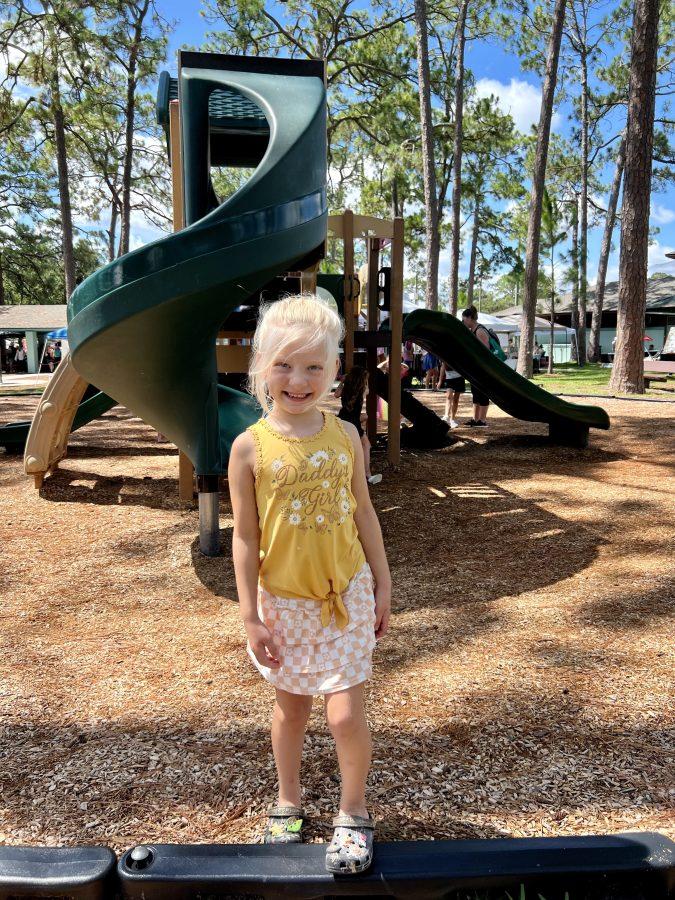 Daisy's Rating: 😊😊😊😊 (4/5) but then changed it to 😊😊😊😊😊 (5/5)
Daisy's Review: "The good part is that it has a big slide, the bad part is that some of it is a little small for me. And there's no shade unless you go under it [the slide], but it's close to the beach so that's good at least. And it has a market right by it. And they have tires to jump to. One time I got a little hurt on it, but I was okay. I still have fun!"
Pros: There is a free library, public restrooms, and usually a breeze from the ocean. The Atlantic Beach Farmer's Market takes place every Sunday from 10 a.m. to 2 p.m., which makes it a fun outing for the family.
Cons: The swings are tucked away in the back, so they're pretty separated from the rest of the playground. There are no shades covering the playground, but there are quite a few large trees that provide pretty good shade coverage.
Mom's notes: We love going on Sunday mornings! I like to grab a coffee from one of the vendors to sip on while the kids play, then when they're ready for a break we walk the market and grab lunch.
Location: Jack Russell Park is at 800 Seminole Road in Atlantic Beach.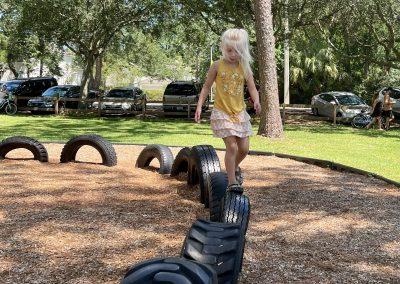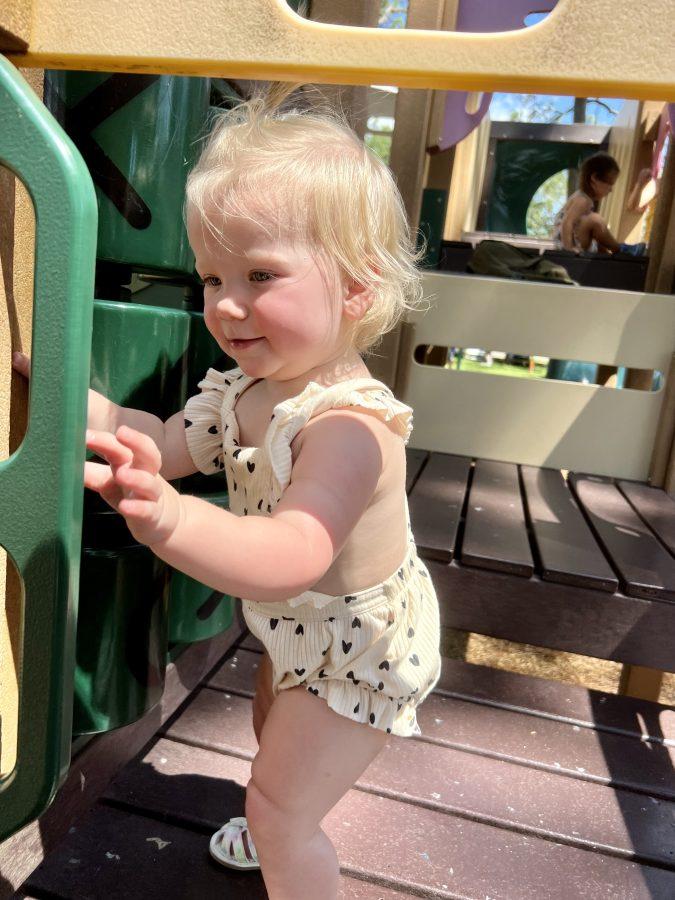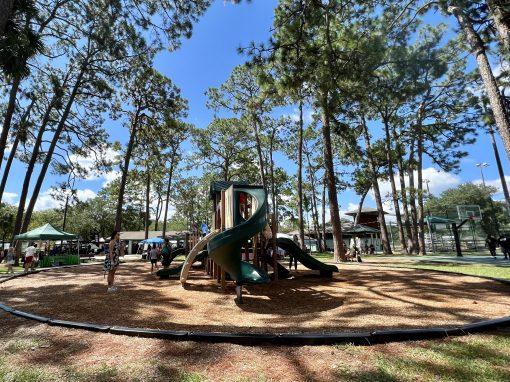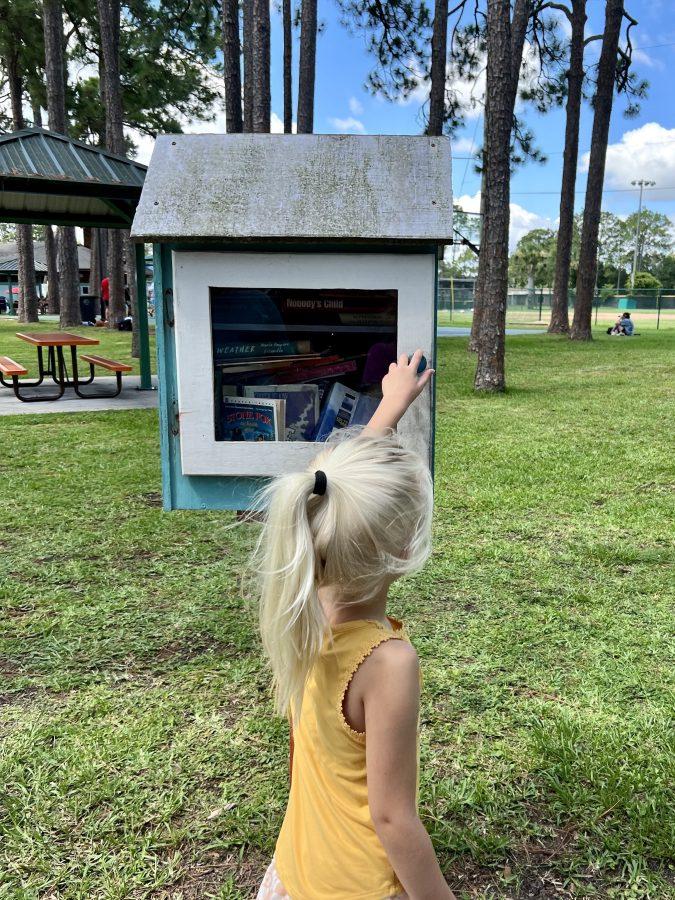 ---
Sunshine Playground at South Beach Park (Jacksonville Beach)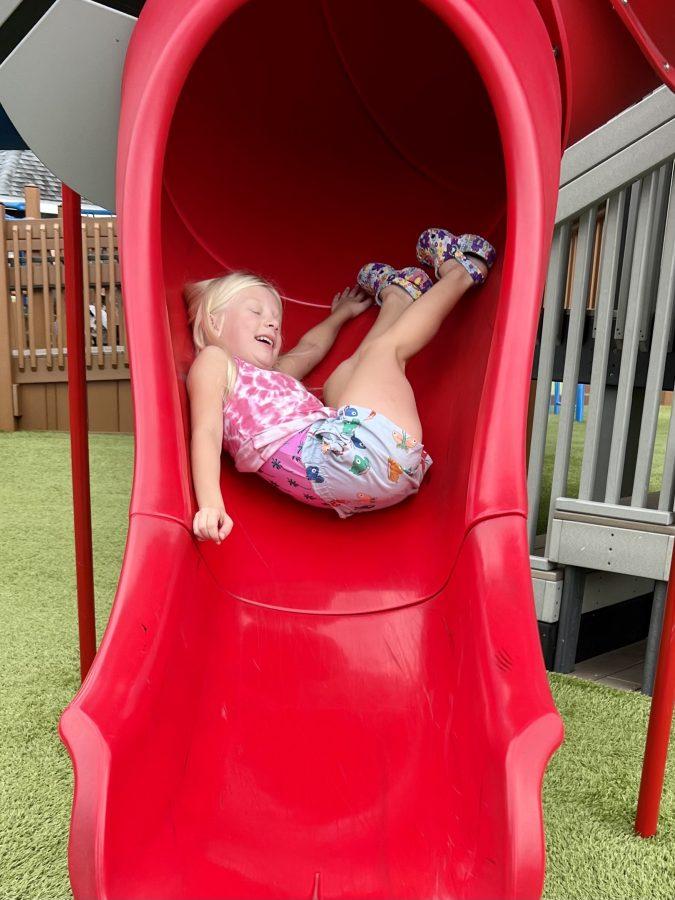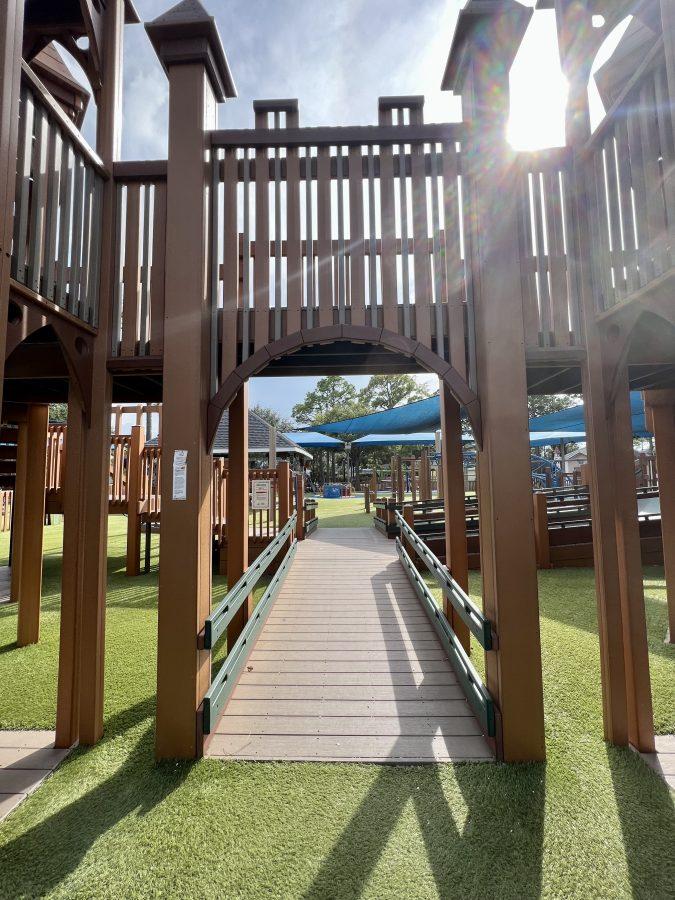 Daisy's Rating: 😊😊😊😊😊😊😊😊😊😊😊😊😊😊😊😊😊😊😊😊😊😊😊😊😊😊😊😊😊😊😊😊😊😊😊😊😊😊😊😊😊😊😊😊😊😊😊😊😊😊😊😊😊😊😊😊😊😊😊😊😊😊😊😊😊😊😊😊😊😊😊😊😊😊😊😊😊😊😊😊😊😊😊😊😊😊😊😊😊😊😊😊😊😊😊😊😊😊😊😊 (100/5)
Daisy's Review: "This one gets 100 smiles because it's the BEST EVER! They added new things, and it's really big. It has a big jungle gym and really good slides, and their swings go really high. Right now I'm going to practice the monkey bars so I can get good at them for school. I even like the splash pad but it's not turned on today, I think because it might rain. But usually, it's a lot of fun, especially when it's really hot. Sunshine Park is the best! Oh! And it's the only park that always has an ice cream truck."
Pros: Love that there's a large toddler playground in addition to the main one, with so many things for the little tots to play on and explore! There is also tons of shade, a good-sized splash pad (during the summer months), a decent amount of seating, public restrooms, and water fountains. There's a separate skate park for kids to skateboard or ride their scooters on. The playground part is gated in, which is nice since it's such a large playground. There are also several fields for sports, along with sand volleyball courts and exercise equipment throughout the park.
Cons: The only con I have is that it's typically pretty crowded. It's never really an issue because it's such a large playground, and there's a ton for kids to do,
Mom's notes: Not sure what more needs to be said — this park is AWESOME. We visit parks in every city we go to and nothing compares to Sunshine. Either the ice cream or Kona Italian Ice truck is usually parked there, so be ready for the kiddos to want a treat! They've recently updated and renovated the entire park, so if you haven't been in a while I definitely suggest a visit!
Location: Sunshine Playground at South Beach Park is at 2508 South Beach Parkway in Jacksonville Beach.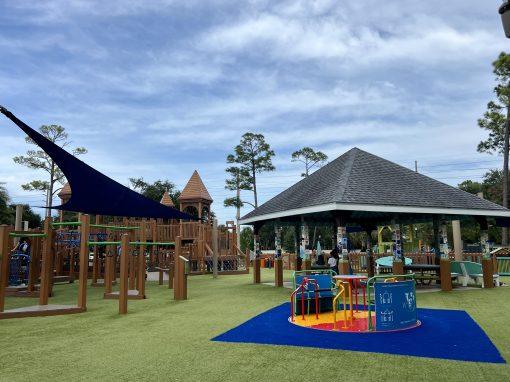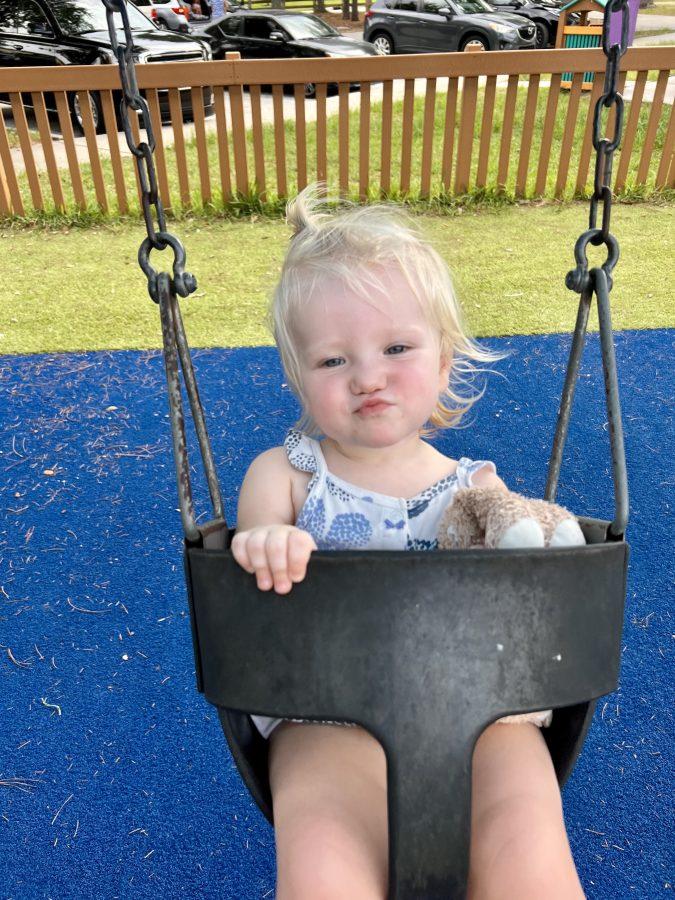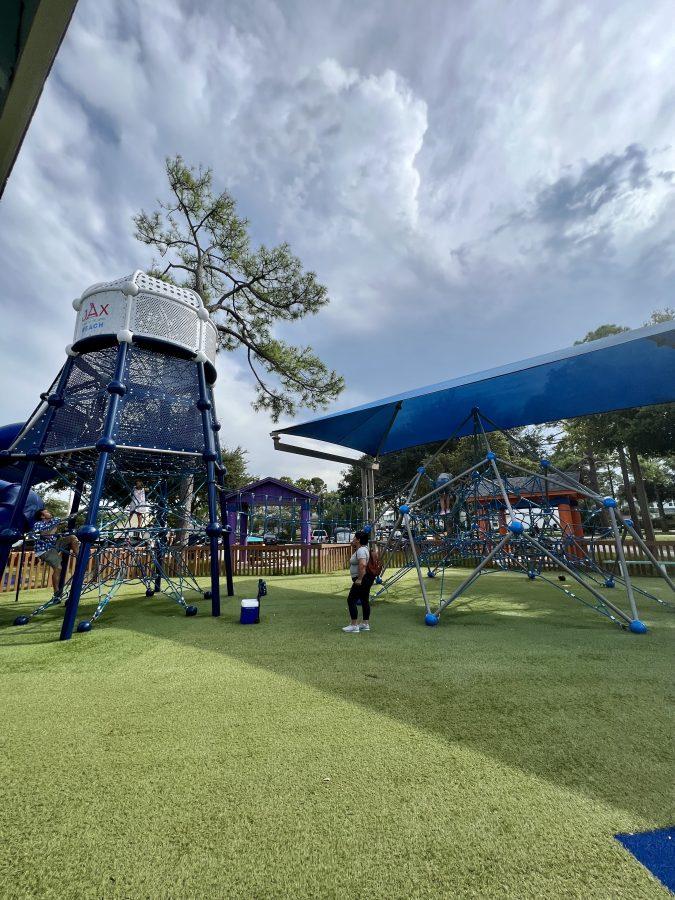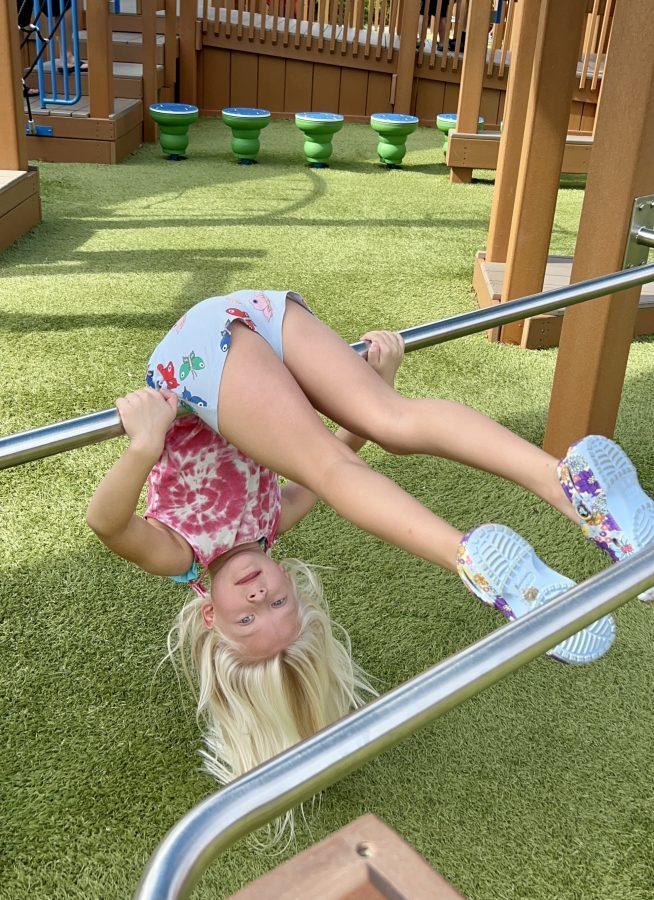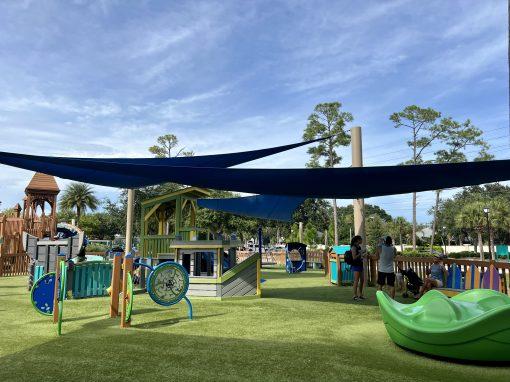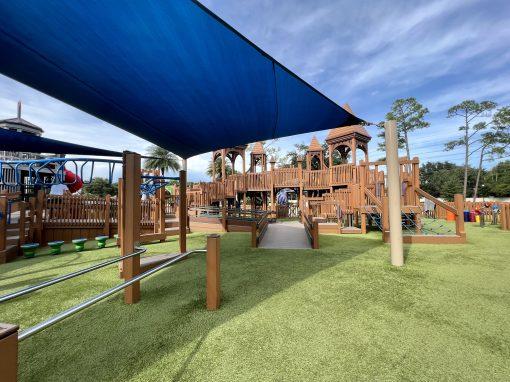 What do you think? Should we make this a series… maybe rating outdoor parks, indoor play areas, and activity centers? What parks should we visit and rate next? Let us know in the comments, and we will add them to our next roundup! Daisy is having so much fun with this (and so am I, honestly).