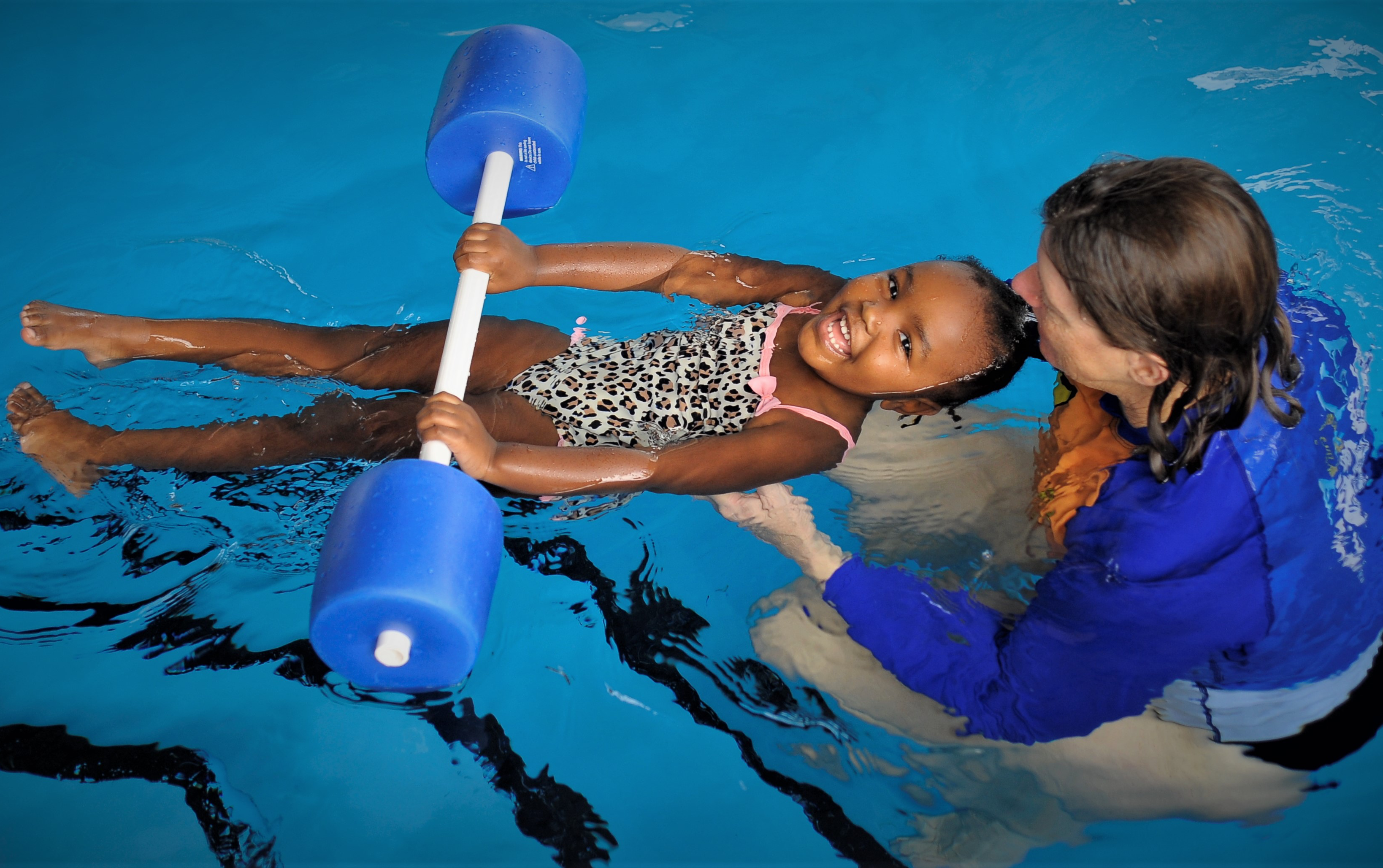 When I initially found out I was expecting our first baby,  there was no question that swim lessons would be a part of our child's future. I took swim lessons as a child and even helped save a little boy's life as a result. My husband never had formal swim lessons as a child but taught himself to swim later in life. Our children being confident and safe around water was very important to us. There are so many different types of swim lessons available, and for us, learning how to swim for survival was our top priority.
When Audrey was 14 months old, she started another swim program with short 10-minutes private lessons that focus on floating. By the age of 2, we found that her 10-minute class was not quite long enough for our little shark. She always had a hard time getting out of the pool, which is quite the opposite of her peers! When she had her 3rd birthday, we began considering putting her in traditional lessons since she demonstrated a natural love for swimming. When I found out AQUA Swim School was opened in the Mandarin area, I was ecstatic and hoped it would be a good fit for her.
Group Lessons Experience
Our first experience with AQUA Swim School started with us completing the online portal questionnaire then speaking with Kristina on the phone. She scheduled us for a free trial session to determine if Audrey should be enrolled in Parent & Tot lessons or group lessons. Since my daughter had previous survival swim lessons and was quite comfortable in the water without me, I didn't think Parent & Tot lessons would be a great fit for her. At her trial session, she was noted to be advanced for her age so she was placed in level 2 group lessons. Group lessons occur weekly and are 30 minutes long with a maximum of three children with one swim coach.
Level 2 lessons are designed for beginning swimmers who are comfortable floating and swimming for short distances in the pool and are ready to take on more advanced skills. Her classes include teaching the fundamentals of the freestyle and backstroke, swimming with her face in the water, breathing techniques, and advanced kicking drills for balance in the water. The focus is on developing personal water safety and beginning swimming skills that are properly designed for children in her age group in a fun, engaging environment with songs and games to help her learn and socialize with others while introducing her to strokes and skill terminology that will be used throughout her AquaClub experience.
Audrey really enjoyed her lessons and looked forward to them every week. She was disappointed when it was her brother Mason's turn for lessons as she really wanted to get in the pool, too. She learned new water skills and forged new friendships with her swim classmates.

Parent Infant & Tot Lessons Experience
Our second experience with AQUA Swim School was with Mason, our 9-month-old son. This was his first time in a pool. Parent Infant & Tot Lessons are for all ages from 2 months to 36 months. They have an infant-focused class for babies 2 months to 12 months and a tot-focused class for toddlers 12 months to 36 months old, however, sometimes the classes are combined and they always adjust teaching skills for each student to fit them individually. Unlike the group lessons, a parent is required to get in the water with the child. The classes included a few familiar songs with words changed to focus on swimming and it definitely made it more fun.  The goal is for the child to be comfortable enough in the water without a parent to start group lessons by age 3.
This "parent and me" style swim class was a great bonding opportunity for us. I enjoyed meeting and socializing with other parents each week. It was also fun to see how the babies and toddlers got more comfortable in the water. I noticed they started to get the routine down and participate more and more each week as they became familiar with what to expect. The silly songs really helped make it fun, and the repetition seemed to really help the AQUA Swim School's youngest students.
Mason really enjoyed splashing and kicking in the water. He didn't mind getting his face wet at all. Each week, he enjoyed practicing kicking, floating, learning wall skills such as monkey crawling on side of the pool, going underwater, and introducing blowing bubbles. He seemed to like "socializing" with the other babies. I think Parent Infant & Tot swim classes are a great introduction to swimming as it focuses on establishing early confidence and movement in the water.
What is Unique about Aqua Swim School
Heated, indoor salt-water pool
Year-round lessons
Positive and encouraging messages posted throughout the building
Complimentary cold bottled waters and assorted drinks are available for parents while kids are in lessons
Additional snacks and coffee are available for purchase at their snack and coffee bar conveniently located inside the swim school
Boy/girl changing area, rinse-only showers and hair dryers available; plenty of bathrooms with changing tables
Stationary bikes were recently added for parents to work out during swim lessons while still being able to watch their child swim. (This is genius… that's a free 30-minute workout basically!)
Some swimsuits and related swim items available to purchase
They offer birthday parties with separate party entrance for only $199 (That's 20 kids for 2.5 hours at the facility in the birthday room with 1-hour swim time supervised with lifeguards and they have fun add-on options such as balloons, magic and food.)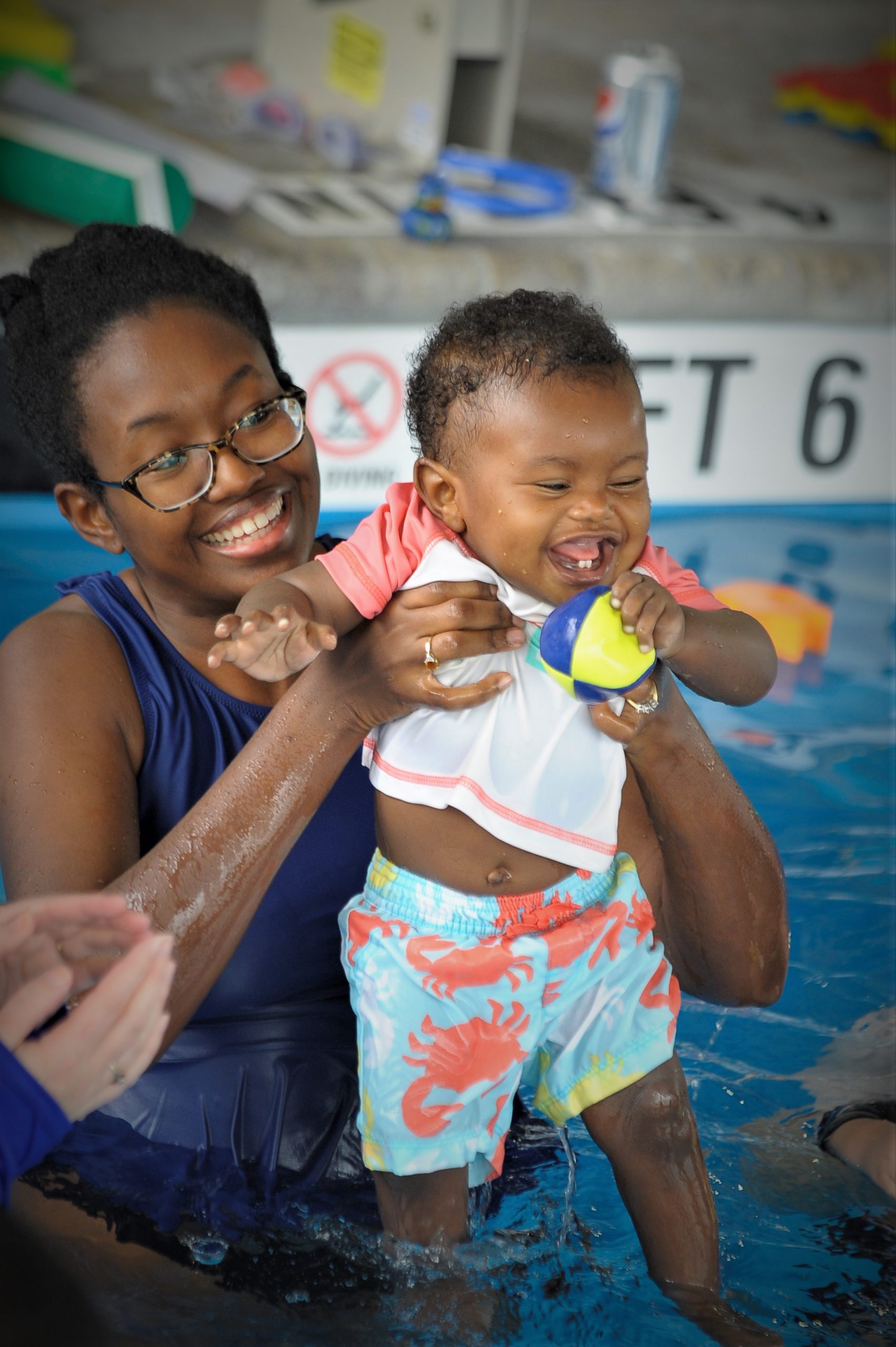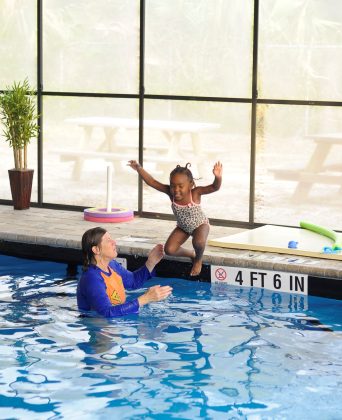 Final Thoughts
We really enjoyed our experience at AQUA Swim School. I absolutely love that they have swim classes available for all levels. Most swim lessons start at 6 months, however, AQUA starts swim lessons as early as 2 months old. The atmosphere is very welcoming with a family community feel.  The facility was spotlessly clean.
I like that there was an observation glass so parents can watch their child while they are in lessons as parents are not allowed on the pool deck. I also liked that my children had the same instructors each week for consistency and building rapport.
Both of my kids enjoyed and benefited from their lessons. The classes are affordable, and I highly recommend AQUA Swim School for water safety and swim lessons for children.
Special Offer for JMB Readers
If you would like to try out AQUA Swim School, they are offering a free swim lesson to help keep your kids safe in and around the water. The first lesson will also evaluate your child to see what level of classes they should be placed in based on their current swim skills and previous exposure to swimming.  Don't delay, this offer will expire soon.