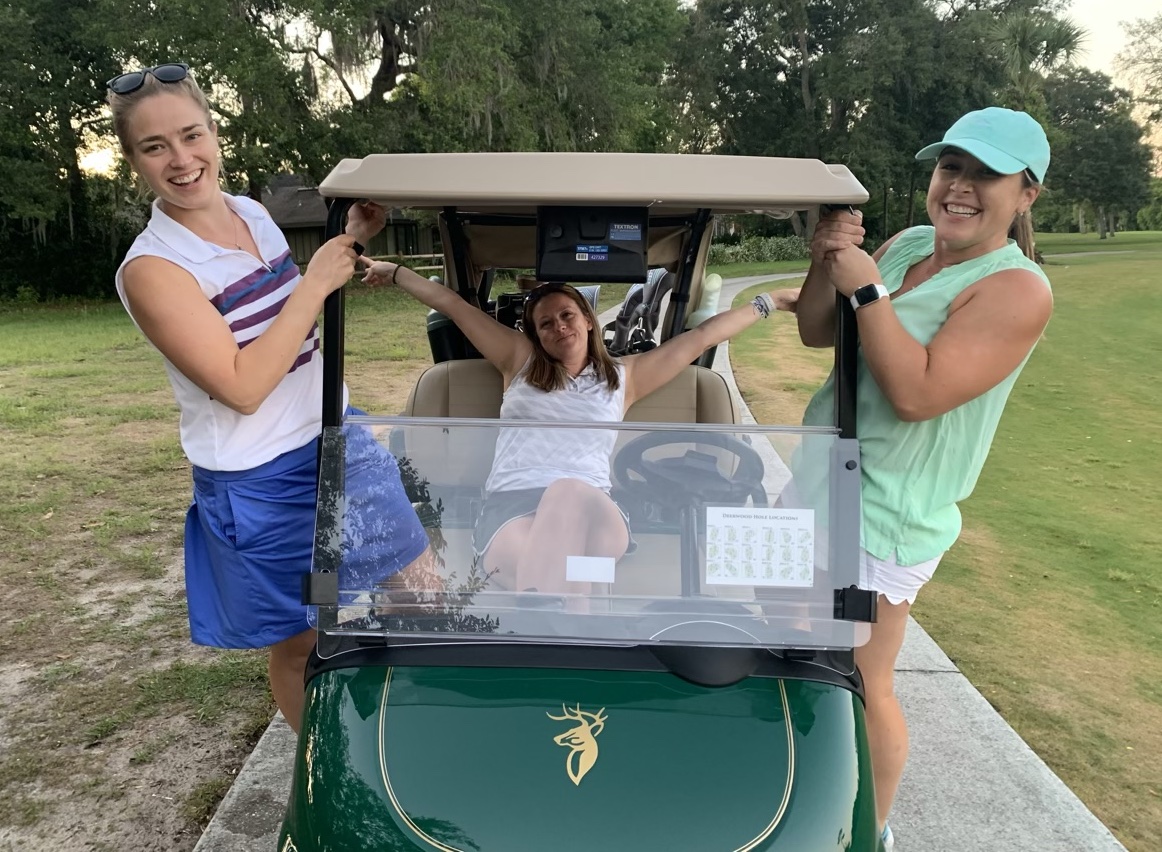 I recently took up golf again, and it has been so difficult finding a golf partner. Meanwhile, my husband found 752 other guys his age playing at the course we joined. I think more women, especially moms, need to hop on the golf trend, and here are four reasons why.
1. It's Making a Comeback
I believe golf's newfound popularity partially has the COVID pandemic to thank. Here in Florida, that was one of the only recreational activities and sports open during our brief lockdown periods — gyms and even the beaches were shut down for some time in the Jacksonville area.
While I have struggled to find a lot of friends to pair up with (shoutout to my loyal ones!), there is no shortage of available tee times, courses, practice arenas (Top Golf), and cute outfits. Once you invest in a decent set of beginner clubs and some golf balls you're ready to play. One of my friends is having her mom's old clubs refitted which is such a great way to save money. Some things you don't need but are fun to get are some new cute outfits: Collared shirts are a must, and the skort is making a comeback as well — and don't forget a cute hat or visor, and sunscreen. I like to grab a new hat or ball marke r at whatever new course I'm playing at as a souvenir. Some other optional items are golf gloves, and quite honestly, golf shoes — being that almost all courses are spikeless now, you can get away with tennis shoes that appear as golf shoes (I know I have). Here are a couple I recommend: GORUCK Ballistic Training Shoes (I have them in white) and On Clouds.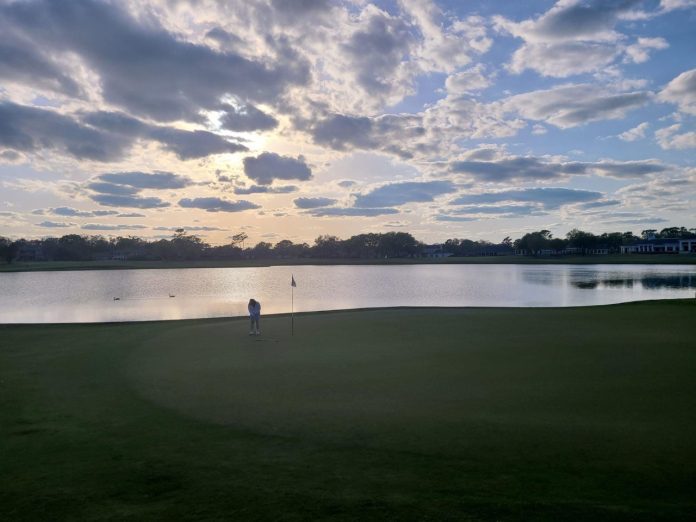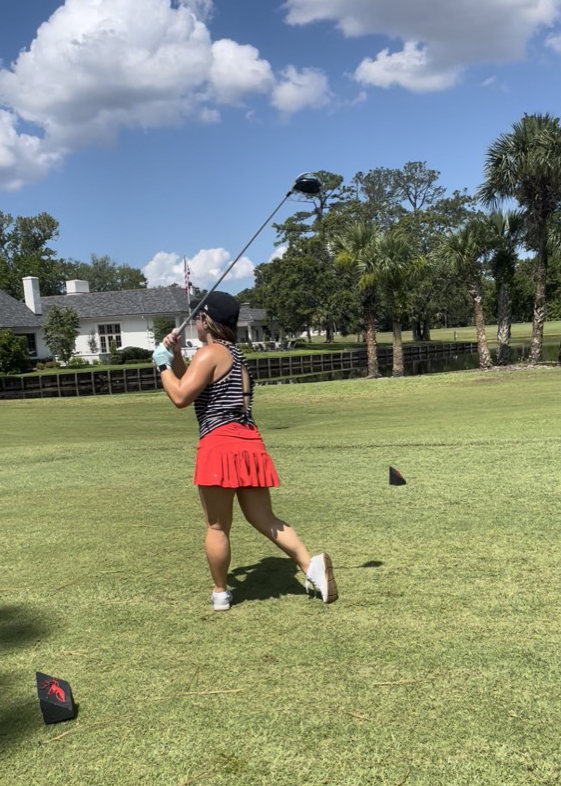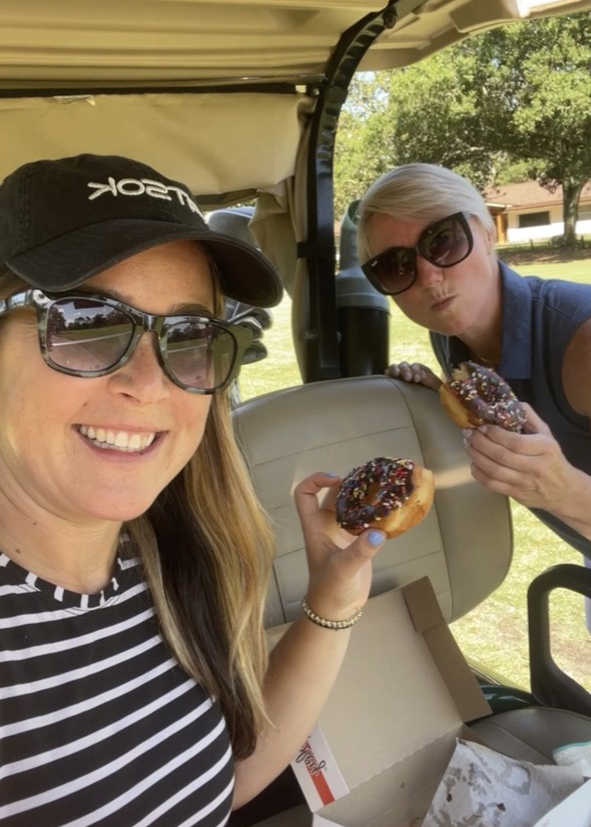 2. Invest in Yourself
Being that it's such an individual sport, I consider golf to be a form of self-care in a way. As a mom, any time I get to spend working on myself really is self-care, whether it's working out, writing a blog, getting my hair done, or even going to a doctor's appointment. I've even seen some of my fellow Jax Mom contributors trying dancing classes which is super inspiring (go, Tina!).
I grew up on a small golf course in Minnesota and learned to play at a young age. My dad really enjoyed the game and taught my brother and my sister and I equally, regardless of gender… so I have him to thank for that! I also worked at the course as a server, bartender, and beer cart girl throughout college, but I really did it for the free golf (and yes… tips, too!). I just love the atmosphere at a golf course — it's fun, light-hearted (except for the die-hards and a few crabby ones), and just all about being social and having a good time.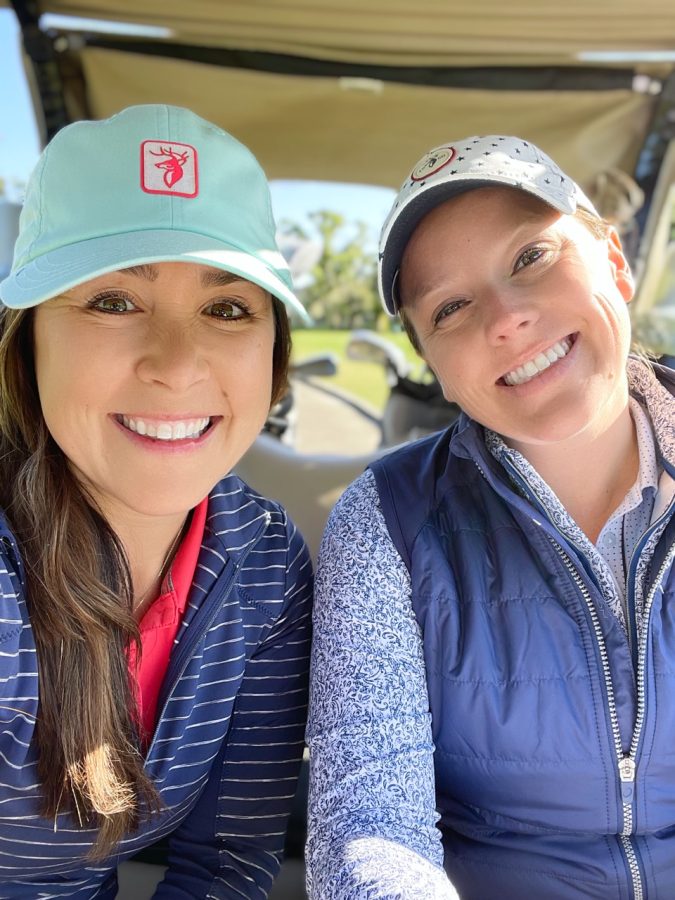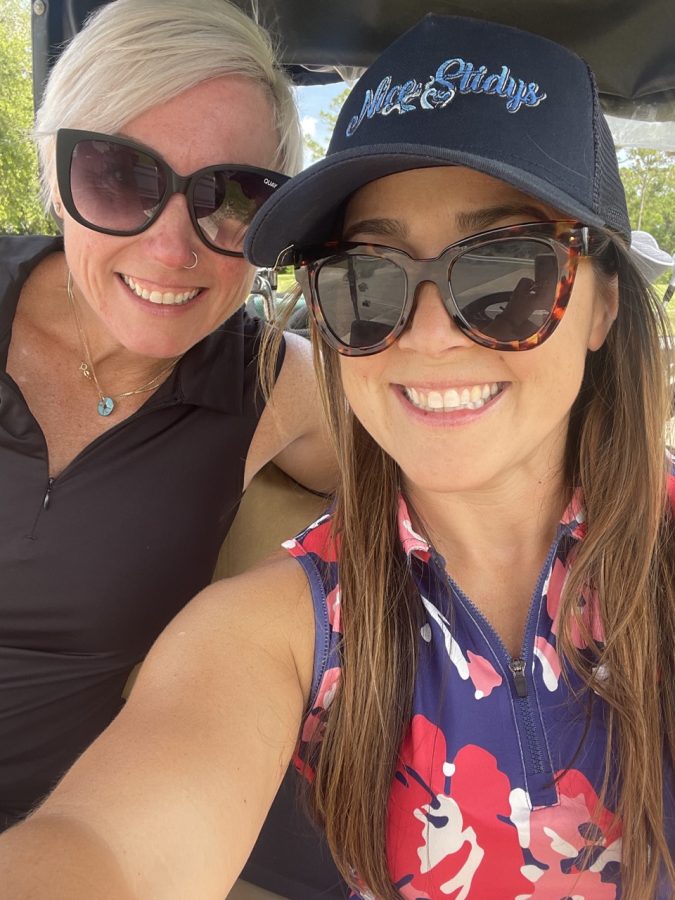 3. And Laugh at Yourself!
One thing you just have to be okay with before you take on this sport is not taking yourself too seriously. It's sometimes a maddening game — just getting a tiny little ball in a hole with a stick sounds like something a lunatic would spend time doing. But you get to be outdoors, enjoy company with friends/make new friends, and don't forget that self-improvement/self-care time for yourself, Mamas. Bonus: If you decide to join a course or club like we did, they often have kid care!
Consider lessons at a local course or hopping into group lessons, which I'm doing very soon (slightly less intimidating? I'll let you know). But also, just get out there and practice. Hit some balls at the driving range, chip and putt. Plan a date night or girls' night at Top Golf, and you'll be practicing while having fun! I even keep my clubs in my trunk for the occasional opportunity I might get to hit the driving range. It's the only way you'll get better.
Attitude goes a long way as well. No one wants to play with an angry or negative golfer, so take the opportunity to lift one another up, give each other tips and pointers, and laugh when you get stuck in a bunker or go in the water… again.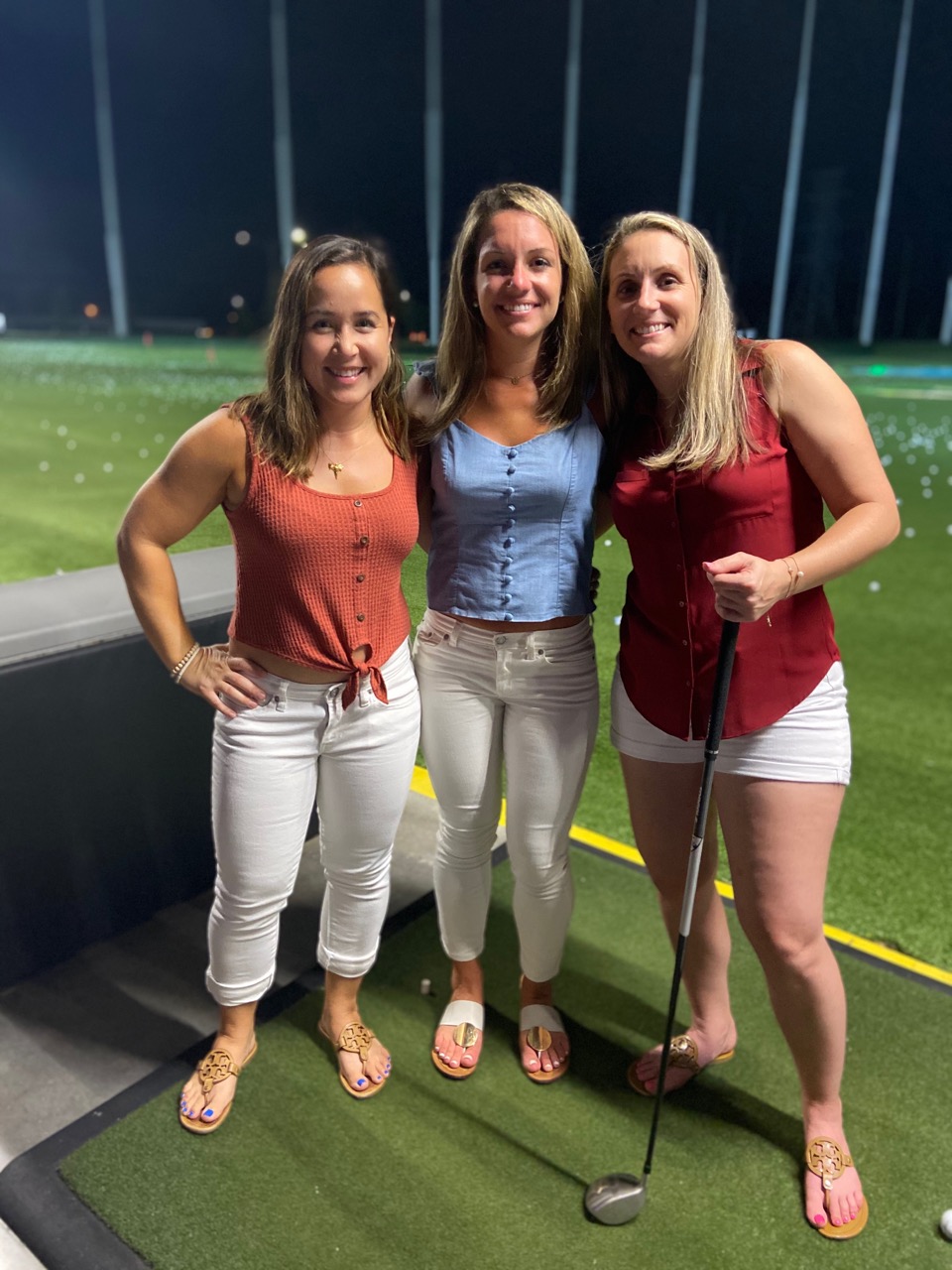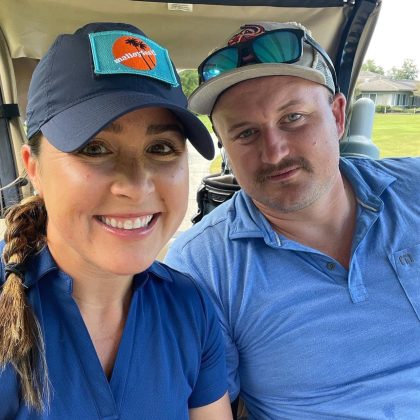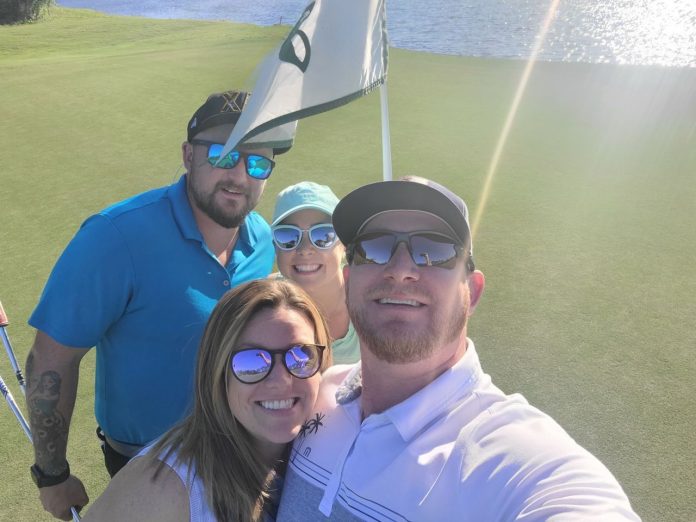 4. Practice ≠ Perfect
Practice off the course is important, but also getting out there and golfing, even just nine and not a full eighteen, is good practice in and of itself. Legs (Ladies Executive Golf Society) has a Jacksonville chapter, and their motto is, "Women who can't golf, don't. But men who can't golf, do." They encourage all women to get out there and just play a round! Bonus: If you just do nine, there's more time for wine. And if you'd like to play in tournaments, you'll need to golf eighteen holes occasionally in order to develop a handicap. The good news is that most tournaments are scrambles or shambles. Eighteen can seem intimidating at first, but it truly gives you the chance to warm up properly, improve and even make a comeback on the back nine.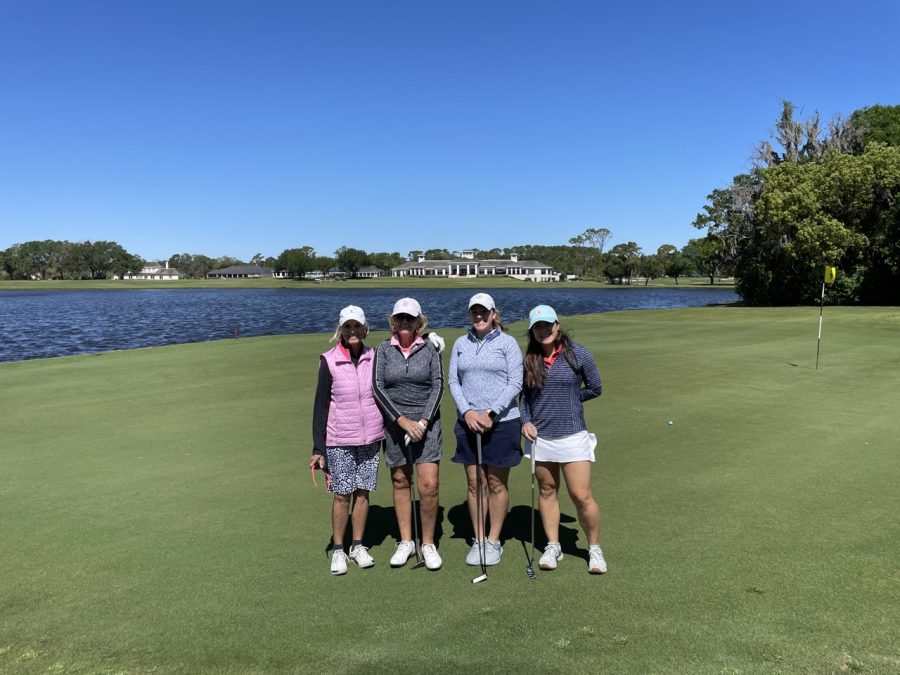 Golf is very close to the game of life. There are good shots and bad shots, but you have to have the courage to show up and experience the beauty of it all. So don't wait to actually golf a round until you are practically perfect (it won't happen)… just make the tee time, girl! And enjoy some golf this year in sunny Florida with your girlfriends, spouse/significant other, or fellow moms. It's also a fun family activity; my oldest has started to play with his dad and on the club golf team, so we got the little guy a putter just so he could be like his big bro!