Choo Chooo… Jacksonville trains are coming through! I haven't met a kid yet who wasn't fascinated by the sight of a train. Thanks to my son's extreme fascination (obsession?) with them we are always on the lookout for more trains to see, ride and explore in Jacksonville! Here's a list of all of the trains and train activities we've found in our area!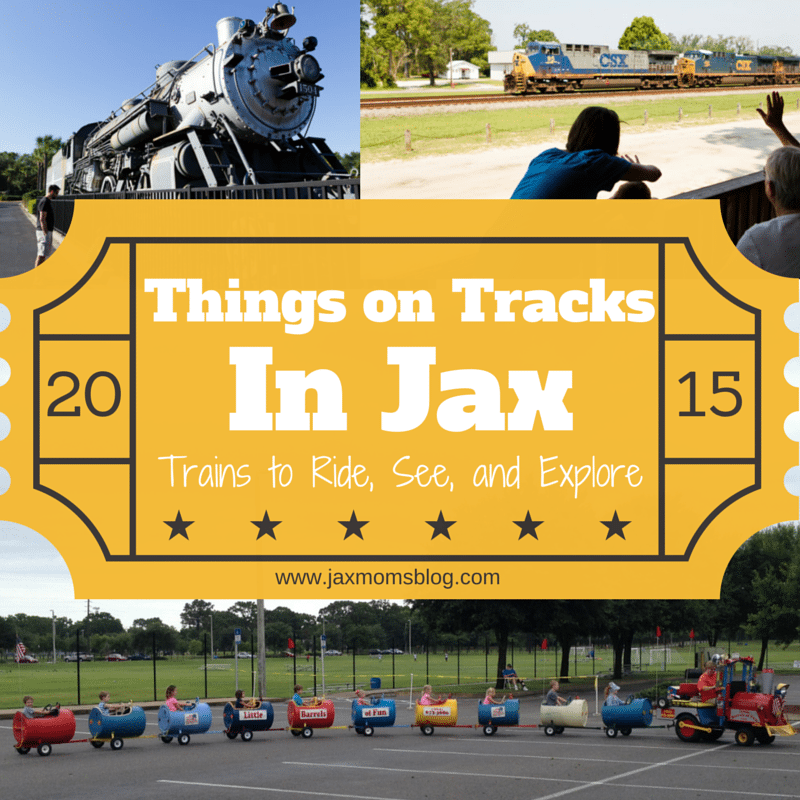 Trains to Ride
The Jacksonville Skyway – The now free to ride Jacksonville Skyway has 2.5 miles of rail and eight stations with stops in both the downtown and San Marco areas. Click the link to see the Skyway map. If you start at the San Marco station, you'll be very close to the Museum of Science and History and will have access to free parking. We suggest giving the Skyway a try when the weather is nice during the spring and fall!
St. Mary's Express – Located about 40 minutes north of Jacksonville in St. Mary's, GA, the St. Mary's Express offers themed ride in open-air rail cars pulled by an authentic locomotive. During the 1 hour and 15 min journey, your guides will "treat you to a glimpse into yesteryear." Prices are $17 for adults and $11 for kids over 2. The St. Mary's Express is located at 1000 Osborne Street, St. Marys, Georgia.
Jacksonville Zoo Train – The train the zoo provides an often much need break from the heat and walking. On the train ride, you'll see and hear about some behind the scenes features of the zoo. Tickets prices begin at $3.50 and $1.50 for adult and child members of the zoo while 2 and under ride free. Your ticket gets you unlimited train rides for the whole day.
Amtrak – Want a genuine passenger train experience? Try Kacey's suggestion of hopping on an Amtrak train from downtown Jax to Winter Park. Check the link for prices and schedules.
Little Barrels of Fun – During our 2014 Summer Park Hop Series, Little Barrels of Fun joined us at Ed Austin Park for free train rides. They were a total hit, as evidenced by the fact that most kids hopped back in line after each ride was over! Think your kids need this in their lives?! Call them up for a birthday party or family event!!
Mall Trains – Both the Avenues Mall and the St. Johns Town Center have small kiddie train rides that are a great way to add some fun to your shopping!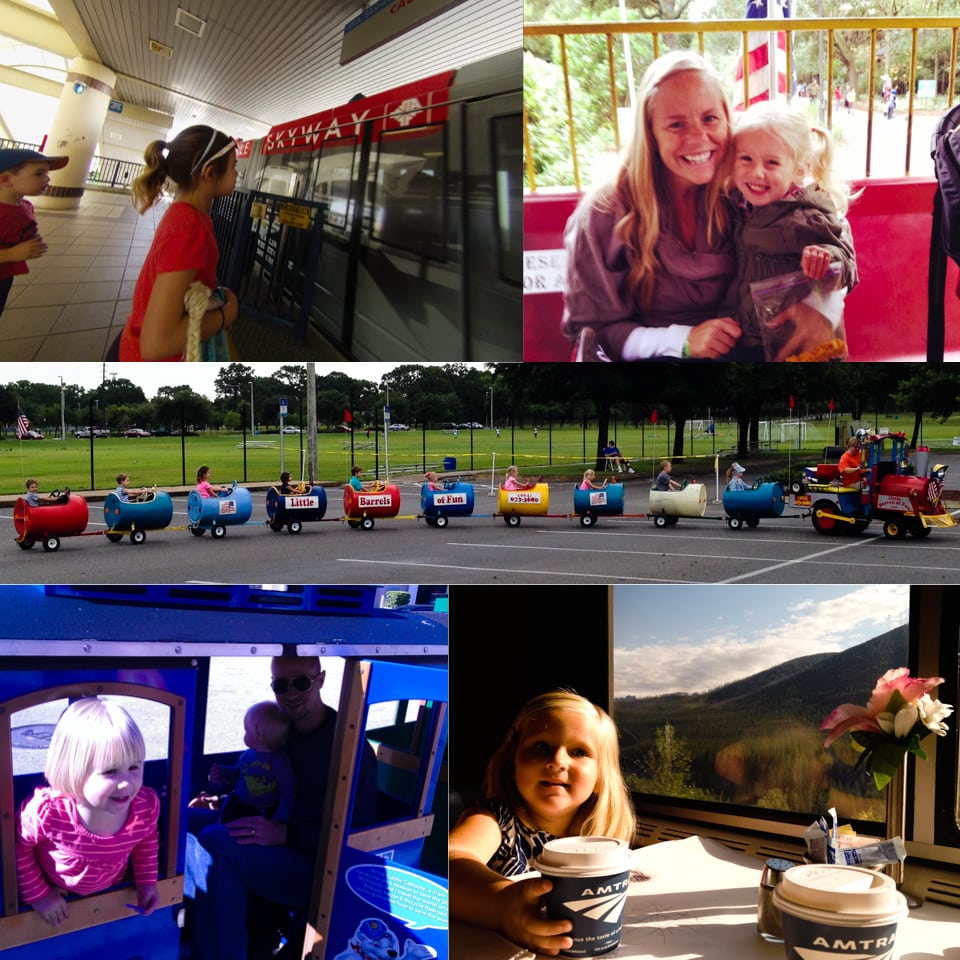 Places to See Trains
Cummer & Sons Cypress Engine #7 – Located at The Beaches Museum & History Park at 381 Beach Boulevard 32250, this steam locomotive was built in 1911. Entry into the museum and train exhibit is free! A unique thing about this train is that kids can actually climb into the cab of the engine and ring its bell.
The Folkston Funnel – The small town of Folkston, GA is proud of their train-loving history. Most of the trains that go in and out of Florida must go through Folkston, hence the name Folkston Funnel, and as many as six trains per day come through here. You can watch trains go by from the depot or the platform across the rails. Don't forget to check out the rail museum! It's free to watch trains and visit the museum! The visitors center/museum is located about 1 hour away from Jacksonville at 3795 Main St. Folkston GA 31537.
Engine 1504 – Located in the parking lot of the Prime Osborne Convention Center, Engine 1504 is a 1919-built steam locomotive that was placed on the NRHS list of endangered railroad landmarks in 2013. Recent grants have enabled work to be done to preserve this amazing machine for all to see. Rumor has it; this train may not stay in this location after all of the work is done so make sure to check it out while you can.
Southside Park – Come play at the park with your kids and if you're lucky (or stay long enough) you may see large freight trains slowly passing by right next to the playground! During our Summer Park Hop stop at Southside Park last summer, all of the kids at the park flocked to the fence when trains came by. The park address is 1541 Hendricks Avenue Jacksonville, FL 32207.
Panera Bread in San Marco  – Located at 1440 Hendricks Avenue 32207, this Panera Bread has outdoor seating next to the same tracks that run beside Southside Park, and it's walking distance from the park. So if you need a break from playing at the park but are still hoping to see a few trains, grab a bite and a seat at this Panera!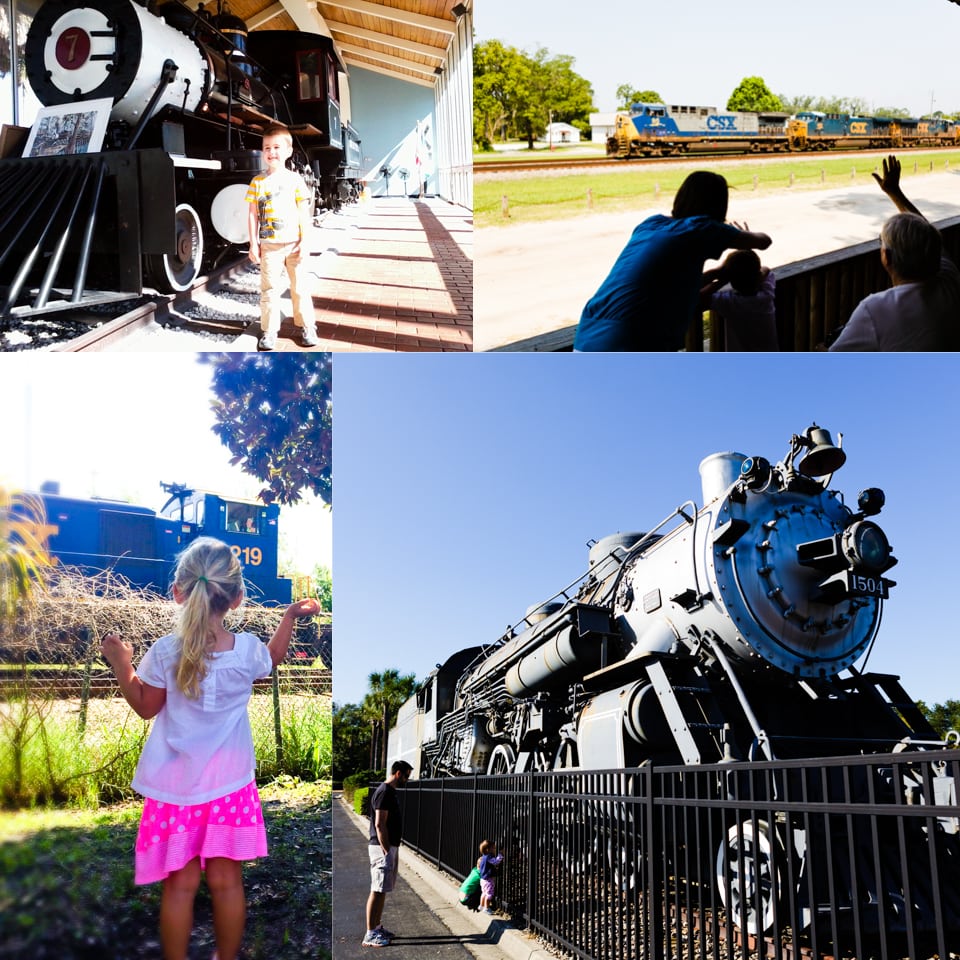 Train Events
Folkston Annual Rail Watch – Every year in April (April 1 this year), rail fans from far and wide will flock to Folkston, GA to share their love of trains during their annual festival. If you go, be sure to check out the visitors center and museum located at 3795 Main St. Folkston GA 31537 in addition to the train platform across the tracks.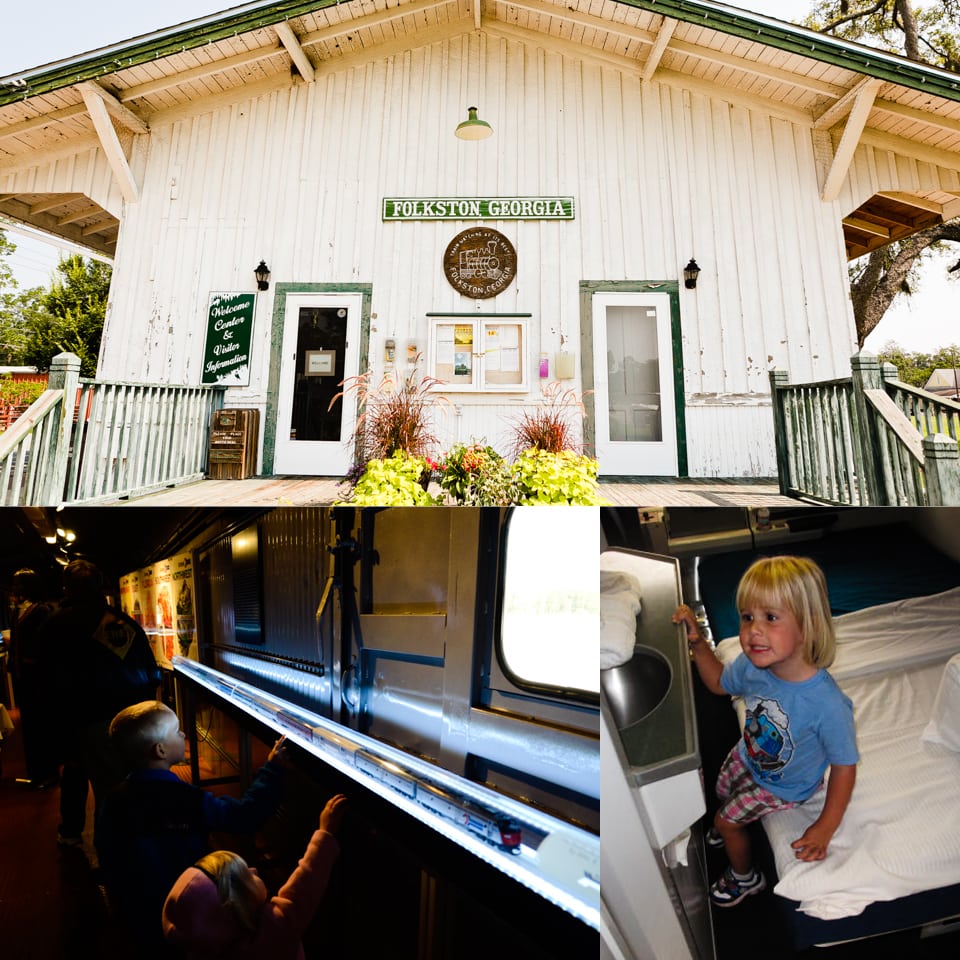 What trains do you love? Did we miss any?