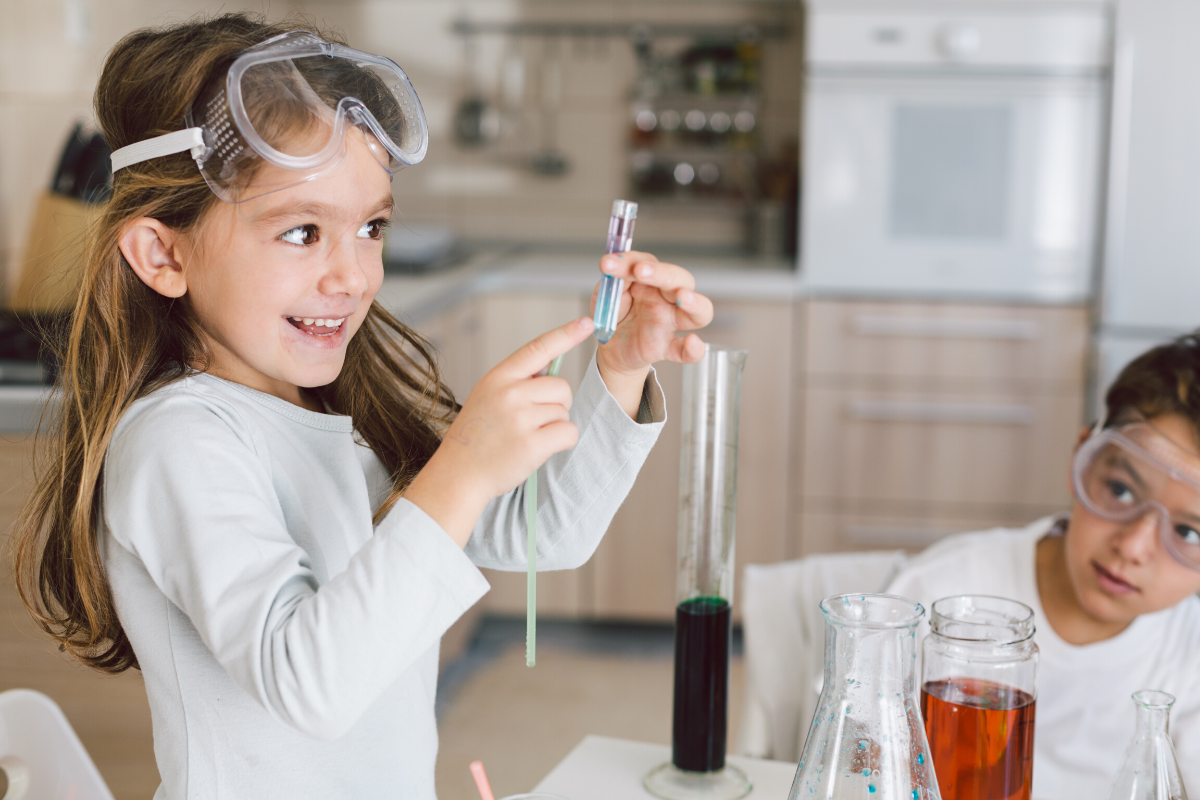 Science was my least favorite subject in school. Sure, I used to love watching Mr. Wizard as a kid, but at some point, I realized it just wasn't for me. I got through high school by memorizing the material without really "getting it" or caring all that much. In college, my science requirement was fulfilled by the punch line-filled Geology classes. Many years later, here I am with two children who love science, especially my 7-year-old son. He loves all things nature, and he is always wanting to know how things work or why things happen. I love their curiosity and enthusiasm, especially since they both have had amazing teachers who make learning science so much fun.
At school, they are often doing interesting, engaging, and hands-on science experiments. At virtual home school… not so much. This was the hardest subject for me to "teach" at home, and it is the one they are most often asking about. We've used fractions while baking, written letters to pets at the Humane Society, spent time reading on the porch swing, but when it comes to making science fun, I have struggled. At the end of the day, I am just not interested in coming up with cool science projects. It seems like they always make a mess and don't end up working. We tried the Mentos and Diet Coke explosion the other day thanks to a YouTube video the kids watched, but it was a disappointment, and I couldn't sufficiently answer their 1,400 questions about why it didn't work.
Fortunately, we have stumbled across a few simple at-home science experiments that both kids loved, and (win!) taught them a thing or two! Hopefully, these will help keep them busy throughout the summer, as well.
DIY Invisible Ink
My kids love acting like spies, and invisible ink is a favorite activity. Each year at the book fair, they convince me to buy one of those invisible ink pens that cost way too much money and end up drying up after a few days. At home, invisible ink was so easy, and they spent an hour writing and "decoding" the messages.
Here's what you'll need:
Piece of paper
Cotton swab
Milk or a lemon
Heat source (we used a hairdryer, but a lamp will also work)
If you are using lemon juice, squeeze your lemon into a glass. You can mix it with a little bit of water. Dip your cotton swab into the milk or lemon juice and start writing your message. Let your message dry completely. When you are ready to decode, use the hairdryer or heat source to reveal the message.
Umbrella Skating
My kids, ages 7 and 8, love their roller blades, and they love playing in the rain, so we combined the activity for a solid science lesson. On a recent windy and rainy day, they were playing outside on their roller blades, when Liam declared that he wished he had an engine to push him around. They started taking turns pushing each other, but any parent knows that ended with someone pushing someone too hard, sibling screaming, and tears. After pouting for a few minutes, Liam emerged from a timeout with two umbrellas and an idea. He had recently watched a video about wind power and wanted to see if the umbrellas and wind would power their skates. It worked, and it was so much fun to watch! They figured out which way to point their umbrellas based on the wind's direction, which angle gave them the most power, and I'm sure many other important engineering concepts I don't even know about.
Tornado in a Jar
I actually remember doing this activity as a child, but we were inspired to try it after reading about it in one of our favorite books, Why Fly Guy?. The Fly Guy books help answer so many of my son's random science questions in a way that is easy to read and understand. I would highly recommend this book to anyone who's child loves Fly Guy or is always asking questions about science.
The tornado in a jar is a favorite because it was easy to make, didn't make a mess, and both of my kids are still playing with theirs.
Here's what you'll need:
Glass jar with a lid (mason jar, pickle jar, jam jar, anything will work)
Water
Dish soap
Vinegar
Food coloring or glitter
Fill your jar about 3/4 full with water and add 3-5 drops of food coloring of choice (optional, but it makes the color pop). Add a teaspoon of dish soap and a teaspoon of vinegar to the colored water. We added a little glitter, as well, because it is fun to watch the glitter spin, and glitter makes everything a little bit more fun. Tighten your lid, and if you are concerned about spillage, use a hot glue gun around the rim and quickly tighten the lid before it can dry. This will secure your lid and protect against spills. Hold the jar by the lid and rotate it around in a circle in a smooth, steady motion with your wrist and watch the vortex form.
Homemade Lava Lamp
The kids received lava lamps for Christmas a few years ago, and they were so fun to watch. However, they both broke after a few weeks, and I wasn't interested in buying more. We stumbled upon a homemade lava lamp experiment, and I will admit it was the most involved of all the science activities we have tried, but it was totally worth it.
Here's what you'll need:
Flask, bottle or jar (we used empty pasta sauce jars)
Vegetable oil
Food coloring
Water
Alka-Seltzer
We filled the jar about 2/3 of the way with vegetable oil, and then filled the rest with water. The water is denser than the oil, so it will sink to the bottom. Add a few drops of food coloring, and because it is water-based, it will sink to the bottom, as well. Break an Alka-Seltzer tablet into a few small pieces and drop them in one at a time. The "lava lamp" will erupt into activity! As the reaction slows down, you can add more Alka-seltzer to make it erupt again.
Have you tried any of these? Do you have any other easy at-home science activities that your kids have loved?