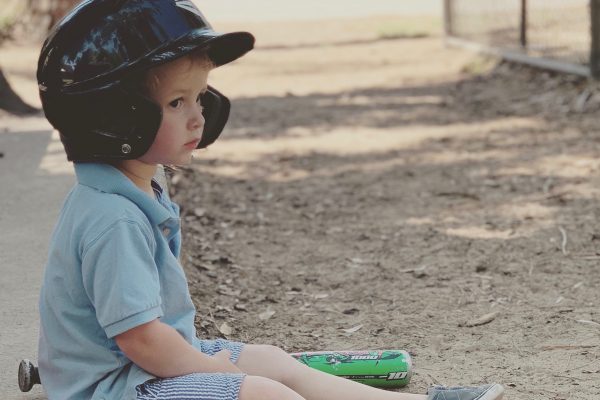 Some days, I get in a routine with #stayhome. We get through school and work, and the weather is nice and we go for walks and hunt rainbows, and then all of a sudden it's time for dinner, bath, books, and bed. Some days don't go that well (a lot of days, actually). Those are the nights where it's ice cream and a glass of wine for dinner at 9 p.m. while I finish up something for work or finally take a picture of my 3-year-old's homework and upload it into their school program. And some days, when I look at my planner and see what we were supposed to be doing on a particular day or weekend, I'm just sad. Because everything is in my planner, I know exactly what we are missing. It's the irreplaceable things, the events that can't repeat, that I am missing most.
The School Celebrations
For my oldest child, it's her last year at her elementary school. She misses her whole last spring with her friends. No, she's not a high school or college senior (truly my heart breaks for those older students most likely robbed of their celebrations), but so far she's missed a trip to Sea World and the spring carnival. My daughter will miss her little graduation ceremony and party, and she misses the time with her friends who she won't be with next year in sixth grade. She won't get to experience the closing of this chapter of her life, and the "passing of the torch" ceremony the graduating fifth graders do at her school with the rising fifth-graders at the final flag-raising. I am sad she doesn't get to spend more time with her wonderful teachers, who truly have treated her as one of their own.
The Extracurricular Activities
I'm also sad my oldest is missing so much ballet because she really loves it. She's missed hours of classes. Her thoughtful teacher is holding them four times a week on Zoom, but dancing in a studio with someone to guide you in person is very different than dancing in front of a computer in your siblings' bedroom because it has the wood floor. My youngest daughter's recital was in early April, and so that was canceled. I know she will have many more recitals, but the sweetness of a gaggle of 3-year-old girls moving on their own individual agendas across a stage in puffy tutus is a precious moment and one we won't get back.
My boys will most likely miss all the rest of baseball. I know there will be many more games and Saturdays at the ball field, but I'm sad to miss my 3-year-old son's first funny T-ball season. Nothing is more hilarious or adorable than tiny 3-year-olds in too-big baseball pants trying to hit the ball, catch, or make sand angels in the outfield in the orange dirt. My older son had just started pitching machine baseball had finally gotten a bat on the ball. He now spends his time throwing against a pitch-back in the yard or hitting off a tee, instead of on the field with his buddies and learning from his coaches.
The Birthday Parties
My oldest son missed his birthday party at MOSH when they unfortunately had to close. Though he handled it well, I think he took it pretty hard — losing his party and being able to bring treats to school for his birthday, and then not seeing his friends again at all because they went right from spring break into staying at home. The 21st anniversary of my 21st birthday also will be spent at home in a few weeks. Our twins turn 4 soon, and it's quite possible we will have another stay-at-home celebration. We'll be surrounded by love and cake, sure, but planning and hosting birthday parties is something I really enjoy doing and will miss.
The Vacations & Getaways
A few weeks ago we were supposed to be at our former babysitter's wedding. She was getting married in St. Augustine, and it was going to be our first night away since before I got pregnant with our twins — since 2015. Our babysitter did get married that day, but in her backyard with only her family, all standing six feet apart. I am happy for her that was able to occur, but sad we missed our first night away in years, one we'd finally had a good reason to get it together enough to follow through on.
The Friends & Special Outings
An extreme introvert by nature, I don't hugely miss being around people. My four kids are enough "people" for me most of the time. But I do miss my friends. I miss grabbing a drink on Wednesday nights at Town Hall in San Marco for wine-tasting Wednesday, or seeing a movie at San Marco Theatre with my kids, or taking them to the Gator-FSU baseball game. I won't get to go to my son's first-grade award ceremony, and my twins' Mother's Chapel and Tea. Sadly, my husband will not get to go to the father-daughter dance with our little girl at the end of April and she will not get to wear her pretty gold dress picked out just for the occasion.
All of these things I wrote in ink and juggled carefully in my planner, with color-coded stickers for each kid… and now none of these things are happening. I know that staying home, "flattening the curve," and staying healthy are far, far more important and necessary than any of these events in my or my children's lives. I don't doubt or question that. Next to the lives of those working in healthcare, things I am listing are trivial if not outright ridiculous. I also am thankful we are healthy, employed, and have a great backyard for stir-crazy kids. I'm amazed at how my children's teachers have stepped up to remote learning. And I'm incredulous at all we have available to us online — ballet and Pure Barre, church, books, music, movies, virtual happy hours, museum and National Parks tours… the list is endless. I take none of this for granted.
But. These missing events end up being memories that don't get made. Pictures that don't get taken. Experiences that don't get to be had. Tutus that don't get to sparkle and baseballs that don't get to be thrown. Torches that are never passed, final bells that never ring, goodbye hugs that are never given. Celebrations that lack the collective joy of hundreds clapping and cheering. There will be stages that won't be stood on, caps that won't be tossed, last dances without a song, and awards without applause. Sure, #loveisnotcanceled, and candles on a birthday cake can be blown out no matter what. But these moments that don't happen are moments that love doesn't get to be shared together. And for that I am sad.