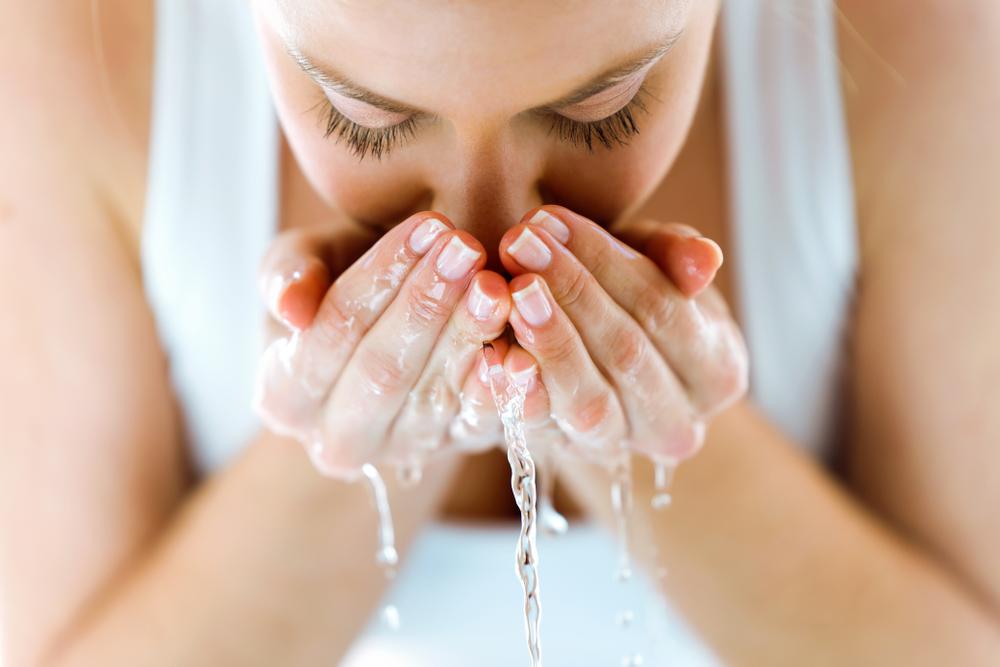 I've been passionate about skin health for over 20 years, worked in the aesthetic industry, and have used countless products and tried many procedures (like this and this) over the last two decades.  Advances in skincare technology are always exciting but can also be confusing. Having the benefit of perspective from both sides of the industry, I'm here to simplify a few things, in non-scientific terms, so you can understand how to curate your own simple, targeted skincare routine to achieve your best skin ever.
READ: Being Savvy in the Aesthetic World of Skincare Procedures
Before I unveil a cheat sheet, there are three facts that may surprise you, regardless of age, skin type, or skin concern. Follow these basic steps and prepare to glow forever!
Your face includes your nipples. Most people focus only on their face when applying skincare — when the neck and decolletage down to your nipples, should be addressed and treated together. Consider the area from your forehead to your nipples as one cosmetic unit. Products created for your face are also safe to use on your neck and chest, and should be used all over your cosmetic unit! Yes, you'll go through products more quickly, and it will be slightly more costly on the front end, but the long-term benefit will save you from corrective procedures later that cost thousands of dollars.

Consistency over intensity. Long-term skin health should be equated to a marathon, not a sprint. Start carefully, slow and low, with new products, especially ones with active ingredients that are corrective. Slow meaning 1-2x a week and low meaning lowest concentration of an active ingredient that gives results. Starting with aggressive concentrations hoping to get faster results can backfire, causing inflammation, redness, and other unnecessary effects. Prioritizing skincare consistency over intensity will keep your skin plump and youthful while minimizing side effects.
Effective skincare doesn't have to be expensive. A thorough skincare regimen can be basic, whether it's preventative or corrective, and includes a cleanser, exfoliant, active ingredient step(s), moisturizer, and sunscreen. It doesn't have to be pricey. Expensive skincare sold only at medical offices and med spas boasting "medical grade" doesn't mean they are all superior to brands you find at CVS, Target, and Sephora. "Medical grade" is a marketing term, and while I love many medical-grade products, I also love over-the-counter skincare and find it to be equally effective. Terms like "encapsulated nanotechnology" sound impressive but aren't necessary to stimulate collagen. I'll tell you which skincare step to invest in and recommended a few products at all price points. The basic steps to a good regimen are below — and please don't be fooled by the term "basic." A targeted regimen based on your skin health goals, when used consistently, will be highly effective and result in dramatic improvement.
Your skincare cheat sheet
1. Cleanse.
Find a gentle cleanser for your skin type. Some like to double cleanse to thoroughly remove the gunk from the day. If double cleansing is the hill you choose to die on, that's fine. You don't need two different cleansers to incorporate double cleansing, as you can simply double cleanse with your everyday cleanser to ensure a thorough cleanse. Double cleansing is nice but not necessary. What is necessary is cleansing your skin for 30–60 seconds before rinsing, especially if you choose a cleanser that also targets a skin concern (like an acne face wash). You may even want to leave the active cleanser on your skin for another few minutes to give it time to work before rinsing. Do not rush the cleansing step to reap the benefits of an activated cleanser and/or to prep the skin to receive the next products.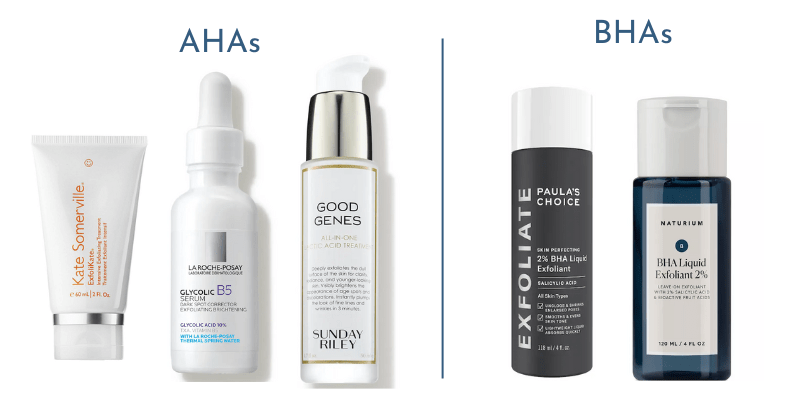 2. Exfoliate.
Depending on your skin type determines how often you should exfoliate. Skin experts agree that chemical exfoliants (topical acids) are superior to physical exfoliants (facial scrubs) because they give a more even result and don't cause micro tears of the skin. There are two main categories of exfoliating acids, AHAs and BHAs, and choosing the right one for your skin type and/or concern is made easy using the chart below. Alpha hydroxy acids (AHAs) are great humectants that draw water to the skin, and are best for dry, aging and/or sensitive skin. Beta hydroxy acids (BHAs) are best for oily, acne-prone skin, rosacea, and inflammation.
3. Apply active serums.
If you are going to invest in one step of your skin health journey, spend your money here. Your skin type and skincare experience will determine if you need a prescription active ingredient, but you may find outstanding results with over-the-counter active products. Here are the top active ingredients to incorporate as recommended by skincare experts. Consult your skin health professional regarding which active serums are safe to use immediately after exfoliation as it will depend on different factors.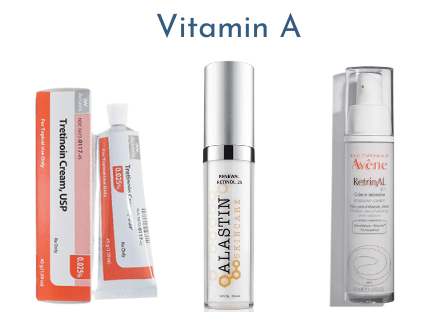 Vitamin A: The KING of restoring youthful skin, best applied at night. The most common forms are retinoic acid (a.k.a. tretinoin, prescription only), retinaldehyde (retinal), and retinol, listed in order of potency. Vitamin A derivatives increase cell turnover, reverse sun damage, promote collagen production, and minimize fine lines and wrinkles. This is an active that should be introduced slowly and may take time for your skin to acclimate and for you to notice results. But don't give up, and remember: consistency! If your skin responds well and tolerates a retinaldehyde or retinol, don't feel like you need to keep increasing the strength until you reach the highest potency of tretinoin at 0.1%. I rotate between 0.025% and 0.05% tretinoin. I've asked several providers, "What's the point of increasing to 0.1% tretinoin?" There isn't one! All strengths of Vitamin A have similar outcomes, just over a different period of time. Remember, a few extra months to reach optimal results is insignificant when you're in the skin health marathon. Vitamin A should NOT be combined with vitamin C in the evening, however, it can be combined if vitamin C is applied in the morning. Vitamin A can also be combined with niacinamide (vitamin B3).
READ: My No. 1 Skincare Secret for a More Youthful Complexion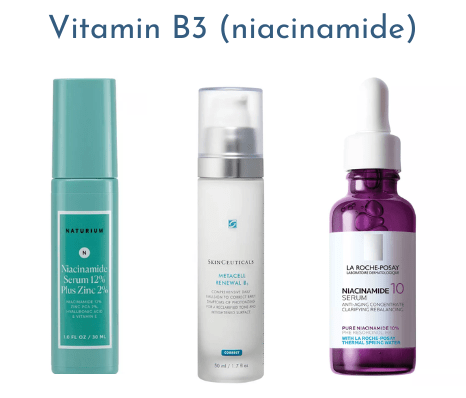 Vitamin B3: A darling in skincare, also known as niacinamide. Niacinamide is the ultimate multi-tasker by minimizing excess oil, acne breakouts, fine lines, pigmentation, and more. But its greatest skin benefit seems to be reducing pore size appearance, improving skin texture, and strengthening the skin barrier. Niacinamide can be combined with vitamin A and vitamin C and should be applied before each.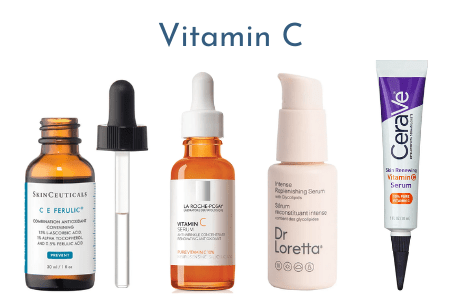 Vitamin C: Vitamin C is a powerful antioxidant that neutralizes free radicals known to accelerate the signs of aging. Vitamin C is best known for its brightening effects and evening skin tone and has a synergistic effect when applied before sunscreen that boosts the protective effects of SPF. Vitamin C should NOT be used at night with vitamin A but can be used in the morning if vitamin A is used at night. Vitamin C can be combined with Niacinamide and should be applied after.
4. Moisturize.
When it comes to moisturizer, selecting the right one is determined by your skin type and the climate in which you live. Both are important considerations, and your moisture needs will change in different seasons and in different climates. I prefer glycerin as the humectant hero in my moisturizers, as it is good for all skin types, penetrates the dermis due to its tiny particle size and kicks hyaluronic acid's ass. I also love it when my products, especially moisturizers, include ceramides and peptides. Ceramides improve hydration and protect the skin barrier and peptides are regenerative and induce collagen production. These skin health heroes complement any skin care regimen.
5. Wear SPF!
Last on the list, SPF should probably have been listed first! Skincare professionals will list sunscreen as the #1 anti-aging skin step, and it should be applied every morning. Protect what you correct and prevent further environmental aging.
I hope this basic skincare guide helps you understand why these active ingredients are prioritized by experts so you can curate a simple, targeted skin care regimen. There are many other beneficial steps to incorporate into a strong skincare routine (hydrating toners, essences, layering more active serums, skin-lightening agents) but more doesn't always equal better.
When incorporating active ingredients into your regimen, it should be done one at a time to allow your skin to fully acclimate to the new ingredient before introducing a new one, and that may take a few months. A professional skincare consultation is highly recommended and is an invaluable tool to help you identify your skin type and concerns and discuss the best ways to achieve your skin goals.
Moms are the busiest creatures on the planet! While we may be tired on the inside, our skin doesn't have to look tired on the outside. I hope this guide helps you achieve the skin glow you deserve.
What are your favorite skincare products that have made the most improvement in your skin? Share with all of us in the comments.