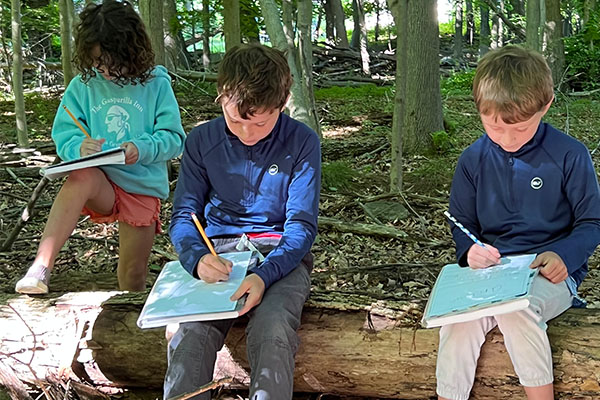 Recently we took a big trip for two weeks to Boston. Before we left I was going through back-to-school communications and saw that my kids had summer reading, some math, and needed to do a few journal entries over the summer. A sucker for any kind of journal or planner, I immediately found some journals for kids online.
Then I remembered how when I was little we took a big trip and my mother bought us a postcard at each place we stopped and we wrote about it on an index card to have a memory of the trip. I decided I'd make that part of our own trip, and it would give my kids something to do (and knock out their summer writing requirement!) while my husband and I got ready in the morning, or while we were waiting in the airport. I packed pencils, crayons, and the journals, and off we went.
Each morning or evening as they could handle it, my kids wrote a few sentences about our daily adventures in the new city we were in. They liked to bring their journals with them to different places, and I let them write wherever they wanted, especially outside. Sometimes it was hard to find postcards! I think so many people have cell phone pictures now, so postcards aren't as much of a thing. But, we did find some for some of the places we went. The places we did not I told my kids I would print photos from my phone, or they could draw a picture instead, and that worked also.
Sometimes they were overtired, and we didn't write. Sometimes just writing was hard for my boys, who prefer baseball and math to sitting down and writing. On those days, instead of forcing them, I asked them to tell me in their own words and I wrote out what they said (exactly how they said it), and they drew a picture. This seemed to help.
We took our journals into the woods at my aunt's house, we took them out to dinner, we worked on them in our hotel room before bed. The point was not to have perfect sentences or neat handwriting but to have quiet time to be creative, to remember our day together, and be grateful for what we were able to enjoy. They drew silly pictures. Sometimes their entries were a little… off-color (6-year-old son's entry: "Today I peed in the woods!") but I didn't tell them what to write about. I tried to keep it low pressure, something fun instead of something they had to do, something they could do in the way they wanted to.
So far, what started as a summer assignment from school is turning into a book about our trip that I hope they will keep for a long, long time, just as I have kept the one my mother worked on with me.
I found journals on erincondren.com, you can get handwriting lines or regular lines for older children, and each left side page has a big square for a photo, but you could even make your own!