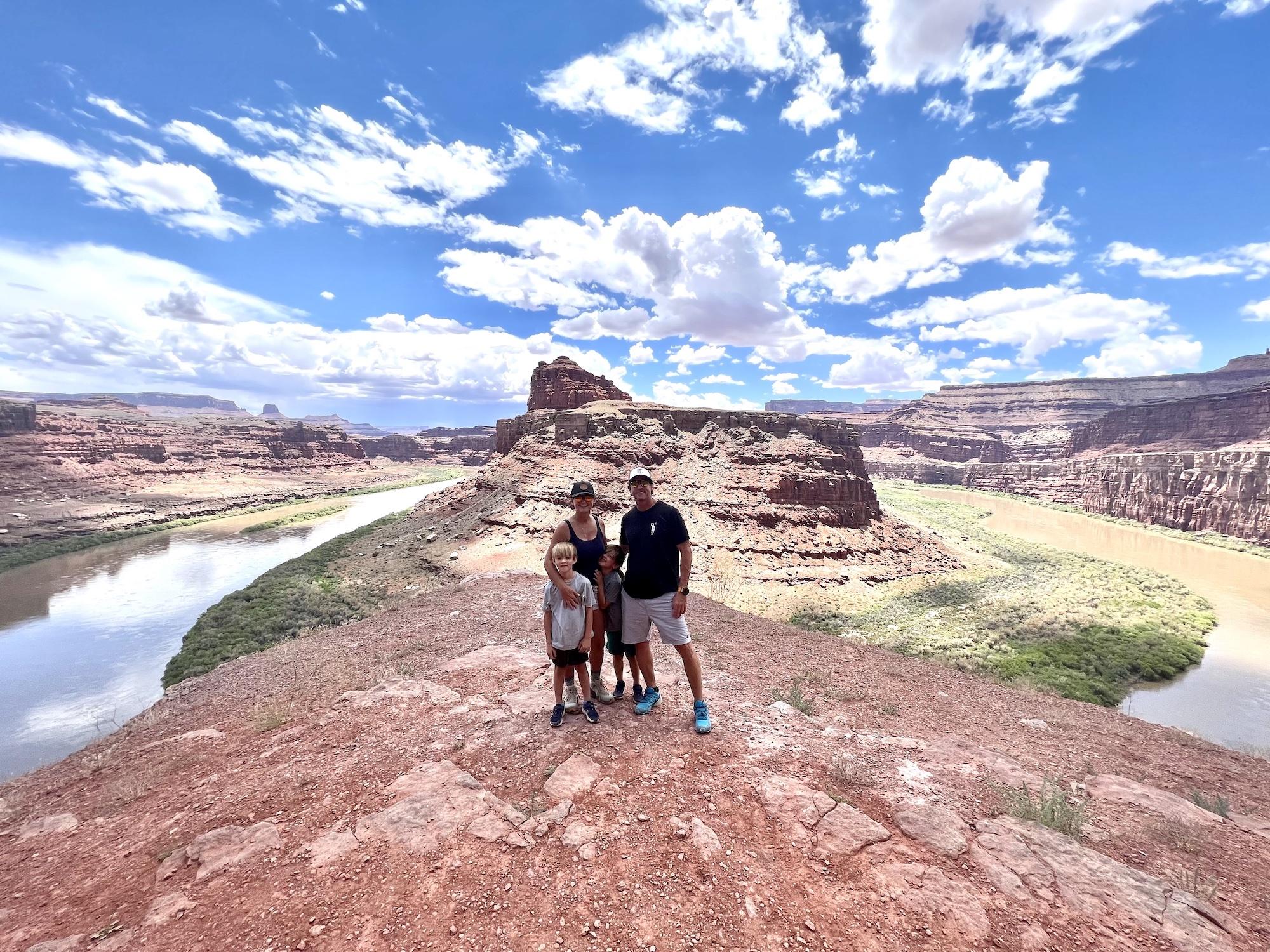 Our goal when we travel with our children is to give them a memory-making unforgettable experience, exposure to new things, and a way to approach life in a responsible and appreciative way. That being said, when you are a mom to two exceptionally active, constantly moving boys, trip planning changes from a relaxing vacation to an activity-filled adventure. This summer that adventure was to explore parts of our own country. Our focus was the Grand Canyons, and we built a doable itinerary off of that to include Vermejo in New Mexico, Zion, Bryce Canyon, and Moab. 
If you've fallen in love with the Yellowstone series and want to live out your own Dutton Ranch experience, think about visiting Ted Turner Reserves for your next adventure getaway. At Vermejo Reserve, guests get the opportunity to be immersed in a uniquely restored ecosystem and soak in the rejuvenating energy of nature. At Vermejo, we found ourselves in the middle of nowhere in New Mexico completely immersed in the rarity of being together without distractions and surrounded by endless opportunities to appreciate, educate, and enjoy all that nature has to offer.
Vermejo is three-quarters of the size of Rhode Island. It is massive. There are 2,000 miles of roads on the property. Now when I say roads, don't think of a concrete, asphalt jungle — these are country dirt roads. Vermejo is a nature lover's paradise and the perfect place for all the boy things. I saw multi-generation families enjoying a "guy's trip." The grandfather had brought his son for years, and he was now joined by his grandson. Even though I am outnumbered in my family and our vacations are more boy-enjoyment-focused, Vermejo also calls to the outdoor-loving females. 
You are amazingly catered to. Imagine enjoying a specially crafted cocktail from Vermejo mixologist Will who has also stoked a fire in a stone-covered fireplace with a massive Bison head overseeing the day's comings and goings. You've curled up in a cozy leather chair enjoying the blanket of warmth with your favorite book. Moms get to be on vacation at Vermejo, as all of your meals are included and creatively prepared. There is duck, elk, red deer, antelope, and bison on the menu (as well as mainstream proteins). They even specially prepared the rainbow trout we caught fly fishing.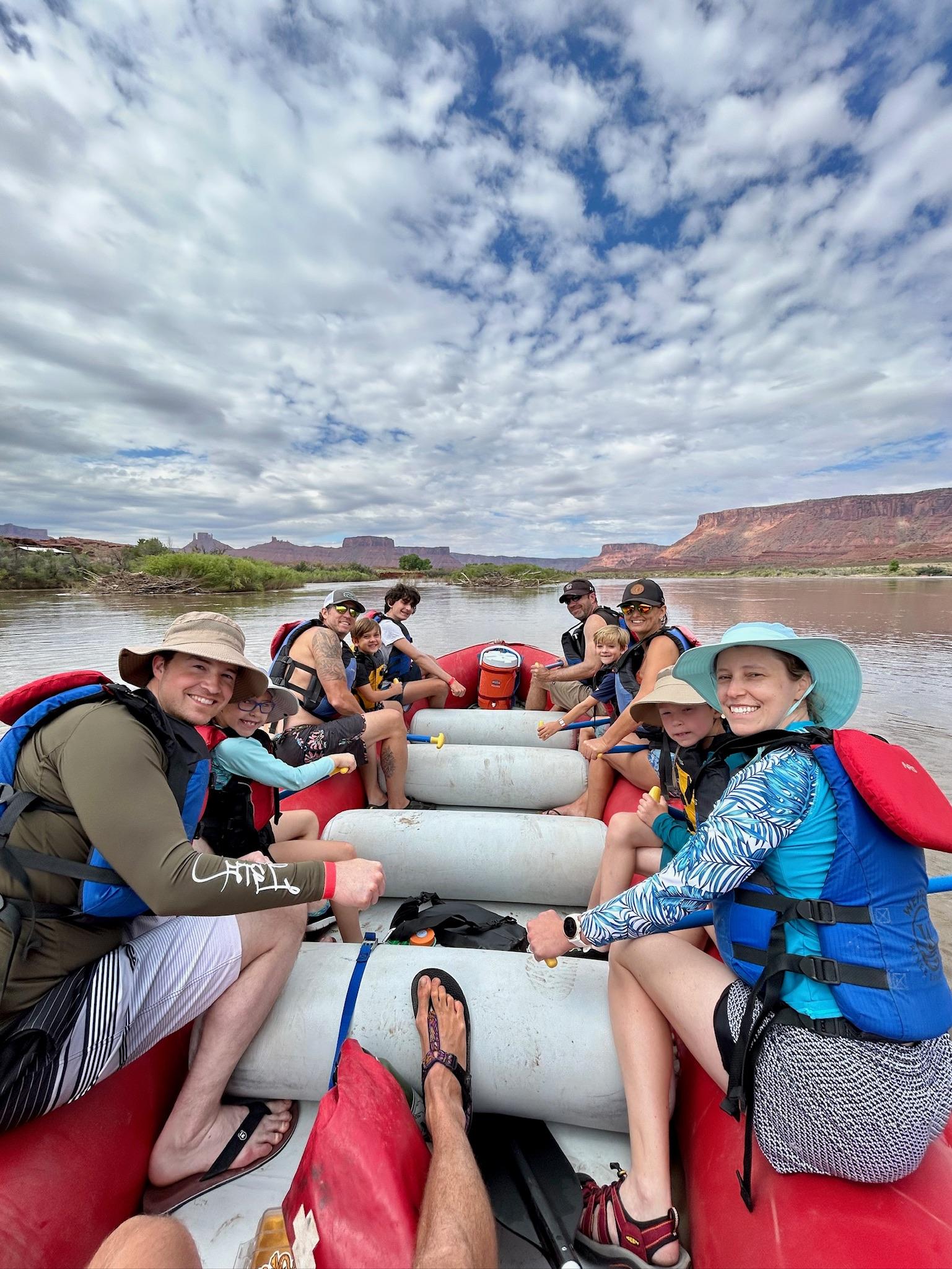 Vermejo gave my children the opportunity to simply and safely be boys while introducing them to new activities. They didn't ask for their iPads once, and while there is a TV accessible, it was never turned on. We all picked an activity to experience: fly fishing, shooting guns, hiking, a night game drive, and a UTV tour of the grounds. All of our guides were amazing. They were so engaging, knowledgeable, and patient with my high-energy little dudes. None of us had fly-fished, and we each caught an impressive amount of fish. The boys absolutely loved shooting guns for the first time, and they were taught gun safety and gun management, not just point-and-shoot. The evening game drive gave us a front-row seat to the animal activity on the grounds. We saw a mother bison who had pulled away from the herd to give birth. We also saw pronghorn antelope, elk, wild turkeys, a badger, and a ton of bison. Vermejo owner Ted Turner (who we missed by a couple of hours as he was on his way to the property on our day of departure) has re-established this wild herd of bison and actively manages to promote its growth and security. 
Vermejo was the start of our private guide experience on our road trip, and I arranged for private guides in Grand Canyons, Zion, and Arches/Canyonlands. All of our guides were amazing and we felt they added to our experience exponentially.
Our game drive and shooting guide at Vermejo dropped some serious animal facts on us that the boys not only digested but are still able to regurgitate. For example, a bison can jump 7 feet and run 30 miles per hour. A pronghorn antelope can run 63 miles per hour.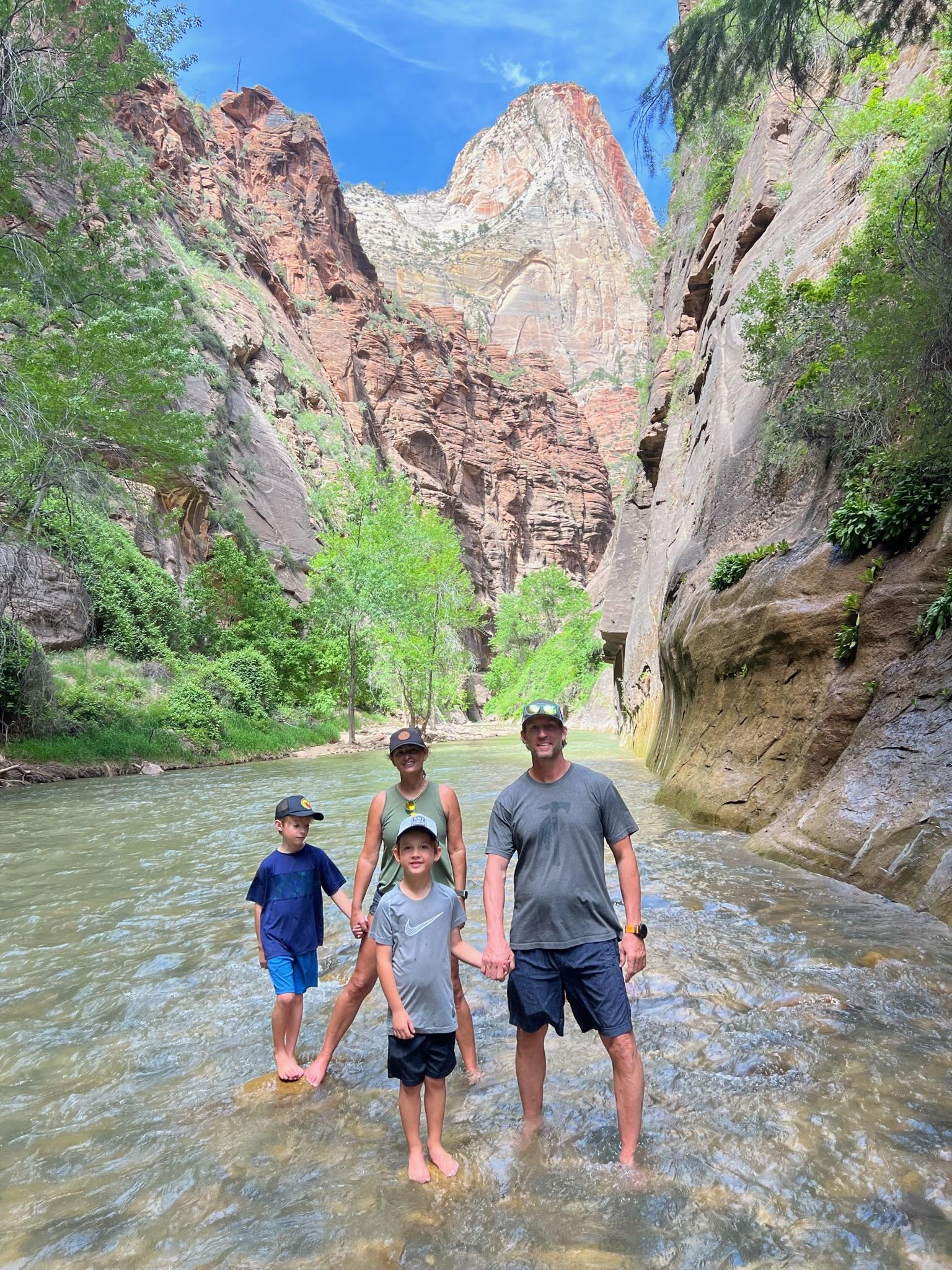 We had a great guide on our off-the-beaten track in the Grand Canyons to hike an area away from the main tourist area. The boys are good hikers but it also comes with some whining and snack bribery. With the guide there, the boys focused on him with storytelling and lots of questions, making the hike way more enjoyable for my husband and me.
My boys blew me away with their fearlessness, but our Zion canyoneering guide did an excellent job of educating them on climbing safety and making them feel secure enough to repel themselves off of a 70-foot rock face. Have you ever noticed how kids pay better attention to others than their parents sometimes? 
In Arches and Canyonlands, we struck gold with a Moab historian and for my history-loving husband, he was enamored. He told us about the early days of Doc Williams, Moab's only doctor at the time and promoter of Arches as a National Park. We also learned about Bates Wilson, custodian of Arches when it was established as a national park and the "father" of Canyonlands as he advocated for Canyonlands to become a national park. Our guide has written books and even has his own Moab history podcast. He was so impressively knowledgeable that a couple eavesdropping on our tour asked him how they could contact him for their own tour.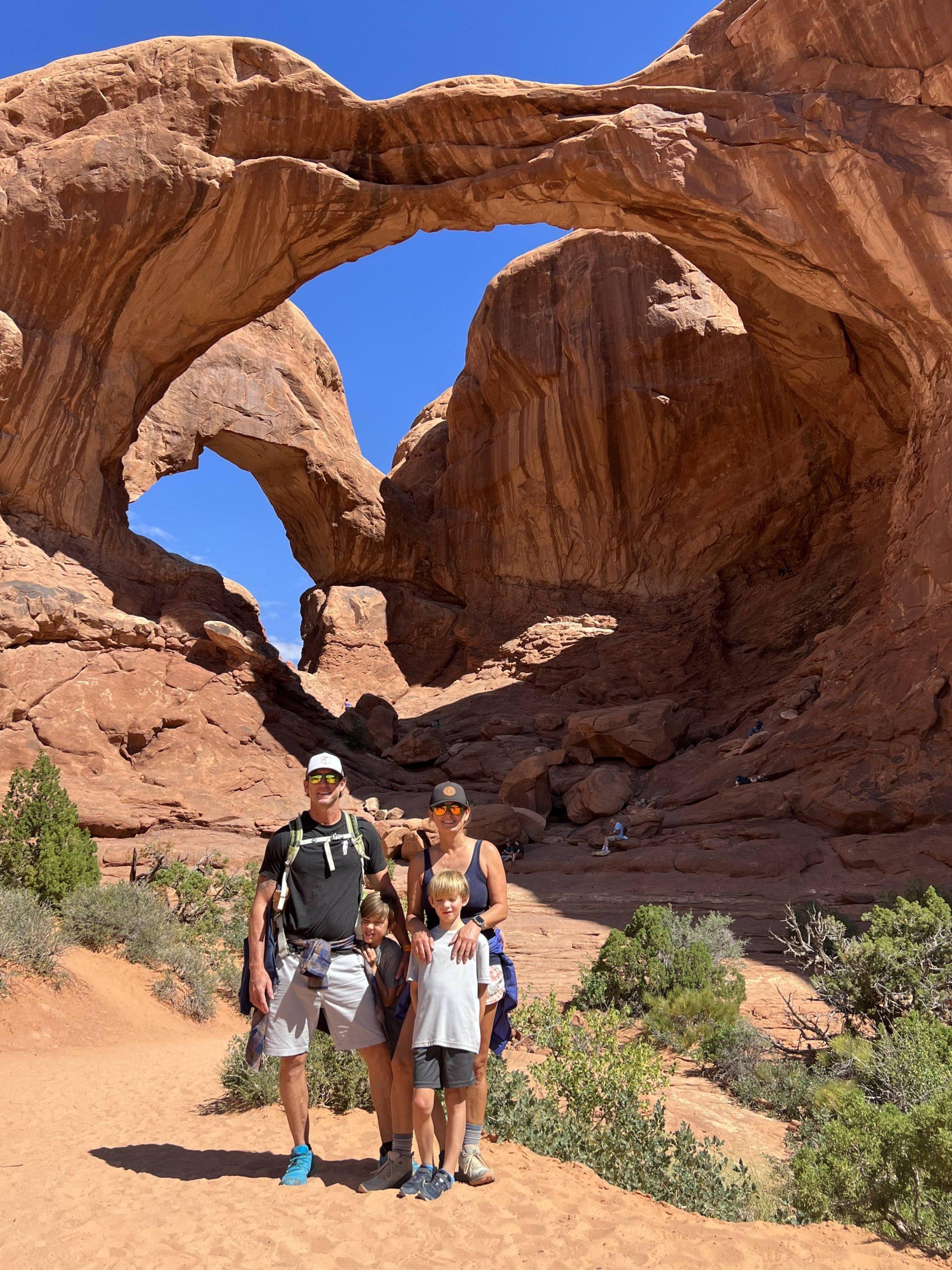 During our 4×4 tour, we saw actual dinosaur prints, petroglyphs, a ton of park highlights, and the less traveled backroads of Canyonlands which included a 1,200-foot climb (complete with pulse-pumping cliff drops) from the valley to the top of a Cayonland peak. 
Private guides made our vacation experience what we had hoped it would be. It was hassle-free as they did all the driving, provided all the kid-loving snacks, and prepared our lunches while on the adventure. Being local, our guides were a great resource for restaurants and other things to see or do. Sure, we could have seen all the same things, but what a private, knowledgeable guide does is put context to what you are looking at or doing so it has more of an impact. 
And alas, my favorite part of our private guides was that I actually got to appear in some of our vacation photos. I take 98% of the photos for our family and often joke that my kids will look back and ask, "Mom, where were you?"
About the Author
I refer to myself as a late bloomer. When most of my peers were sending their kids off to college, mine were headed to elementary school. Being a "mature" boy mom will either keep me young or age me, really fast. I spent 20 years in the marketing space before taking a "sabbatical" to be a stay-at-home mom. When both boys entered school full-time, I launched my own travel planning business. My love of immersive travel really began when my husband and I uprooted our two kids and moved them to Oahu, Hawaii. My husband was stationed there for just three years, and I wanted to make sure we made the most of our time. We dove in head first, crisscrossing the islands with our kids in tow. And while we took the family to all the big, must-see sights, it's the more tucked-away places and quiet moments of discovery that really stole our hearts. Savoring these off-the-beaten-path moments redefines what a "family adventure" can really be — and it's exactly how I help families plan their own adventures. –Jennifer Goff