My 8-year-old son had one trip on his summer bucket list, and it was to visit the Kennedy Space Center (KSC). I grew up in Florida and remember going there on a field trip. I've seen a few launches live and was working as a TV news reporter when I covered John Glenn going back into space, so I was pretty excited to be going back as an adult with my family. I can't believe we haven't made this road trip sooner. It's doable from Jacksonville in a day — basically halfway to Miami — we made it in two hours and you can do everything there in under six hours or less.
We just happened to plan our trip to the Kennedy Space Center on the day before the 50th anniversary of the Apollo 11 mission. I had no idea how cool this experience would be for our family. I still have goosebumps just thinking about what we saw and how close we got to things that were actually in space. And we saw two astronauts! I know, right?
Tip: Arrive early and start at the back. We got there about 30 minutes before it opened. There was a short line at the gates but it moved quickly once the gates opened. We got a tip from someone who worked there to do the bus tour first and then hit the rest of the exhibits on the way back. We took this advice and were on one of the first busses to depart for a drive-by of the Vehicle Assembly Building (VAB fort short) and the Launch Control Center six miles away.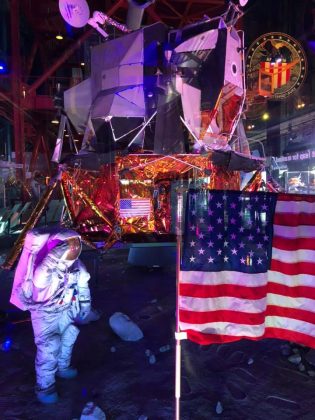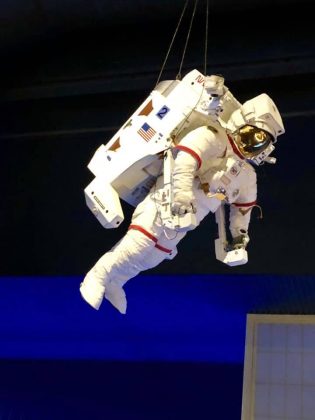 What You'll See
You can see the VAB from miles away — it's actually impossible to miss as it's the largest building in the world by volume. You probably recognize it as a backdrop in many movies. It was originally built in 1966 to allow for the vertical assembly of the Saturn V rocket. Imagine a single-story building tall enough to wheel rockets in and out of. Buildings must have doors, right? How about the largest four doors in the world — each measuring 456 feet high and it takes 45 minutes to completely open or close one of them. Fun fact: It would take 250,000 million ping-pong balls to fill it! I'd hate to be the last person to leave that building each night.
Next door is the Launch Control Center which you will also likely recognize if you ever watched Space Shuttle launches or rockets blast off on TV. Inside are four "firing rooms" where the controllers sit at the consoles and wait for the rocket's red glare. You don't go inside either building on the bus tour, but at the next stop, you do get to experience a mock firing room, some of its original equipment and a countdown reenactment with an audio recording from the Apollo 11 mission. Talk about goosebumps! We knew the outcome and were still on the edge of our seats.
Once you reach the final stop, the Apollo/Saturn V Center, hop off to experience a large museum basically built around the centerpiece exhibit — a restored Saturn V launch vehicle. Walking in and seeing this up close took our breath away. I compare it to the way ants must feel when they see airplanes flying overhead. It's enormous! There are other things to do here like touch a moon rock, peek inside Apollo 14's command capsule and stare in awe at an actual moon rover.
When the bus brings you back, you still have half a day of other exhibits and things to do including the Universe Theater featuring many shows daily including: Astronaut Encounter, Mission Status Briefings and Eyes on the Universe: NASA's Space Telescopes, Heroes & Legends featuring the U.S. Astronaut Hall of Fame, Shuttle Launch Experience (a must-do for thrillseekers), 3D space films in the IMAX® Theater, Journey to Mars: Explorers Wanted, the Rocket Garden, the Space Mirror Memorial and Children's Play Dome.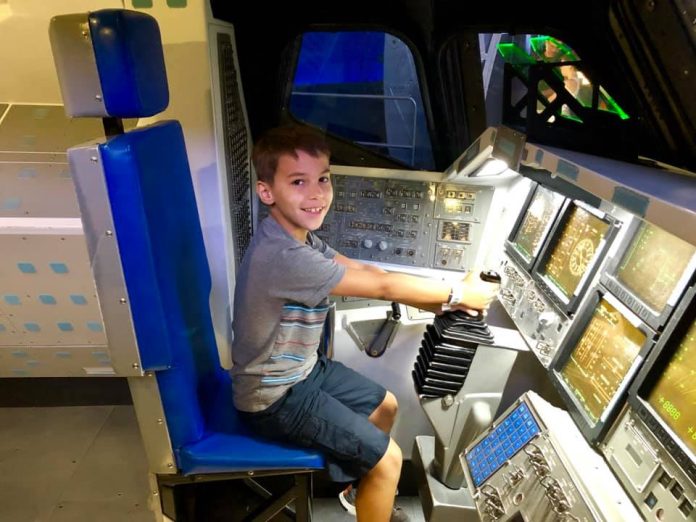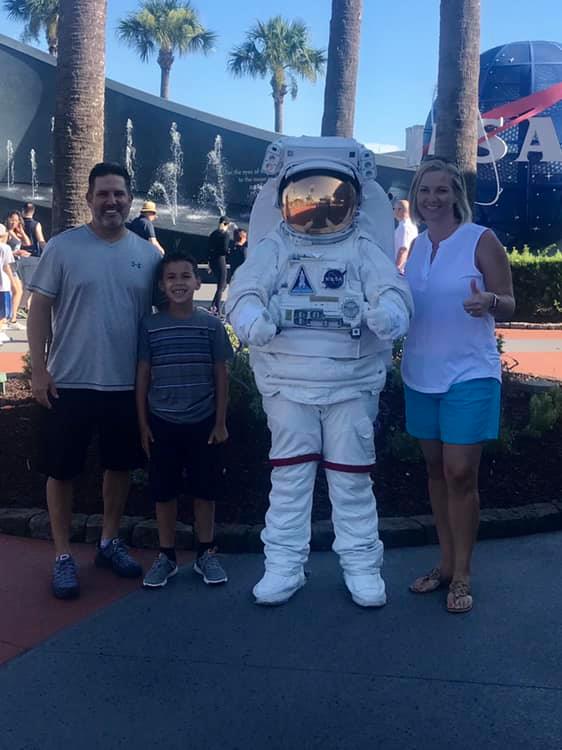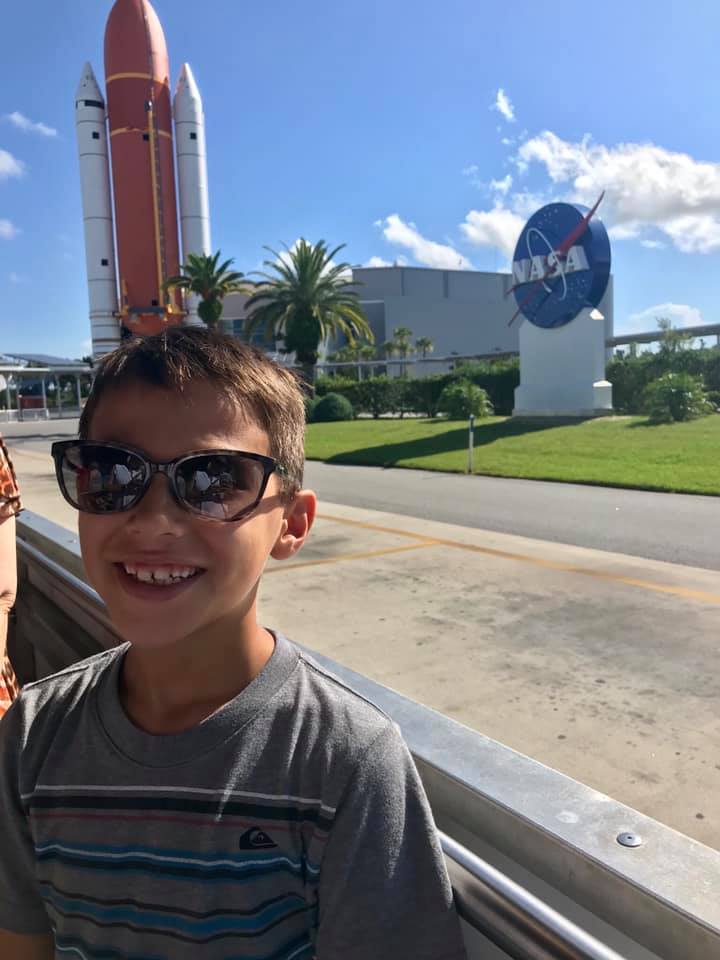 Where You'll Eat
Your options to eat include four restaurants and three snack stands. A special daily dining experience is also available at Dine With An Astronaut where reservations are recommended. We didn't do this but where else in the world can you dine with an astronaut?! We did eat at Red Rock Grill, an outdoor lunch stand where we ordered by screen a few hot dogs, tater tots and cold drinks. You can sit indoors and enjoy salads, burgers, sandwiches, pizza, dessert and more.
What You Can Take Home
Another tip from a NASA employee: Hit the gift shops early because the best merchandise goes fast. We picked up a shirt for my son, a pen (he loves to collect pens) and one of those 51-cent engraved, elongated pennies (hmmm, brilliant idea whoever came up with that). And finally, we had to try space food — a freeze-dried ice cream sandwich that came out of a sealed pouch and wouldn't melt even on the hottest summer day. Do astronauts really eat this stuff? I'll let you and your family be surprised at the outcome of our taste test.
Did You Know?
Our bus driver shared some of the amazing inventions that exist today, thanks in part or wholly to NASA: memory foam, GPS technology, enriched baby formula, invisible braces, and even selfies. Click here to learn more. Not surprising when we read the list, but you never really think about how some of these things came to be and the impact on our everyday lives.
So, if you're looking for a day trip from Jacksonville that is educational, historical, awe-inspiring and won't break the bank (12 and older cost $57, children 3-11 cost $47), the Space Coast is the answer. There are also add-on enhancements and experiences that aren't included in the price of admission like the Astronaut Training Experience and Mars Exploration Simulator Training if you want to add a little more exhilaration to your trip.