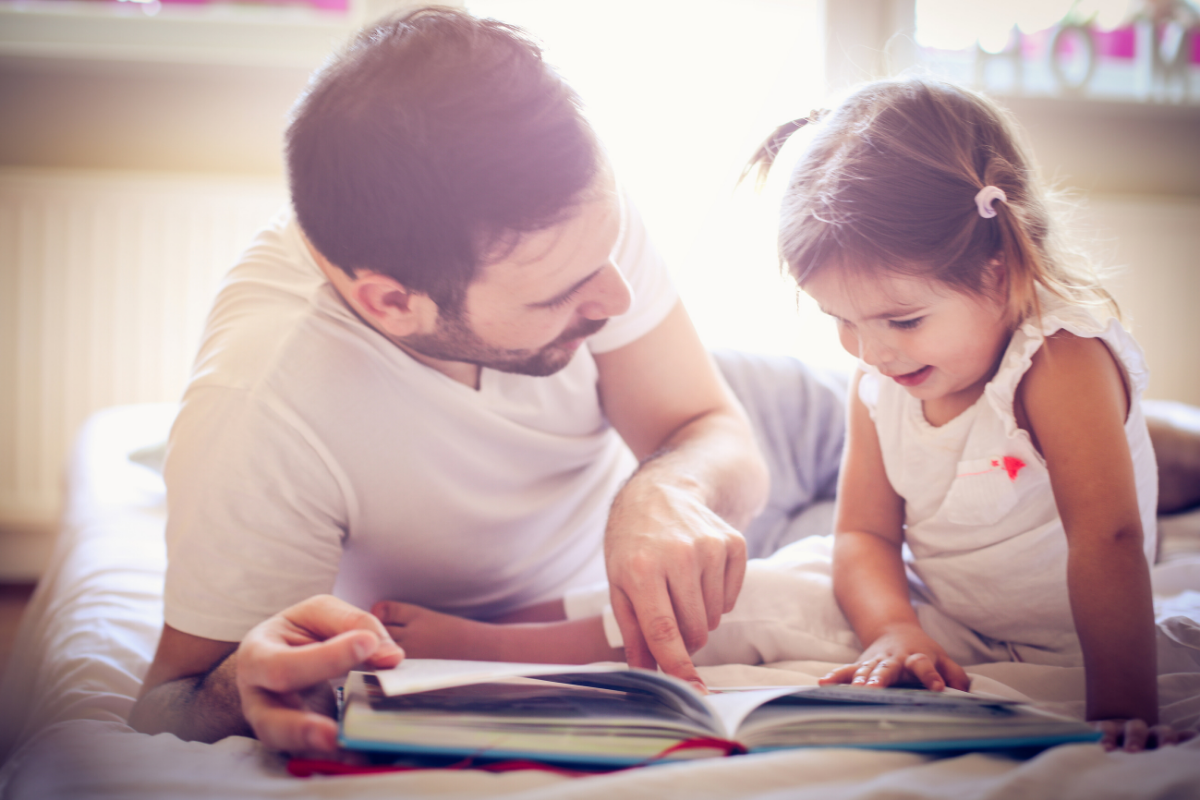 It's never too early to instill a love of reading in your child — in fact, the earlier, the better! And what greater chance than now, when you're spending more time with (a.k.a. nonstop entertaining) your little ones under one roof? As we look to the silver linings to get through this new (temporary) normal, one constant at the moment is the opportunity to get to know our kids all over again through playing, creating, and teaching.
Learning isn't just reserved for school-aged kiddos with curriculums — you can keep even your youngest child engaged and on the path to reading success at home with the right tools. That's where Nemours Reading BrightStart! comes in (yes, the world-renowned pediatric health system we all know and love!). They've created a FREE website to help families prepare even their littlest learners, ages birth through 5 years, for reading success. Chock full of resources, helpful articles, book recommendations, and engaging at-home activities for infants, toddlers, and preschoolers, Nemours BrightStart! can help pave the way for a solid foundation of reading in your child.
Jamie Williams, Instructional Designer for the Center for Health Delivery Innovation at Nemours Children's Health System, says that reading together with your child can be essential for building positive relationships, especially right now when little ones crave that feeling of safety and security.
"Our website readingbrightstart.org is filled with quick and simple activities that parents can do with their little ones at home. These use household items and are fun and easy to do. In addition, there are also book suggestions for reading at home, that include tips for reading with your child," she shares. "Reading together is a relationship-building activity, and with the uncertain times around us, young children rely heavily on those consistent, positive relationships in their lives."
How Early Can You Prepare Your Child for Reading?
Essentially, it's never too early! Williams says that reading to your child can even begin as early as when they're in the womb.
"Because we know that 85 percent of brain development takes place by the time a child is 3, reading should truly begin prior to birth," she explains. "Think of reading like building blocks — while infants, toddlers, and preschoolers aren't formally reading yet, they are developing foundational pre-reading skills by looking at and listening to stories being read to them."
Nemours BrightStart! offers a list of "Pre-Reading Milestones" for children as early as birth. The newborn rooting reflex, as well as those adorable coos and laughs coming from your baby? All precursors to a lifetime of reading! They also include any potential warning signs or risk factors to look out for, in addition to suggestions and tips for age-appropriate activities.
Find Out If Your Child Is on Track
Curious if your child is behind, on track, or even advanced when it comes to their reading? The Nemours BrightStart! Preschool Reading Screener is a great place to start for those aged 3, 4, or 5. Simply answer a few reading readiness questions about your child's abilities, and receive their scores immediately, alongside an individual action plan complete with activity recommendations.

But regardless of your child's reading readiness score, Williams says there are things parents can do every day to help foster a love of reading in their little ones.
"It is important that parents take time daily with their child to engage them in literacy-rich conversations and activities," she suggests. "As parents read with their little ones, use the serve-and-return method of asking a question and giving the child time to respond. Even if a child is too young to answer, it helps lay the foundation for developing future conversations. In addition, limit their screen time, engage in physical activities, and try to provide nutritious meals."
In these times of uncertainty, rest assured that one thing is certain — Nemours is passionate about helping children grow up healthy, and even more so right now as families make the most of their time together at home.
"We are all busy, especially now as we isolate at home," Williams says. "Think of this as an opportunity to spend more quality time with your family. With our help, we hope you can engage with your kids the best you possibly can."