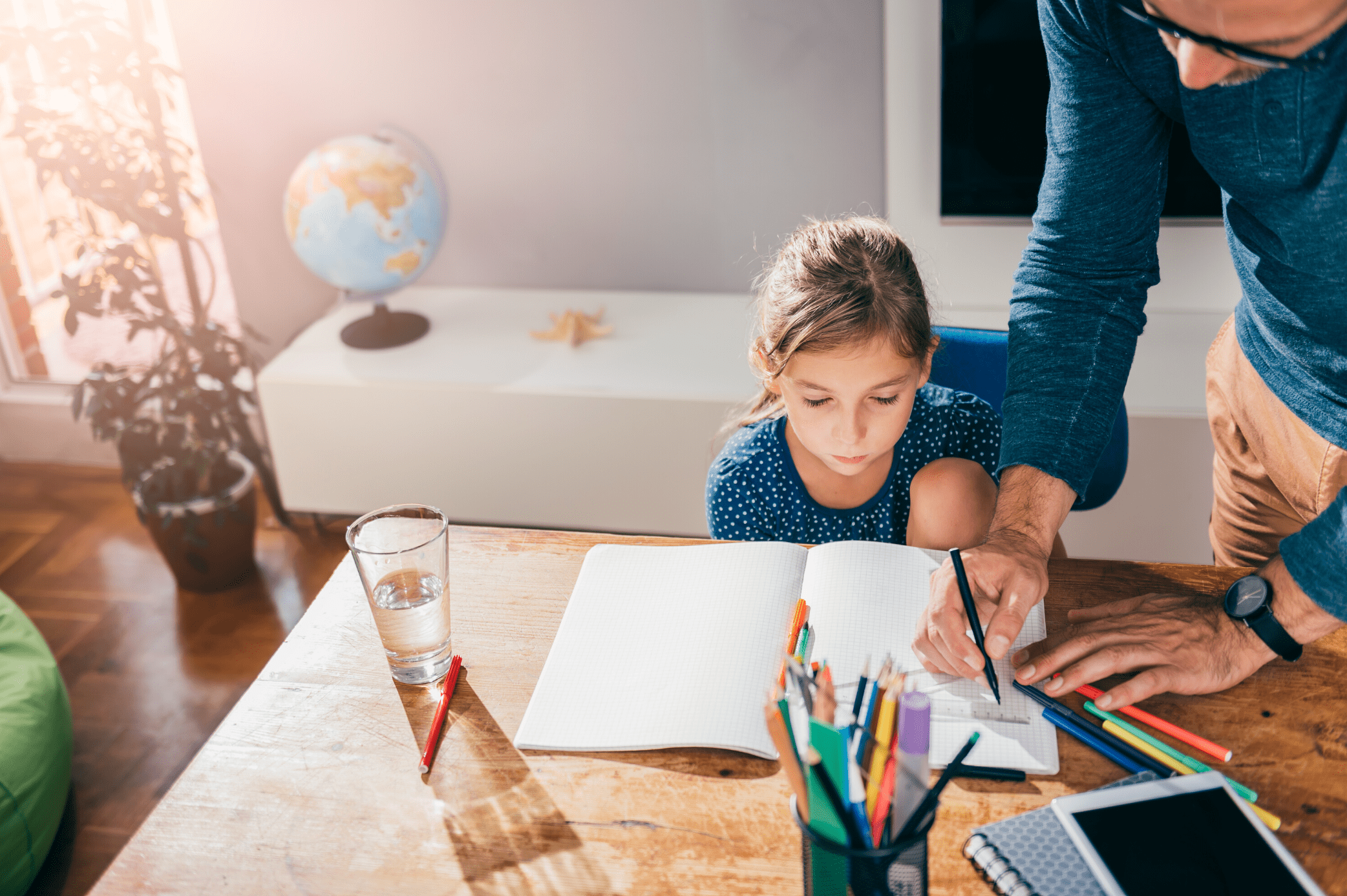 ABCs and 123s, many of us are starting fresh with a new school adventure with at-home, distance, and remote learning. Parents, we got this!
Heather Oulton, a Lead Teacher from The Discovery School, offers a few at-home study tips for elementary and middle school students. These ideas will help you improve the at-home learning environment for your children.
Create a study space that is free of distractions. With parents and siblings all working and studying from home, it is especially important that family members carve out their own spaces. Helping students minimize interruptions is one of the most important things parents can do to encourage productive studying. While screen usage is inevitable, phones should be away from a child's study area, and notifications should be silenced. A well-lit dining room or kitchen table provides students with room to spread out and is a visible location from which parents can monitor their child's progress unobtrusively.
Recognize the difference between "business" and "busyness." Since remote learning requires the use of electronic devices, it is sometimes challenging to recognize when students are engaged in genuine learning. Fingers swiping a screen gives the appearance of productivity; however, we all know how easy it is to swipe from vocabulary definitions to YouTube videos! Ask your child to show you the app or site he or she is using and inquire about how it works if it is unfamiliar. Beware of multiple open windows as it is rarely necessary to toggle between more than a couple at a time when studying. Designate a primary use for each electronic device. For example, personal devices, such as iPads and laptops, can be used primarily for educational purposes. Entertainment activities, such as movie viewing, can occur on the television set in the family room where everyone can gather comfortably, while students' phones can be used primarily for socializing with friends.
Make a schedule. Since students are receiving instructions from multiple teachers, they should be able to articulate both instructions and due dates. Encourage students to prioritize assignments by due dates and plan their day in accordance with the amount of time they think they will spend on a particular assignment. Ask them what they intend to accomplish during a study session and how long they think it will take them to achieve their goal. Estimating the amount of time a task will take and using a kitchen timer to compare it to the actual amount of time spent is an effective means of helping students develop realistic time management strategies.
Encourage active studying. When parents ask how a child is studying, the reply is often, "I'm looking over my notes." Reading is not studying. Studying should be an active process in which a student is creating and subsequently utilizing a study tool, whether it be creating a Quizlet, making flashcards and asking someone to quiz him/her, rewriting notes, designing a quiz, drawing a chart or diagram, or singing a silly song. One of the best active study strategies is to teach someone else. Asking your child to teach you the material he/she is studying allows you to ask questions, test knowledge, and gain a greater sense of your child's understanding.
Take breaks! Since remote learning requires more time logged in front of a screen, it is essential that students take breaks and divide their studying into manageable "chunks" of time. Give students some control over creating a schedule that includes breaks throughout the day and encourage children to get outside whenever possible. Those breaks also afford opportunities to introduce students to skills such as Honors Dishwashing and Laundry Folding 101! Learning takes many different forms, so take advantage of time at home to instill skills that will encourage greater self-sufficiency and independence down the road.
About the Author
Heather Oulton, a Lead Teacher from The Discovery School, shared a few at-home study tips for elementary and middle school students. These ideas will help you improve the at-home learning environment for your children.  The Discovery School is a diverse and inclusive independent day school that educates students aged 18 months to 14 years in a unique program blending the Montessori curriculum with the International Baccalaureate Primary Years Program framework.