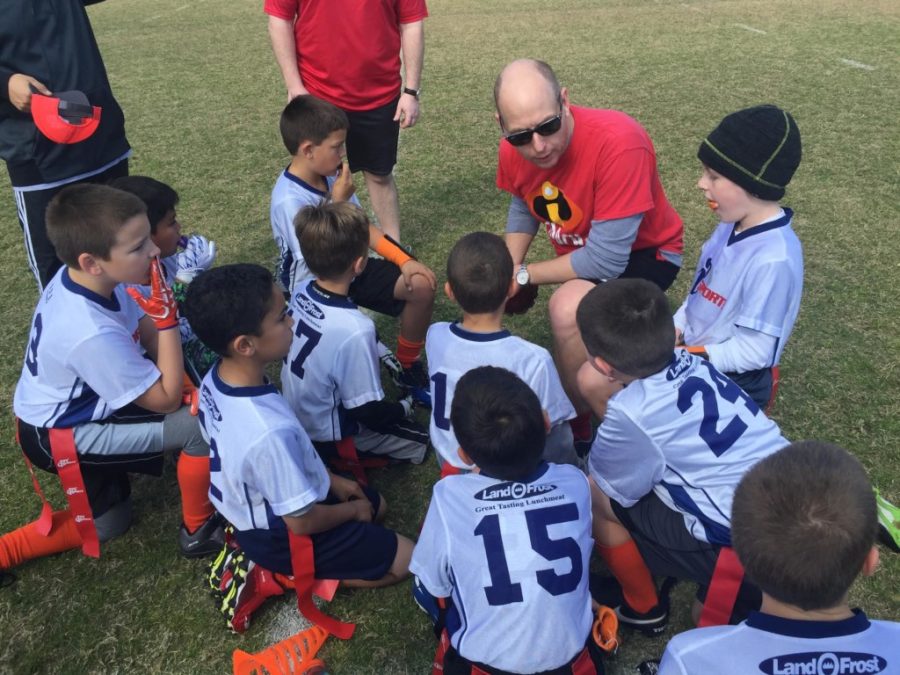 Do you have a child who is ready to enter the world of sports? There are so many choices. My two kids have tried every single one (well, almost). Since moms do most of the carpooling, watching, videotaping, and consoling, here is my honest and REAL breakdown of what you can expect from each sport.
Soccer
Soccer is where most kids begin their introduction into the world of sports. You can sign up your child at age 3, and there is a low risk of injury. There is a huge positive to having your little one run around in circles for an hour — they will crash hard later! My kids also loved the orange slices they had every week as mid-game snacks. But the eventual negative will far outweigh those positives. It's called TRAVEL SOCCER. Once your kid reaches the point where the word "travel" comes into play, run the other way. Travel soccer is very expensive and takes up entire weekends. Unless you think you have the next David Beckham or Hope Solo in your house, run fast.
Baseball
Baseball is the all-American sport! Don't you want your sweet child to put on that baseball cap and take you out to the ballgame? It's the best. Or so I thought. These games are LONG. And I'm not talking an hour, I'm talking HOURS. Between the practices and games, you will be at the ballpark until it's dark. The Saturday morning games are just as long, so make sure you have your Starbucks coffee with extra shots. It's super fun when your kid comes up to bat, but that lasts about 30 seconds, and then you have to wait another 20 minutes for it to happen again.
Basketball
Basketball is one of my favorite sports. You are INSIDE a temperature-controlled gym. The games are short and fun to watch. The kids run back and forth, and you get to cheer on your little one as they make passes and shoot baskets. That's it. It's easy to understand, and everyone has a great time. Did I mention the air-conditioning?
Golf
Both my kids are currently involved in a golf program. They have weekly practices and a few golf tournaments that take place on a Saturday or Sunday. Golf is not cheap. There are course fees, and they need to have their own golf clubs. But I feel it's a sport both boys and girls should learn to play. If they don't get a golf scholarship or go pro, they can at least know how to play nine holes with their boss when they have that future fancy corner office job. Usually parents can watch the tournaments while sitting in a golf cart with shade and a cold drink. I can think of worse ways to spend my weekend.
Tennis
Tennis is a another great individual sport. My kids loved it. But I put them in lessons when they were both very young, so they lost interest. The key is to find an instructor who is great with kids. They need to make the lesson fun and interactive rather than just hitting the ball back and forth and back and forth. Tennis is one of those sports where you can tell right away if your child will be good at it. If they end up just using the racket as an air guitar, maybe try music lessons instead.
Football
Like basketball, football is another one of my favorite sports. I love to watch professional football, and, to my surprise, watching kids play football is just as intense, if not more. My experience is only with flag football. The tackle football world is something I will never enter. I want my kid to protect his brain at all costs. That's my son's money maker. So if pushing your kid into the NFL isn't your life goal either, then stick with flag. If you find a great team with parents who are not living vicariously through their children, then you are good to go. The games are under an hour, and they are really exciting to watch.
Swimming
I'm going to be 100% honest with you. I never signed my kids up for swim team because every mom I asked said, "Don't sign up your kids for swim team." Competitive swimming is rough… for the parents! You have to be prepared to get up extremely early and drag your sweet child out of bed to throw them into cold water and expect them to exercise. If your kid is a little fish and the above torture scenario does not apply to them, then go for it. This is a low-risk sport which also has the added advantage of you hanging at the pool for many hours. But be warned: You will also need to participate in those swim team duties like keeping score or passing out homemade snacks.
Dance
Every little girl wants to try dance, and I highly recommend it. My daughter has been dancing for six years now, and it's through a program at her school. I basically have no involvement in it whatsoever. Winning! The only downside might be the cost for all the adorable leotards, tights, skirts, and shoes you want to buy and the annual recital which requires you know how to put your daughter's hair in the perfect low bun. I still stink at it. #YouTube
And if none of the above appeals to you or your child, then go ahead and invest in your Xbox now. At least your kid will learn all about each of the above sports from the comfort of your own home. Score!
About the Author
Pam Kaye is a work-at-home mom to Daniel (10) and Annabel (9). She moved to Jacksonville in 2007 when her husband, Mark Kaye, became the morning show host on radio station 95.1 WAPE. Having children inspired Pam to start her blog PopMommy.com where she writes about her love for her family and everything "pop culture." Before Mommyhood, Pam worked as a promotional consultant and publicist for the movie and radio industries in New York, New Jersey, North Carolina, and Washington, D.C. She's shared popcorn with Jeff Daniels, drank Starbucks with Matthew McConaughey, and received a personal "shout-out" from Taylor Swift during one of her concerts. Pam loves traveling, checking out new restaurants, cheering on the Jags, and meeting amazing children through her family charity, Kaye's Kids.