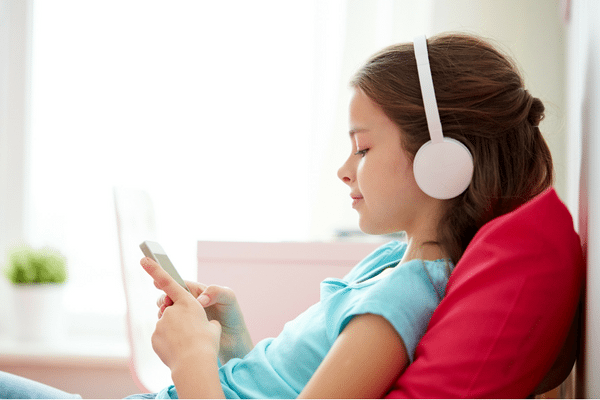 I love talk radio. I love Howard Stern (I confess!), NPR and, my new obsession — podcasts.
A podcast craze is sweeping the nation, and they range from the obscure, like Here There Be Monsters which explores people's real stories of creature encounters to the interesting, such as Go, Bayside! a podcast especially for Saved by the Bell super fans. Thanks to my iPhone's podcasting app, our daily 40-minute commute and my FOMO on the latest rage, my boys and I have been exploring this flourishing form of audio entertainment.
Typically, our commute each day involved (and occasionally still does) me frantically and dangerously passing out snacks, toys, iPads, sippy cups, lollipops, etc. to appease the kids. In an effort to stop the madness, we decided to limit both tablet time and snacks in our cars which left me with, "How the [insert curse word] am I going to keep them entertained, especially if we get stuck in heavy traffic?!" Hence, my stab at listening to podcasts en route. So far, what I have discovered are that the good podcasts are like good books — they are hard to put down. And the podcast choices specifically for mommies/parents and children are surprisingly plentiful and diverse! I included a list of some of our favorites — many are weekly or monthly; some are episodic and have an end.
Mommy/daddy/parent podcasts
One Bad Mother, hosted by Biz Ellis and Theresa Thorn: A comedy podcast for mommies. These mommies are hilarious, and they curse! They discuss topics like, "Am I haggard and broken?" And how stepping into an elementary school as a parent brings up old anxieties about making friends.
Spawned, with Kristen and Liz of CoolMomPicks: Two mommies talking about a variety of topics such as not being ready to switch from toddler songs to teen/tween music, kids and social media, best splurge and cheapy makeup products and young moms vs. old moms. Very engaging hosts and highly-appealing topics.
Kid-friendly podcasts
Storynory — Stories for Kids: This is an amazing storytelling podcast that covers fairy tales, folk tale, myths and even original stories, all ranging from five to 15 minutes. Some narrators have British accents which makes stories like Alice in Wonderland more authentic. They chunk the longer stories into different podcasts. This one is a favorite!
Short and Curly: This is geared more for upper elementary and/or middle school kids, but considers tricky, ethical questions like, "Is Professor Dumbledore as great as he seems?" "Should we eat our pets?" "Are some lies actually okay?" Carl and Molly are the Australian hosts, along with a resident philosopher, Dr. Matt.
The Podcast Kid: This sweet program is hosted by 7-year-old Jenna and her dad; sometimes her 4-year-old little brother joins the discussion. There are some very good "Grateful Kid" podcasts that focus on things to be grateful for, such as restaurants, nature and bicycles. Subject matter includes making new friends, being bossy, changing schools, mean girls and more. The Podcast Kid has about 45 current episodes.
Sesame Street: Wonderful songs and familiar characters! This is also a favorite. Note: This podcast has both audio and video which means I hide the phone from the audience in the backseat so they won't ask to watch.
Educational podcasts
TEDTalks Kids and Family: Largely focused on a parental audience, this podcast pulls from other popular TEDTalks. Topics on "How to Teach Kids to Love Science," "Bring on the Female Superheroes" and "How Movies Teach Manhood." TEDTalks has video and audio, and I plan on showing several to my sons, such as the "Glow-in-the-Dark Sharks and Other Stunning Sea Creatures" and "A Mini-Robot – Powered by your Phone."
But Why: A Podcast for Curious Kids by Vermont Public Radio: Kids send in questions to butwhykids.org using a cell phone's audio record feature, and the host plays the questions, explores the topic with subject matter experts and offers neat insight. For example, some questions include, "How do butterflies fly?" "How do piano keys make sound?" "Why do fingers and toes turn wrinkly in the tub?"
Travel podcasts
Disney Parks podcasts are numerous. There are also many episodes within these specific podcasts that focus on Legoland, Universal Studios and other park visits. Also, tips about globetrotting with kids and "world-schooling" are imbedded in many travel-themed podcasts; you just have to do a search for them.
Vacation Mavens Family Travel Podcast: This is a great one, especially with summer rapidly approaching! Episodes include how to travel off the beaten path in Washington, D.C. and even covers kid-friendly activities in Las Vegas. In one episode, the hosts share the family travel trends for 2017.
DisKingdom Podcast: Roger and Victoria are Disneyophiles. They passionately and knowledgeably discuss Disney movies, theme parks, video games, tsum tsums, etc. Podcast episodes include intense discussions and opinions on the new attractions coming to Sea World, Disney dining plans, movie announcements for Frozen 2 and Deadpool 2, and the very important question: Is a Star Wars hotel is coming to Walt Disney World?
SeaWorld Splash: SeaWorld super fans discuss and review SeaWorld parks in Orlando, San Diego and San Antonio. What is interesting is that in one episode, the hosts have a panel discussion on the documentary, Blackfish, which analyzes training practices and other controversial topics related to animal captivity. The podcast discusses specific Russian Orcas by name, like Narnia and Nord and even covers employee layoffs at the parks.
Unofficial Universal Orlando: There are over 200 episodes of this podcast, which has been broadcasting since 2011. This is a great podcast to get details on particular rides, with reviews of Seuss Landing, an audio walk-through of Jurassic Park and the best places inside the park to escape the crowds for a break. I have been listening to this one in prep for our family's upcoming visit.
Passporter Moms: Disney Every Week: Very organized, detailed and practical topics. For example, the top five biggest mistakes first-time Disney visitors make and what to do if you or your kids go to Disney while sick. They cover all Disney locations in the U.S. and abroad, along with Disney Cruises.
Kids music podcasts
The Saturday Morning Cereal Bowl: Really cute songs, like listening to a mixed tape of kids' music, including Lisa Loeb, Laurie Berkner and They Might Be Giants.
Spare the Rock, Spoil the Child: Indie music broadcasting out of Austin, Texas, by a dad and his two kids. They play songs by the Binkees, Emily Arrow, StevenSteven, The Ramones, Ella Fitzgerald and Rush.
Do you listen to podcasts? Which ones are you listening to?
About the Author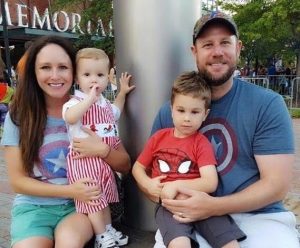 Tyler Mikell is a proud Florida native from the beautiful panhandle, a Gator girl and an identical twin.  She transplanted to Jacksonville in 2001 after attending graduate school at Hollins University in Virginia where she earned a master's degree in Children's Literature.  Along with board books and fairy tale renditions at home, she is surrounded by super heroes and Legos thanks to two, very active little boys and her awesome husband. She loves being a #boymom, especially in Jacksonville.  Her favorite things are sweet tea or wine, reading, rescue dogs and planning her family's social calendar.