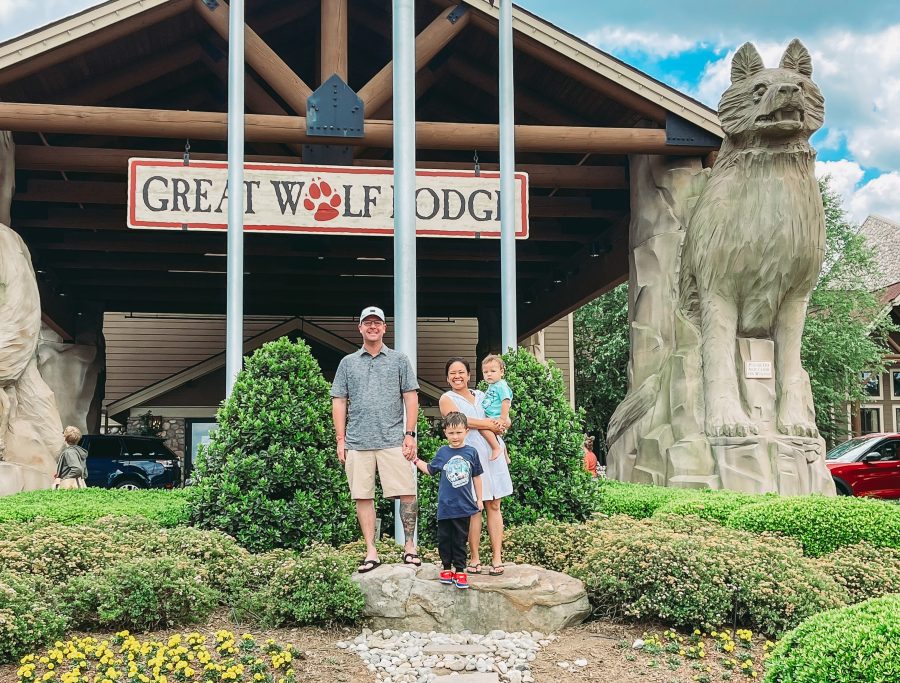 You look at the calendar — you want to take the family out for a much-needed weekend trip, but you are tired of the rain ruining your vacation. Or maybe you simply want something different from the usual Orlando trip to Disney.
I highly recommend you consider a family getaway to Great Wolf Lodge! Here are 10 things you should know before booking.
1. It's not too far, and it has an indoor waterpark.
The closest one from Jacksonville is in Georgia and is only about a 5-hour drive away. The other one is in Charlotte, NC, area, which is about a 6-hour drive. We went to the one in NC, and I highly recommend at least staying for two nights. It is something different for the kids, especially if you have already gone to all of the waterparks in Orlando. This one is indoors, so you do not have to worry about rain and lightning messing up your waterpark fun!
2. Some COVID precautions are still in place.
Sure, the pandemic is not over, and even though we are slowly returning to normal and the conditions have greatly improved, face masks and social distancing are still highly encouraged at Great Wolf Lodge. Masks are required for everyone five years old and above, especially when ordering food at the snack bar or lining up to get buffet food (which is served). They are not required when you are enjoying the pool and water rides. Disposable face masks and hand sanitizer can be found everywhere inside the resort.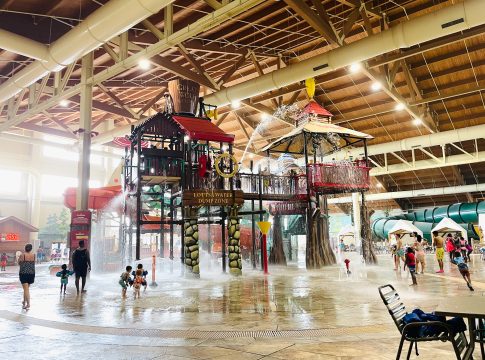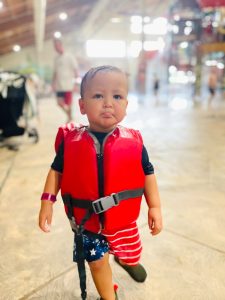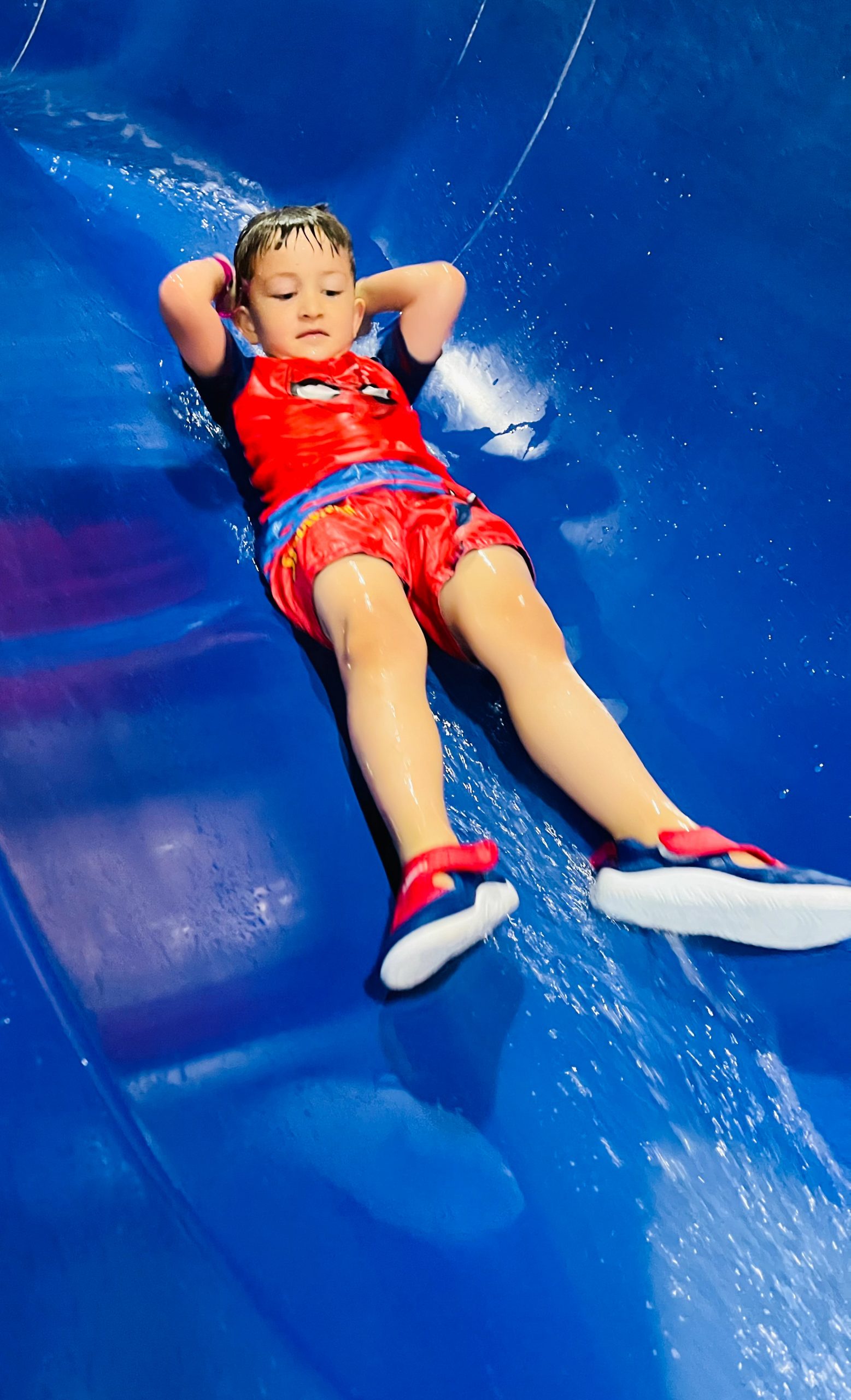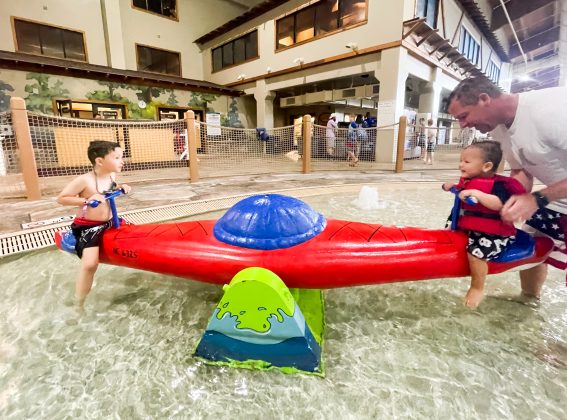 3. There's fun for all ages!
There are things to do for all ages inside the waterpark. The toddler pool is perfect for my almost 2-year-old. It is fenced-in, and the mini slides are perfect for his height. There are stationary jet skis that he could sit on and a seesaw to play with his big brother. Life vests are available for everyone, including the little ones. Puddle jumpers are also available, although we brought our own. My 5-year-old enjoyed the four-story tree house playground with two different slides to go down — although he is not really a fan of the gigantic bucket above because it dumps a cascade of water once it gets full (maybe about every 15 minutes). The wave pool is perfect for older kids, and even the fast water rides are also great for adults. My husband enjoyed the Mountain Edge Raceway ride. Some rides have a height restriction, so be sure to check online first.
4. Buy your breakfast vouchers first.
I highly recommend buying the all-you-can-eat breakfast vouchers before your trip so you can roll out of bed and enjoy a hearty meal downstairs before heading to the waterpark and/or doing other activities. It is also cheaper than paying for breakfast on the day you arrive. Or you can opt for coffee and donuts at the Dunkin Donuts store located inside the resort.
5. You can bring or order your food from outside the lodge.
You can order food from restaurants outside Great Wolf Lodge and have it delivered to the lobby, so you are not stuck with just ordering pizza from the snack bar. We had Thai food delivered through DoorDash. You can also bring your own food and drinks in a cooler upon checking in. There is a small fridge inside the room and two big trash cans. I love that since most hotel rooms we have been to have a small trash can, it is usually overflowing by the end of the day.
6. Take advantage of MagiQuest and other fun activities.
When you are not in the waterpark, Great Wolf Lodge has an array of activities that will keep your children entertained. If you are planning to stay more than two nights, I suggest purchasing the Paw Pass or Wolf Pass, which will include certain activities such as MagiQuest, bowling, putt-putt, ropes course (outside), arcade games, mining for gemstones, watching a movie at an XD theater. If your kids still sleep with their stuffed friends, then check out the Build-A-Bear station inside the gift shop. I suggest arriving first thing in the morning, as I have seen lines for it. They also have Arts & Crafts, Story Time, Character Meet-and-Greet, and a Dance Party in the afternoon, which doesn't cost anything to participate. The MagiQuest is the most popular activity at the resort. It is a fun scavenger hunt that will take you all over the place. My son got to pick out his special magic wand and light up certain gemstones found in treasure chests. The scavenger hunt game and instruction booklet are a little too mature for him, so my husband mainly played it for him. My son had more fun just by tagging along and lighting up the gemstones they found.
7. Look for discount codes.
Look for discount codes before booking by asking your friends who have gone before. Trust me, we get discount codes to come back almost every other week. Great Wolf Lodge will honor the discount code also if you've recently booked. There is also a special discount for military, fire, emergency medical personnel, doctors, nurses, 911 dispatchers, police, and correctional officers. Check out "Howling Heroes" on the site for the current discount.
8. Download the app, and use the concierge feature.
Download the Great Wolf Lodge app prior to your trip. It is a great way to keep up with the daily schedule. I also highly recommend using the concierge feature when requesting extra towels and new bedsheets. Take those extra towels to the waterpark since you will have to return the pool towels once you exit. I wish I had known about this on our first day because my kids were still wet and cold as we returned to our room. Request extra blankets also. I get cold easily at night, and the comforter was not thick enough to keep me warm. Also, bring a night light with you if your little ones do not like to sleep in the dark. Once the lights are off, it is pitch black! We had to turn on the light in the bathroom and crack the door open as our makeshift night light.
9. You can use the waterpark before and after checkout!
Everything is cashless, and you can use your wristbands to charge things to your room, by the way, your wristband is also your room key. On the day you check in, you can use the waterpark as early as 1 p.m. while waiting for your room — even though room check-in is at 4 p.m. When you check out, you can opt to pay an extra fee for a later check-out time, or in our case, we did check out right at 11 a.m. and just left our suitcases in the van. We brought a separate bag with our change of clothes to the waterpark, and we could have stayed there until closing time, which is at 8 p.m. if we wanted to. Lockers are available for rent inside the waterpark but only for small bags. Do not forget a plastic bag for your wet swimsuits!
10. Get all the freebies and birthday fun.
Be sure to get your free wolf ears for your kids at the front desk or gift shop. It is a fun photo prop, also! Have your kids wear it with their cute pajamas during storytime in the lobby right before bedtime. They have the character meet-and-greet, but due to social distancing, you can have your photos taken with the characters at least six feet away. If your child is celebrating a birthday, then check out the birthday packages. The room next to us was celebrating a child's birthday, and their door was decorated with party signs. The celebrant also had his own special birthday wolf ears.
During our trip, there were a few minor setbacks during our stay. They were understaffed, and some of the waterpark sections were closed because they did not have enough lifeguards. I felt like the restaurant was understaffed, also. We could tell the servers and hostesses were overwhelmed. We had to wait a while for our table, but they had entertainment in the lobby to keep the kids busy, so it was all good!
Your children will thank you and talk non-stop in the next few weeks about how much fun they had after the trip. So be that cool mom and take your family to Great Wolf Lodge before they are back to school!