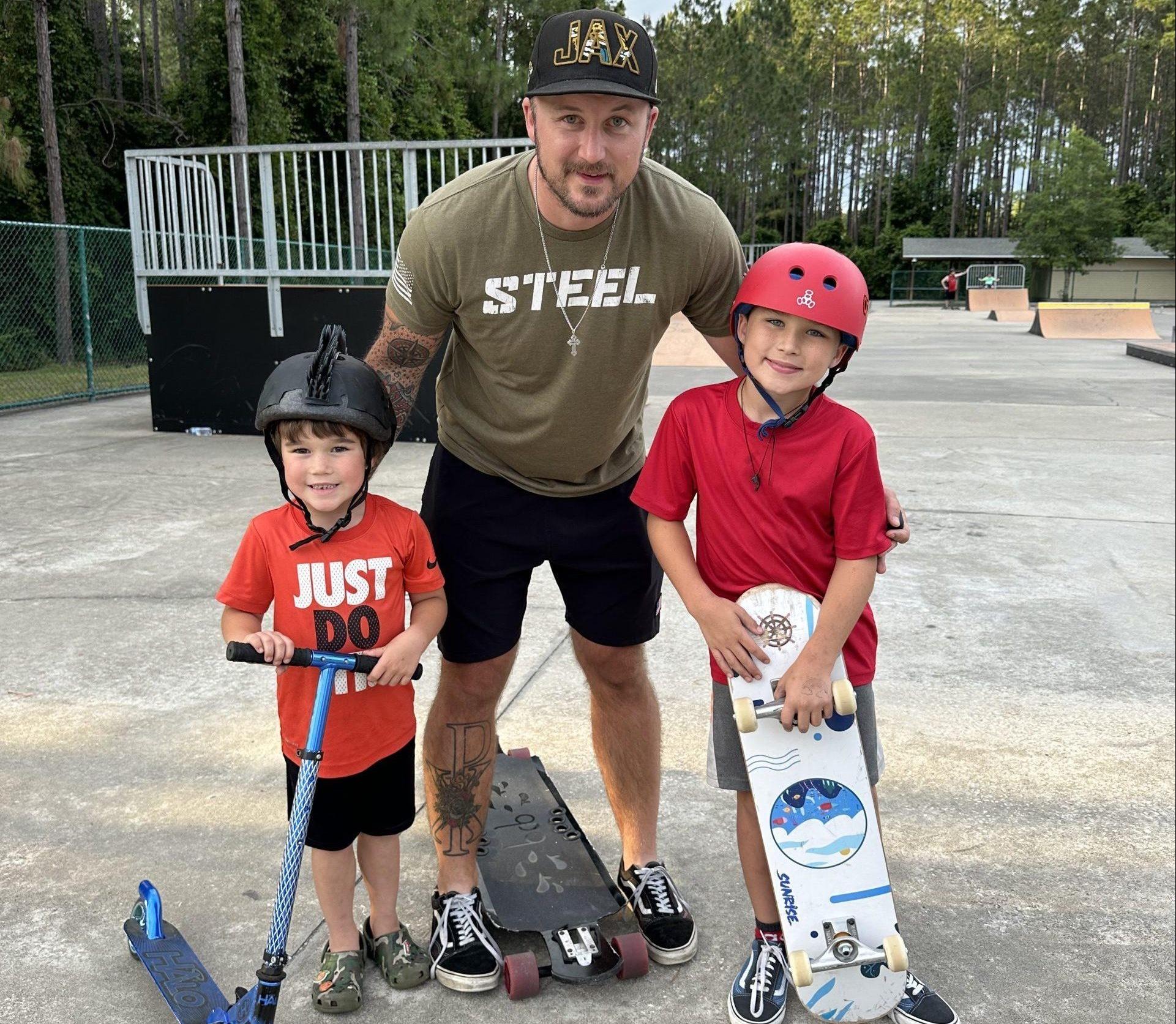 Did you know that more than 20 professional skateboarders have come out of Jacksonville in the past 40 years? The skateboard community in Jacksonville is still thriving, and if you have a kid that is showing interest like my 10-year-old, there are plenty of different skateparks you can take them to all over Jax — and most are free. (Not to mention nearby parks and playgrounds if you need a break!)
If you are brand new to skateboarding and your littles are, too, make sure they know basic skating etiquette. There will be bigger kids and adults all over working on difficult tricks and cruising much faster than them. Teach them to stay out of the way as much as possible so they don't get hurt. Most skateparks have areas beginners can cruise around or much smaller bowls with gradual drop-ins as well. And most people that do have run-ins with them will be gracious, but just make sure they know the rules soon.

South Beach Skatepark & Sunshine Playground
Location: 2508 S Beach Pkwy, Jacksonville Beach, FL 32250
Cost: Free
Lessons: Some independent instructors conduct lessons here
Camps: No
South Beach Skatepark was recently remodeled and upgraded in 2017. The smooth concrete ground throughout and more shallow bowls make it awesome for beginners and scooter kids. It is most crowded on the weekends, but generally older kids and adults are very friendly and accommodating to kids that are equally respectful. My kids love it because when my younger scootering kid gets tired of the skatepark, we head over to the nearby Sunshine Playground and get some play time in.

Kona Skate Park
Location: 8739 Kona Ave, Jacksonville, FL 32211
Cost: 2-hour session is $10; all-day pass is $15; 1/2 off during last hour open; spectators are $5 except parents are free
Lessons: Yes
Camps: Yes
Kona Skatepark is one of the oldest and most iconic skateparks in the world! The skate park features concrete hills and a "snake run," where guests can take a seemingly infinite number of paths. It's even recreated in a level of Tony Hawk's Pro Skater 4 video game.

Veterans Park
Location: 1332 Veterans Pkwy, St. Johns, FL 32259
Cost: Free
Lessons: No
Camps: No
You may have been at Veterans Park for your kid's soccer or flag football game. In an adjacent parking lot and near the walking path, they plopped down a few metal ramps. This can be a lot louder and more jolting if you are used to smooth concrete throughout, but for us, it's the closest option when I don't want to drive very far. And other kids and adults here have been kind and encouraging as my kids are learning.

Robert-Laryn Skatepark at Treaty Park
Location: 1595 Wildwood Dr, St. Augustine, FL 32086
Cost: Free
Lessons: No
Camps: No
There is plenty of room in this 28,000-square-foot concrete skatepark for skateboarders of all ages and abilities known as Robert-Laryn Skatepark. There are half pipes, rails, ledges, banks, and a 9-and-half-foot (6-foot shallow end) kidney-shaped pool to challenge even the most experienced skater.
At the front, they have a smaller "Little Dudes Park" which is great for beginning skaters and those learning new skills (recommended for 12 and under).
Adjacent Treaty Park boasts a fenced playground, picnic tables, a 3-acre lake for fishing, many lighted sports courts, walking trails, and tons of space to run around.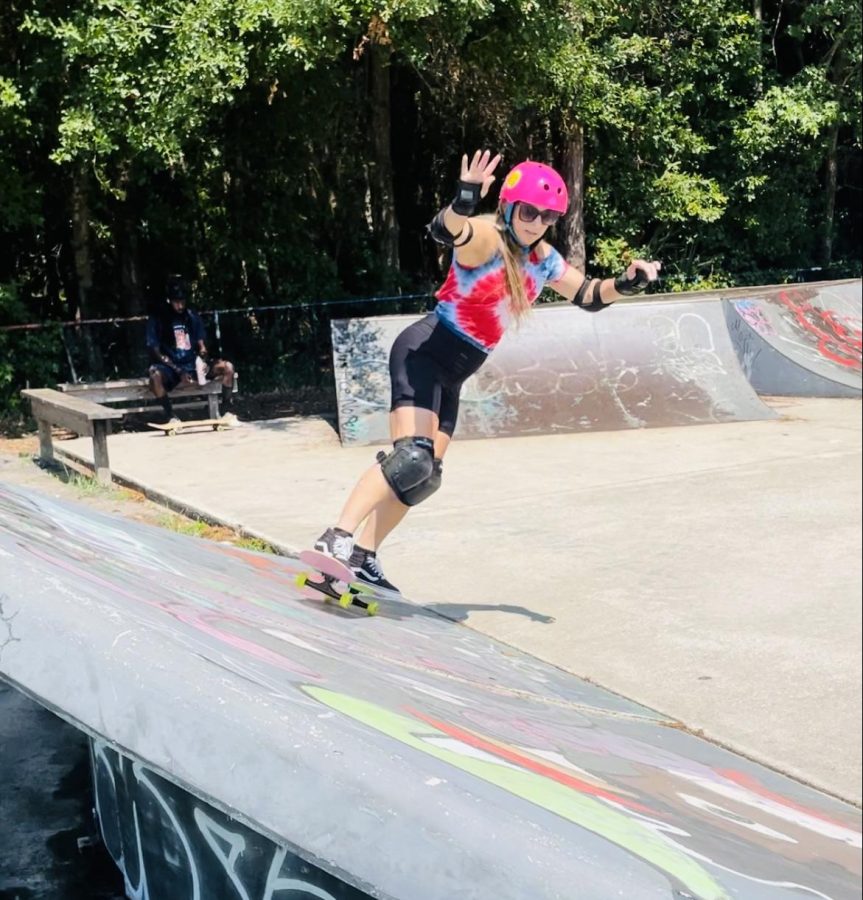 Cuba Hunter Skatepark
Location: 4380 Emerson St, Jacksonville, FL 32207
Cost: Free
Lessons: No
Camps: No
The 10,000-square-foot Cuba Hunter Skatepark has great features including a 6-foot half pipe, a 7-foot quarter pipe, jump boxes, multiple rails, and a bank ramp with a partial pyramid. Smooth cement and sturdy steel construction rank this site with other top city-owned skateboard parks across the country.
Nearby is a multi-use athletic field, a 0.25-mile boardwalk winding through more than 3.5 acres of wetlands, and a covered pavilion with three picnic tables and two grills. In 2005, a gymnasium with an elevated track and community building were added. There is also a pavilion great for picnics and a park nearby for littles including climbing and swings.

Ed Austin Skatepark
Location: 11751 McCormick Rd, Jacksonville, FL 32225
Cost: Free
Lessons: No
Camps: No

The Ed Austin Skatepark can be scooter-friendly, but it's definitely more for advanced skateboarders. It's 9,000 square feet of smooth concrete, much like South Beach Skatepark.
Right by the skatepark is also a paved walking and biking trail loop around the pond, along with basketball courts, soccer fields, baseball fields, an 18-hole disc golf course, and a playground. There is also a large, wooded off-leash dog park on the north side of the park which has separate areas for small and big dogs and a picnic area with tables.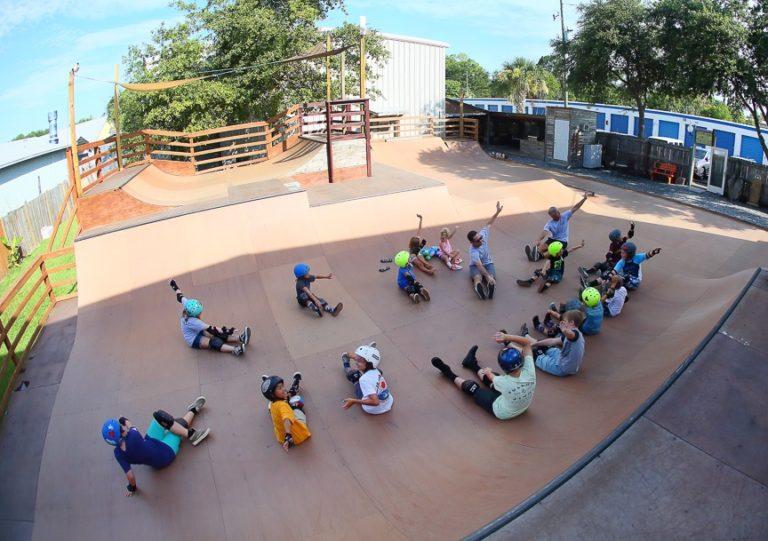 The Skate Yard
Location: 52 W 3rd St #3306, Atlantic Beach, FL 32233
Cost: Available to rent for private session at $30/hour (minimum of 2 hours)
Lessons: Yes
Camps: Yes
The Skate Yard is a private facility owned by two local dads. It's actually not open to the public, but you can attend one of their camps, participate in their after-school or Saturday group sessions, book private lessons, or just book two hours with friends and not have to worry about crowdedness. You can also host a birthday party here!

Oceanside Rotary Skatepark at Jack Russell Park
Location: 850 Seminole Rd, Atlantic Beach, FL 32233
Cost: Free
Lessons: No
Camps: No
The bowls at Oceanside Rotary Skatepark are much bigger than at South Beach Skatepark, but there is still a path to cruise around on the entire outside. And once you get in the bowl, if it's not too crowded, it's still fairly easy for littles to practice and ride around. There is an arena-style seating area, so I would imagine they have skate competitions here.

Orange Park Skatepark
Location: 1006 Fromhart St, Orange Park, FL 32073
Cost: Free
Lessons: Yes
Camps: Yes
Orange Park Skatepark is a great free outdoor skateboard park featuring two covered pavilions, grills, a nature walk, a fitness course, and tot playground. Skateboards and in-line skates are permitted, but no scooters. A helmet and a waiver are required to skate. Helmet rental is available. A concession stand and skateboard shop are on location operated by the nonprofit support group, The OPP, Inc.
What skateparks do you love most in and around Jax?