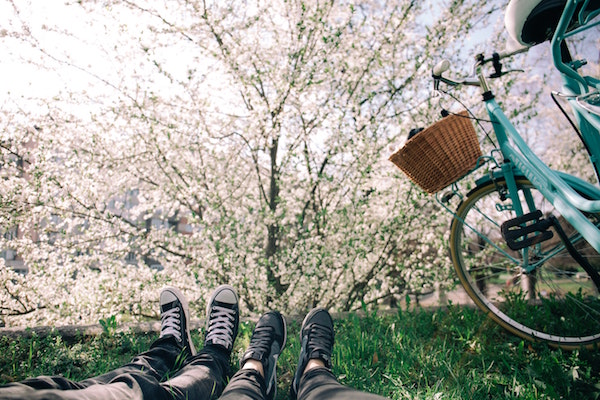 I've always been the type of woman who was excited to tell everyone that I purchased a showstopper dress at a thrift store or that I have a 50%-off Groupon for a fancy restaurant. I mean, who doesn't love saving money? Especially when you have three kids. Gone are the days of simply being able to plan a spontaneous date night and leave the house without the extra expense of childcare. Date nights are sacred in my home — they need to happen at least once a week. You and your significant other owe that to yourselves and your relationship! In my attempt to continue on with my budget-conscious spending, I created a list of budget-friendly date nights that won't break your bank.
This is really more like the tip before the list starts. Shamelessly ask for help if you have it! Do you have a mother-in-law, mom, grandma, sister, or brother who lives nearby? Ask them if they want to spend some time with your kiddos! I've learned that the answer will always be no if you don't ask. So what's the harm in trying? Also think about your friends who have kids. I've heard of many people doing date night trades. You watch my kids this night and I will watch your kids that night… for FREE.
Bookstore Dates
Grab two grande lattes and some pastries from Starbucks and then browse the bookstore for something exciting! Pick a date night topic and search the aisles for something you can both enjoy reading at the store. You can have some great (and hilarious) conversations by simply judging a book by its cover!
Happy Hours
I live for happy hours! Not really, but my wallet does. Dollar wine, cheap mimosas, dollar pizza slices, and half-price appetizers are the best. Even nice steakhouses have a happy hour if you are feeling fancy! Ruth's Chris has a fabulous small plate happy hour from 4-6:30 p.m. and most dishes are around $10.
Waterfront Glamping (SUV or Minivan Necessary)
What's more romantic than watching the sunrise over water with your significant other while you sip coffee that was made from the heat of your campfire? Huguenot Park offers an affordable overnight date for less than $25! You can pack your cooler with food and drinks and convert your SUV or tent into a cozy love nest with pillows, blankets, and Christmas lights to really set a romantic scene. Huguenot Park overlooks where the St. Johns River meets the Atlantic Ocean and offers picturesque waterfront views by day and a magnificent sky for star gazing at night with your hubby. Nothing makes you feel closer than snuggling up with your man out in nature, albeit an SUV filled your softest blankets.
Sample Shop
Unapologetically indulge in free samples! The St. Johns Town Center is the perfect place for this date. But if you are the type of person who gets embarrassed by the "May I have a free sample?" inquiries, then this will definitely not be on the top of your date night list. Costco on a Saturday or Sunday is loaded with samples that fit every craving, and you can't beat the $5 Acai bowl on the way out the door.
Enjoy the Outdoors
Outdoor dates are some of my personal favorites. There are so many options including bike rides, berry picking, hiking, picnics, and kayak rentals (Hanna Park has two-seater rentals for only $25). I have the best date night memories watching the sunrise or sunset on a blanket with cozy pillows and a homemade (budget-friendly) charcuterie board.
Check Groupon
Check out Groupon and click the "Things to Do" tab! You can find a plethora of date ideas ranging from rock climbing, candy making, dance lessons, and so much more for under $30 for two people. I'm always excited to check out the weekly deals and try something new. You can also find great restaurants and drink deals on Groupon, too. If you are not using it already, it will become one of your favorite budget date night planning tools.
Just Take a Drive
Create a playlist of your favorite oldies, grab appetizers to go (or a whole pizza) and take a reminiscent drive around town. If you met in the area, visit some of the places that hold your favorite memories. Let the windows down, enjoy the breeze, and cherish time with good company.
Do you have any other budget-friendly dates that you would add to this list? Please share!