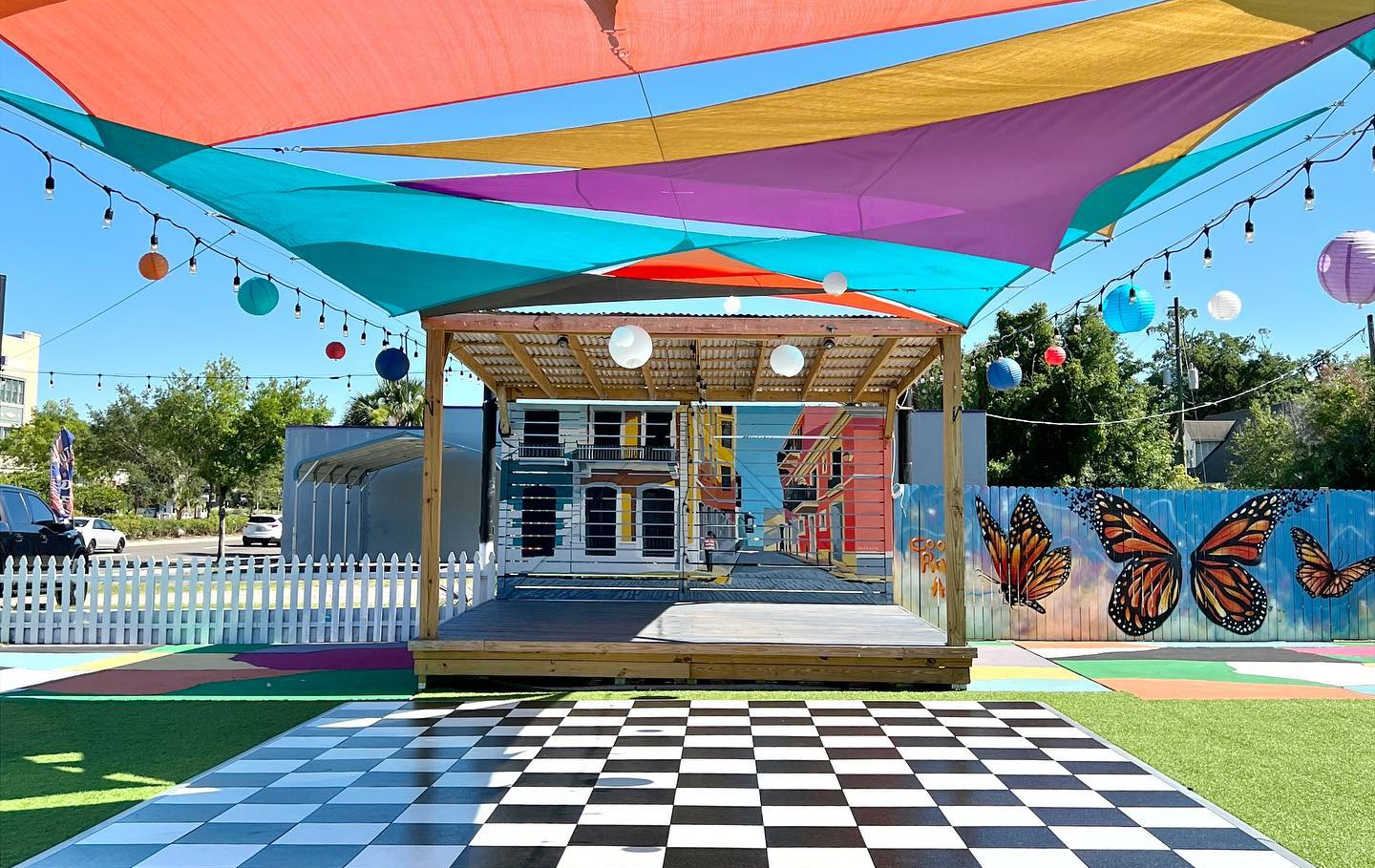 We have all been there. We make the questionable choice to bring our children to a public place because if we have to wash another dish it may end poorly for the entire family. The meal can't come fast enough. We try to distract them with the kids' menu and crayons, but those only ended up in our drinks — or worse, the next table over. Sometimes we decide to bring the tablets along and ignore the judgemental stares — or worse, fork over our phones if we were in denial about bringing them in the first place. Often the kids' meals come out first, which is great to keep meltdowns at bay but also untimely if you want to enjoy your own hot meal you paid big bucks for (hello, recession). 
Gone are these treacherous conditions being the only way to make a meal out with kids bearable. Thankfully, due to our nearly year-round perfect weather (#tgiflorida), albeit afternoon summer showers, the First Coast now has a lot of options that offer kid-friendly surroundings, a safe area to roam, a yard or table games, fresh air and/or outdoor seating, and arguably most importantly, adult beverages. It's that simple; give us somewhere to go where kids can be kids and adults can relax a little without being stressed out the entire meal, and you can have all of our money!
Here are some of the Jacksonville Mom team's favorites: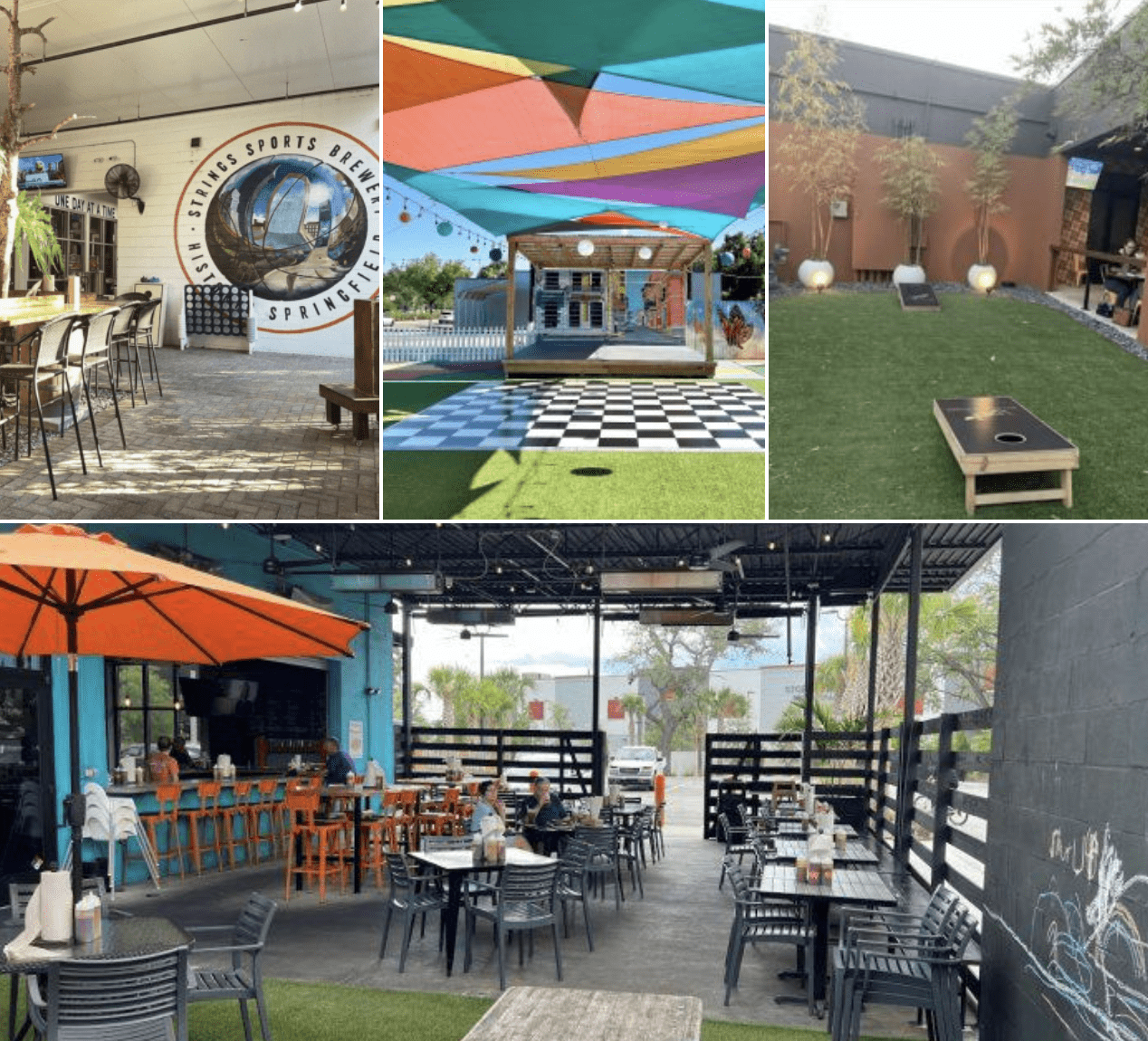 Downtown Jacksonville
Strings Sports Brewery (1850 N N Main Street): Family owned and operated since 2019, Strings' covered outdoor area boasts room for kids to roam and play Connect Four and cornhole. And there's axe throwing in the back, for adult nights out or date nights!
Main Street Food Park (1352 N Main Street): The Main Street Food Park is in the heart of Jacksonville's historic neighborhood, Springfield. Check their online calendar for scheduled food trucks! Not only do most food trucks have foods that kids will actually eat (deep-fried goodness), they have games, a small playground, and a huge astroturf area to run and play.
Iguana on Park (3638 Park Street): In the trendy neighborhood of Avondale, Iguana on Park boasts the same delicious menu (tableside guac!) as Flying Iguana in Neptune Beach but with a much larger and more family-friendly outdoor area. Astroturf-covered areas mean that both furry friends and kids are welcome, and cornhole games abound.
The Bearded Pig (1808 Kings Avenue): The Bearded Pig BBQ spot offers ample outdoor space, a large chalkboard for the kids to doodle, a playground, and a beer garden. Located downtown, it's great for pre-gaming before Jags games and concerts.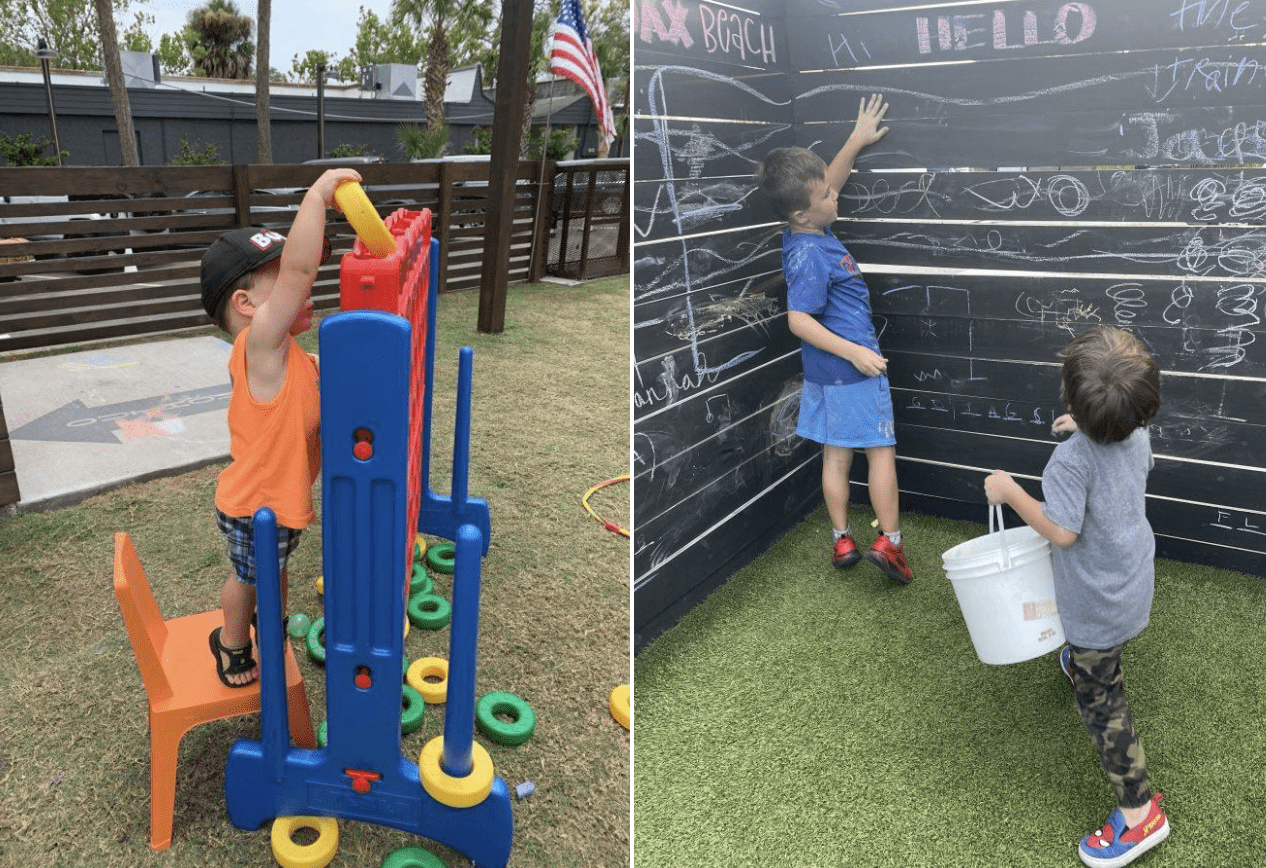 The Beaches
ABBQ (461 Atlantic Boulevard, Atlantic Beach): ABBQ is one of our go-to restaurants. The outdoor courtyard area makes it easy to keep an eye on your kids and is surrounded by fencing. Cornhole, Connect Four, an open space to run… needless to say, we are regulars.
The Bearded Pig (1700 3rd Street S, Jax Beach): Their beach location is all open-air (mostly covered) with an entire outdoor area covered in astroturf and a wooden fence with a chalkboard surrounding it that kids can color on (chalk is provided!) and stay contained while wandering about and making new friends.
Cruisers Grill (319 23rd Avenue S, Jax Beach): This Midwest native is a sucker for ranch, but also the newly renovated Cruisers which is family-friendly with outdoor dining options and is a great stop after a day at the beach. Kids can still look forward to the Tootsie Pops that come with the check.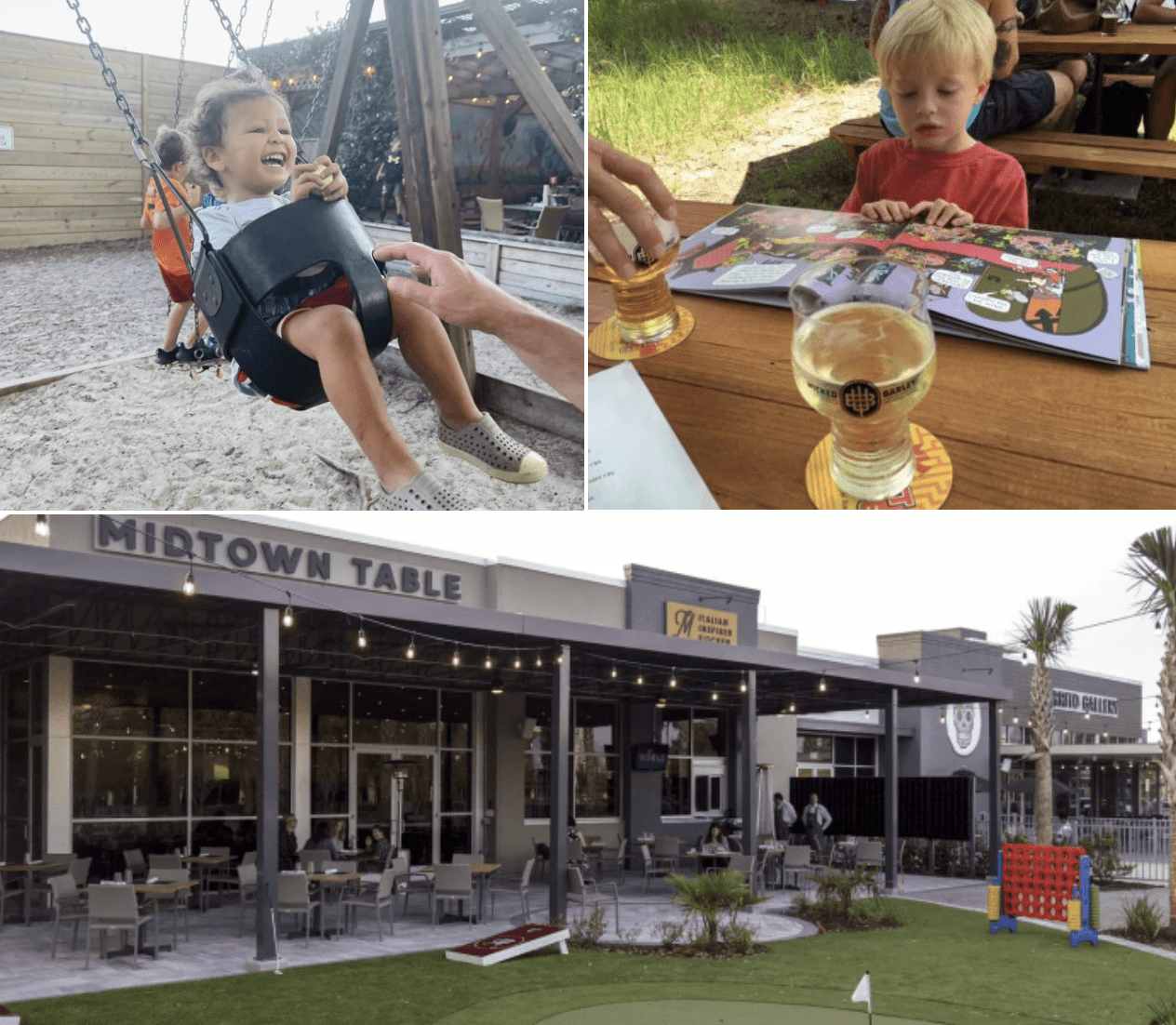 Central Jacksonville
V Pizza (12601 San Jose Boulevard): The V Pizza Mandarin location boasts an entire playground outside along with walls to chalk on! They recently added an overhead cover to the play area as well.
Wicked Barley Brewing Company (4100 Baymeadows Road): Wicked Barley is probably the most likely place for your kids to finish their meal thanks to their "Lil Devil" menu. Think PB&J, grilled cheese, and ice pops. But they may be too busy playing on the boardwalk along Goody's Creek or laying in a hammock checking out the latest TikTok videos.
Midtown Table (5016 Gate Parkway #6): One of St. Johns Town Center's newer additions, Midtown Table is a prime happy hour spot offering a desirable outdoor spot for both kids and adults, featuring a fire pit, putting green, life-size Connect Four and other yard games that minimize the buzzing Gate Parkway just feet beyond. There may or may not be a kids' menu (not shown online), but their wine list is extensive and their full bar offers amazing hand-crafted cocktails.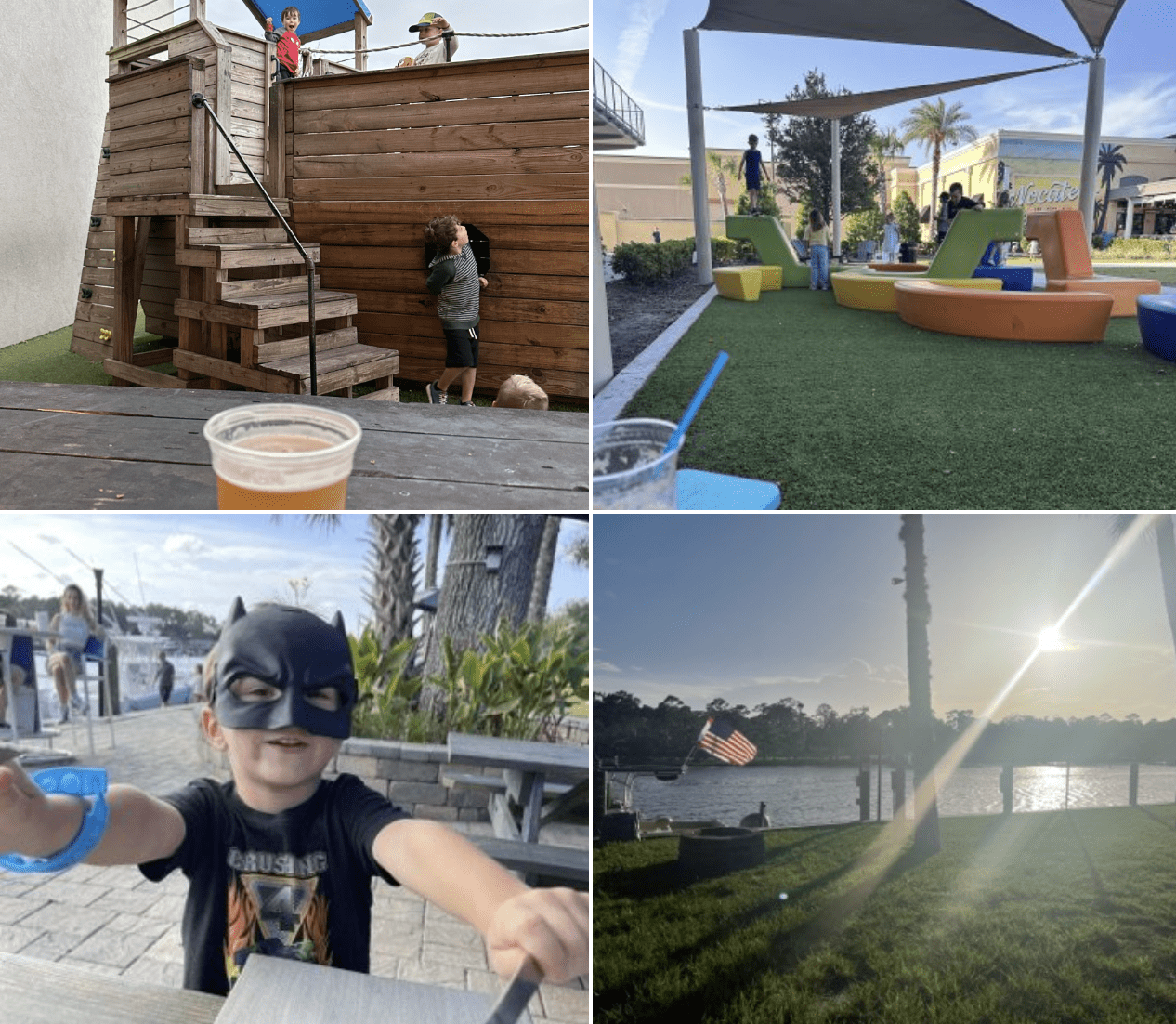 Ponte Vedra Beach & Nocatee
Palm Valley Outdoors Bar & Grill (377 South Roscoe Blvd., Ponte Vedra Beach): Palm Valley Outdoors' outdoor patio offers a great view of the Intracoastal and lots of boat traffic if your little ones like boats. You can even rent a fishing pole and make a few casts a few feet from your table. Don't forget to go into the bait shop to meet the resident rooster.
Lulu's Waterfront Grille (301 Roscoe Boulevard N, Ponte Vedra Beach): Lulu's is my son's all-time favorite because of the putt-putt course and the chance to hit golf balls into the Intracoastal. My favorite for the sunsets and fresh seafood! Lulu's Waterfront Grille is temporarily closed.
And not far from Mickler's Beach nestled in Nocatee are two great spots:
Timoti's (152 Crosswater Parkway #18, Nocatee): Timoti's boasts a pirate ship playground on turf for the kids to play in while you're waiting for your food, which won't take long since it's an order upfront situation but still boasts a decent local beer selection and full bar.
Treylor Park (158 Marketside Ave #1, Nocatee): Located in the heart of Nocatee, Treylor Park is a sister location to the iconic Savannah spot and often has live music along with cornhole, and a giant Connect Four on the outside patio. If your kiddos are old enough and trustworthy enough, there's also a small playground and open field right next to the back patio in front of the Link.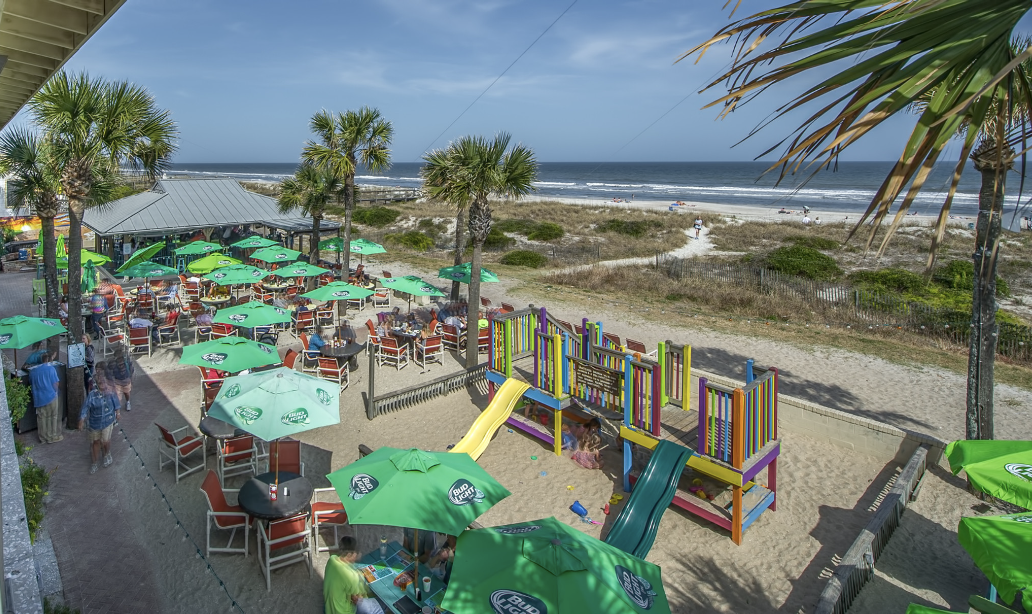 Amelia Island
Sliders Seaside Grill (1998 S Fletcher Avenue): The beachfront spot of Sliders is just steps from the beach and even has a playground and sandbox to keep the kids busy while the parents enjoy delicious local seafood.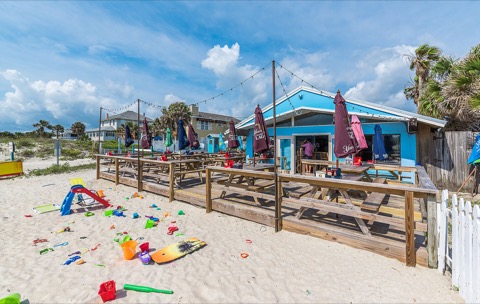 St. Augustine
Beach Comber (2 A Street): Beach Comber has great food and outside beachfront seating which is basically on the sand. It's perfect for the kids to play until the food arrives.
What are some of your favorite family-friendly restaurants in Jax?