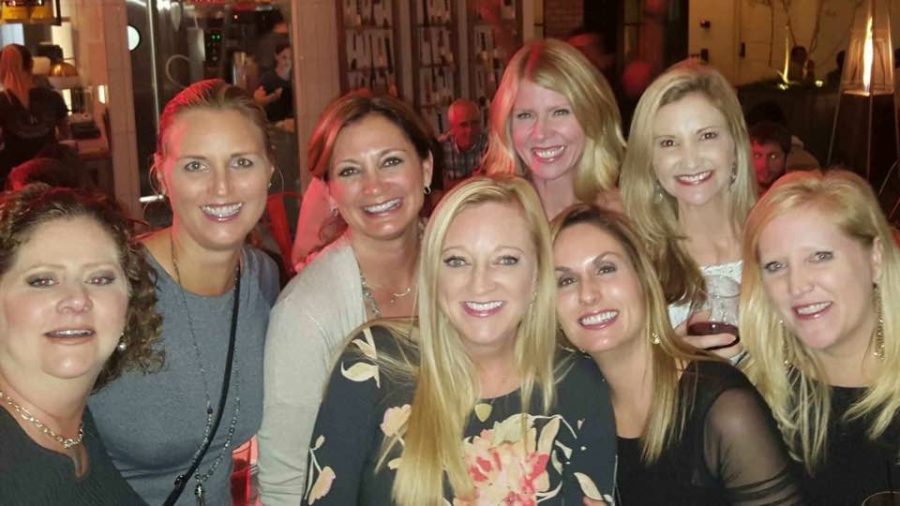 As moms, we work tirelessly ALL day. Many of us go into an office for a full-time job, others work from home, some of us are part-time, and some stay home with our kids. What we all need is time away with our girlfriends! Who doesn't love (ahem, need) a Moms' Night Out? Whether you want to ditch the workout clothes and put on your makeup and heels, or go for the more laid-back, casual spot, here is your one-stop Jacksonville guide to great food and fun times with the ladies.
Located in Neptune Beach in the North Beaches Town Center, Flying Iguana is open from 11 a.m. until late! Thursday night through Sunday night you will find great live music starting between 9 p.m. and 10 p.m. Love to dance with the girls? Head on up to the front of the stage by the band and let loose. They have a full bar (and make amazing signature cocktails) and offer over 100 different tequilas and local craft beers. The food is a mix of  tacos and creative entrees — the steak taco and the farm to taco are to die for! Table-side guacamole is one of the biggest sellers, and let me tell you, it's amazing. Whether you sit inside, outside where you can enjoy the people watching, or at the well-stocked bar, there isn't a bad seat in the house.
Mezza is a neighborhood restaurant that serves dinner six nights a week in three different environments. You may eat in the bar and lounge (there is a musical happy hour four days a week in the lounge), the main dining room, or the outside covered area. I have to say, the outdoors area is hands down my personal favorite — no matter what the weather, it is always a pleasant experience! Mezza's regular menu is supplemented weekly by a pizza of the week and daily by soup, appetizer, and entree specials.  There is also a cheesecake of the week. All daily and weekly specials and live entertainment for the night can be found on their website. If you attended our Party at The Palms MNO, you were treated to delicious spicy meatballs from Mezza; those alone are a reason to return! The service is top notch, and they insure you will have a night to remember.
If you have a love for craft beer and hanging out at a local hotspot, Engine 15 is your place! The first Thursday of the month is ladies night. Not only will you enjoy a wine tasting of all of their wines by the bottle, a.k.a. "the good stuff,"  you will also be treated to a free manicure! Who doesn't want that? They craft a selection of ever-rotating original beers on a five-barrel brewhouse on site as well as offer core beers brewed at their production brewery downtown. For food, they offer simple snacks, soups and salads, flatbreads, a few different sandwiches, gyros, and brats. Not wanting to drive to the beach? They also have another location downtown on Myrtle Avenue, Engine 15 Downtown Tap Room & Biergarten. This is where we held our Family Foodie Fare, and it is equally as amazing, open on Friday 4-8:30 p.m. and Saturday 1-8:30 p.m.
Located in Atlantic Beach, Royal Palm Village Wine and Tapas is locally owned. They have over 1,200 bottles of wine available, 14 rotating drafts, and over 200 craft bottled beers. They are very focused on "fresh" and provide ingredients from their own organic edible garden, as well as fresh food from Alvarez Farms, Twinn Bridges and Safe Harbor Seafood. The cuisine is tapas — hummus, various dips, salads, flatbread, tacos, baked mac and cheese, and an ahi tuna poke bowl just to name a few,  YUM. On Mondays there is no corkage to any bottle of wine enjoyed in house, so grab the girls and a few bottles! Every Friday night 5-8 p.m. they have a complimentary wine tasting. Local distributers sample wines from their portfolios to educate you on the selected wines for the evening.
If an after-work ladies evening is in your plans, check out Cooper's Hawk Winery and Restaurant. Happy hour is 3-6 p.m. with  $5 wine by the glass, $6 lux wine by the glass, $5 wine specialty drinks, and $7 select cocktails. They also have a wide variety of happy hour apps ranging from $5-$9. Their almond champagne is amazing, and the Mexican Drunken Shrimp are delicious. Cooper's Hawk has a great atmosphere from the moment you walk in the door and enter the tasting room. You can't beat a great meal and an even better happy hour!
Calling all Nocatee moms! Want to drive your golf cart or ride your bike to MNO? Coastal Wine Market is located right in the heart of Nocatee and is a cozy place to catch up with your girlfriends. Coastal Wine Market is a quiet, intimate store that offers wine tastings, cheese plates, light appetizers, craft beer, and wine.
For moms wanting a more chic night out, this is your place to pull out that little black dress and heels. Orsay is a restaurant that is hip, yet elegant. The cuisine is French and from what I've heard from a world-traveling friend, it's pretty authentic. One look at the extensive drink menu will have you wanting to make the drive downtown. For dinner, you can't go wrong with the escargot, the onion soup, mussels, or the charcuterie — hello, meat and cheese tray! They do have a burger if you are along for the ride and are a little weary of the French food. Moving on to dessert, they serve full-sized desserts as well as tiny petit fours if you just want a tiny bit of sweet.
If you attended our Family Foodie Fair, you were able to sample some delicious eats from Black Sheep. The food is tasty and the drinks are good and plentiful, while the restaurant itself and the rooftop bar are worth the visit. The food is also local, fresh, and farm-to-table. You can't go wrong with any fish dinner special, the beet salad, or the mac and cheese. I, myself, am a lover of a good cheeseburger, and it did not disappoint!  They have a large gluten-free menu, which I know is appealing to many. The bar is well stocked with craft cocktails and has a bar menu with snack foods.
Located in Avondale, Brick Restaurant is a neighborhood favorite. They have a full bar and an extensive list of reds, whites, rose, pinks, and bubbly. They have draft, craft, and bottled beer. The kale and salmon salad is delish, and the wine plate (olives, salami, and cheese) is a great app to share while enjoying the night!
Good ol' tried and true Bonefish. This is an MNO that you can always count on for a great time with a menu chock full of great appetizers, salads, and entrees. Who doesn't love a nice, hot order of Bang Bang Shrimp and Mussels to share as a table? Mondays are "Martini Monday" at both locations. From browsing the website, I found a link to make reservations, so even better, no wait!
This is one of my personal favorites! At Creative Grain, you take an unfinished piece of wood and personalize it from a large variety of options. Build your project from scratch then choose your stain and paint colors. The wood creations, when finished, are pieces that you will actually use in your home decor. I just love the rustic, classy look. You may book an event on any day of the week that does not currently have a scheduled workshop (the calendar is on the website).
Alleycakes has how-to classes featuring items from their menu, with classes starting at $30 per person. Each class includes step-by-step instruction, printed recipes, and take-home goodies. They are BYOB, so bring your own bottle and have a great time! Outside food is also permitted but all desserts must be provided by Alleycakes. Private classes are available with a minimum of 10 guests. You can contact Alleycakes for available dates and per-person prices.
Painting With a Twist has several locations in Jacksonville (Ponte Vedra, Bartram, and San Marco) making it a fun and different MNO close by for everyone! Here you will paint using step-by-step instructions from a local artist and take home a one-of-a-kind piece at the end. Call the individual studio for adult beverage options.
Doing Dishes is located on San Jose Blvd and is a paint-your-own-pottery studio. You do not need a reservation! There is a $6 studio fee and then you pay for your own pottery ranging from $7-$60. The studio fee is not per hour, you can stay and paint as many items as you'd like. When you are finished, they glaze and fire your pottery, and it will be ready for pick up in a week. Gather up the girls and paint some cute dishes!
What I love about Pinot's Palette is that you can book online. So easy and convenient! Thursdays and Fridays have a 7 p.m. reservation time slot.  They are BYOB and provide the glassware, ice, and bottle openers. You can actually see what you will be painting when you get online to register for your specific date. They are dedicated to upscale experiences, exceptional quality and care as well as an entertaining, fun and social night out for the masses. If you want a class with just your girls, you can book a private party!
Join the latest craze in MNO, escape rooms! Mind Benders Escape room is fairly new to Jacksonville and people LOVE it. Located in Jacksonville Beach, near Engine 15 (drinks, apps, and escape room perhaps?), there are four different experiences to choose from. Your group has one hour to work together to find clues and solve puzzles and riddles to try to complete your objective and "escape" before the time runs out. Each room can hold up to 10 people, except one which holds five. You do not have to have a party that large to participate; you can get paired up with other groups. Your group can play alone if you purchase all of the tickets for the room. For safety reasons, the doors aren't actually locked, and you can get out at any time. The cost is between $30-$33 depending on the room, but follow them on Facebook and Instagram for promos and specials!
TOPGOLF is also a newer venue taking Jacksonville by storm! At Topgolf, the signature game is where players score points by hitting balls (assigned using microchip technology) into any target. The more accurate your shot and the farther the distance, the more points you earn. Ever been bowling? Well, at Topgolf, you play in a "bay" rather than a lane, and from that bay, you hit your balls. Bays are rented by the hour (per bay, not per person), and one to six people can play the game in a bay. You can hit unlimited golf balls during your rental.  Six people can play a round in about an hour to an hour and a half.  They are open seven days a week and the price varies throughout the day, $25-$45 per hour. Topgolf also offers signature drinks, wine, and beer.  The food selection is VERY extensive (apps, flatbread, burgers, sliders, sandwiches, salads, and even dessert!) and has options for everyone wanting to partake.
What is your favorite place for a Moms Night Out?