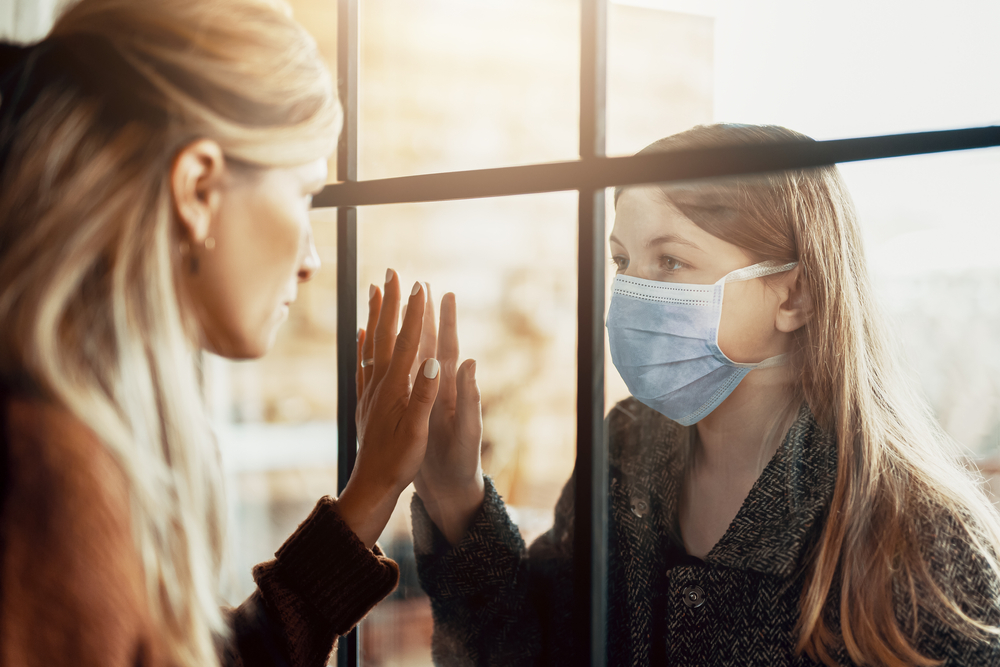 If you told me last year that in 2020 I'd be referring to myself as "socially distant" and declining playdate invitations, there's no way I would have believed you. I'm what you'd call an extreme extrovert — being social is pretty much essential to my daily life.
I love coordinating outings and events, look forward to going into the office just to catch up with coworkers, and process emotions and thoughts out loud. It's not that I can't be alone, I just prefer not to. (That is, of course, until I've heard the word "MOOOOMMM" screamed by two tiny humans over the course of two hours; then I'm about due for a Target stroll where I can be by myself but also see other humans for a bit.) I've always admired those who are content to be alone, but that's just not me. I thrive on being around other people.
And then, COVID-19 happened.
My husband and I are both lucky to have jobs that immediately closed their offices and instructed employees to work from home, and we pulled our youngest child from daycare. We thought the hardest part of quarantine would be working full-time out of our house with a 7- and 4-year-old boy (which, to be clear, is INCREDIBLY HARD). But, for me, the lack of in-person contact has been the most mentally and emotionally draining aspect of all of this.
"Wait a minute," you might be saying. "What's keeping you from hanging out with friends and family?" Well, in case you hadn't heard, we are in the midst of a global pandemic. Coronavirus is still a very real threat and many reputable sources, including the CDC, have clearly stated that social distancing, hand washing, and masking inside when you can't distance is the best way to stop the spread. But, as restrictions are lifted and schools prepare to open, those of us still maintaining social distance seem to be in the minority.
Over the last few months, I've had to turn down invitations to kids' birthday parties, neighborhood get-togethers, and happy hours. "We're still social distancing," has become my auto-reply. We've had fewer and fewer of those invitations lately. And honestly, I get it. Why keep inviting someone who you know is going to decline anyway? But it doesn't lessen the sting of being cut out of socializing, especially when all you want to do is be around other people.
I know I'm not the only one. Plenty of friends are breaking up over social distancing, and the pressure to socialize is too much for some to handle. There have been plenty of times I've desperately wanted to give in and ditch social distancing for some girl time. And, a handful of times, I've elected to be one of the few at a gathering who is staying distant. Let me tell you, it's pretty awkward. 
So, we stay to ourselves. We isolate. We avoid public places when possible. We schedule Zoom dates with other socially distant friends and have an occasional "porch hang" where we can sit outside, six feet apart.
It sucks. It sucks for me, who has serious FOMO and a precious baby nephew I haven't met. It sucks for my kids, who don't get to see their friends. It sucks for my husband who has to deal with the emotional fallout. But, while I complain that the lack of human interaction is "killing me," it's not actually killing me. Do I wish I could go hang out with a group of friends inside a house and not be six feet apart and masked? Of course, I do. Do I think it's worth risking the safety of my family and possibly passing coronavirus onto someone else? Nope.
So, as hard as it is, I'll continue working from home (to the comforting sounds of colleagues, of course) and social distancing (with all the Zooms and FaceTimes I can get) until I feel like interacting in close proximity is safe again. I just want you to know that it's not for lack of wanting — there's nothing I'd love more than to schedule all the playdates and group gatherings. Hopefully, when all this craziness is said and done, you'll remember to add me back into your coffee date rotation and your Bunco group, and welcome me back to in-person socializing with open arms (and freshly washed hands).
About the Author
Born and raised in Tallahassee, FL, Blair Gregg took a leap of faith in 2018 and moved her family to Jacksonville to pursue her dream job. She's been enjoying the change of scenery and beach proximity with her supportive husband, Kevin, and their two boys, Donovan and Emory, who they lovingly refer to as "Night and Day." An alum of Florida State University (Go Noles!), Blair started her college career in Music Education, ended it in English Literature and Communications, and eventually found herself in the world of marketing and design. She's now been immersed in agency life for over a decade, and can't imagine it any other way! A self-proclaimed extrovert, Blair loves meeting new people and is excited to find her "mom friends" in Jacksonville. She balances her love of food and drink with the occasional workout class, and is always planning the next "fun thing" for her family to enjoy.