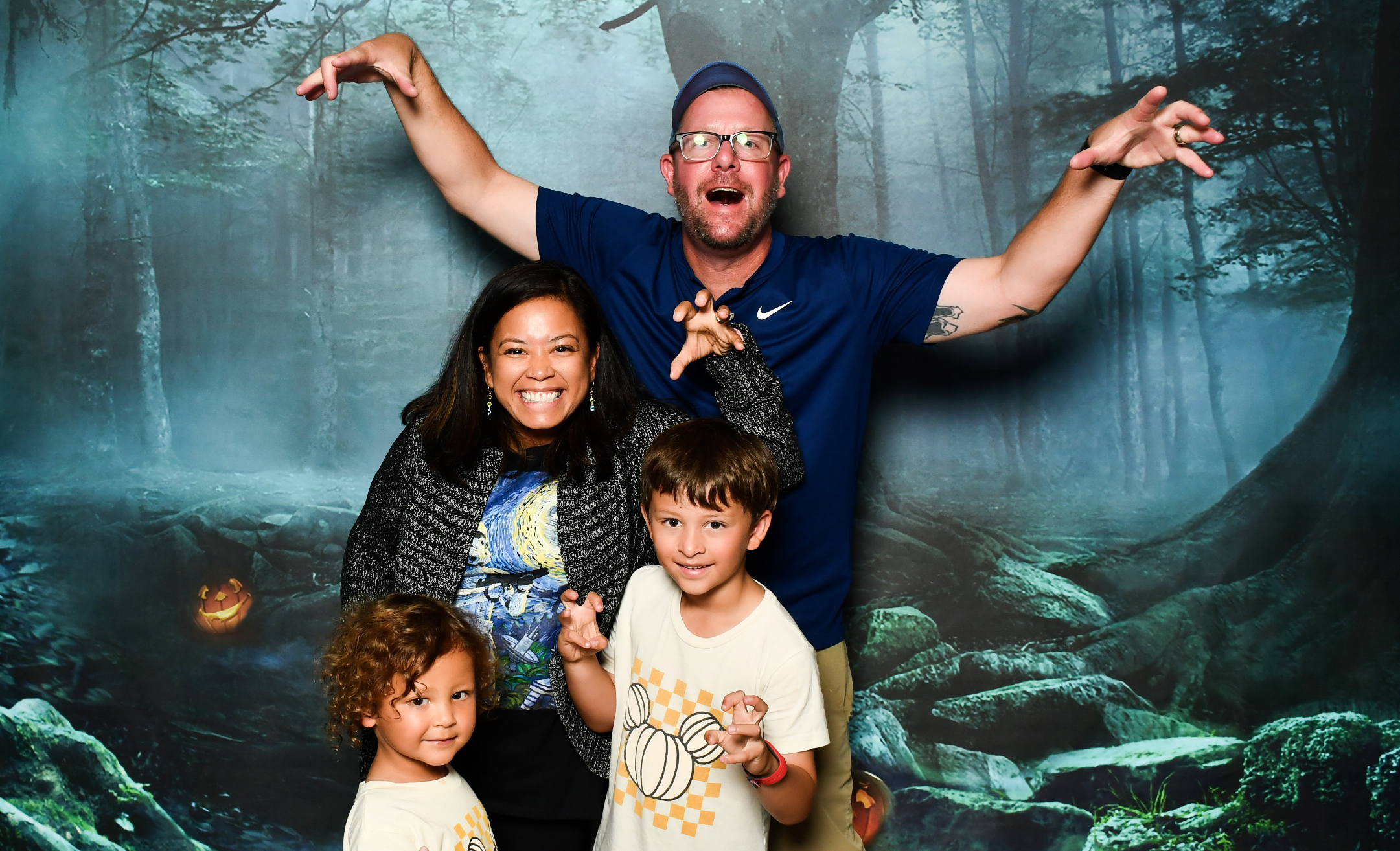 Oh, great, another blog post on Disney Cruise tips! Well, you're in for a treat, not a trick, because this one is about the Halloween on the High Seas cruise that is only available from mid-September to the end of October. We just got back from our 5-day, 4-night Bahamian cruise on one of the newest ships, the Disney Wish.
READ: Top 12 Tips & Tricks From a Disney Cruise Addict
This is our second Disney cruise and our first time on the Wish, as well as a newbie to themed sailing. If you and/or your family like to dress up and just simply enjoy Halloween, this would be the best time to go. Our youngest is an October baby and loves anything pumpkin and Halloween stuff, so it was just fitting that we go during his birthday week!
Day 1: Arrival & Pixie Dust
As soon as you step onto the ship during boarding, you will find a tall pumpkin tree and a cast member handing out a wishing wand that will help start the welcome introduction to the ship and light up the star chandelier in the middle of the Grand Hall. At night in between the early and late dinner services, there is a lighting of the pumpkin tree ceremony at 7:30 p.m.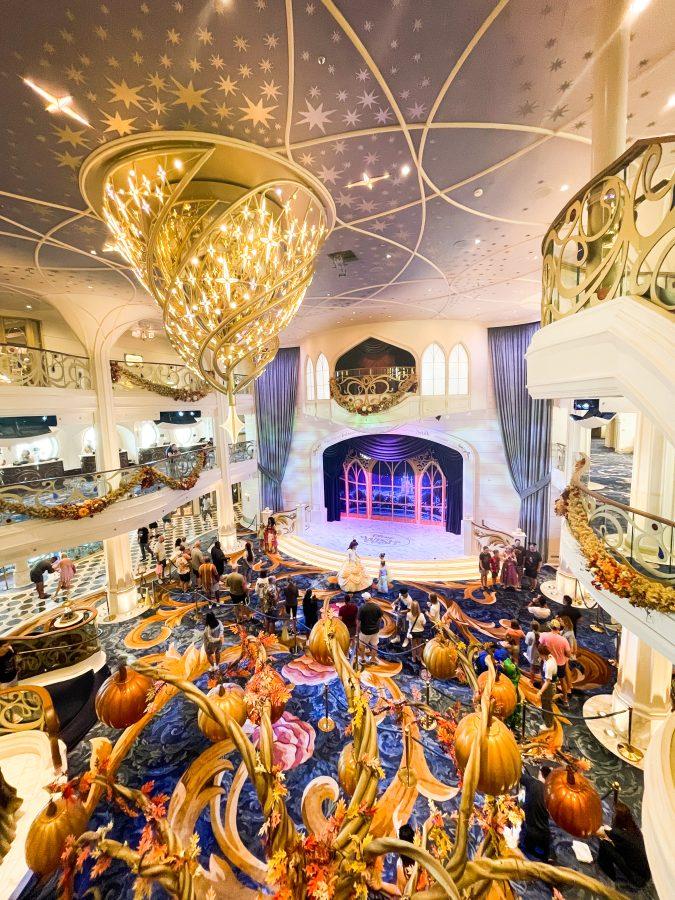 We spent our first night exploring the ship! Some of the port holes especially on Deck 4 near the Guest Services and Grand Hall area were decorated with Halloween-themed vinyl stickers. The boys also enjoyed collecting "Pixie Dust" (tiny things that people would leave outside their door for others to take and make them smile, such as stickers, lollipops, PEZ candies, friendship bracelets, keychains, etc).
I love decorating our cabin door as an easy way to find our room right away, but we will be sure to leave some "Pixie Dust" for next time. I love this random act of kindness especially when other kids come up to my boys and give them Pixie Dust! Lincoln and Lochlan are still talking about their little gifts, and they want to pay it forward!
Day 2: Meet-and-Greets & All the At-Sea Fun
It was Day at Sea on our second day, and we started the morning with a hearty buffet-style breakfast at Marceline Market — arrive early to avoid the lines! About 30 days out before the sailing date, you can sign up for the Royal Gathering (meet-and-greet with three Disney princesses) time slot which opens up at midnight. It was stressful, and it felt like me trying to get Taylor Swift concert tickets all over again. Luckily, I was able to snag a spot with the help of fellow Jacksonville Mom contributor and awesome travel agent, Nicki.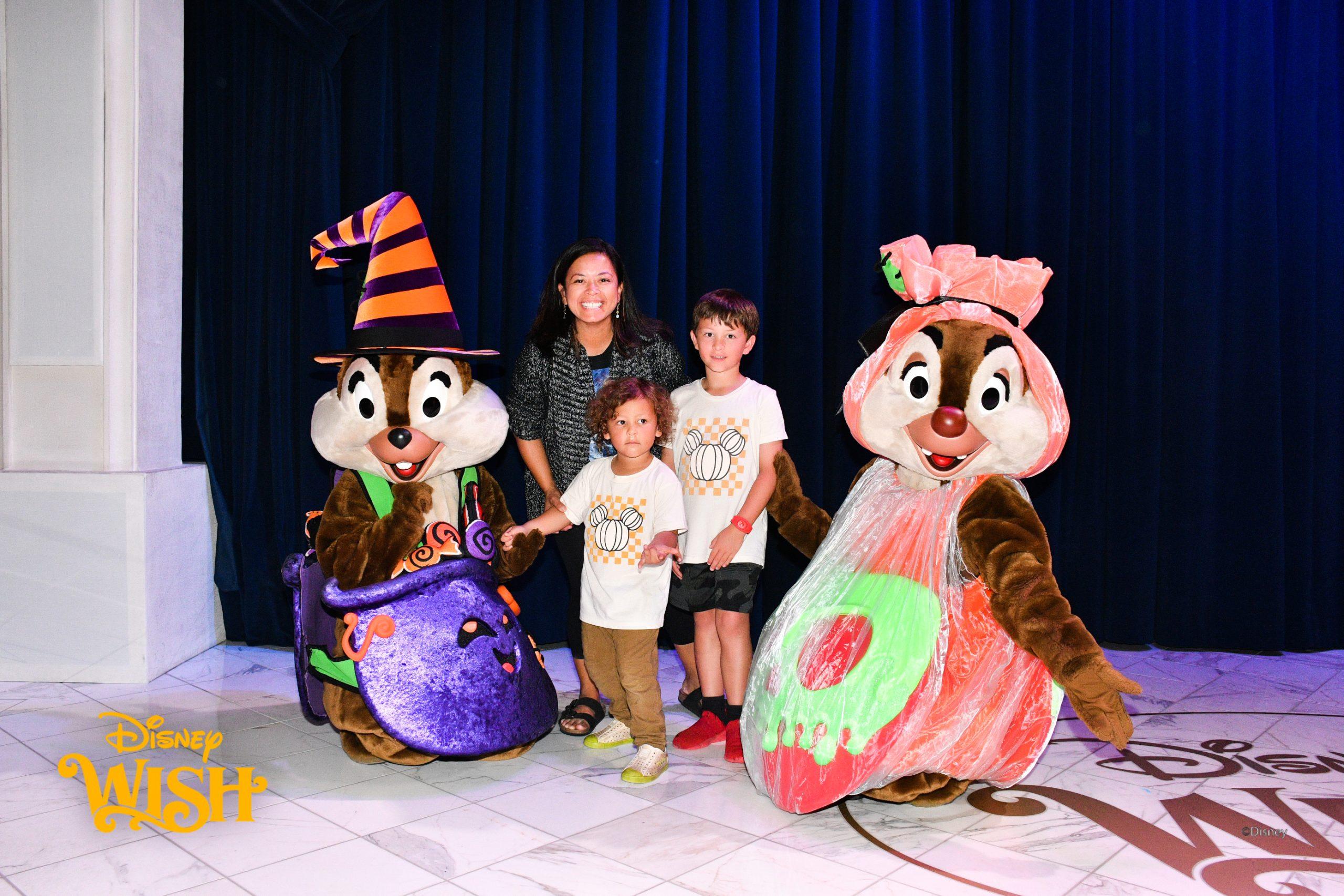 The boys weren't so thrilled with the Princess meet-and-greet, but this mom was! They did enjoy meeting Spider-Man, Ant-Man and the Wasp, and Chewbacca throughout the trip. Some characters will sign autographs but some won't like Chewbacca and the Sanderson Sisters (Minnie Mouse, Daisy, and Clarabelle dressed up as the witches in Hocus Pocus) to help minimize the long waiting lines.
There are tons of things to do on the ship during our day at sea like bingo games, family crafts, trivia, and learning how to draw Disney characters just to name a few. And the boys were just as happy to be in the pool and splash pads almost all day long. Unlike the Disney Dream cruise ship we've been to which has two big pools in the middle, Disney Wish has several small pools and wading areas all over Deck 12 and above.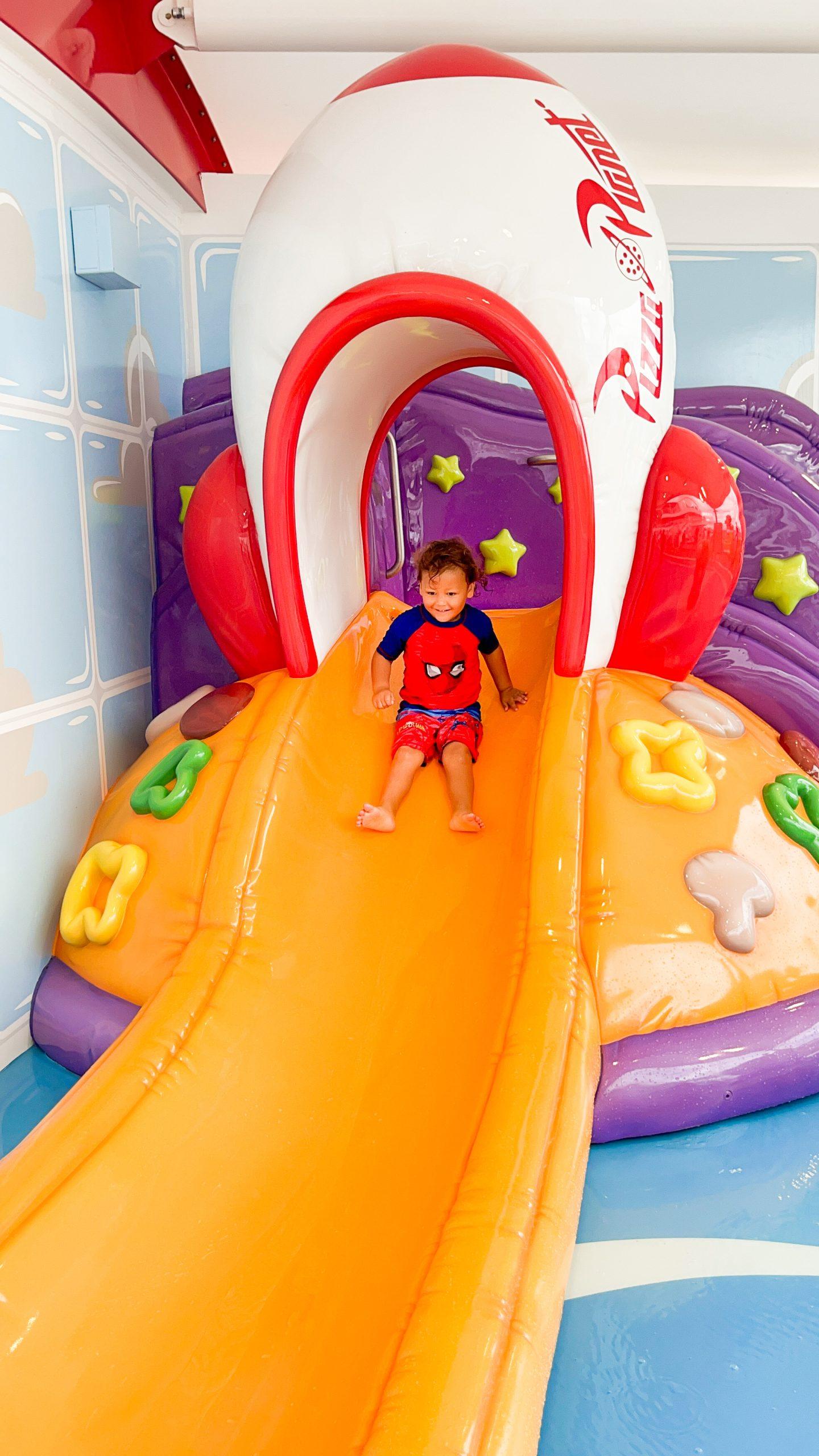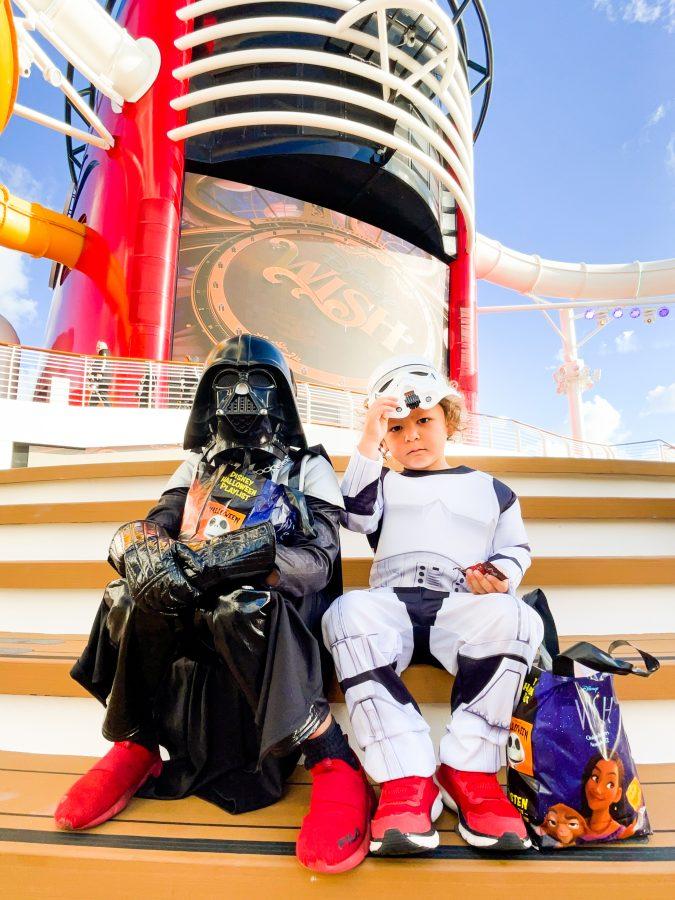 Our second night happened to be the Trick-or-Treat Night and everyone was encouraged to dress up in costumes. The boys dressed up in Star Wars costumes while the hubby and myself just wore Star Wars shirts. When the lines got long, the cast members would just walk up to you and hand you your candy bag. It was a bit underwhelming for all of the effort of dressing up the kids.
Fun Tip: Find and join the Facebook group that is specific to your sailing date, and then sign up for the "Fish Extender" list. This allows you to exchange candies and/or different little gifts with the other guests on board. It sounded overwhelming before our trip, but now I kind of wish I signed up for it to bring "extra magic" to the kids.
Chocolate always fixes everything. The boys were content with their heavy bag full of candies! There was also the Mickey's Mouse-Querade Party on Deck 11's stage where Mickey and the gang were all dressed up in their costumes singing and dancing. The kids were too tired at this point (the sugar buzz was wearing off), and it was hard to see with the crowd all around us, so I highly recommend always arriving 10-15 minutes early before the event starts. Everyone had a good night's sleep and woke up in Nassau, Bahamas the next morning — which was also Lochlan's 4th birthday!
Day 3: Water Fun & Pirate Night
On our third day, we decided to stay on the ship instead of getting off in Nassau to explore. We had so much more fun enjoying the less crowded pools and food areas! The line for the AquaMouse, a water coaster ride with a panoramic view of the ocean, was shorter as well! The boys took a short break from doing water activities, and we checked out The Incredibles inflatable obstacle course. This was the only day it was open, and the line was short. It was so much fun, and just don't forget your socks!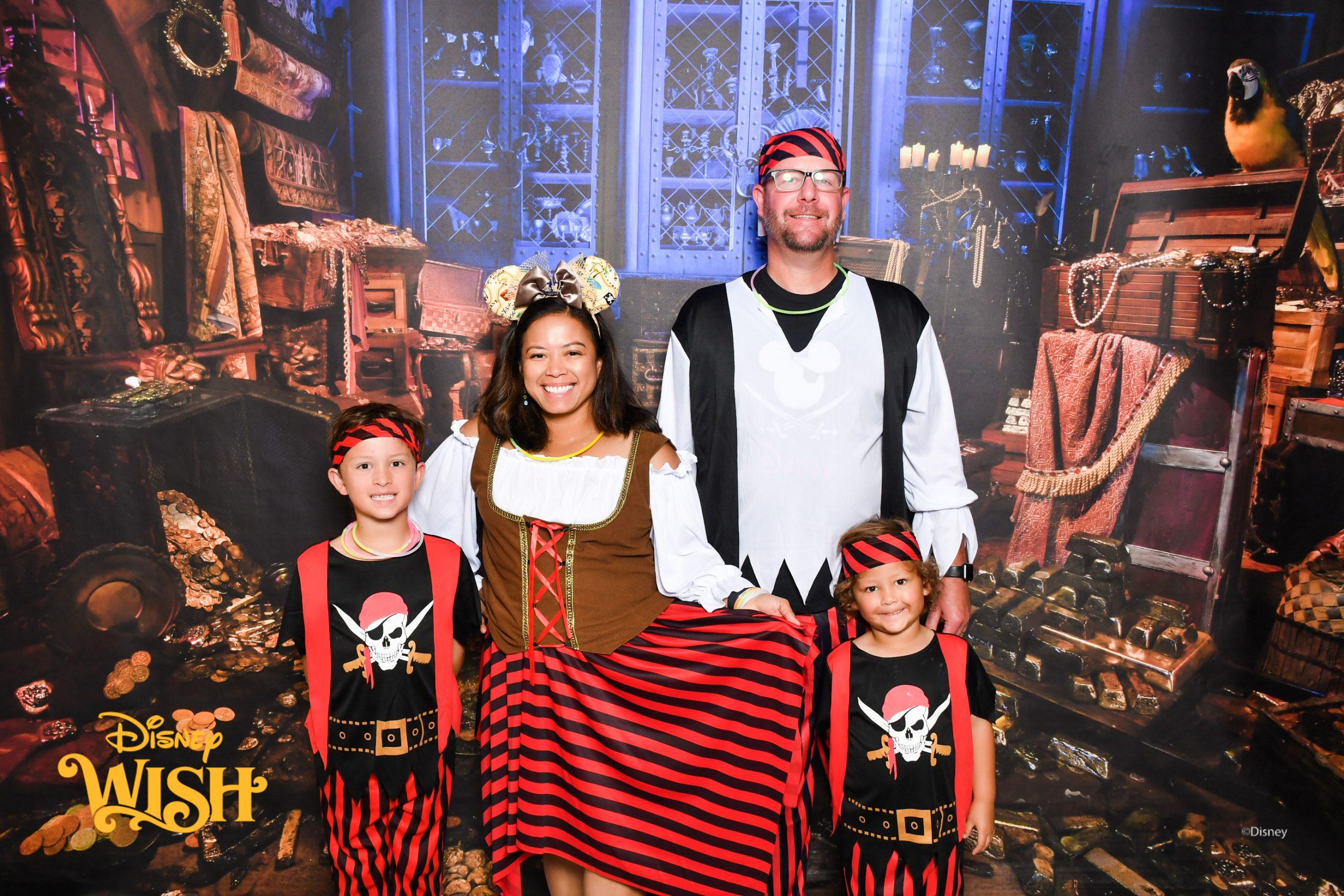 It happened to be Pirate Night also, and this is when guests dress up as pirates (optional, of course). I saw more pirate-themed photo backdrops available in the Grand Hall, as well. Mickey, Minnie, Donald, Daisy, Goofy, and even Chip and Dale were dressed up as pirates matching the theme of the day for photo ops. This is the only night you'll see Captain Jack Sparrow on board at the Pirate's Rockin Parlay Party and fireworks. The night couldn't get any better for our birthday boy once our servers brought Lochlan a birthday cupcake and sang Happy Birthday to him at dinner, and then we watched fireworks outside.
READ: 8 Reasons You Should Not Take a Disney Cruise
Day 4: Castaway Cay & Dinner at Arendelle
We spent day four on Disney's private island, Castaway Cay. I didn't see any Halloween decorations or any Halloween-themed activities anywhere on the island. Not even the name of the Drink of the Day, which was "Stingray." Other nights, I had the "Haunted Rita" and the boys had non-alcoholic "Mango Potion." Nonetheless, it was a beautiful day at the beach and even for a 5K! Yes, my family gave me grief about that at first, but they ended up liking it at the end when we all received our medals.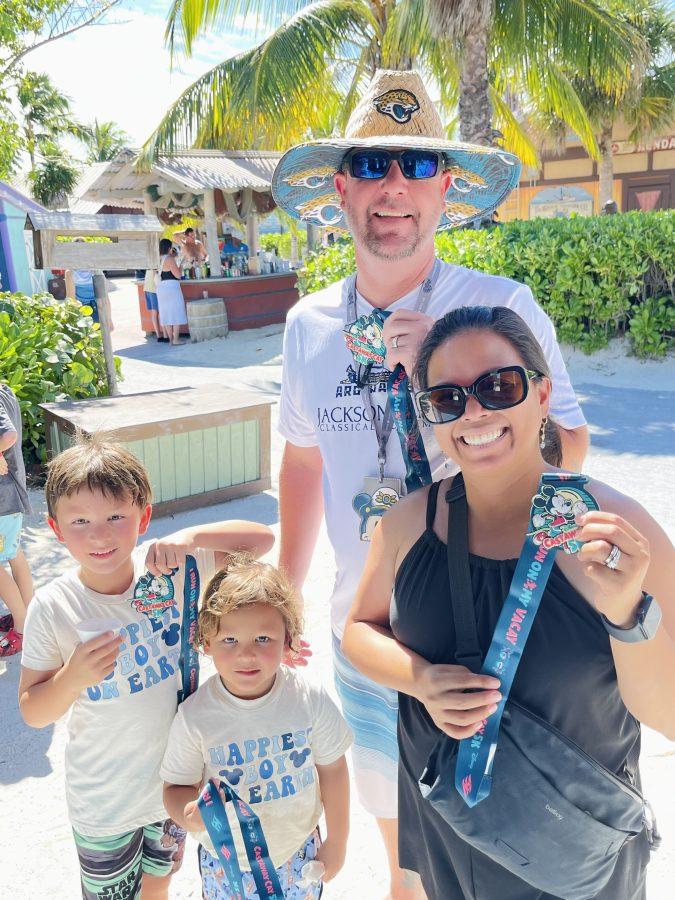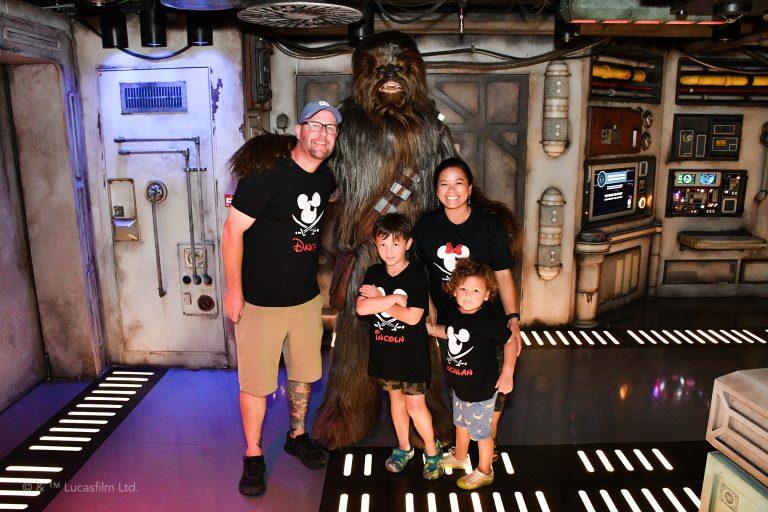 Our last night's dining was at Arendelle where we got to watch a short show with Princess Elsa, Princess Anna, and Prince Kristoff singing while we ate. Disney Wish has Broadway-style musicals such as the Disney Seas the Adventure, The Little Mermaid, and Aladdin playing in the evening.
Fun Tip: We brought our Halloween Mickey popcorn bucket with us to the cruise, and it's only $1 to refill it!
Day 5: Until Next Time, Disney!
It was hard saying good-bye the next morning. We took more pictures around the boat one last time after breakfast. Hugged our favorite servers and cabin attendants. Packed up our carry-on bag and one more sweet mama gave the boys "Pixie Dust" while we were on the line to disembark. Overall, we loved the Halloween theme even though no Nightmare Before Christmas characters were on board, but we are hooked on Disney cruising. We definitely want to do another Halloween-themed cruise on a different Disney ship or we might just do a Very Merrytime Cruise one Christmas or hang out with the superheroes on Marvel Day at Sea!